You don't need Bali for a wellness getaway: Say 'om' to Labrador Nature Reserve
On a quest for inner peace, intrepid writer Daven Wu goes on a luxury wellness retreat in the Singapore jungle. Think cacao ceremonies, gong sound baths, and vegan "char siew". Can he find bliss?
I don't know about you, but there's something luxuriously otherworldly about being woken up by the resonating baritone of a gong right outside your door. The first morning this happened, I thought, this must be how Dr Strange wakes up each morning before he steps into another dimension to have breakfast with one of The Avengers, oh, say The Hulk. 

There's also an ineffable tranquility about then stepping out, bare feet on a warm timber floor, into a high-ceilinged corridor where the windows are thrown wide open to a jungled canopy and the cool morning chill.
And yes, Dorothy, we are still in Singapore.
When I signed up for Blue Sky Escapes' An Emergence of Self – a two-night wellness retreat at Villa Samadhi – I had expected there'd be a bit of chanting, a yoga stretch or two, and perhaps some meditation led by willowy people who looked and dressed like The Ancient One, aka Tilda Swinton.
Well, that all happened. But what I hadn't expected was to be wrapped up by all that greenery, serenity seeping into my awareness and gently sloughing away stress. It helped that Villa Samadhi, a handsome 20-room boutique hotel built as a military garrison and which later became a boys' school, and cocooned by all that jungle, feels so remote.
For three days, except for retreat alerts, I didn't check my phone. No emails. No Instagram. No WhatsApp. No news. If the world beyond the resort's grounds had come to an end, there wasn't much I could do about it now. Besides, I was late for mindful movement.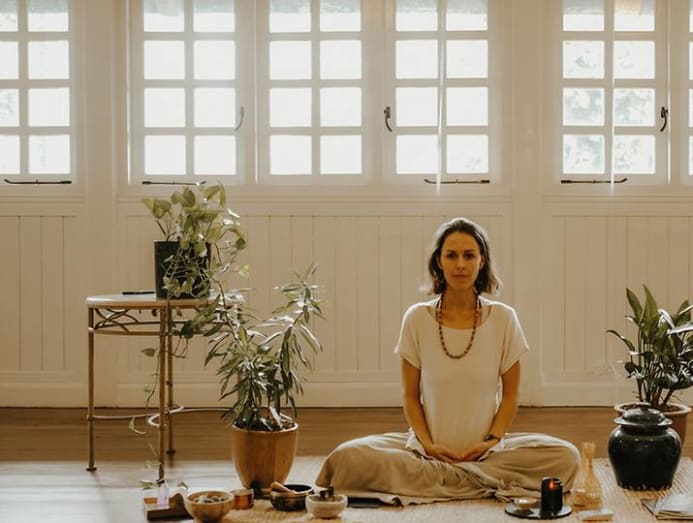 I was, in other words, experiencing a Zen-ed-out bliss.
The previous afternoon – after my Grab car had taken a few wrong turns through the deserted tree-lined lanes of Labrador Nature Reserve before finally depositing me in front of Villa Samadhi – I'd eyed the other guests checking in.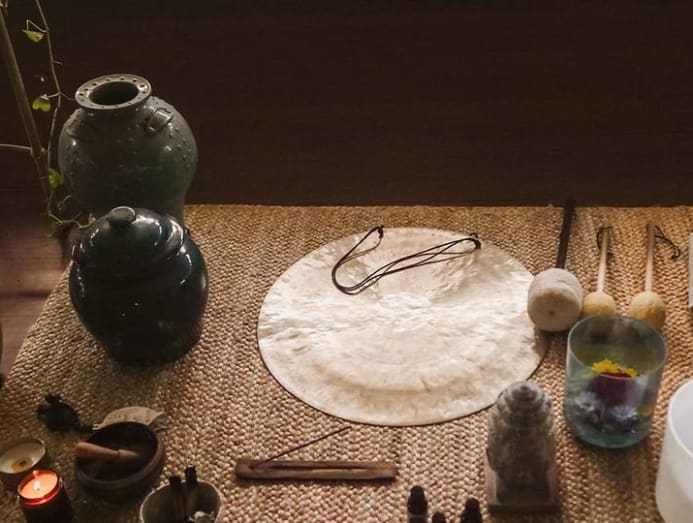 I counted four guys in our group of 20. Everyone else was a woman. It was like the first day at school with its nervous apprehension of what was in store, and whether I'd fit in.
We randomly introduced ourselves. Some were, for complete strangers, incredibly frank about why they were here.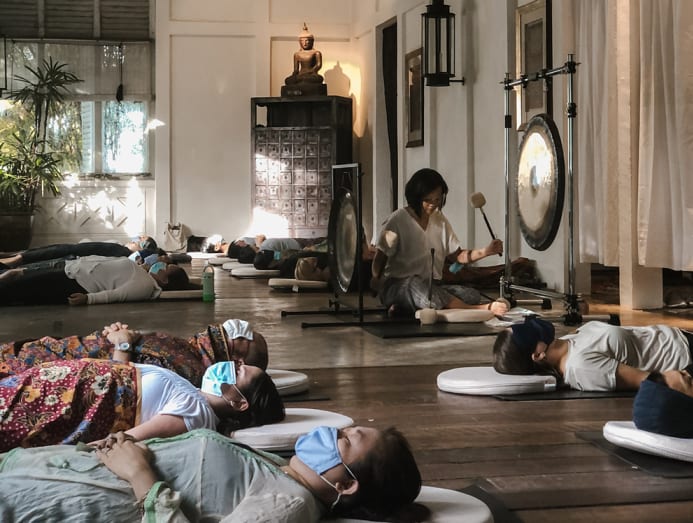 "I'm in my 40s," said S who didn't look a day over 30, "and I need a sense of purpose."
Another lady, C, straight up announced she had three children, aged one, two and three. "I've not had more than four hours of sleep a night for the past four years. I need this."
"My five-year-old had a meltdown when I left this morning and asked why I needed quiet time alone," E said. "I told her, 'Because you talk all the time'." Someone asked why I'd come. "I'm here for the food," I told her earnestly.
When I'd read on Blue Sky Escapes' website that they'd gotten Ming Tan, Benjamin Ang and Grain Traders to cater the mostly vegan meals, I started packing my bag, my mouth already watering at the idea of so much good food – locally grown and cooked with immense imagination – concentrated in one location.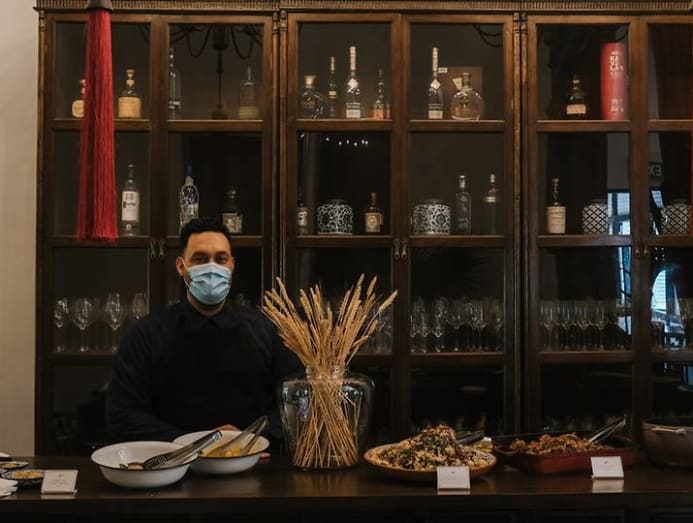 As it turned out, everyone got along famously. The three days sped by as we were led through our sessions by the beatific Amber Sawyer, a holistic life guide; her Colombian husband Daniel Rojas, the creator of Embodied Dance Movement which aims to develop body awareness; and Serene Satya Charan, who uses sound to nurture spiritual wellness.
"We need to create space inside," Amber insisted on the first day. "Without space, nothing can flow."
And so, every day, we meditated on joy, gratitude and peace.
"What good is meditation and mindfulness if they don't bring us to love and compassion?" Amber asked. To create stillness, we journaled our chaotic thoughts. We walked through the thickets of Labrador Nature Reserve in complete silence, the better to connect with nature and to access an inner tranquility. To shed our inhibitions, we shook our bodies, danced with our eyes closed, stomped our feet, and shouted gibberish.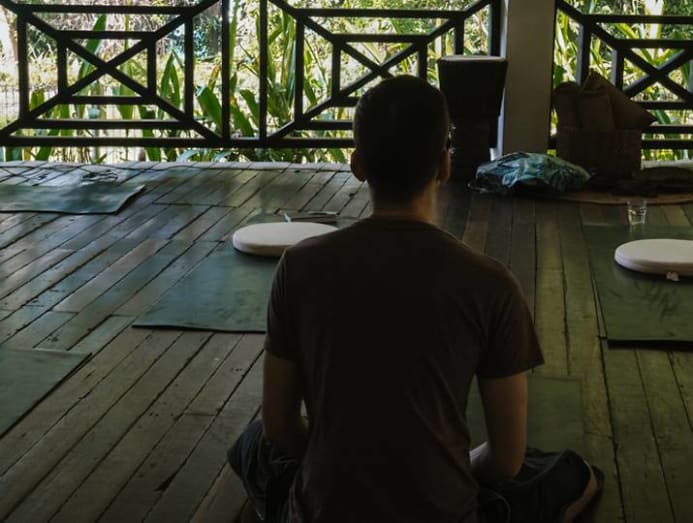 On the second day, we entered mauna, a Hindu practice of silence that's meant to create peace of mind. For 24 hours, we didn't speak, the awkwardness of small talk with complete strangers now replaced by the awkwardness of complete silence at meals.
Some people retreated behind a book. I coped by concentrating on the delicious "char siew" jackfruit, black rice sauteed with leek and onions, roasted cauliflower tossed with pomegranate and pistachio. When mauna formally ended the next day with a chorus of humming notes and cascading chorus of "ahhh"s, we couldn't stop chattering like monkeys on poppers at a forest rave.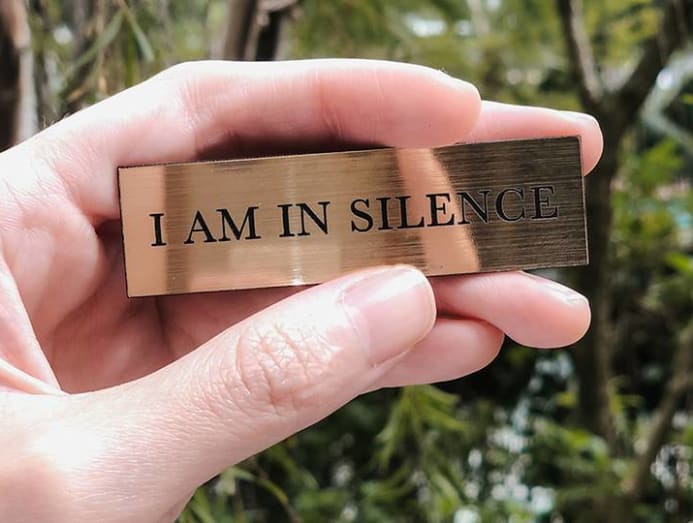 "Everyone is spiritual," Daniel assured us one afternoon, as the sky opened and rain fell in a fat noisy clatter on the broad jungle foliage just beyond the lanai where we were all seated.
Looking at him, I could believe it. With his angular profile, sharp features and feline eyes combined with a top hair-knot and tight compact body, he seemed to have stepped straight out of a carved stone relief in an Aztec temple.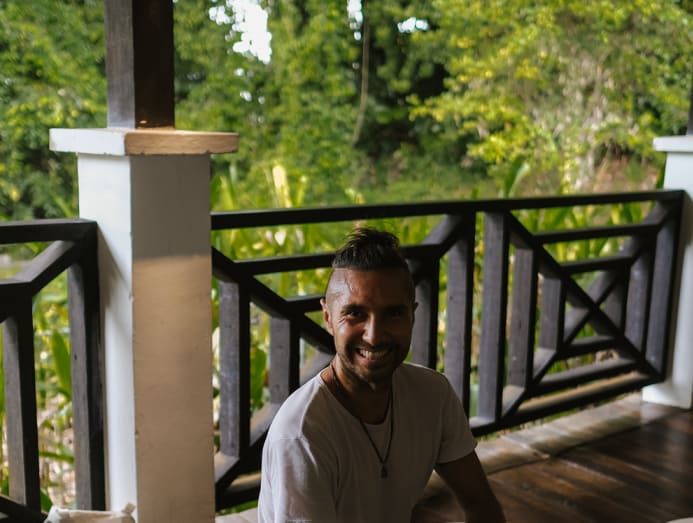 On the second night, we gathered in Villa Samadhi's lounge for a cacao ceremony, sipping a cup of hot chocolate which, because it's made from the entire cacao nut, symbolises the embodiment of the whole being. And then we lay down on the floor for a gong sound bath. Which was exactly what it sounds like: Serene playing two huge gongs in percussive waves to "bathe" the body in healing vibrations.
Privately, I rolled my eyes. "Yeah, right, like that's going to really do mu…" I began thinking and then I woke up an hour later to the gentle tinkle of chimes. "I literally travelled out of body!" K gushed. "I was hovering above the ceiling when she rang the bells!" I felt a little resentful that I had to be content with just feeling incredibly rested and slightly buzzed.
"The only thing that's relevant is now," Amber said on our last day. "And everything we've done at this retreat has been to keep us in the present. The question then becomes, 'How do we take this stillness, this internal silence, back into the world?'"
Out of the corner of my eye, I could see the other guests already switching on their phones. In addition to having already booked a Grab car, I'd typed on my to-do list: "Buy morning gong". Surely, that was a good start, I thought.