A day in the life of a third-generation prawn noodle hawker
CNA Lifestyle contributor and MasterChef Asia finalist Lennard Yeong explores why 545 Whampoa Prawn Noodles is the go-to prawn noodles for Michelin-starred chefs and the late Anthony Bourdain.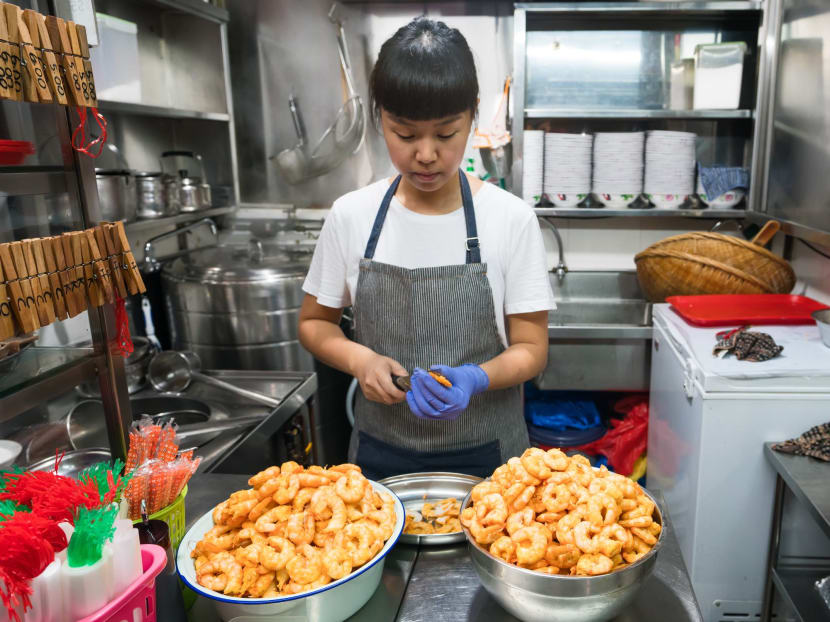 If you head out to Tekka Food Centre at around 2.30am, you'll find that the only stall with its signboard lit is 545 Whampoa Prawn Noodles.
Li Ruifang, 34, runs this stall with the help of her parents. The relationship that the Li family has with prawn noodles is the very reason the third-generation hawker decided to get into the trade - she did not want to see the family recipe die.

The legacy started with her grandfather, who sold prawn noodles in Whampoa during the 1950s. In the 1970s, Li's father took over and refined the recipe that is still used today. Four years ago, Li opened the second stall in Tekka Food Centre with the support of her father, while her aunt took over the original stall in Whampoa.

It has not always been a smooth journey. For a start, the university graduate possessed no prior kitchen experience. She had not cooked a single bowl of prawn noodles, despite helping out at her father's stall since she was a child. Fellow hawkers at Tekka Food Centre were unable to fathom why she would give up a stable office job with a multi-national company to rough it out in a hawker centre that has a notoriously high turnover rate. Even her parents dissuaded her initially.

It took Li about a year before she found her groove. Today, 545 Whampoa Prawn Noodles is one of the most popular stalls in Tekka Food Centre. It was even featured in an episode of the late Anthony Bourdain's show Parts Unknown, and visited by three-Michelin-star chef Massimo Bottura and his wife, and two-Michelin-star chef Julien Royer.

WORKING 15-HOUR DAYS

Li's day starts at 2.30am. Together with her parents, she troops down to the stall to start the prep work. The first order of business is to boil and peel a seemingly endless mountain of prawns. Once peeled, the shells are returned to a huge pot of hot water. Pork bones are added to give the broth richness and collagen, and the broth is allowed to slowly simmer away.

Staying true to her father's recipe, Li only uses sea-caught prawns called sua lor and ang kar. But the prawn supply dwindles during the monsoon season when it gets dangerous for fishermen to head out to the sea. When I asked her if farmed prawns could be used as a substitute, Li shook her head and said the flavour wouldn't be the same.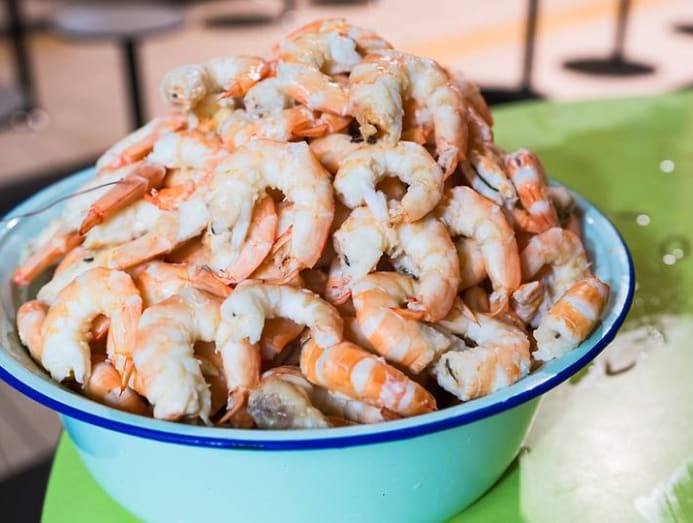 It takes about 2.5 hours of cooking and preparation before the stall is ready for business. You would think that since the stall sells only one dish, there aren't too many tasks that need to be done. 
But even the most seemingly menial task requires time when you factor in the sheer volume. For example, slicing the chilli that we often add to soy sauce as a dip takes a good 20 minutes - something I will not take for granted again.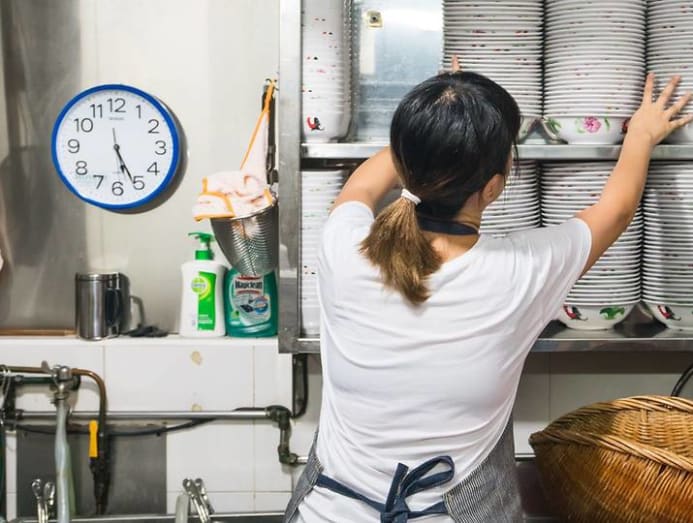 Although Li has not tinkered with the recipe, she has streamlined some of the processes to make the work less taxing for her and her parents. For instance, she has engaged a company to collect and wash the bowls. The money spent is a small trade-off for being able to close the stall early, get more rest, and spend time with her husband Kris and two-year-old daughter Kyra. 

IS IT WORTH IT?

Between setting up and washing up, Li works 15 hours a day on the average. Before her daughter, the young mother had to give up much of her social life because she has to be in bed by 8pm in order to wake up in time for work. 

Due to Li's long and erratic hours, Kris takes care of their daughter. When I asked what keeps her going all these years, she smiled and said that seeing her regular customers - some visit her stall every day - makes her incredibly happy and reminds her that her food has, in some ways, impacted her customers' lives.

The long work hours have their price though. Li misses out on the simple things like preparing Kyra's breakfast and sending her to school. That is why the best part of her day is closing the stall and picking her daughter up from school. In fact, since Kyra's birth, Li has shut the stall for an extra day each week, so that she can spend more time with her family.  

A TASTE, AT LAST

At 6am, I was finally ready to reap the fruits of Li's labour. Before I could even order, two customers appeared behind me as if on cue - a sign that the stall has no doubt become a destination hawker stall.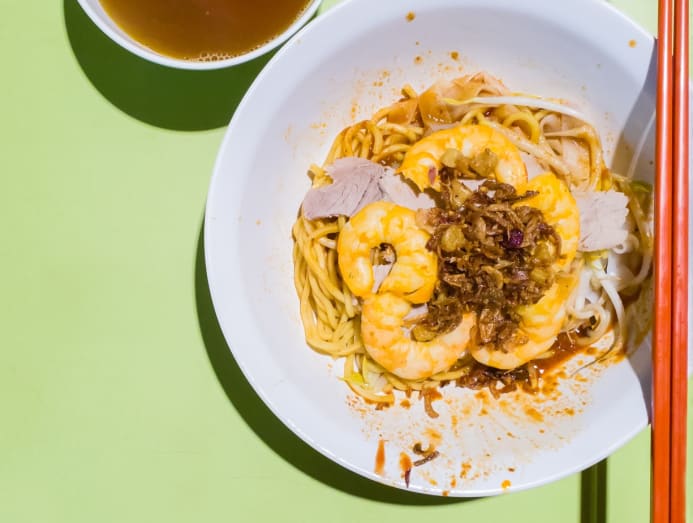 I ordered a bowl of noodles, dry - the way that Li recommends to her customers. She joined me as I sat down to eat my breakfast. As I tucked in, it was immediately apparent that the noodles were well worth the wait. 

The combination of the fiery chilli paste was tempered slightly by the sweetness of the ketchup, but it was a sweetness that was not cloying on the palate. Aromatic, crispy, fried garlic and shallot bits contrasted with the soft noodles perfectly. Then, right when the noodles started to get a bit heavy, you sipped a spoonful of that wonderful prawn broth, and feel your body being soothed and nourished from within.

The flavour was not robust nor punchy like other variations elsewhere. Here, the broth was light and very clean, the flavour of the prawns was crisp and soothing. It even tasted like it had a herbal tinge to it. But Li laughed and assured me that there were no herbs added to the broth.

I couldn't think of a better meal to start my day, and I could see why Li had customers who had to have this every day.