CNA Lifestyle Experiences: You're invited to Pangdemonium's Peter And The Starcatcher
Ever imagined Singapore as Neverland? Pangdemonium's latest production is a prequel to the beloved Peter Pan story with a twist. We talk to young actor Thomas Pang on playing The Boy Who Wouldn't Grow Up.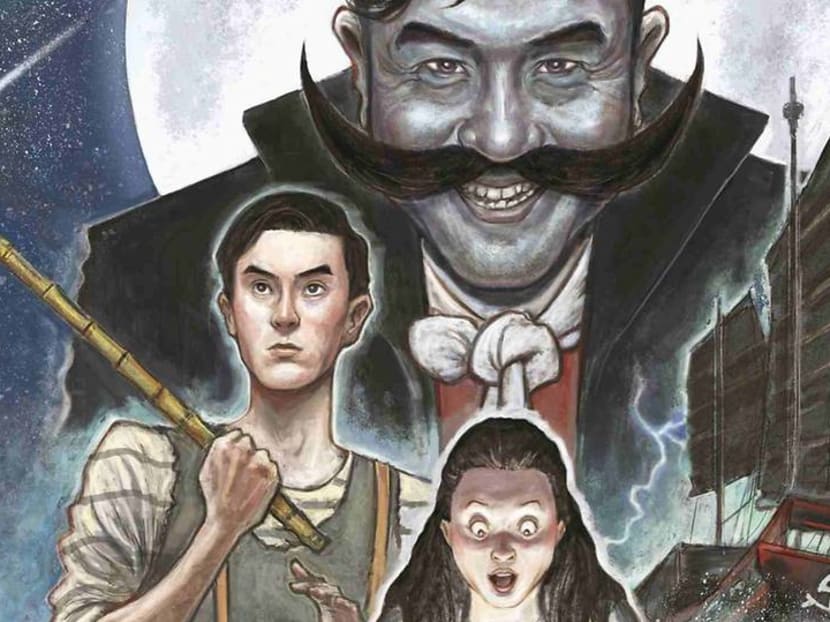 Win Cat 2 tickets to watch Peter And The Starcatcher, including a pre-show dinner and post-show wine reception. Details at the end of the story. Exclusively for followers of our CNA LIFESTYLE page on Facebook.
As a young boy, Thomas Pang remembers being captivated by the story of Peter Pan.
"It was one of the first plays I ever read when I was eight years old. When I told my mother I wanted to be an actor, she gave me the script," said the 28-year-old, who even recalled reading the original play by J.M. Barrie with his mother and sister, right below the author's statue when they were living in Maryland in the US.
He added: "But I didn't like the animated movie that much – I preferred Hook. Robin Williams was one of my favourite actors when I was a kid."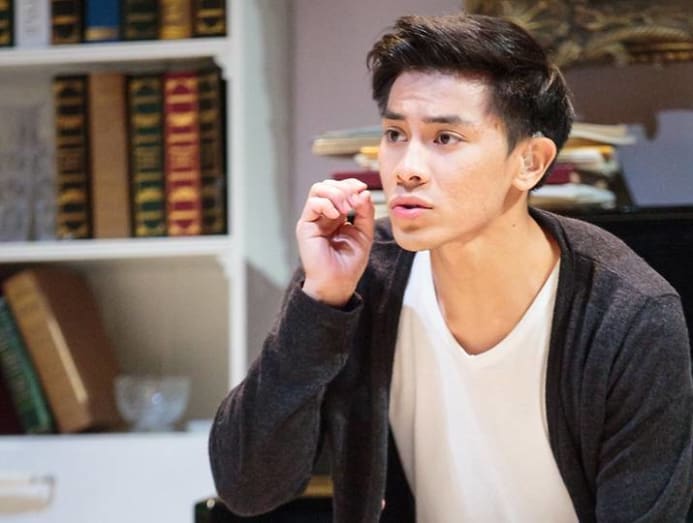 After falling in love with both the original Peter Pan story and the 1991 movie "sequel", it seems like everything will come full circle for the Singapore-based Malaysian thespian.
Next month, he will be stepping into the shoes of the Boy Who Wouldn't Grow Up in Pangdemonium's production of Peter And The Starcatcher.
Based on a 2004 novel of the same name, the Tony Award-winning play serves as an origins story of Peter Pan, Tinker Bell, Hook and the other famous characters of Neverland. In this prequel, a young girl and three orphans go on a secret mission, braving the high seas, pirates and mermaids tor each a mysterious island.
The play, which runs from Sep 28 to Oct 20, will star Thomas as a certain "Boy/Peter". The cast also includes Adrian Pang (no relation), Carina McWhinnie, Andrew Marko, Salif Hardie, Benjamin Chow, Daniel Jenkins, Andy Tear, Crispian Chan, Erwin Shah Ismail, Zachary Ibrahim and Juwanda Hassim.
It won't be a straightforward staging though. The Tracie Pang-directed production will be set in Singapore circa 1885, so audiences might expect some local twists when it comes to encounters with pirates (for which the fledgling colony had a reputation for) and other local details.
And those who faithfully follow Pangdemonium's productions might be in for a fun surprise. The whimsical Peter And The Starcatcher seems like an unusual show to wrap up its 2018 season, which included dramatic heavy-hitters The Father and Dragonflies.
"We're doing a 'family friendly' show for the first time," said artistic co-director Adrian Pang, who will also play the bumbling pirate Black Stache. "After grappling with two productions that were fairly intense, we felt it was fitting to end with something tonally different, something wacky and fun, but still has heart."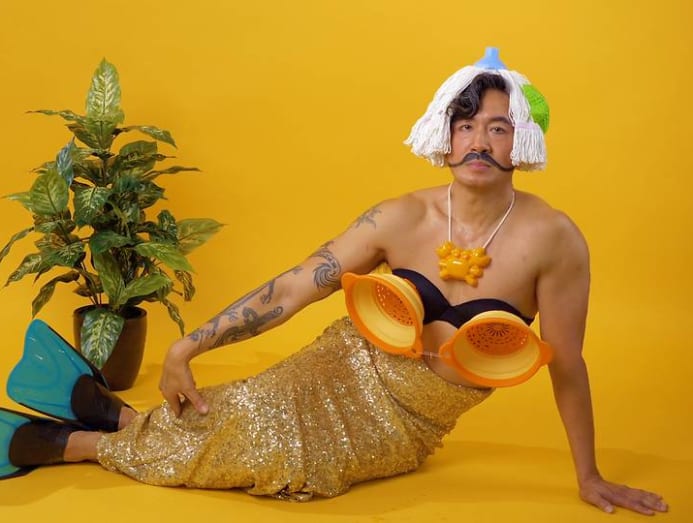 He added that having Thomas onboard as Peter was a no-brainer.
"He was the absolute first choice for us to be The Boy/Peter. He's got that real sense of spiritedness, sincerity and edge to him. There's that streak of rebellion in that we recognise and he's such a lovely guy as well," said Adrian.
Establishing himself as one of the go-to actors of his generation, Thomas has a whole range of memorable roles. In 2016, he took on Romeo in a Shakespeare In The Park production and year later, acted as a disturbed puppeteer in Hand To God, for which he bagged a Life Theatre Award.
He's also a regular with Pangdemonium, first wowing audiences with his performance as a deaf boy in 2015's Tribes and also appearing in the first staging of Dragonflies at the Singapore International Festival of Arts in 2017.
For Thomas, the role of the orphan-slash-future-Lost Boy is one he could easily embrace. "Being a boy and feeling afraid but wanting to have courage is something I can relate strongly to. A lot of masculinity is thrust upon men – we're told we should be born brave, strong, capable, but most of your childhood life is about trying to ameliorate the differences," he said.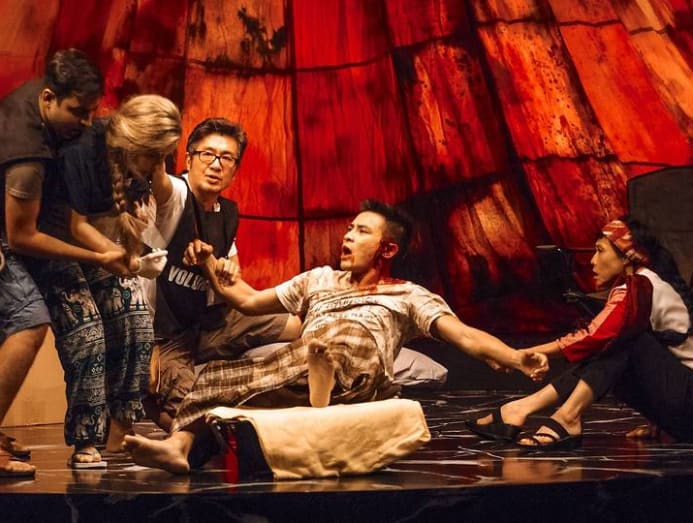 But there's one important aspect to the character he plays that Thomas doesn't quite agree with.
"Never wanting to grow up? I don't think I want to have that. I'm kind of still grappling with the idea of the Peter Pan Syndrome! I'm kind of looking forward to old age and adding some more interesting wrinkle lines to my face."
Peter And The Starcatcher runs from Sep 28 to Oct 20 at Drama Centre Theatre. Tickets from Sistic.
TERMS & CONDITIONS
 
This contest is organised by Mediacorp Pte Ltd ("Mediacorp"). This contest is valid from 31 Aug to 5 Sept 2018, and is open to all residents of Singapore who are above 21 years old except for employees of Mediacorp, its related companies and their immediate family members. By participating in this contest, the participant agrees to be bound by the official rules, regulations and decisions of Mediacorp.
 
3 winners will each win a pair of tickets to attend this event.
 
By participating in this contest, the participant agrees to participate in any form of publicity for this contest. Mediacorp reserves the right to disqualify any winner(s) in the event that the winner(s) refuses or fails to participate in such publicity for this contest.
 
The invite is non-transferable or exchangeable for cash, credit, goods or services. Mediacorp reserves the right to replace the invite with other invitations of similar value without giving prior notice.
 
The decisions of Mediacorp on all matters relating to this contest are final, conclusive and binding and no appeals or correspondence will be entertained.
 
Mediacorp reserves the right to reject any entry for any reason.
Personal Data
 
By participating in this contest, participants agree that their personal data may be used by Mediacorp and the Mediacorp group of companies (collectively "Mediacorp") to send them marketing and advertising materials in relation to goods and services of Mediacorp and its business partners, and for research and analysis. If you have any questions relating to Mediacorp's collection, use and disclosure of your personal data, please contact Mediacorp's Data Protection Officer at

dpo

[at]

mediacorp.com.sg

.
Contest Conditions
 
The tickets are not redeemable for cash, credit or any other items with Pangdemonium and Mediacorp.
Others
 
Mediacorp reserves the right to change, amend or add to these terms and conditions without prior notice. Mediacorp further reserves the right, without any liability on its part whatsoever, to cancel, postpone, or in any other way terminate this contest at any time without prior notice.
 
No obligation will be incurred by Mediacorp or its sponsors by reason of participation in this contest or by reason of anything done or omitted to be done by the participants as a result of or on account of this contest. Mediacorp shall not be liable or responsible for any and all losses, damages, costs and/or expenses (of any nature whatsoever) suffered by any participant arising from any failure or refusal, for whatever reason, to deliver or transfer, whether by Mediacorp or its sponsors, the prize or make good on any promise or offer to the participants.
 
Each participant expressly acknowledges and agrees that Mediacorp shall not be liable to any of the participant(s) for any injury, loss or damage whatsoever or howsoever caused arising directly or indirectly in connection with this contest or the prize, including any loss, damage or injury.
 
These terms and conditions and this contest shall be governed by and construed in accordance with Singapore laws.