CNA Lifestyle Experiences: Hang out with Formula 1 racecar driver Sebastian Vettel in person – and bring a friend
CNA Lifestyle Facebook followers have a chance to meet the four-time champ when the Singapore Grand Prix rolls into town, and maybe even go head to head in a special challenge.
Stand a chance to meet Scuderia Ferrari's hotshot driver Sebastian Vettel when he arrives in September for the Singapore Grand Prix. Who knows? You might even get to "race" him. Follow our CNA LIFESTYLE page on Facebook for more exclusive events.
Think you have what it takes to go head-to-head with a four-time Formula 1 world racing champion? Sebastian Vettel is waiting for you.
When the Formula 1 2018 Singapore Airlines Singapore Grand Prix rolls into town next month, you can expect the same high-octane thrills both on and off the street circuit.
But that doesn't necessarily mean passively sitting in the sidelines as the cars whizz by – if you're lucky enough, you might actually get to "race" the 31-year-old German from Scuderia Ferrari.
Regarded as one of the greatest Formula 1 drivers in history, Vettel began his career with BMW Sauber in 2007. Two years later, he began to make his mark when he became the youngest runner-up as part of Red Bull.
Vettel enjoyed huge success with the team, where he would become world champion for a jaw-dropping four times – from 2010 to 2013 – before joining Ferrari two years later.
As part of CNA Lifestyle Experiences, five lucky CNA Lifestyle Facebook followers will have a chance to meet Vettel when he's in town on Sep 13, a couple of days before the race on Sep 16. Two readers will actually get a chance to race him in a special "mini Grand Prix". Details at the end of the story.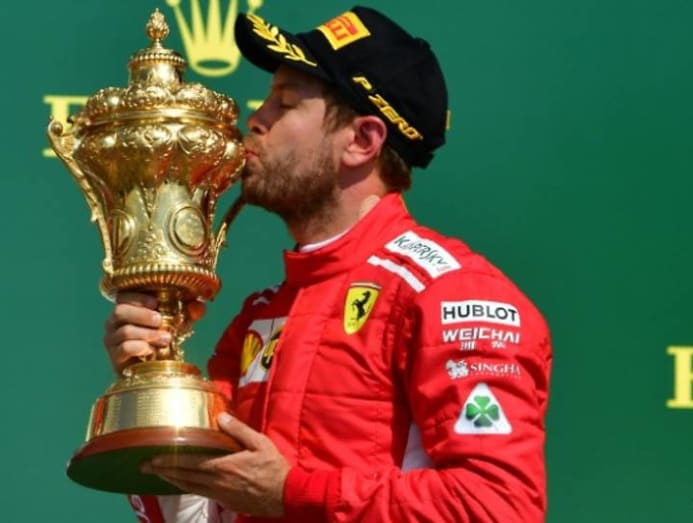 All CNA Lifestyle Facebook followers have to do is tell us what question they would ask Vettel if they ever had the opportunity. It could be related to Formula 1, or even what it's like when he's not behind the wheel. (We hear he used to be a huge fan of the late Michael Jackson and The Beatles, and even comedies such as Little Britain and Monty Python's Life Of Brian.)
Alternatively, it could just be about Singapore and the night race. After all, Vettel has quite an impressive record here. Since it began in 2008, he has won at the circuit four times – in 2011, 2012, 2013 and 2015 – the most among his rivals.
That said, after finishing overall second to Lewis Hamilton and Mercedes in 2017, both Vettel and Ferrari are looking for some payback – and this year is looking to be another tight race between the two camps, who have dominated throughout the season.
After winning his fifth race of the season on Sunday (Aug 26) at the Belgian Grand Prix at Spa-Francorchamps, Vettel is closing in on Hamilton and trimming the latter's lead to just 17 points with eight races remaining. From the looks of it, this year's Singapore Grand Prix is going to be a nail-biter.
Vettel has been pretty gung-ho about his team's chances. "I think this year has shown so far that our car is more efficient, our car is stronger and still has a lot of potential to unleash," Vettel said in an interview a few months ago.
"We'll see. Should be an exciting second part of the year."
When the Singapore Grand Prix comes around next month, you'll be sure Vettel is going to be in the thick of it all.
This edition of CNA Lifestyle Experiences is made possible by Shell, brand partner of Scuderia Ferrari.