Men: Clothes and shoes in stores don't seem to fit? Here's the solution
You slouch. Your left foot's bigger than your right. And you have love handles. Buying off the rack might not work for you – so get it custom made.
SINGAPORE: They say clothes maketh man. But what do you do if they aren't maketh properly for you?
While everyone knows that a good suit and a good pair of shoes are essential in a gentleman's wardrobe, it can sometimes be a challenge finding the perfect fit – especially if your physique isn't exactly model sample size.
If you're a serial sloucher, tall and skinny, have love handles, are flat-footed or have one foot larger than the other, chances are, you probably had to make do with off-the-rack offerings in stores. Which means you're not looking the best you actually can.
Consider taking the made-to-measure or bespoke route. 

To find out about the bespoke options available for men who may be a little odd-sized, CNA Lifestyle spoke with tailor Ryan Timothy Tay and shoemaker Joshua Leong, the men behind Seamless Bespoke, a local retailer at Circular Road that specialises in quality bespoke and made-to-measure menswear and footwear.

​​​​​​​COMMON ODD-SIZE ISSUES
Here's the thing: The majority of men have asymmetrical bodies anyway. Even gym rats – who may consider themselves the perfect human specimen – are technically odd-shaped with their broad shoulders, wide chests, and too-narrow waists.
And if they tend to skip leg day, well, you're looking at a pretty odd-shaped man.
There is also one issue that's common amongst most people – even if we don't notice it. "Around 80 per cent to 90 per cent of people have sloping shoulders," said Tay. He explained that it is the result of being either right- or left-handed.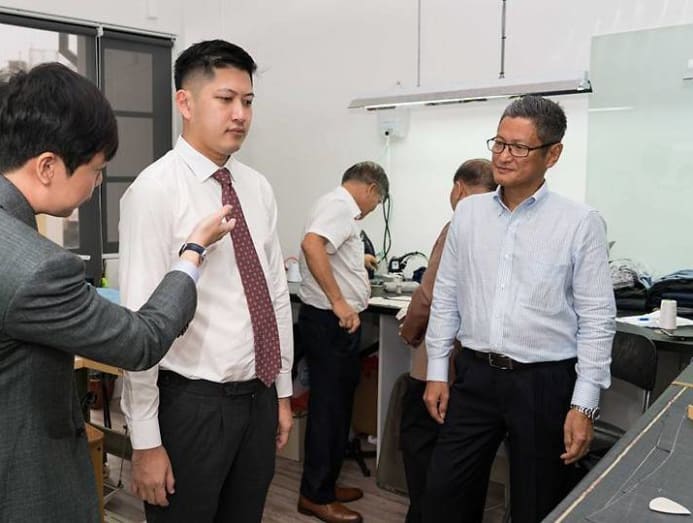 When it comes to feet, Leong pointed out that having one foot smaller than the other is also quite common. "I would say 30 per cent of our customers have asymmetrical feet," he said.
According to Leong, the typical Asian foot also tends to have a low instep (the top part of your foot) and is wider and more flat-footed than the typical Caucasian or European foot – which most shoes are made for.
WHY THESE ISSUES ARE PROBLEMATIC
Because ready-to-wear suits, shirts and shoes are made symmetrically, what you buy off the rack or shelf will never fit right.
For instance, tall men might grapple with sleeves that are too short for them, big dudes might compromise on sleeve length for something that fits the torso, and even the athletic types may look chunky in an off-the-rack suit. Sloping shoulders also result in a bit of a crease in the lower shoulder – which you can't un-see once you've seen it, Tay pointed out.
When it comes to odd-sized feet, you have no choice but to buy the size that fits the bigger foot, which leaves you with one shoe that is a bit too loose. 
Those with flat feet don't have it easy either. These men often have to wear custom orthopaedic insoles, which makes it hard to buy off-the-shelf shoes, said Leong.
BESPOKE OR OFF-THE-RACK?
If you aren't too odd-sized, Tay said that alterations can make ready-to-wear purchases work around 90 per cent of the time.
When it comes to shirts, the cuts change depending on different seasons. You might find that the shirts from a certain brand are your go-to but after a few months, they don't fit like they used to, said Tay. In this case, you might want to consider made-to-measure or bespoke options.

For footwear, Leong said that the majority of men can get by with off-the-shelf shoes. To shop smarter, he suggested asking the retail staff if you can try on shoes made from the different lasts that the brand uses. The last is the mould on which the shoe is made, and it determines the fit.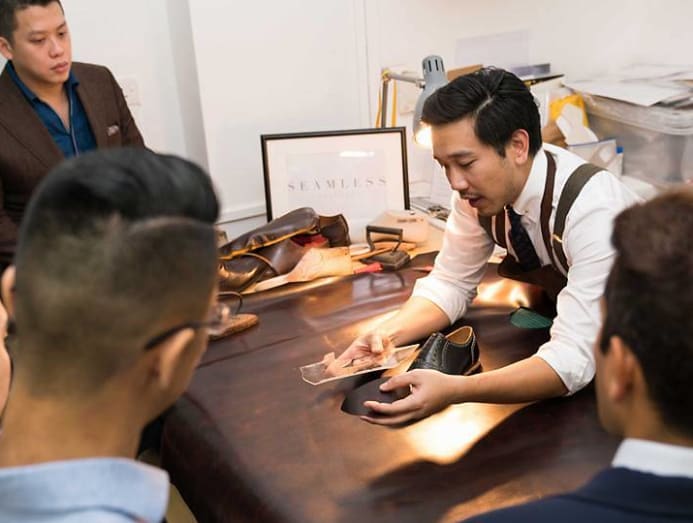 "It doesn't matter if you've got 20, 30 or 40 designs. If the shoes are made based on one last, they will not fit properly," he said. "If the retail staff doesn't know what a last is, they've missed out the most important thing when it comes to the fitting process."
THE DIFFERENCE BETWEEN MADE-TO-MEASURE AND BESPOKE
Both involve a great degree of personalisation. In a nutshell, made-to-measure involves making a few choice tweaks to a baseline by the tailor, while bespoke is the ultimate made-from-scratch option.
"If you have a made-to-measure shirt and your waist is cut to 36 inches, that shirt will measure 18 inches in front and 18 inches at the back," said Tay. 
"For a bespoke shirt, your front panel may have 2.5 inches more than the back to accommodate the width of your chest. It's still 36 inches in total but the proportions are fully accounted for."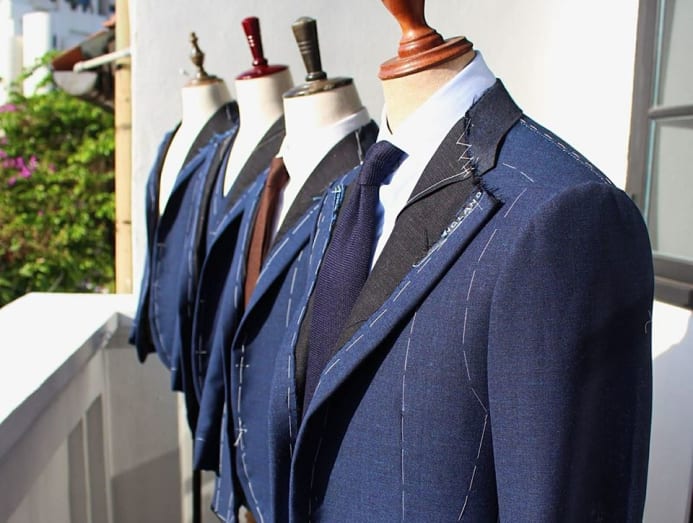 It's more or less the same when it comes to shoes. Made-to-measure shoes are done with an existing shoe last, with the shoemaker adding a couple more centimetres here, and widening it a bit there. A bespoke shoe, on the other hand, begins with a blank last that is shaved down or bulked up based on your specific measurements.
OTHER ADVANTAGES OF GOING CUSTOMISED
Aside from the fact that you're wearing clothes and shoes that fit you to a tee, you're talking about quality products – these are generally made to last longer.
For suits, it is due to the quality of the fabric and the construction techniques used. "Ready-to-wear and high fashion brands sometimes don't focus much on fabric. It's simply about looking at different colours, whether it's a black or navy suit," said Tay.
He added that instead of the more labourious process of handstitching the fabric layers together, many ready-to-wear brands "fuse" these with glue, which can come apart due to moisture and heat, resulting in the "bubbling" one sees in an older jacket.
As for shoes, Leong said off-the-shelf options are often not designed to be resoled. Sometimes, the leather used doesn't even last long enough for you to have a chance to resole them, he said.
Leong recalled an incident during his shoemaking apprenticeship in Italy. A customer had brought in a pair of shoes that was almost 20 years old and had already been resoled twice. "The shoe uppers were still in perfect condition and we resoled it for the third time. They looked brand new," he said.
Both Leong and Tay point out another overlooked advantage in considering made-to-measure or bespoke: You get to know more about your body.
"The tailor or shoemaker is giving you advice, telling you things you never knew about your own body or feet," said Leong. "You leave the shop with more than just a suit or shoes. When you step into another store, for example, you'd know you have a high instep and can ask for off-the-shelf options with a high instep."
Added Tay: "By going to a tailor, you learn a bit more about your physique and realise you can look better."
WHAT TO GET
If you're considering getting a bespoke or made-to-measure suit, Tay suggested going for a navy suit for its versatility. "The first suit people go for is a black one. But in classical tailoring, that's only meant for black tie events or funerals."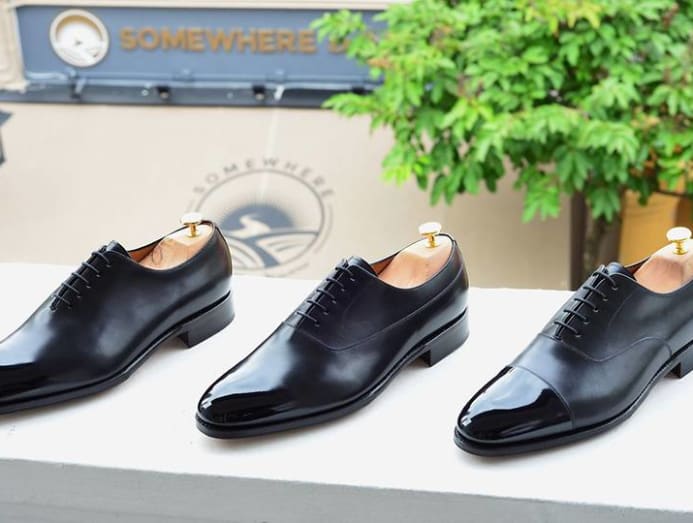 As for shoes, Leong suggested the ever-reliable black cap-toe Oxfords. "If you want to get as many wears out of that first good pair, it's the most versatile. You can use it for work, formal occasions and even get married in it. You will never looked underdressed in any situation."
WHAT YOU SHOULD EXPECT TO PAY
It depends on where you're getting your suit or shoes customised. At Seamless Bespoke, a made-to-measure suit costs around S$850, while a full bespoke one starts at S$3,000. They don't make made-to-measure shoes but a full bespoke pair starts at S$4,900.
"It's about understanding how good the fit can be," said Leong. Then, depending on your budget, you can see if you can find something that can get you a fit that's as close as possible without busting the bank."