Crisp meets crispy: Why Japanese highballs and fried cutlet skewers make the perfect pairing
The latest instalment of CNA Lifestyle Experiences takes diners on a casual romp through Japan's izakaya culture at Kushikatsu Tanaka.
Enjoy an authentic Japanese night out with some kushikatsu skewers and free-flow highball cocktails at Kushikatsu Tanaka in Clarke Quay. Details below. Follow our CNA LIFESTYLE page on Facebook for more exclusive events.
As any seasoned visitor to Japan will tell you, no trip to the Land of the Rising Sun is complete without experiencing the country's unique izakaya culture. Especially on weekday evenings, when salarymen and office ladies take to these watering holes in droves to unwind.
There, amid a convivial, occasionally boisterous atmosphere, patrons nibble on izakaya staples like yakitori – skewers of charcoal-grilled chicken – and kushikatsu, which is deep-fried skewers of meat and vegetables.
These are typically washed down with beer, sake or, increasingly, highballs. Once synonymous with Japan's bubble economy of the 1980s, highballs fell out of favour by the end of that decade.
In recent years, however, highballs have made a strong comeback in Japan, spurred by interest from a new generation of pub-crawlers fascinated by this retro concoction.
For the uninitiated, highballs are made using an alcoholic base such as whisky or bourbon, and a non-alcoholic mixer like soda or tonic.
Japanese bartenders adhere to a ratio of three parts mixer to one part alcohol. This ideal proportion tempers the alcoholic strength, so that the drink does not overwhelm the flavours of the food. Indeed, because of the drink's effervescence and low ABV (alcohol by volume), the refreshing beverage pairs well with pub grub.
But you do not have to travel all the way to Japan to enjoy its highball or izakaya culture.
On Aug 21, you are invited to Kushikatsu Tanaka at Clarke Quay for the latest in a series of exclusive events from CNA Lifestyle Experiences.
Famous for its fried cutlet skewers and signature dipping sauce, Kushikatsu Tanaka is one of Japan's largest kushikatsu chains with more than 160 locations worldwide. The outlet in Singapore is popular with Japanese expats and their families, as evidenced by our recent visit.
At the event, you will be treated to a free flow of Jim Beam Highballs and yuzu-flavoured Tsukekomi Highballs, as well as a seasonal flavour specially created for the occasion.
We tried the Jim Beam Highball and found it to be on point: a good balance between bourbon and soda. It was exactly as the Japanese would enjoy it, and brought back fond memories of holidays in Tokyo.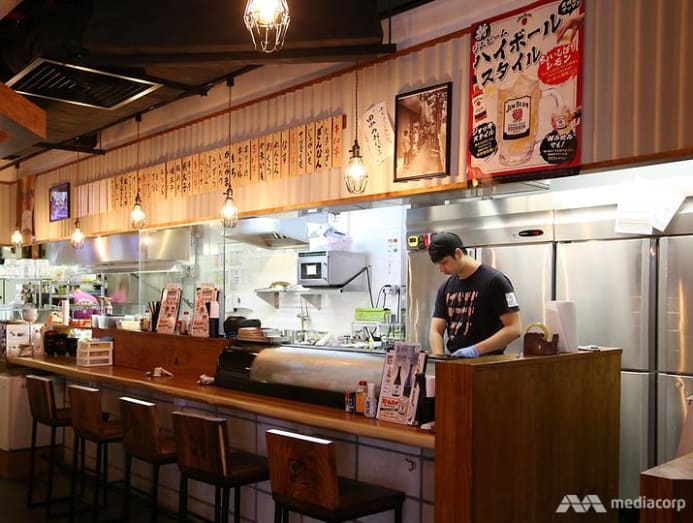 Just for fun, we also ordered the Singapore Sling Tsukekomi Highball. Smooth, creamy, only slightly sweet, and much less potent than its namesake, it was not at all what we expected. A pleasant surprise, it went down the hatch easily.
One of the hallmarks of a good highball is its crisp, refreshing quality, which is determined by the temperature and effervescence of the soda. To this end, Kushikatsu Tanaka will serve the soda from draft machines to ensure a perfectly proportioned pour and a potent fizz.
Daisuke Shibuya, a wine and sake sommelier, will be on hand to demonstrate this and other hacks in making the perfect Jim Beam Highball. 
You will also get to enjoy Osaka street food favourites such as takoyaki (griddled balls of wheat-flour batter and diced octopus) and mentaiko (pollock roe) potato salad. But there is a twist: both dishes are DIY. A container of batter and a portable griddle will be brought to your table for the takoyaki, while the salad will arrive unassembled.
As we found out, takoyaki is harder to make than it looks, but the satisfaction of having made it ourselves was reward in itself. Dipped in takoyaki sauce, the morsels of octopus-and-batter were savoury (if slightly undercooked) treats. We vowed to do better next time.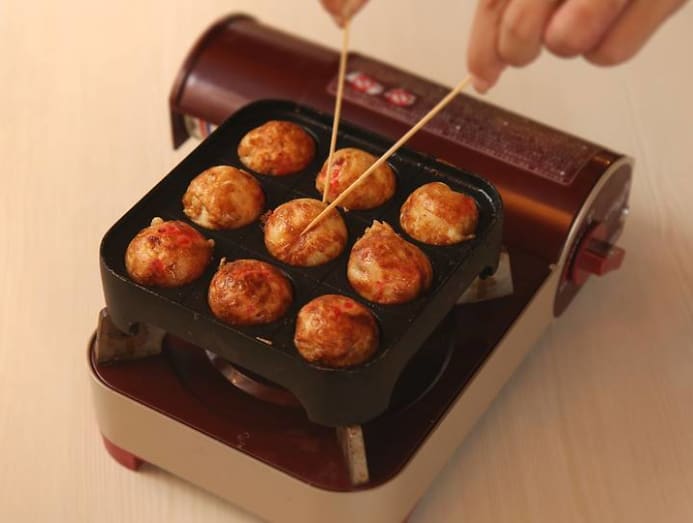 The potato salad fared better. Laden with umami notes, the mixture of potato, mayonnaise, ramen egg and mentaiko blended into a satisfying whole.
And then there was the seasonal special, unagi kushi (freshwater eel skewer). This was served alongside a platter of other kushikatsu. Each piece was coated in a light, crispy panko batter that went extremely well with the piquant, sweet-sour dipping sauce.
Comfort food, crisp, cold drinks and a lively ambience. What better way to wind down after a long day at the office? Kanpai!
TERMS & CONDITIONS
 
This contest is organised by Mediacorp Pte Ltd ("Mediacorp"). This contest is valid from 14 to 16 Aug 2018, and is open to all residents of Singapore who are above 21 years old except for employees of Mediacorp, its related companies and their immediate family members. By participating in this contest, the participant agrees to be bound by the official rules, regulations and decisions of Mediacorp.
 
10 winners will each win an invite for 2 people to attend this event.
 
By participating in this contest, the participant agrees to participate in any form of publicity for this contest. Mediacorp reserves the right to disqualify any winner(s) in the event that the winner(s) refuses or fails to participate in such publicity for this contest.
 
The invite is non-transferable or exchangeable for cash, credit, goods or services. Mediacorp reserves the right to replace the invite with other invitations of similar value without giving prior notice.
 
The decisions of Mediacorp on all matters relating to this contest are final, conclusive and binding and no appeals or correspondence will be entertained.
 
Mediacorp reserves the right to reject any entry for any reason.
Personal Data
 
By participating in this contest, participants agree that their personal data may be used by Mediacorp and the Mediacorp group of companies (collectively "Mediacorp") to send them marketing and advertising materials in relation to goods and services of Mediacorp and its business partners, and for research and analysis. If you have any questions relating to Mediacorp's collection, use and disclosure of your personal data, please contact Mediacorp's Data Protection Officer at

dpo

[at]

mediacorp.com.sg

.
Contest Conditions
 
The invitation is not redeemable for cash, credit or any other items with Kushikatsu Tanaka.
Others
 
Mediacorp reserves the right to change, amend or add to these terms and conditions without prior notice. Mediacorp further reserves the right, without any liability on its part whatsoever, to cancel, postpone, or in any other way terminate this contest at any time without prior notice.
 
No obligation will be incurred by Mediacorp or its sponsors by reason of participation in this contest or by reason of anything done or omitted to be done by the participants as a result of or on account of this contest. Mediacorp shall not be liable or responsible for any and all losses, damages, costs and/or expenses (of any nature whatsoever) suffered by any participant arising from any failure or refusal, for whatever reason, to deliver or transfer, whether by Mediacorp or its sponsors, the prize or make good on any promise or offer to the participants.
 
Each participant expressly acknowledges and agrees that Mediacorp shall not be liable to any of the participant(s) for any injury, loss or damage whatsoever or howsoever caused arising directly or indirectly in connection with this contest or the prize, including any loss, damage or injury.
 
These terms and conditions and this contest shall be governed by and construed in accordance with Singapore laws.