Kitchen Stories: When the head chef is a 27-year-old girl boss
The Garage's young, female head chef Sujatha Asokan bleeds assam laksa from her culinary veins and suffers no ill discipline in her kitchen – except when it's initiated by herself.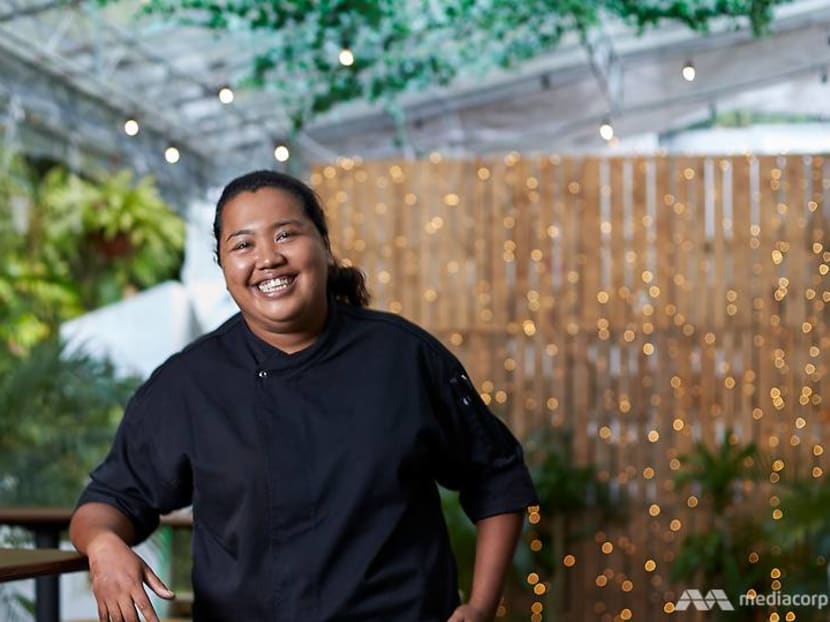 One imagines that chefs go through phases of passionate devotion to one food at a time, entering into whirlwind romances with dish after pretty young dish. But Sujatha Asokan has demonstrated a steadfast loyalty to one particular dish all her life, and that's assam laksa – a special dish that holds particular significance for this young chef.
The 27-year-old heads the kitchen at The Garage, an establishment consisting of modern European bistro Botanico and casual cafe The Bee's Knees, located in a heritage building in the Botanic Gardens. Ever since she took over the reins a year ago, the daughter of a Chinese mother and an Indian father has introduced the piquant Asian flavours she grew up with into her menus.
Dining at Botanico, for instance, you might opt for the "Curry" Lamb Neck slow-cooked for 24 hours and served with Vadouvan-spiced king oyster mushrooms (S$32); or the Iberico Char Siew accompanied by carrot noodles, carrot puree and honey pork jus (S$34). And for dessert, you'd have a tough time choosing between the Lemongrass Panna Cotta topped with ginger ice cream (S$10), and the Jalapeno Ice Cream with charred Sarawak pineapple, dehydrated bacon financier and micro coriander.
A KITCHEN FULL OF AUNTS
But Sujatha herself, or Su, as she prefers to be known, never has any trouble deciding what to order when she hangs out at her favourite haunt – a Penang eatery in the Geylang area. It is always assam laksa.
"I'm a very boring person," she declared. "If I like something, I go back there and I keep ordering that thing."
Her singlemindedness probably has a lot to do with the fact that her earliest kitchen memory, which is also her most significant, revolves around the sour, spicy noodle dish.
The die was cast at the age of six. As a child, she would travel regularly with her parents and older brother to visit her mother's family in Kedah, Malaysia. There, her four aunts would fill the kitchen with sights, sounds, smells and bustle.
"At first, I would just watch, not really understanding what was happening. But gradually, the smells and everything made me curious about what was going on in there. I saw that when they all cooked together, it brought the family together," Su recounted.
"They made all the usual dishes in Chinese home cooking, but the dish that really caught my attention was assam laksa. The smell would fill the whole place," she recalled. "I used to find the final product too spicy – although it was very shiok – so they would tease me and say, 'Your father is Indian. Why can't you take spicy food?' Then, they would lower the spice level for me."
As time went on, she was allowed to help make the dish. And after this piqued her interest in cooking, she also began to "kaypoh" around her paternal grandmother's kitchen in Singapore. "She's Indian, so she made things like curry and raita. I grew closer to her by going to see what was happening in her kitchen and trying to help her."
At Botanico, Su's heartfelt tribute to the dish that started it all is the Seabass Ceviche, which is her interpretation of assam laksa. Here, diced local seabass is dressed with lemon and lime juice, housemade chilli jam, extra virgin olive oil, finely diced jalapeno, shallots, coriander and mint. It's piled around glass noodles dressed in tamarind laksa sauce: A blend of belachan, candlenuts, dried chilli, galangal, ginger flower, shallots, turmeric, laksa leaves, lemongrass, tamarind skins and tamarind pulp. Topping it all off is a little quenelle of housemade shrimp paste ice cream, which subtly melts its richness into the cold, fresh mix.
STANDING UP TO THE HEAT
Having female culinary mentors during her formative years likely provides essential inspiration for this young leader as she holds her own in an industry that is largely male dominated.
"I'm probably very lucky. In all the kitchens I've been in, there has never been any worry about what I can or cannot do," said Su, who began her gastronomic career at the age of 19 at Stellar at 1-Altitude, then did stints at Pollen and Esquina. She added, with a smile: "It's also because I'm a giant, maybe. I'm big enough to lift things and man the grill." And, at 1.8m tall, "I think I'm big enough to scare people".
That said, she certainly doesn't believe that it's all about size, much less about gender.
"My female colleagues are usually put into the cold kitchen, or dessert and pastry because ladies are known to have very soft, gentle hands, and wanting to advance to lifting heavy pots and the hot grill presents challenges," she said. That's not so in her kitchen. "I have a girl who's very small. She's on the grill now, in Botanico, and she's enjoying it."
That's because Su believes in supporting people in the pursuit of their passions. "I think the most important things are support, encouragement and positive vibes," she said. "I always put myself in their shoes… If you have a heart for what you do, they will feel it."
Although she does run a tight ship when it comes to discipline and will chew people out if they have a bad attitude, she's also the first one up for a prank.
"The one I pull most often is wrapping the tap in cling film," she giggled, slightly sheepishly. "When you are busy, the first thing you want to do is wash your hands – but, whoosh! You can try that – it's so annoying. I also cling wrap their olive oil bottles or call out a long list of fake orders towards the end of service.
"One of the worst pranks, which I regret the most, was when we put fish sauce into a potato foam and then sprayed it onto someone. The whole place smelled so bad after that."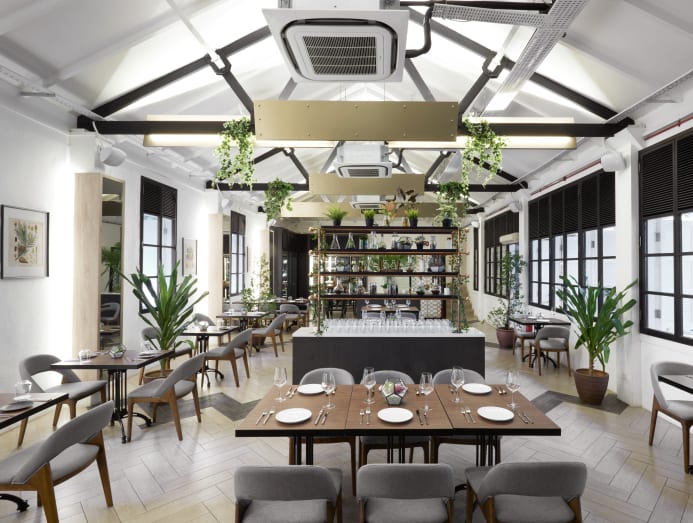 Lest you think she's abusing her authority, it seems it's all some form of kitchen camaraderie. "They also play pranks on me. They cling wrap my helmet. I think we're using too much cling wrap in this kitchen," she quipped, adding, "I ride a motorcycle. My parents were worried at first, but they know they cannot control me."
When all's said and done – and the fish sauce has been cleaned up – her team, she said, is "very supportive and very passionate, especially the younger ones".
"I'm very lucky to have them. It's stressful and tiring, but I believe in keeping things alive in the kitchen."
After all, the kitchen has always been the place that breathes life into her, ever since she was a six-year-old in her aunts' kitchen.
"When I get stressed with all the computers and meetings, I just run back into the kitchen and say, 'Is there anything for me to do? Come, let me help you.' That's very comforting and relaxing, somehow."
The Garage, 50 Cluny Park Road. http://www.thegarage.sg