Chee cheong fun with jamon Iberico? Chefs celebrate National Day with souped-up hawker faves
The "atas" homage to humble fare includes nasi lemak arancini, Eurasian birthday noodles and Hokkien mee simmered for 10 hours.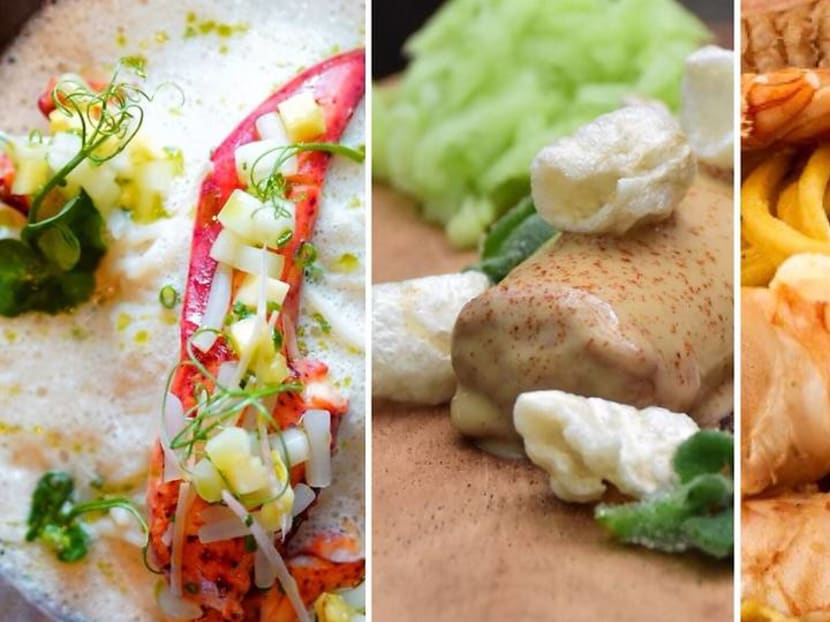 If laksa, Hokkien mee and chilli crab are some of the things that make you proudest to be Singaporean, you're in good company.
This year, a number of local chefs and their restaurants have chosen to celebrate National Day by offering luxuriously souped-up versions – pun intended – of favourite hawker dishes and down-home classics that celebrate Singapore's culinary heritage.
Think Iberico Chee Cheong Fun, White Laksa made with somen, and Nasi Lemak Arancini. These are fervently embellished love poems to the country – which, happily, we diners can also taste.
WHITE LAKSA AT THE SPOT
Laksa, as we know it, is a delightfully dirty dish in the best sense of the word. But at modern European restaurant The Spot, executive chef Lee Boon Seng has created a version that is "clean and white", just like the Singapore in his mind, he said.
Faced with the impossible choice between the two versions of his favourite dish – assam laksa and Nyonya laksa – Chef Lee decided to combine their distinct flavours in one bowl, using selected ingredients from both. "And I made the choice to lighten the broth in both flavour and texture," he said.
He explained: "I've followed the traditional methods of making the laksa, but adapted them to make it lighter. For example, I used chilli padi to add heat instead of sambal, which makes it less oily. Then, I foamed up the sauce. I also deliberately used a more delicate noodle – Japanese somen – and added some brighter flavours in a salsa made from pickled ginger flower, pineapple, cucumber, beansprouts and chives. I then added an extra touch of luxury with butter-poached Boston lobster."
In addition to the White Laksa (S$42), you can also sample "Orh Luak" Oyster Omelettes (S$9 per piece) featuring salt-baked French oyster on creamy scrambled eggs.
Mixologist Drazen Alingasa is also in on the fun, offering up Kopiko (S$16), a drink of espresso and spice-infused reduced dark beer, served with a side of kaya toast; Gulamerah Sling (S$16), which mixes bandung up with gin, Cointreau and Cherry Heering; and Mr Bean (S$16), featuring soy milk and grass jelly with Famous Grouse whisky and a hint of pandan.
Available from Aug 6 to 11.
10-HOUR HOKKIEN MEE AT LE BINCHOTAN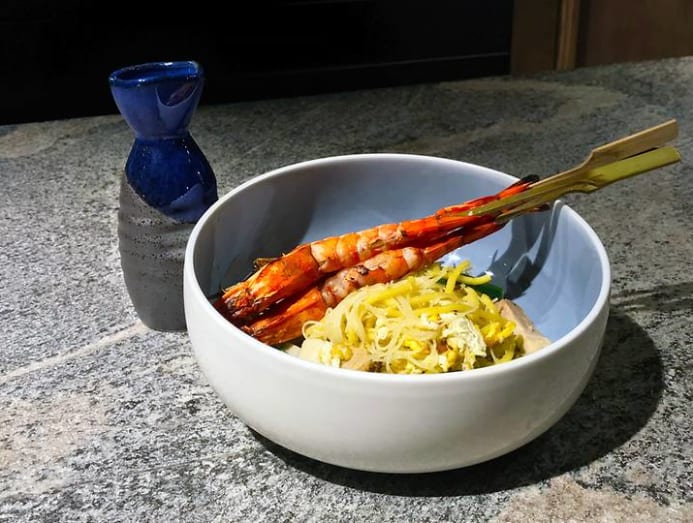 "Hokkien mee is one of the local dishes I cannot live without. It is one of the few things that I seriously miss and crave when I am overseas," said chef-owner Jeremmy Chiam of French-Japanese restaurant Le Binchotan. It's also his go-to supper food, so he's rolling it out as part of a Supper Special, available from 9.30pm onwards.
"I would say that it is all about the broth in Hokkien mee," he shared. "I make it in way that's similar to how I would make lobster bisque. Stock-making is one of the fundamental techniques in French cooking, and I apply the same methodology and principles to create the stock that forms the base of my broth." The stock is made from carrots, onions and celery. "I also use lots of premium ingredients such as lobster shells, fresh prawns and prawn shells, scallops, bacon and pork belly." The ingredients are then simmered for 10 hours.
In addition to Hokkien mee (S$18), there's also Chinese satay-inspired skewers of Iberico pork collar (S$17 for three skewers) marinated in gula melaka, garlic, lime, nutmeg and turmeric, grilled over Japanese binchotan charcoal and basted in French butter, served with a sauce of kicap manis with shishito, banana shallots and a dash of togarashi spice.
Top it all off with a Bubur Cha Cha cocktail (S$16, available from 6pm onwards) made with taro-infused vodka, coconut, pandan and house-made tapioca jelly chunks.
Available from Jul 27 to Aug 31.
IBERICO CHEE CHEONG FUN AT BOTANICO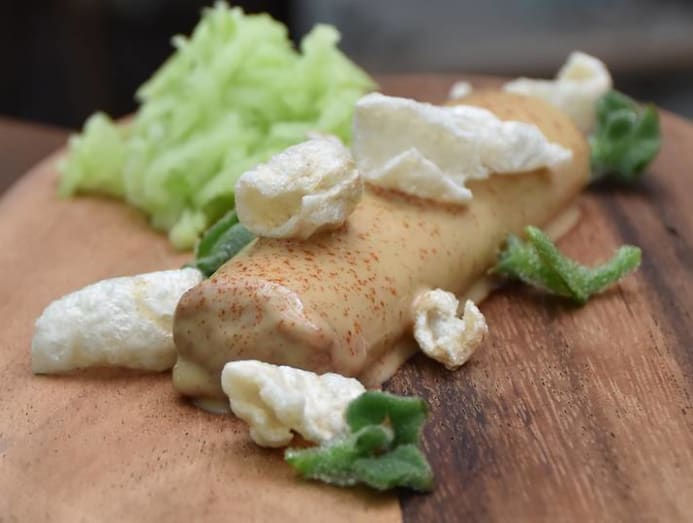 The humble chee cheong fun studded with bits of char siew is probably one of the last dishes you'd think of fancying up, but Chef Sujatha Asokan of contemporary European restaurant Botanico has chosen to do that as part of a National Day Exclusive Communal Brunch menu for Aug 9 (S$53 per person).
"To me, chee cheong fun is a dearly beloved childhood dish, and is still one of my favourite dishes for breakfast and lunch," Chef Sujatha said. "It's so flexible – you can serve it plain, with shrimp or with pork, or even dough fritters."
For her, it's all about putting a new spin on it. "Our version has strong European elements. We've actually used cannelloni shells instead of the traditional rice sheets," she explained. "The stuffing is also elevated – we've used Iberico pork belly cooked char siew-style with our own house-made marinade in our Inka oven. This filling is very rich and flavourful, so I serve this dish with some lightly pickled Japanese cucumber to refresh the palate."
In addition to the Iberico chee cheong fun, the National Day brunch menu also includes dishes such as Red Bass Conchiglie in XO sauce and a cold laksa pasta with poached prawns, inari, oyster aioli and laksa leaf crumbs.
There are also special a la carte dishes from Aug 1 to 9, such as Crispy Baby Squid (S$13) with curry leaf in salted egg aioli; Stockyard Wagyu Petit Tender (S$34) featuring asam gelugur, tamarind sauce, charred leek flowers and potato terrine; and Lemongrass Panna Cotta (S$10) with ginger ice cream.
A la carte dishes are available from Aug 1 to 9, and the National Day Exclusive Communal Brunch menu is available on Aug 9.
NASI LEMAK ARANCINO AND CHILLI CRAB PANZEROTTI AT LATTERIA MOZZARELLA BAR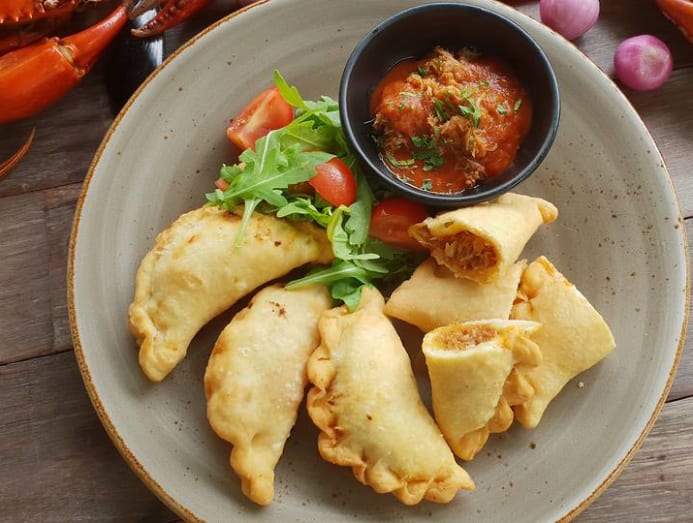 If you've ever wondered what it would be like if Italian cuisine and Singaporean hawker fare had a lovechild, the special brunch menu at Italian restaurant Latteria Mozzarella Bar will satisfy your curiosity.
Start with a nasi lemak arancino, or stuffed rice ball, served with sambal aioli, move on to a chilli crab panzerotti or savoury turnover, and build up to laksa bucatini with mixed seafood piccante. End with deconstructed ice kachang or the tarik panna cotta with gula Melaka.
"The ingredients and elements I use for the menu are mostly ingredients based on local elements, while the cooking technique is based on Italian and Mediterranean cuisine," explained head chef Sunny Tiu.
For instance, "Arancino is a dish from Sicily which is rice filled with ragu, tomato sauce and mozzarella, then coated with bread crumbs and deep fried. The rice elements of the Arancino inspired me to incorporate fragrant rice cooked with coconut milk and pandan leaves, and serve it with aioli flavoured homemade sambal and other side dishes."
"The nasi lemak is cooked with the same technique used to make risotto, but I replace butter and onions with coconut cream and pandan leaves."
As for the panzerotti, a dish typical of the region of Puglia consisting of fried dough usually filled with tomato sauce and mozzarella cheese, "the texture and flavour of the panzerotti are quite similar to that of a curry puff, so I was inspired to replace the usual filling with Singapore's famous chilli crab instead," Chef Tiu said.
Available on Aug 9 and 12 from 12pm to 2.30pm.
EURASIAN BIRTHDAY NOODLES, NASI ULAM AND BRAISED PORK TROTTERS WITH MOOI CHOY AT FOLKLORE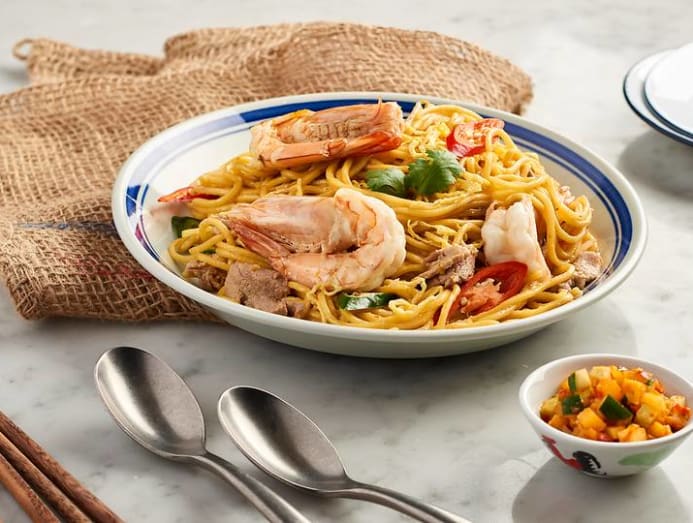 At his restaurant Folklore, Eurasian-Peranakan chef Damian D'Silva is presenting a new and different set lunch every week for the month of August, with each featured dish honouring a different culture: Chinese, Malay, Indian, Peranakan and Eurasian.  
The adventure kicks off with the Chinese dish of Braised Pork Trotters with Mooi Choy during the week of Jul 30 to Aug 3. The following week, there'll be the Malay dish of Nasi Minyak with Lamb Rendang and Sayur Lodeh. Then, it's the Indian dish of Dry Goat Curry with Briyani and Dhalcha, followed by the Peranakan dish of Nasi Ulam and the Eurasian dish of Birthday Noodles.
This weekday set menu (S$30) is for two to share and includes two desserts and locally-inspired drinks.
The dishes were chosen to showcase diversity, said Chef D'Silva, and many are family recipes. For instance, the Nasi Ulam, a rice dish of wolf herring, prawns and herbs, is made according to his maternal Peranakan grandmother's recipe and features kaffir lime leaf, turmeric leaf, lemongrass, daun pegaga, pucuk gajus, ulam raja, kacang botol and long beans.
"Nasi Ulam is supposed to be eaten slowly as the rice releases different flavours with every chew; these can be sweet, bitter, salty and sour all at once. It is a mind blowing experience," he said.
Eurasian Birthday Noodles, also known as Mee Anu in Cristang, is a less commonly known dish; it is eaten on birthdays to signify longevity. "Chopped garlic is fried with oil till fragrant, before pork and prawn stock are added and brought to a boil. Next, finely sliced pork tenderloin is added together with fresh peeled prawns to cook, followed by bean sprouts and egg noodles," Chef D'Silva explained. "The dish is then cooked until the gravy has been absorbed by the noodles."
The final garnish is thinly fried omelette that is julienned, sliced green and red chilies and Chinese parsley. "There is also a relish that is made out of cubed pineapple, cucumbers, chilies and sambal belacan that cuts the richness of the dish."
But the Braised Pork Trotters with Mooi Choy is the dish that he remembers best from his own birthdays, when his paternal Eurasian grandfather used to make it. "I believe it's done the Hakka way, where dry spices like star anise, cinnamon and Chinese brown cardamom are braised together with dried fungus, dried scallop, orange peel, dates, dark soya, galanghal and sand ginger on a low flame until the pork trotters are meltingly tender."
Available from Jul 30 to Aug 31 on weekdays for lunch.
www.parkhotelgroup.com/en/destinationbeachroad/folklore
LAKSA XIAO LONG BAO AT YAN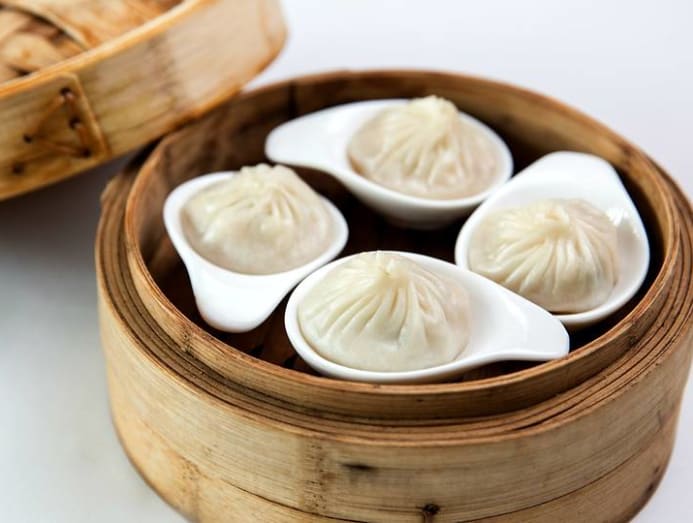 Cantonese restaurant Yan's annual National Day dim sum menu is getting a recharge this year with dishes like Steamed Xiao Long Bao in Laksa Stock accompanying popular favourites like Steamed Hainanese Chicken with Sticky Rice wrapped in Lotus Leaf.
The laksa xiao long bao (S$5.80 for four) riffs off the well-received bak kut teh xiao long bao that they rolled out two years ago. This year, the delicate steamed dumplings feature fresh shrimp and a laksa broth prepared with house-made laksa chilli base, coconut milk and dried shrimps, said executive Chinese chef Lai Chi Sum.
On the dim sum menu, there are also dishes like Pan-fried Singapore Chilli Crab Meat Bun (S$9 for three) and Deep-fried Chicken Satay Wonton (S$6.80 for three).
But we wouldn't blame you for hankering after the Steamed Hainanese Chicken with Sticky Rice wrapped in Lotus Leaf (S$4 apiece). The glutinous rice in this dish is steamed for an hour with ginger, garlic, lemongrass and pandan leaf. Chicken thigh, which has been stir-fried with a blend of traditional chicken rice spices, is then wrapped up with the rice in a lotus leaf, which adds its fragrance to the mix, and steamed further. It's served with dark soy sauce, house-made chilli sauce and ginger sauce.
Available from Aug 1 to 31 for lunch, 12pm to 2.30pm.
NATIONAL DAY PARADE 2018 | Watch the parade live on channelnewsasia.com starting from 5.30pm on Aug 9.

Our livestream is also available on twitter.com/channelnewsasia and facebook.com/channelnewsasia.