CNA Lifestyle Experiences: At 98, Singapore's oldest living artist continues to be obsessed with art
There's no artist quite like Lim Tze Peng. Join CNA Lifestyle as we celebrate the Cultural Medallion recipient's awe-inspiring body of work through the decades at his latest exhibition.
CNA LIFESTYLE EXPERIENCES: Meet one of Singapore's most respected artists at the opening of his latest special exhibition. Details below. Follow our CNA LIFESTYLE page on Facebook for more exclusive events.
SINGAPORE: At the ripe old age of 98, Singapore's oldest living artist just can't stop thinking about art.
As we settled down for a chat at his home in Telok Kurau, Lim Tze Peng confessed that he hadn't gotten a good night's sleep.
"I woke up at 4am thinking about how to paint better," he shared in Mandarin, with a gentle chuckle.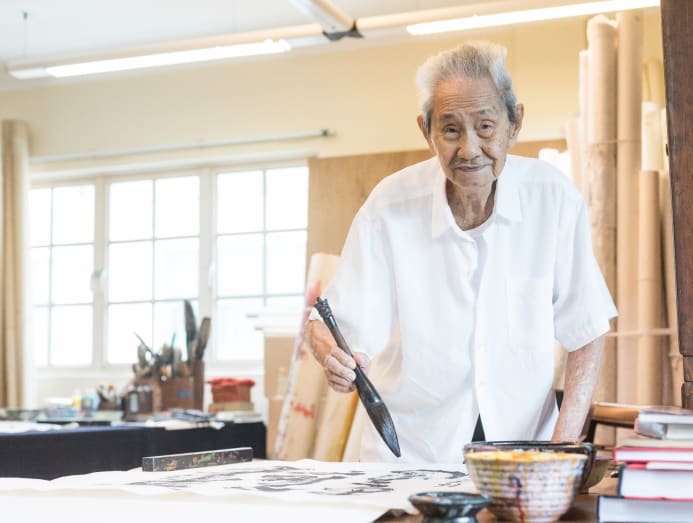 "When I think too much about painting or writing calligraphy, I can't sleep well. Even when I'm sitting here, I'm thinking of it. When I lie down on my bed, I'm thinking of it!"
Talk about dedication. After decades of creating some of the most familiar and iconic Chinese ink paintings of the Singapore River and Chinatown (and breaking auction records and snagging a Cultural Medallion award along the way), we half-expected to find Mr Lim just chilling out at home with his grandchildren, resting on his laurels during his twilight years.
SINGAPORE'S VERY IMPORTANT CHINESE INK ARTIST
But amazingly, he's still at it. One of the coolest senior artists we've ever met, Mr Lim may have stopped painting full-time, but he still does a bit of calligraphy as a form of exercise at his second-floor artist studio, which is crammed with old paintings and scrolls.
And while he mostly just stays at home these days, he'll soon be stepping out for his first solo exhibition in two years.
Later this month, Ode To Art Gallery is presenting Portrait Of The Heart, a retrospective of Mr Lim's artworks through the years. It will comprise over 80 pieces that span his entire practice, from his Singapore River and street scenes to his Tree series and even experimental calligraphy works. And they're not all old pieces – he's even throwing in a few recent ones, too.
While Mr Lim admits to feeling "a bit of pressure" with the exhibition, he's also looking forward to it.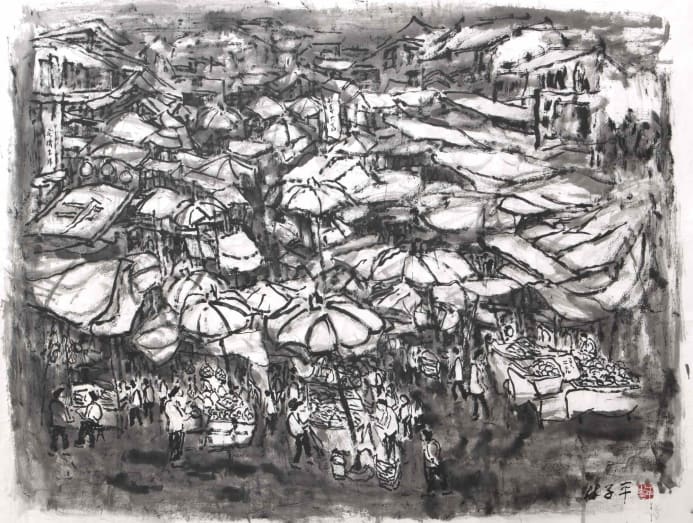 "I feel delighted that someone is organising the show, and people want to come and enjoy my work," he said.
For gallery owner Jazz Chong, holding the exhibition was a no-brainer. "He's a very important Chinese ink artist in Singapore; the oldest and probably the most prominent Singaporean artist alive. Because he has had so many years of practice, you see the evolution of his works."
FROM PASIR RIS KAMPONGS TO THE SINGAPORE RIVER
And, in a way, of Singapore, too. Born in 1921 to parents who were pig and chicken farmers in Pasir Ris, the eldest of seven children recalled learning how to paint in his twenties, with the local villages in the area one of his favourite subjects.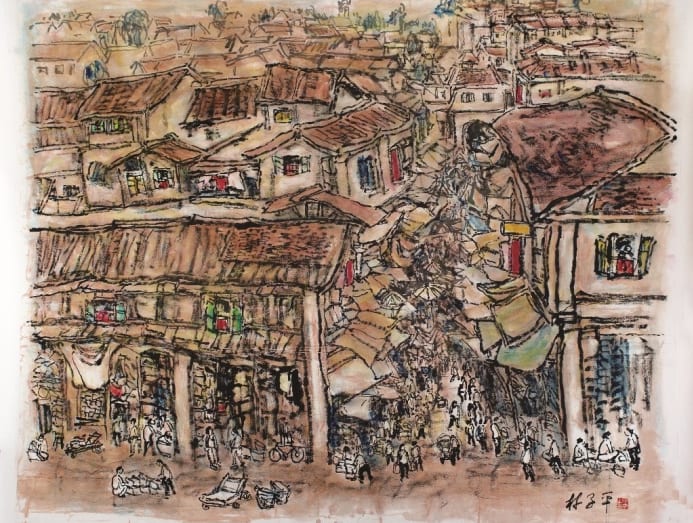 "Near our place – we lived in an attap house – there were a lot of Malay kampongs and I used to go there to do drawings. I did a few hundred pieces," he said.
But Mr Lim didn't become a full-time artist until much later – he spent the first half of his life as a primary school teacher, while occasionally joining other artists, such as the seminal Ten Men Group, in trips to other places in the region.
Upon his retirement in the late 1970s, Mr Lim switched gears. Around this time, Pasir Ris had also started to lose its kampong vibe thanks to development, and he shifted his attention to the subject matter he would really become famous for – the Singapore River and Chinatown.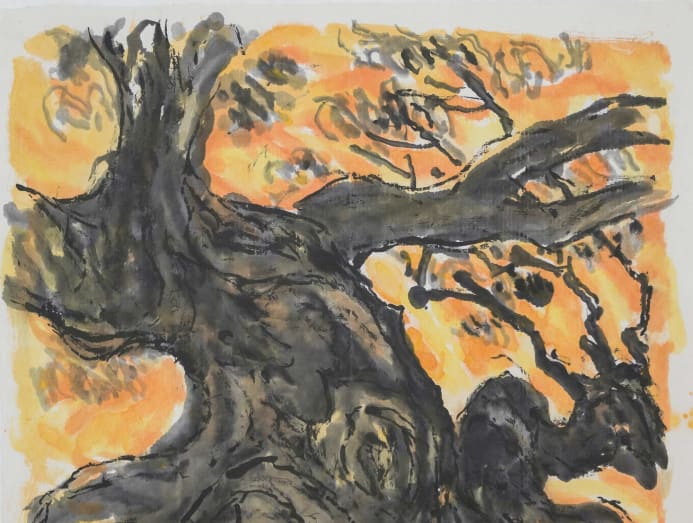 "I have a lot of good memories of the Singapore River – it was a unique part of Singapore at that point in time," Mr Lim recalled.
"And it wasn't just me who painted there. There would be hundreds of artists, there would be tourists taking photos, the big bumboats. There was so much activity. It wasn't so clean as it is now, but it wasn't very smelly because of the low and high tides," he quipped.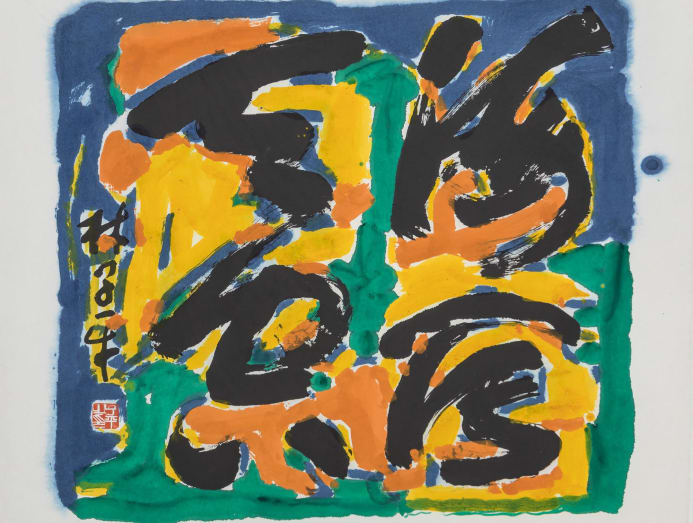 Mr Lim also has vivid memories of the street scenes in Chinatown. "The clothes hanging outside the shophouses were like flags - a lot of colours and very beautiful. On the streets, you'd see hawkers on one end selling fish, duck and fruit. On the other, you'd see the Samsui women, bent over as they were walking or working. It was the perfect subject matter."
'I SEE, I PAINT. I THINK, I PAINT.'
While these artworks had made Mr Lim famous, he went on to do others – experimenting with calligraphy in the 1990s and 2000s. "I always felt the need to come up with new expressions, new things," he explained. "When I was younger, I used to go out – I see, I paint. As I've become older and can't go out anymore, I think, then I paint."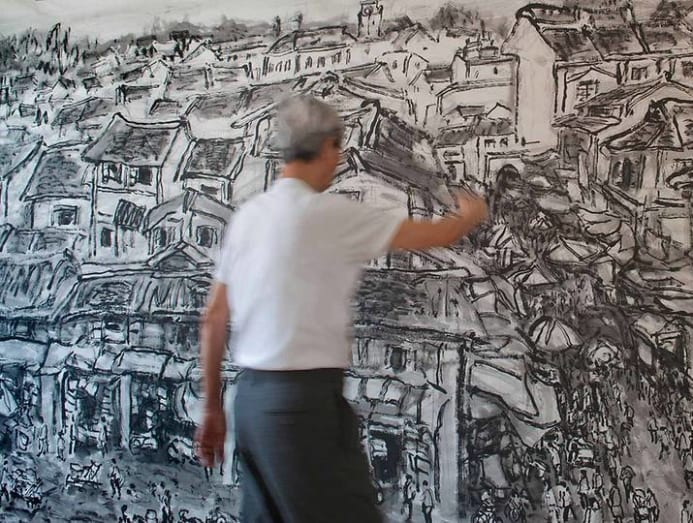 His personal drive to innovate would eventually reap even bigger rewards. In 2003, he received the prestigious Cultural Medallion, the highest accolade for any artist in Singapore. A few years ago, he also received the Meritorious Service Award.
Mr Lim's artworks have also been a hit in the art market. In 2012, one of his Chinese ink paintings of a Singapore River scene sold for S$101,800 at a Christie's auction in Hong Kong – a record then for a living Singaporean artist.
And while you might think Mr Lim's works aren't quite popular among younger art lovers weaned on cool contemporary art, you'd be surprised to find out that his works continue to resonate with a new generation.
"A lot of those who collect him are actually quite young," said Ode To Art's Ms Chong, who says that prices for Mr Lim's works range between S$10,000 to half a million for his big pieces.
"There are those in their early 30s, who're looking for something for their new homes, who are starting to say they want to be more connected to their roots, and they feel they can relate to his art, whether it's calligraphy or old Singapore scenes; the aesthetic side or the nostalgic side," she said.
At just two years short of the century mark, and having made so many innovations in his practice and being lauded for it, most people would probably think it's time for Mr Lim to take a step back and just enjoy the moment.
But Singapore's oldest living artist has other plans. Mr Lim shared that he recently did a seal carving, which said, in Chinese, "treasure your remaining years".
"Although I'm close to 100 years old, I want to make the best use of my time. I want to think more and innovate more," he said.
Hopefully, not at the expense of a good night's sleep.
Lim Tze Peng's solo exhibit Portrait Of The Heart runs from Jul 26 to Aug 12 at Ode To Art Gallery, Raffles City Shopping Centre.
TERMS & CONDITIONS
 
This contest is organised by Mediacorp Pte Ltd ("Mediacorp"). This contest is valid from 12 July to 20 July 2018, and is open to all residents of Singapore who are above 21 years old except for employees of Mediacorp, its related companies and their immediate family members. By participating in this contest, the participant agrees to be bound by the official rules, regulations and decisions of Mediacorp.
 
10 winners will each win a pair of invites to attend this event.
 
By participating in this contest, the participant agrees to participate in any form of publicity for this contest. Mediacorp reserves the right to disqualify any winner(s) in the event that the winner(s) refuses or fails to participate in such publicity for this contest.
 
The invite is non-transferable or exchangeable for cash, credit, goods or services. Mediacorp reserves the right to replace the invite with other invitations of similar value without giving prior notice.
 
The decisions of Mediacorp on all matters relating to this contest are final, conclusive and binding and no appeals or correspondence will be entertained.
 
Mediacorp reserves the right to reject any entry for any reason.
Personal Data
 
By participating in this contest, participants agree that their personal data may be used by Mediacorp and the Mediacorp group of companies (collectively "Mediacorp") to send them marketing and advertising materials in relation to goods and services of Mediacorp and its business partners, and for research and analysis. If you have any questions relating to Mediacorp's collection, use and disclosure of your personal data, please contact Mediacorp's Data Protection Officer at

dpo

[at]

mediacorp.com.sg

.
Contest Conditions
 
The tickets are not redeemable for cash, credit or any other items with Ode to Art and Mediacorp.
Others
 
Mediacorp reserves the right to change, amend or add to these terms and conditions without prior notice. Mediacorp further reserves the right, without any liability on its part whatsoever, to cancel, postpone, or in any other way terminate this contest at any time without prior notice.
 
No obligation will be incurred by Mediacorp or its sponsors by reason of participation in this contest or by reason of anything done or omitted to be done by the participants as a result of or on account of this contest. Mediacorp shall not be liable or responsible for any and all losses, damages, costs and/or expenses (of any nature whatsoever) suffered by any participant arising from any failure or refusal, for whatever reason, to deliver or transfer, whether by Mediacorp or its sponsors, the prize or make good on any promise or offer to the participants.
 
Each participant expressly acknowledges and agrees that Mediacorp shall not be liable to any of the participant(s) for any injury, loss or damage whatsoever or howsoever caused arising directly or indirectly in connection with this contest or the prize, including any loss, damage or injury.
 
These terms and conditions and this contest shall be governed by and construed in accordance with Singapore laws.