Skater kids as young as five 'do tricks and go down ramps'
The parents of these pint-sized skaters tell CNA Lifestyle that the sport toughens up their kids, gets them out of their shells and builds confidence.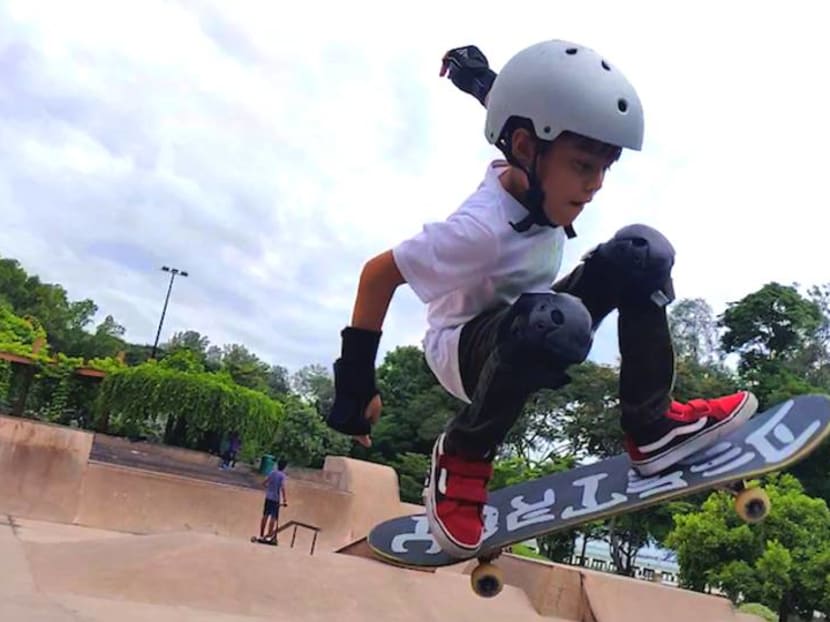 Follow our CNA LIFESTYLE page on Facebook for more parenting stories and videos
SINGAPORE: Eight-year-old Elijah Scott Wee hits the skate park running. He's soon a tiny blur zooming up and down the ramps - with helmet and protective gear on, of course.
A little later, he's joined by Aedan Razak, 8, and his brother Matin Razak, 5. None of them show any hesitation as they take to their boards in the midst of much older boys.

"We can do tricks and go down ramps," announced Matin, the littlest, bouncing up and down excitedly.
His older brother lists the tricks under his belt: Pop shove-its, ollies and acid drops. But his favourites are airs "because we can imagine that we are flying".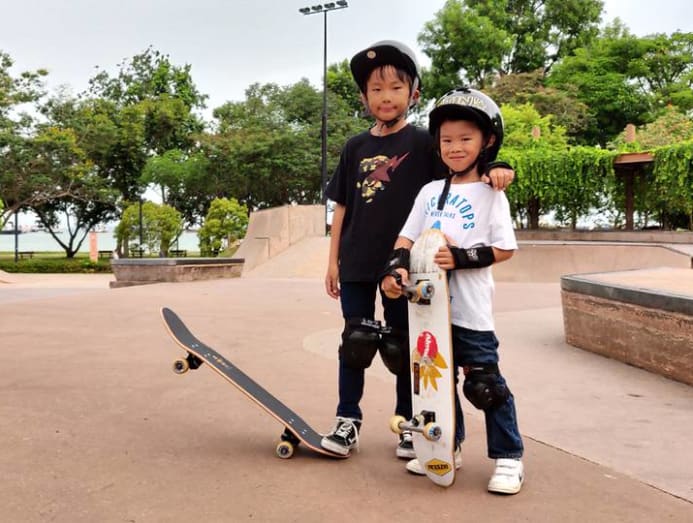 SKATEBOARDING TO OVERCOME SHYNESS
All three boys love the sport so much, they participated in last weekend's Go Skateboarding Day Singapore competitions for children, on top of their regular lessons and practice sessions.
"It's fun. I want to learn more tricks and get better," says Elijah, whose three-and-a-half-year-old brother already wants in on the skateboarding action. Their older sister has tried her hand at it, too, but Elijah is the one who has showed the most interest and determination in the family.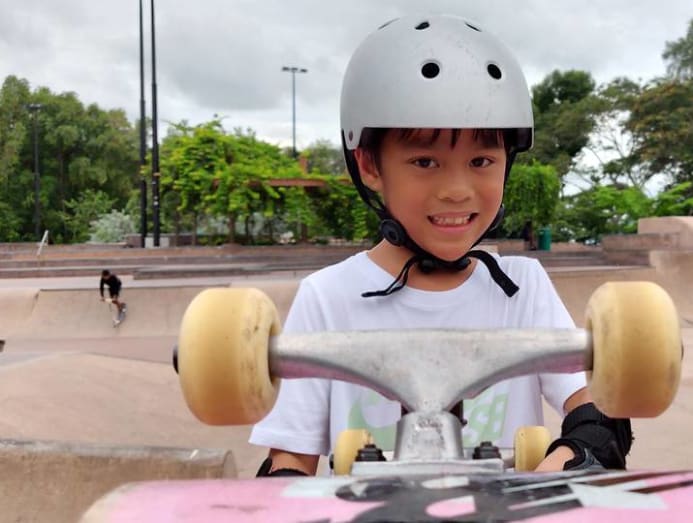 He took up skateboarding two years ago when his parents, Esmond and Sue-Ann Wee, took him to the annual Go Skateboarding Day event at Somerset Skate Park. "They were giving free classes and clinics. Somehow, he could naturally turn and push with a relative amount of ease," said Esmond. "He has been going nonstop ever since."
"He's shown a lot of interest and he's very determined in learning new things, so that makes us want to support him," Sue-Ann said.
On top of that, the sport has helped Elijah come out of his shell a little. "He's actually a really shy kid," his father said. "We signed him up for football, but it didn't capture his interest as intently as skateboarding has.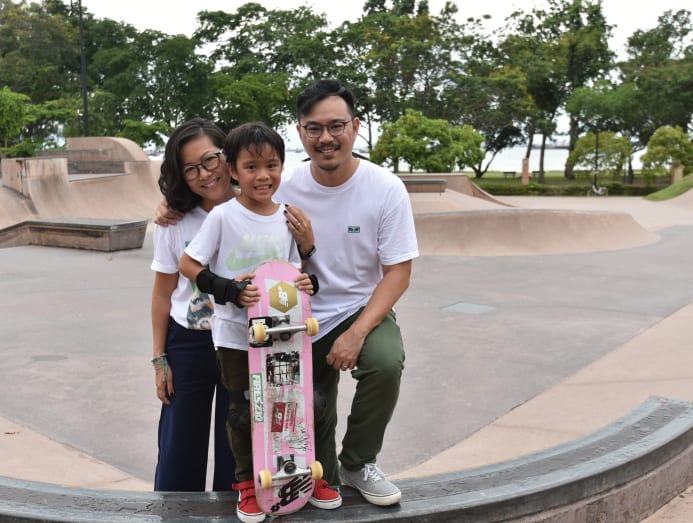 "On the football pitch, there are kids who are aggressive and hyper-competitive. At the skate park, if he falls down, another kid will pick him up. If he completes a trick, another kid will knock his skateboard on the ground and say, 'Well done'. So, he's definitely picked up a lot of confidence and become a little bit more adventurous as a person."
Because of Elijah's interest in skateboarding, both his parents have started taking lessons as well, and it has become a family-bonding activity. 
"We wish we could do what's he's doing right now. As parents, you tend to push your kids to do things you wish you could have done when you were a lot younger," chuckled his father, who runs a few businesses, including one distributing apparel related to skateboarding. "I think I live vicariously through my son."

Not all parents are so supportive, Sue-Ann observed. "Some people are like, 'Wah, you dare to let your son skateboard?' Obviously, there can be injuries, as with any sport. That's why we try to get him to suit up (in protective gear) every time."
Should Elijah choose a career in skateboarding when he grows up, his parents said they would have no objections. "If there's an opportunity for him to make a living out of it, why not? I don't know, hopefully he can get competitive – we don't know yet," Esmond said.
GOING FOR GOLD
Aedan and Matin's father has an even bigger goal for them. "I actually have a dream: For them to represent Singapore in the Olympics," said Fandy Razak, 39, who's a photographer. "I'm willing to do whatever it takes."
In his living room at home, he has built two quarter pipes and a rail for the boys to practise on. "A lot of my friends are like, 'How big is your house, man?' It's a regular HDB flat," he chuckled.
"I believe that in order for you to be good at something, you need to be able to do it every day. And once you do it every day, it becomes second nature to you," he said. 
"I try to make sure they skate at least once a week. If it's the holidays, then I'll try to make it every day. If it's during school hours, once a week out in the park." In addition, Fandy has plans to send them to skateboarding camps overseas.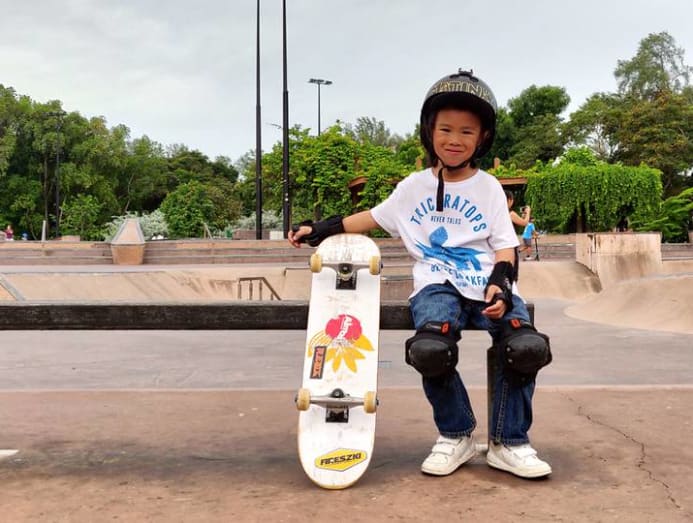 The boys' mother, primary school teacher Wendy Yeo, is happy for them to get some fresh air. "My wife's pretty supportive. One of the reasons is that when they are on the board, they are away from the screen – any screen. They can't hold on to their iPads and phones," Fandy said. 
"She also likes the fact that skateboarding forces the boys to toughen up. And there are so many values that we've seen emerge from Aedan and now Matin, like determination and that sense of wanting to overcome something. They know that if you fail the first time, it doesn't mean that you can't do it any more."

"You have to get up and try again!" piped up Matin, pumping a little fist and shouting, "Don't give up!"