Geek out on Voltron, 'Luxury' Transformers and hantus: The must-have toys at STGCC 2018
Embrace your inner geek – CNA Lifestyle picks out the coolest and strangest things you can buy at the Singapore Toy, Game and Comic Convention this weekend.
SINGAPORE: If you're into all things pop culture, then the annual Singapore Toy, Game and Comic Convention (STGCC) is the place to be. And this year's edition, which runs this weekend at Marina Bay Sands Expo, has got a lot in store.
Cosplay enthusiasts can look forward to the STGCC Championships Of Cosplay and Kids Cosplay Parade events, while comics, superhero movie and anime fans will get a chance to meet the folks behind their favourite titles.
The convention is also going big on gaming this year with the Good Game Experience, where visitors have their pick of things to see and do, whether it's electronic console gaming or good ol' old-fashioned table-top games.
And then there are the toys. Lots of them.
For sure, wandering around STGCC to soak in the sights is well and good, but what's the point of entering this geek wonderland without at least checking out the stuff on offer?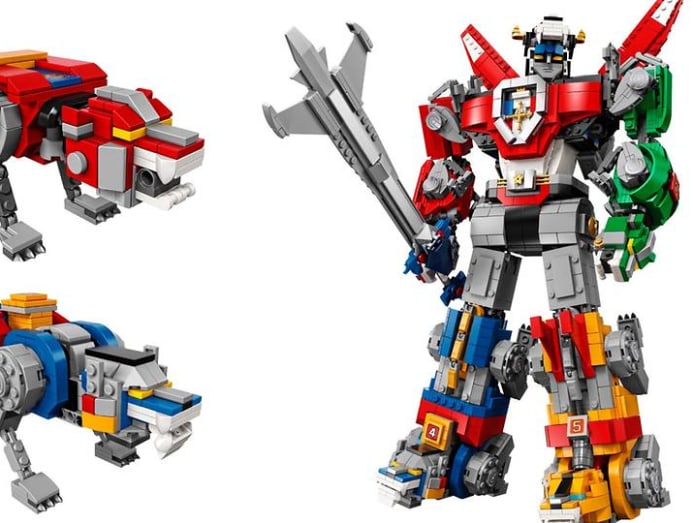 1. LEGO VOLTRON
If you're a fan of the original 1980s animated series, you'll love Lego's Voltron. Described as the biggest buildable Lego mech ever, the set includes 2,321 pieces and when assembled, the robot will be over 15 inches tall – and that's after you're done working on the five lions that combine to make up your favourite Defender of the Universe. The set is priced at S$299.
And in case you're more into wizards than robots, Lego's also launching its Harry Potter Hogwarts Castle set, which is nice - but you can't really make a building pose, can you?
2. HANTU FIGURINES
Some people may prefer Star Wars or GI Joe action figures but we think GoodGuysNeverWin's figurines of regional ghastly creatures are way cooler. The Indonesian toy company is making its debut at STGCC with, among others, its Setan Lokal – or "local demons" – series. Choose from the likes of the pocong (a ghost wrapped in a shroud), pontianak, toyol (freaky baby ghosts) and banana tree spirit, among others. There are also Singapore exclusives such as a "student ghost".
Since 2005, the company has been specialising in quirky 3.75-inch figurines of Asian ghosts, villains and heroes – past creations include a Crispy Rendang Chef (a strange humanoid covered in rendang sauce with a chef's hat) and a GIJojek (a GI Joe spoof of Indonesia's Go-Jek drivers). The resin figurines are limited to only 300 pieces each and start at S$17.
3. SINGAPORE MINIATURE VEHICLES
Local toy company Masterpiece Collectibles is back at the convention with its series of intricately designed local vehicles and figures such as LTA traffic police bikes, SCDF trucks, old school buses, NSF soldiers and lots more. To celebrate their 10th anniversary, owner Dickson Ng said they'll also be showcasing some dioramas too. Prices vary according to product – a retro bus is priced at S$280 for instance, while a traffic police bike is S$100, and figurines cost S$29.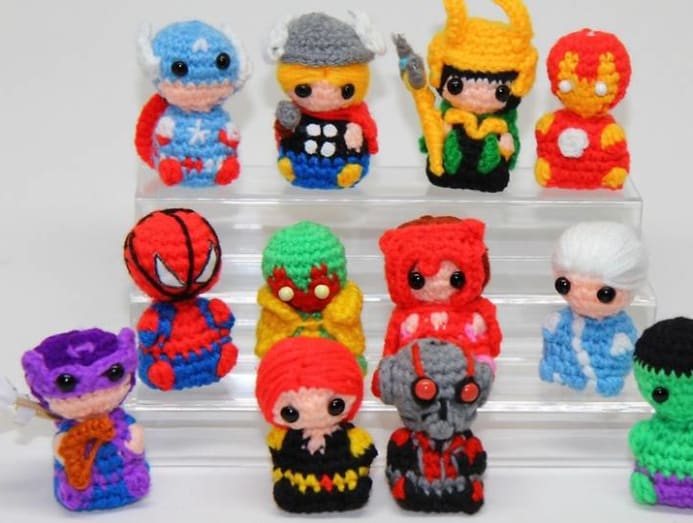 4. AMIGURUMI AVENGERS
Amigurumi is a term to describe the art of knitting small, stuffed creatures. And if you like your superheroes cute, Pocket Yarnlings' creations are for you. The Singapore company has created more than 200 yarnlings inspired by pop culture characters, including Marvel and DC superheroes as well as those from Star Wars, Lord Of The Rings and more. And they're quite detailed, too. Each piece is hand-made from acrylic yarn and is approximately 5cm. Prices range from S$35 to S$45.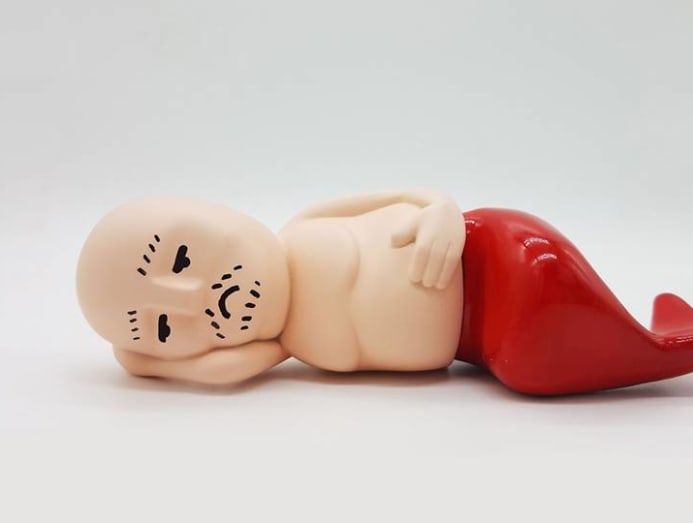 5. SAD UNCLE MERMAIDS
Yes, you read that right. Korean design company Handsome Studio creates "kidult" products, and its Uncle-Mermaid series has got to be the most amusingly bizarre thing being sold at STGCC. The pudgy, bald, naked half-fish man comes in different poses depicting various states of truly depressing moments in the life of a male adult – "impotence", "divorce", "hair loss", "unemployment" and more. The resin figures are supposed to symbolise the loss of innocence but we think it's just plain genius. Prices start from S$56.
6. POP CULTURE-MEETS-ASIAN MYTHS
Singapore sculptor Daniel Yu creates unique figures that are influenced by pop culture and regional folklore. Among his recent pieces are the Jiangshi Acolyte, which is inspired by both the Asian hopping vampire and Western zombies; the Lunar Beast, which is based on the lion dance; and the Buddha-inspired Lunar Cleric. 
He has also collaborated with Japanese artist Mark Nagata on Lunar Cat and Space Deity figures.The resin or vinyl pieces range in size from 3 to 8.5 inches tall. The cheapest costs S$20; the more expensive pieces can go up to more than S$250.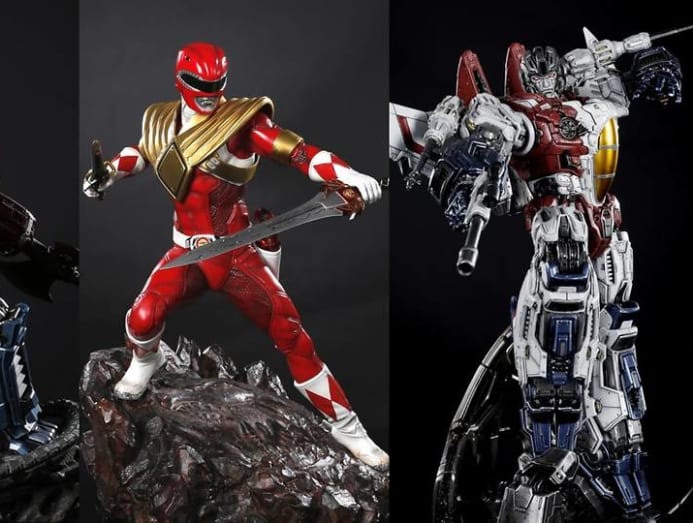 7. 'LUXURY' TRANSFORMERS
If you're keen on something a bit more high end, XM Studios' premium collectibles are it, from Marvel and DC superheroes to Star Wars sculptures. Over at STGCC, the Singaporean luxury collectible maker will be unveiling a few statue collectibles for the first time, including pieces from the X-Men, Guardians Of The Galaxy and Hulk Transformation series. 
Also for sale are some fancy Transformers pieces, including Optimus Prime, Starscream and Megatron. They're not cheap though – each costs around S$2,000 plus. If you're a Power Rangers fan, you can also catch a glimpse of this series - but unfortunately, those aren't for sale.
STGCC 2018 is on Sep 8 and 9 at Marina Bay Sands Expo. For more details, visit https://www.singaporetgcc.com