Very Fancy Instant Noodles: How to make Long Qing's Sichuan mala special
Taking up this edition of CNA Lifestyle's instant noodle challenge is owner James Chiew – and his recipe is a dry, spicy firecracker of a dish.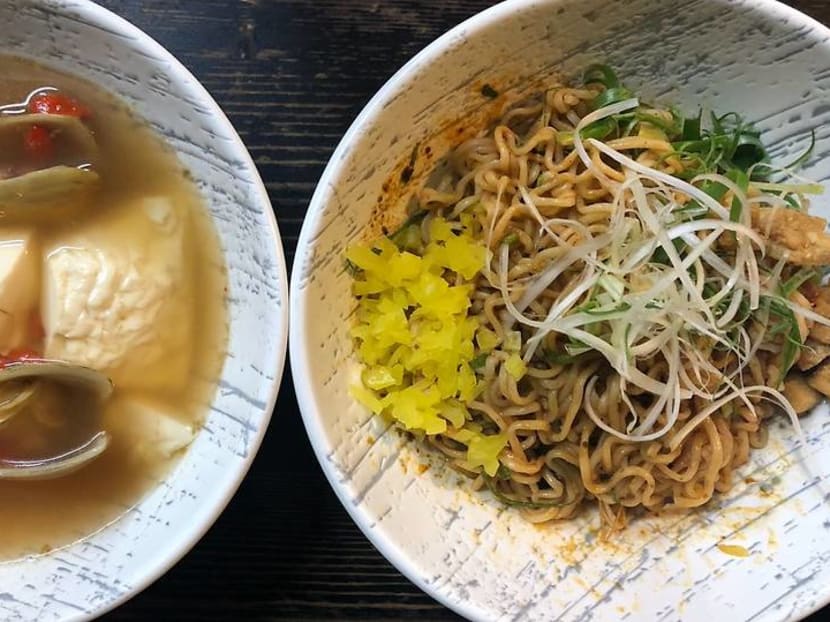 The Sichuan mala hotpot is a fiery favourite of Singaporeans, which explains the plethora of tongue-tingling choices springing up across our little red dot.
Long Qing Specialty Hotpot, an unassuming establishment tucked away on Hong Kong Street, is setting itself apart from the mouth-numbing competition with a variety of soup base broths made from scratch and 100 per cent free of MSG (monosodium glutamate).
"We make all our mala paste in-house, incorporating 20 different kinds of herbs and using 18 condiments," said owner Jame Chiew. "We also boil our pork and chicken broth concoction for more than 10 hours, because slow-cooking ensures that flavours from the herbs, bones and all the other condiments are all teased out."
When offered the challenge to create a spicy delight for CNA Lifestyle's Very Fancy Instant Noodles series, Chiew applied the same principle behind Long Qing's menu.
"I always like to eat strongly-flavoured dry noodles and pair it with a soup," he shared. "This mix of dry noodles and a soup allows me to enjoy the definitive flavour of each component, without overwhelming any natural taste of the ingredients used."
Indeed, the nutty savouriness of sesame paste juxtaposed with the spicy boldness of mala paste, complete with a hint of garlic and ginger, gives the dish a satisfying "body", which is also evident in the broths on his menu.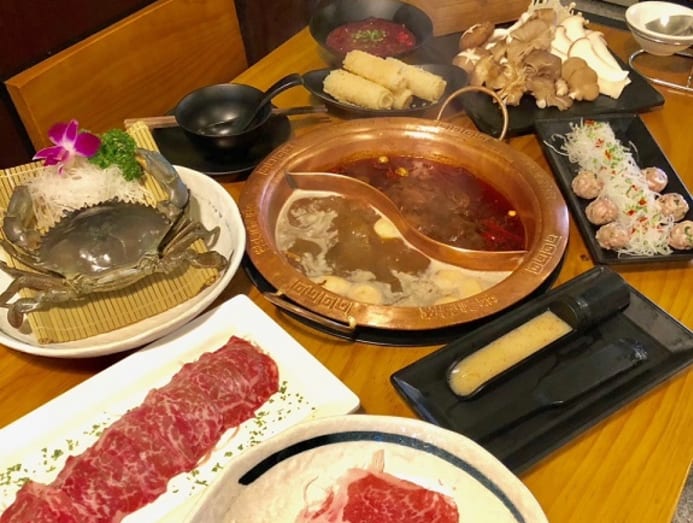 "We want to give our customers an experience of drinking a nourishing broth paired with good fresh quality cuts of meat and seafood. Adding New Zealand tua tua clams or live mud crabs into any broth will give it a whole new dimension."
Besides the classic Spicy Mala broth, Long Qing also serves clear hotpot broths like lotus-lily bulb and wild mushroom.
LONG QING'S VERY FANCY INSTANT NOODLES
YOU'LL NEED:
Instant noodle – 1 packet
Sesame paste – 1 tbsp
Black vinegar – 1 tsp
Light soya sauce – 2 tsp
Garlic water – 1 tsp
Ginger water – 1 tsp
Salt – 1/2 tsp
Sugar – 1 tsp
Szechuan pepper corn powder – 1 tsp
Mala Paste oil – 1 tbsp
Chinese wine – 1 cup
Chinese parsley – as needed
Crispy pork lard – as needed
Tofu – as needed
Cordyceps flowers – as needed
Clams – as needed
TO MAKE:
1. In a serving bowl, mix the sesame paste, black vinegar, light soya sauce, garlic water, salt, sugar, Sichuan pepper corn power and Mala paste oil.
2. In a pot, cook noodles till al dente. Drain and add to the seasoning mixture. Mix well.
3. Garnish with Chinese parsley and crispy pork lard.
4. Bring pork bone soup to boil.
5. Add Chinese wine, tofu, clams and cordyceps flowers.
6. Serve the soup alongside the dry noodles.
Long Qing Specialty Hotpot is located at 18 Hong Kong Street, Singapore 059661. www.facebook.com/LongQing.sg