Yoga, meditation and the luxurious pursuit of peace (and weight-loss) in Vietnam
For those seeking languid bliss and holistic wellness in unabashed comfort, it doesn't get better than this in Ninh Thuan Province, Vietnam.
The last time I was at a resort that promoted healthy living and mindfulness, the spa director came up to my table at dinner, looked at the pile of food on my plate and said in what I later decided was an unnecessarily passive-aggressive tone: "Did you know that in its natural state, your stomach is the size of your clenched fist?"
I paused chewing the bland chicken salad and gave her announcement some resentful thought.
"So, your stomach has to really stretch to fit in all the food on your plate," she went on, just in case I had missed her point.
I checked out the next morning. Nobody rains on this buffet parade, I muttered. And I have steered clear of spa resorts ever since.
Until, that is, an opportunity came up recently to stay at Amanoi and try out one of its immersion programmes.
WELCOME TO THE PROGRAMME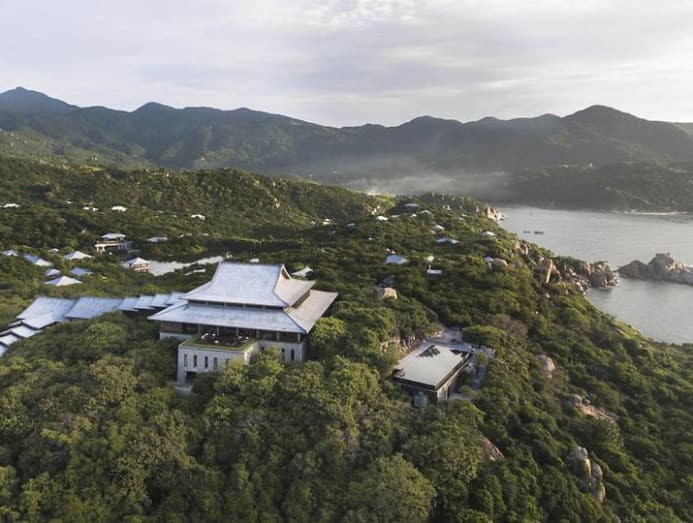 Set on a 42ha slice of mountainous terrain in a vast national park on the edge of an isolated white-sand beach overlooking Vinh Hy Bay, Amanoi – a blend of Sanskrit and Vietnamese for "peaceful place" – more than lives up to its name.
Like a tectonic jigsaw, its architect Jean-Michel Gathy has quietly inserted 36 dark grey pavilions and villas into the rocky promontory and thick evergreen vegetation. From a distance, the sweeping low-eaved Vietnamese-styled roofs blend into the granite formation, looking for all the world like super-chic Wakandan space-crafts that have just paused a while to refuel.
It is, in other words, the ideal, soothingly calm setting in which to tackle your various emotional, mental and physical ailments through one of three holistic programmes. Eastern Approaches to Weight Management dismantles dietary, health and lifestyle barriers; Movement, Mindfulness and Stress Control promotes an internal focus to blunt high stress lifestyles; whilst Longevity, Rejuvenation and Detoxification reduces toxins and physiological wrinkles caused by the modern environment.
Sounds like a lot of new age babble, I know. Then I heard that one guest stayed 19 days and lost 10.5kg.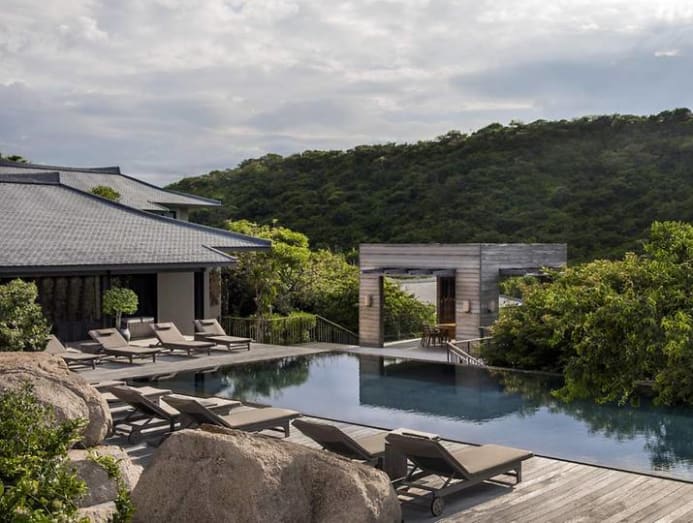 Of course, you don't have to sign up for any programme. You could just as easily collapse under an umbrella and lie by one of two Instagrammable lap pools to soak up the fresh sea-tinged air, snorkel in the coral water, be waited on by one of the 250 smartly dressed staff, or just nap the day away in your vast, high-ceilinged bedroom furnished with soft fabric, cool stone, and warm wood underfoot.
Or you could, as I did, find yourself in the quiet and austere office of Dr Lucas Hausler, the resort's East Asian Immersion Program Director, getting a pre-check-in TCM diagnosis.
A QI AND YANG DEFICIENCY
Apparently, I presented a mild case of liver congestion with an underlying qi and yang deficiency of the spleen and kidney. He prescribed a daily tonic of six herbs that included cinnamon tree bark to warm the yang, ginseng to boost metabolism, and atractylodes to strengthen digestion, alongside a daily regime comprising a morning movement session, an hour with a specialist therapist, an afternoon spa treatment, and a full-day menu of specially curated meals that were loaded with quality complex carbs and proteins, and healthy fats.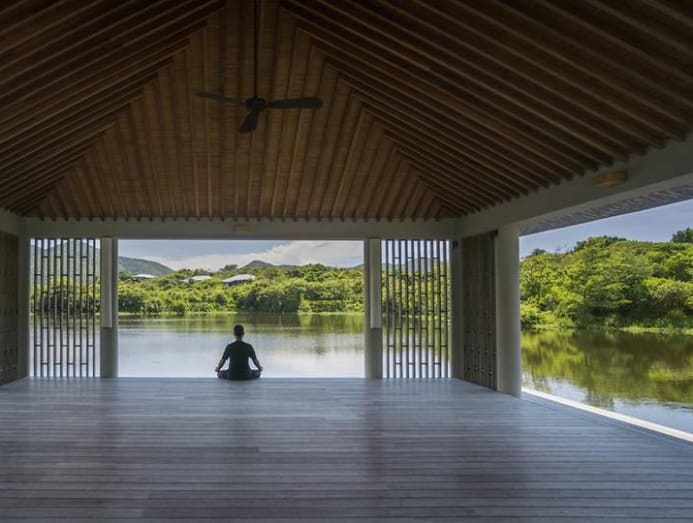 "We'll make variations and modify the herbal formulas as the immersion progresses and the patterns of disharmony in the body and mind begin to shift," Hausler told me, even as I wondered if working at Amanoi was the secret behind his amazingly lustrous hair and enviably even tan. 
The three days passed with a soothing cinematic quality with no scheduled activity ever repeating itself. And so, one morning brought Shyam, a compact, gentle man with such kind eyes. He glided down a dramatic flight of stone steps from the main spa building to the open-aired pavilion that floated over a mirror-flat lake fringed with lotus and water lilies, for one of the best yoga sessions I have ever experienced.
Another morning brought a masterclass on meditation, though a highlight was the hypnotherapy session to improve my memory of faces and names with visiting specialist Toby Maguire (no, it wasn't Spider-man, and yes, it really does work).
Spa treatments were always scheduled for the afternoon. Rough skin patches were scrubbed with a black sesame paste, and a sea-salt and honey mix, and soothed with Nha Trang mud. Knotted muscles were rolled with heavy bamboo sticks, pores steamed open in the hammam and then sealed in a cold plunge pool.
PEACE, CONTENTMENT AND CALM BENEVOLENCE
The greatest surprise was the quality of the meals. My customised plant-based menu was conceived to avoid acrid flavours that affect the liver and stir the emotions, with every dish giving lie to the myth that healthy food is tasteless and bland.
Vietnamese congee arrived laced with goji berries and Chinese dates; salads were spiked with sweet grapes and lavender-dusted feta; zucchinis were julienned to resemble pasta and these were tossed with a vividly red puttanesca sauce, or thrown into a noodle salad of jicama roots, banana flowers and a tart honey mustard dressing.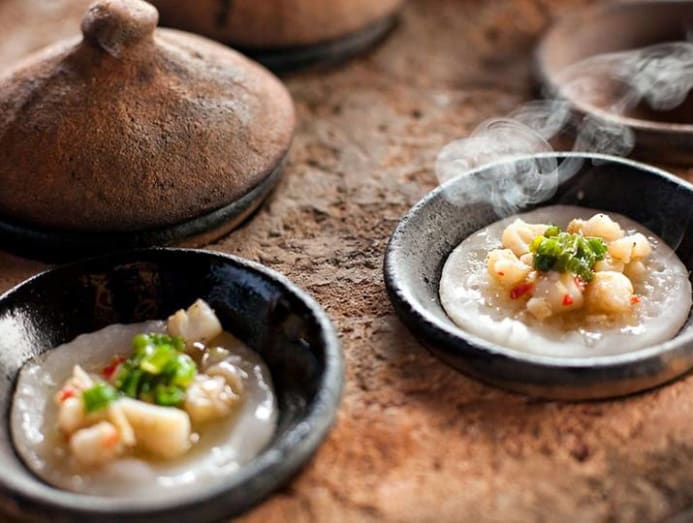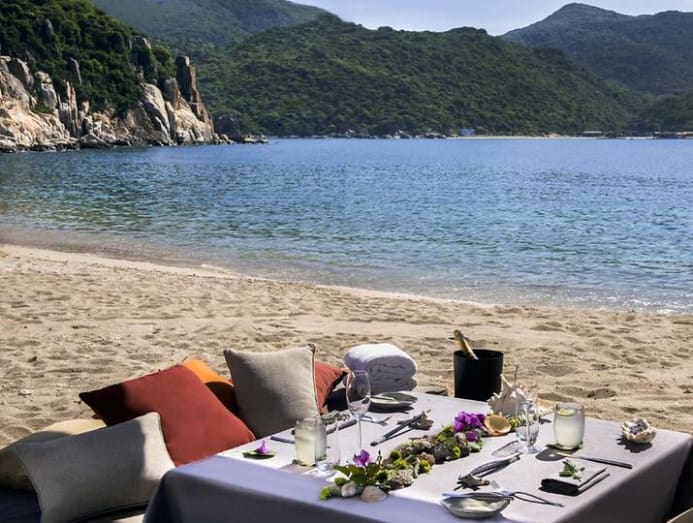 Late one afternoon, Hausler took us on a leisurely 20-minute hike up Goga Peak for a wraparound view of green-shrouded mountains, and turquoise-hued sea and sky that stretched clear to the horizon. High above us, a flock of swifts darted and dived. He pointed at a promontory. "They nest in the sea-caves down there, and on that side, in the mountains, you'll find Iberian bears, deer antlers, and wild boars."
He said something else, but I was distracted by the sunset and feeling very happy.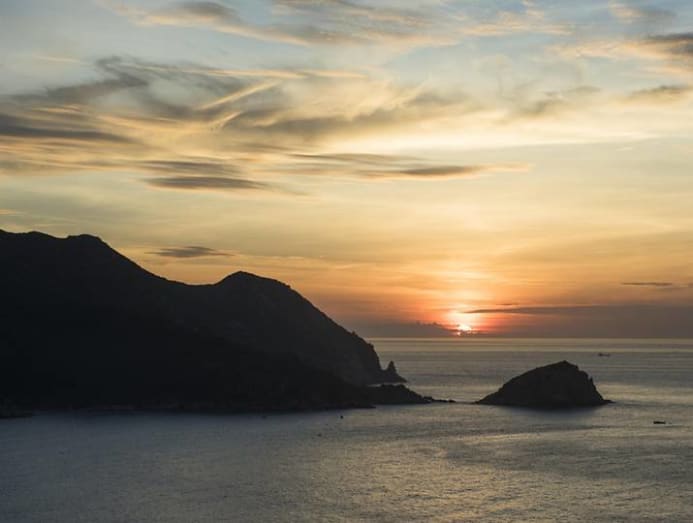 Long after we checked out of Amanoi and came home, the memory of that moment still colours my days – a mix of peace, contentment and calm benevolence. Of long languid sun-lit days and warm starry nights whose sky was like black velvet dusted with talcum powder. Supple and limber mornings; pampered afternoons.
And not once was there any mention about the size of my stomach.
Rates for a three-night immersion programme start from US$5,283 (S$6,920) for single occupancy, and US$7,752 for double. Rates include full board, meals, airport transfer, and spa treatments. The resort is a brisk hour-long flight from Ho Chi Minh City to Nha Trang, followed by a 75-minute scenic drive. www.amanresorts.com