What does 5G have to do with enjoying K-pop, shopping and car racing?
It isn't just an abstract tech buzzword we all need to get used to. As Singapore slowly becomes 5G-ready, here's a quick look at how this new technology can excite and entertain us as consumers.
In partnership with Singtel.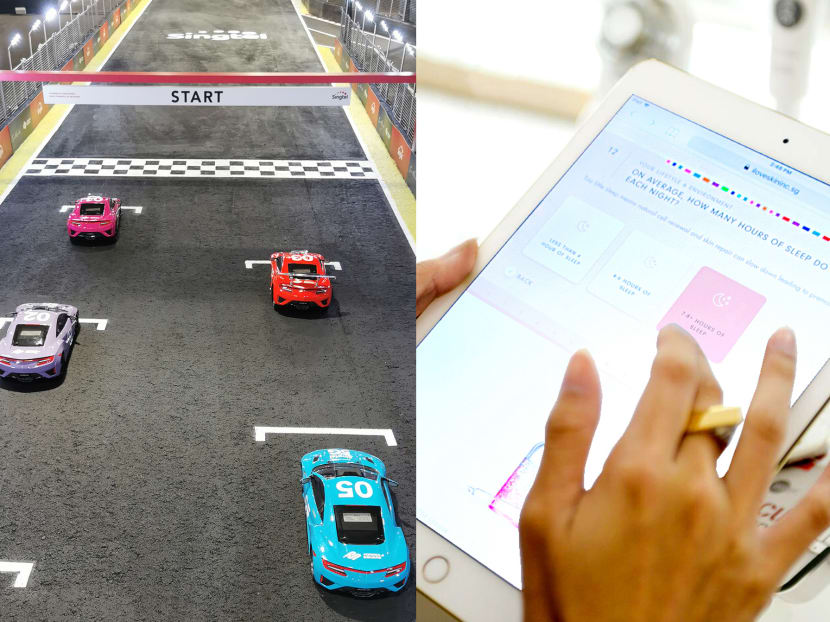 Nowadays, when it comes to being entertained, we prefer things fast, hassle-free, and accessible anytime, anywhere.
We want to watch our movies, listen to our Spotify playlist and download our favourite podcast in an instant on our devices, without any lag or compromises in quality. We want to shop for clothes, groceries, wait, anything at the click of a button.
One of the tech buzzwords we've been hearing a lot of lately when it comes to connecting all of this is "5G". We'll have 5G this. We'll have 5G that. Singapore is 5G-ready.
But what exactly does this mean for our plugged-in lives as consumers? For those of us who aren't tech-inclined, it's still in the realm of the abstract. But essentially, it's a souped up, faster "fifth generation" version of the wireless technology and cellular networks we're currently using in our everyday lives.
And as Singapore continues to lay the foundations for 5G, it might be time to rethink the exciting possibilities in store for us. After all, according to the Infocomm Media Development Authority (IMDA) we're on track to have island-wide coverage by 2025.
With telcos busy getting their 5G game on – Singtel, for instance, has expanded its network to cover two-thirds of Singapore and has even increased its indoor coverage in malls – we take a quick look at some examples both in Singapore and overseas, of how this technology enables entertainment. 
And in some cases, you're probably already enjoying the benefits of 5G without knowing it. 
K-POP UP CLOSE AND PERSONAL
For many music fans stuck at home for the past year or so, virtual concerts have been the only way of staying close to their favourite groups – and the world of K-pop has been leading the charge.
The biggest (and most recent) example would have to be BTS' Permission To Dance event, held on Oct 24 to an empty Seoul Olympic Stadium but was livestreamed in 4K glory to fans in 197 countries. It featured six multi-angle views, and included virtual waiting rooms, where band members interacted directly with fans.
The concert also included a behind-the-scenes live soundcheck (something quite unusual in concert vocabulary) and this virtual proximity and intimacy has been a way of bringing fans closer to the band.
This isn't the first time BTS has created such experiential moments either. In June 2020, the band also employed artificial intelligence and virtual reality (both technologies benefiting greatly from 5G) in a performance that brought comfort to 756,000 fans during the height of the pandemic.
At home, companies are also experimenting with the possibilities for live events. Hiverlab, a virtual and augmented reality (VR and AR) solutions company, was involved in one notable project at the start of the pandemic last year, livestreaming Chingay 2020, which let audiences view and interact with the big annual street parade on their screens.
"Increasingly, there has been a positive shift in digital uptake of interactive experiences. We will see more AR use cases in retail, events and concerts as smartphones triumph over VR headsets in costs and usage accessibility," said Ender Jiang, Hiverlab's founder and Chief Technology Officer.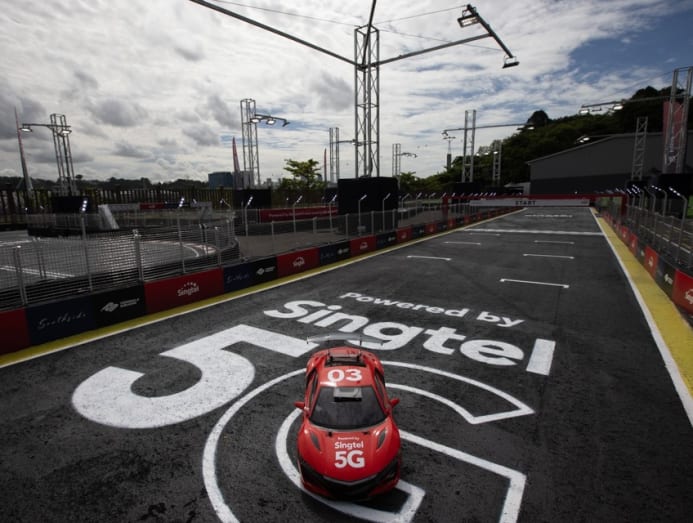 LEISURE ACTIVITIES THAT ARE 'LIVE'
If events and concerts are too passive and you prefer something a bit more "hands on", there are a few experiences already available (or will soon be) closer to home in Sentosa.
Last month, Singtel announced its standalone 5G networks on Sentosa Island in a partnership with Sentosa Development Corporation (SDC), led by the Government Technology Agency (GovTech).
For the 5G@Sentosa partnership, the island  serves as a testbed for more than 10 trials which tap on the telco's 5G network.
These currently include 5G Remote Racing with Formula Square and, soon, an edutainment option in the form of AR gamification at Fort Siloso.
The former's available at Sentosa's Southside, where you can get into a high-speed car race at a hyper-realistic remote-controlled car arena. With top speeds of 58 km/h, these cars can race around a track, modelled after Singapore's F1 night race. Each car is 1:10 in size and is 20 times more responsive than normal race cars, and thanks to its ultra-fast and responsive 5G connection, there are no glitches or lag to cramp your style.
There's also an ongoing pilot for Fort Siloso, which will feature Augmented Reality (AR) and eXtended Reality (XR) immersive experiences in 4K resolution – which is basically a gamification of the historic area, a great way of engaging audiences in an entertaining way.
TRAVELLING WITHOUT MOVING
Enjoying certain places from a distance is another thing we can do. One example that's also under the 5G@Sentosa partnership is how you can "step foot" inside the SEA Aquarium via 4K livestreaming, even if you're at the other end of Singapore.
Thanks to an underwater camera at the venue, you can gaze at fish and more at selected Singtel shops, including at Tampines Mall and Waterway Point, as well as at UNBOXED@SingPost Centre, the country's first 5G-powered self-service kiosk.
It's not just short-distance "travel" we're talking about – a recent event organised by the Shizuoka Prefectural Government's Singapore office in Japan featured a new drone remote control technology that lets people fly one around Mount Fuji from Singapore. The tests were conducted at Singtel's 5G lab here.
SHOP TILL YOU (VIRTUALLY) DROP
A study conducted by the US' Retail Industry Leaders Association (RILA) and Accenture found that more than 60 per cent of consumers looked to online retailers for curated experiences, especially in areas like design ideas, expert advice and service suggestions. More than 63 per cent of all surveyed felt that personalised recommendations were key.
In other words, it's all about making things easier for shoppers – and in Singapore, businesses and organisations are looking to tap into 5G to do just that for one of Singaporeans' favourite pastimes.
Companies like Skin Inc and Beautbit, for example, are adopting 5G technology for its operations.
Skin Inc, a skincare brand, offers customised skincare for its clients using data collected over the years. It currently uses 5G in its four stores islandwide for its Skin ID Check, a three-minute consultation that inputs customer details into its iPads, using an algorithm which then creates a customised regime. The brand has plans to include AR and AI solutions too for its e-commerce.
"With 5G, we've been able to switch from spotty Wi-Fi to uninterrupted network connection to deliver a better experience for our customers. We can't wait to explore how 5G can be used for AR and AI-assisted ways to provide two-way feedback on our customers' skin health and deliver effective solutions for them," said its founder and CEO Sabrina Tan.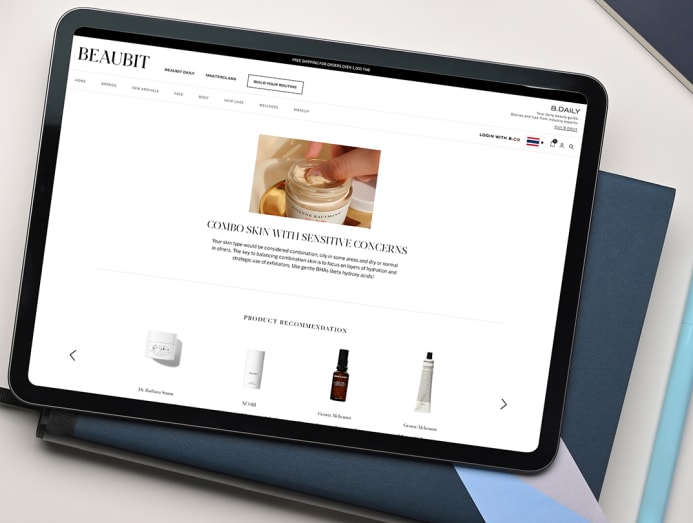 Meanwhile, Singapore-based beauty e-commerce site Beautbit has also upgraded to a 5G network and has seen its benefits. "5G has helped us streamline our supply chain and logistics as we work with over 60 brand partners across the globe and fulfil orders to over 50 countries," said Savina Chow, Beaubit's founder and CEO. In the year since it started, Beaubit has seen double digit growth in network traffic, and she said the upgrade to 5G will help with peak seasons like 11.11 and festive sales.
The site started using AI chat and conferencing technology for its on-demand customer outreach. Chow cited that most consumers spend up to 14 hours in research to commit to a beauty purchase. She added, "Most of the time, we may even end up with products that don't suit our skin type. Beaubit offers pre-purchase support with our AI chat and 'live' expert advice to address any concerns."
In terms of the bigger picture when it comes to the shopping experience, making headway is Nanyang Polytechnic's (NYP) Application & Experience Centre for 5G (APEX 5G). It's been working with department store BHG on a smart store project to develop digital solutions such as shelves with sensors, auto-stocking robots for its inventory and facial recognition of customers for easy login to the store's loyalty programme.
The project also looks at data from customers' browsing and buying behaviour, offering personalised suggestions to customers via a chat-bot. Using AR, product checkout by object recognition is possible too. NYP also uses high-density sensors and cameras at the retail store to generate and stream data, transferred in real time to its data cloud, all made possible on 5G.
"5G offers better data transfer speed, capacity, network availability and end-to-end data security. Therefore, 5G technology is essential for these retail services as they rely on high fidelity data from video cameras, streaming data from sensors embedded on smart shelves and applications that handle sensitive customer data," said Dr Vinn Prabhu, Deputy Director, School of Engineering at NYP. 
Mr Ritesh Chandra, Managing Director, Communications and Media Lead, SEA at Accenture added: "The advantages that 5G provides come at a critical time where society as a whole seeks more collaborative and immersive experiences, whether we are at our homes or travelling the world. The ultimate impacts of 5G are not fully realised yet but we do know it is time to think big and reimagine all possibilities." 
It might be early days yet but as more businesses embrace 5G – and more consumers understand what's in it for us – it looks like the possibilities are endless when it comes to keeping us entertained just like that.