Inside one of Singapore's first Chinese antique shops that's set to close for good
Ying Kee Hong has reopened after 20 years of closure, only to finally close permanently on Sunday (Apr 2). We speak to the founder's daughter-in-law and granddaughter to find out why.
Whereas other children played with toy soldiers, dragons and horses made of plastic, Yinshan Loh's collection was made of ancient Chinese bronze.
"These were my imaginary companions and the shophouse was like our living room. When I return from school, almost every day, I will nap on this lazy chair," the management consultant, who's in her 30s, said as she showed me around Ying Kee Hong, an antique shop her grandfather started in 1956, in Geylang.
But the blackwood chair inlaid with mother of pearl from her childhood will find a new home by next week. Along with hundreds of other pieces, it's been put up for bidding as the shop closes for good on Sunday (Apr 2).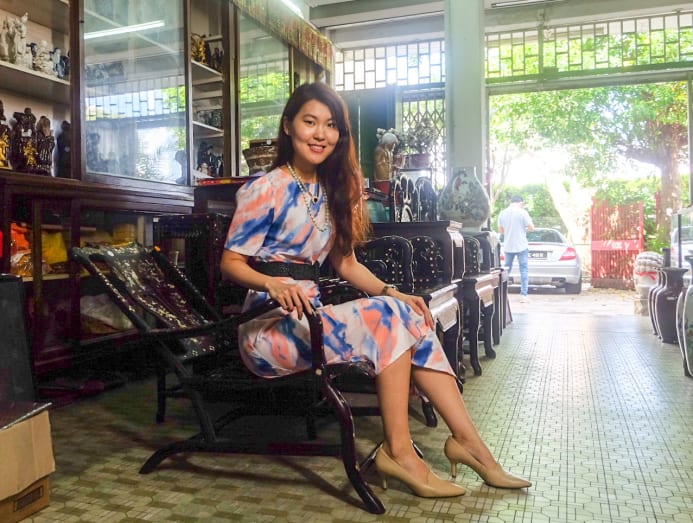 CNA Lifestyle spoke with Yinshan and her mother, Judy, to uncover the history behind one of Singapore's oldest antique stores.
"HE ARRIVED IN SINGAPORE WITH ONLY ONE SHOE"
Born in 1906, Mr Loh Wang Kee was originally from Guangzhou. He didn't grow up with money but made a successful businessman of himself in the 1930s; his enterprises ranged from glass factories to public transport.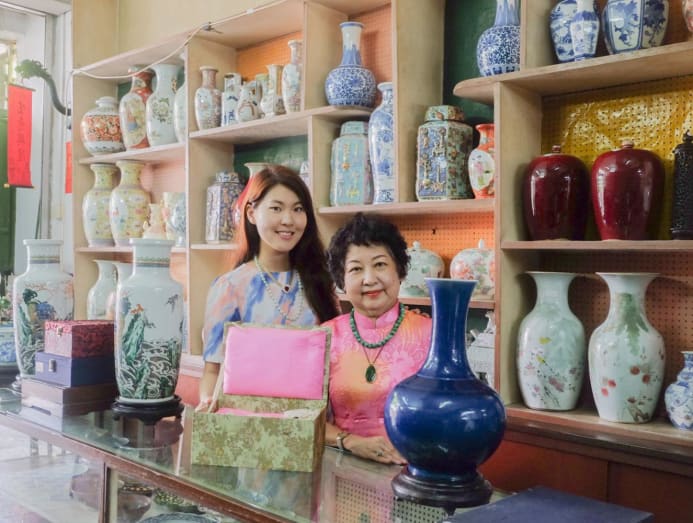 But this proved short-lived in the 1940s, as China's political turmoil clamped down on the wealthy. He left China empty-handed, sailing from Hong Kong to Singapore with his wife and children in tow.
"My father told us that when my grandfather came on a small boat, the strong winds had blown one of his shoes into the ocean. He arrived in Singapore with only one shoe and nothing else. He had left all his possessions behind in China to start from scratch," said Yinshan.
In his forties then, Mr Loh started over at a dried goods trading company and slowly rebuilt his life as a serial entrepreneur from scratch. Among his ventures was Kwangchow Sausage Factory along Everton Road, catering to Chinese immigrants who, like him, fled the country suddenly and longed for a taste of home.
(To avoid the tariffs on Chinese wine, a key ingredient in sausages, he made a clever proposal to the authorities. He would only import the wine after adding salt in it, so it wouldn't be considered alcohol for drinking.)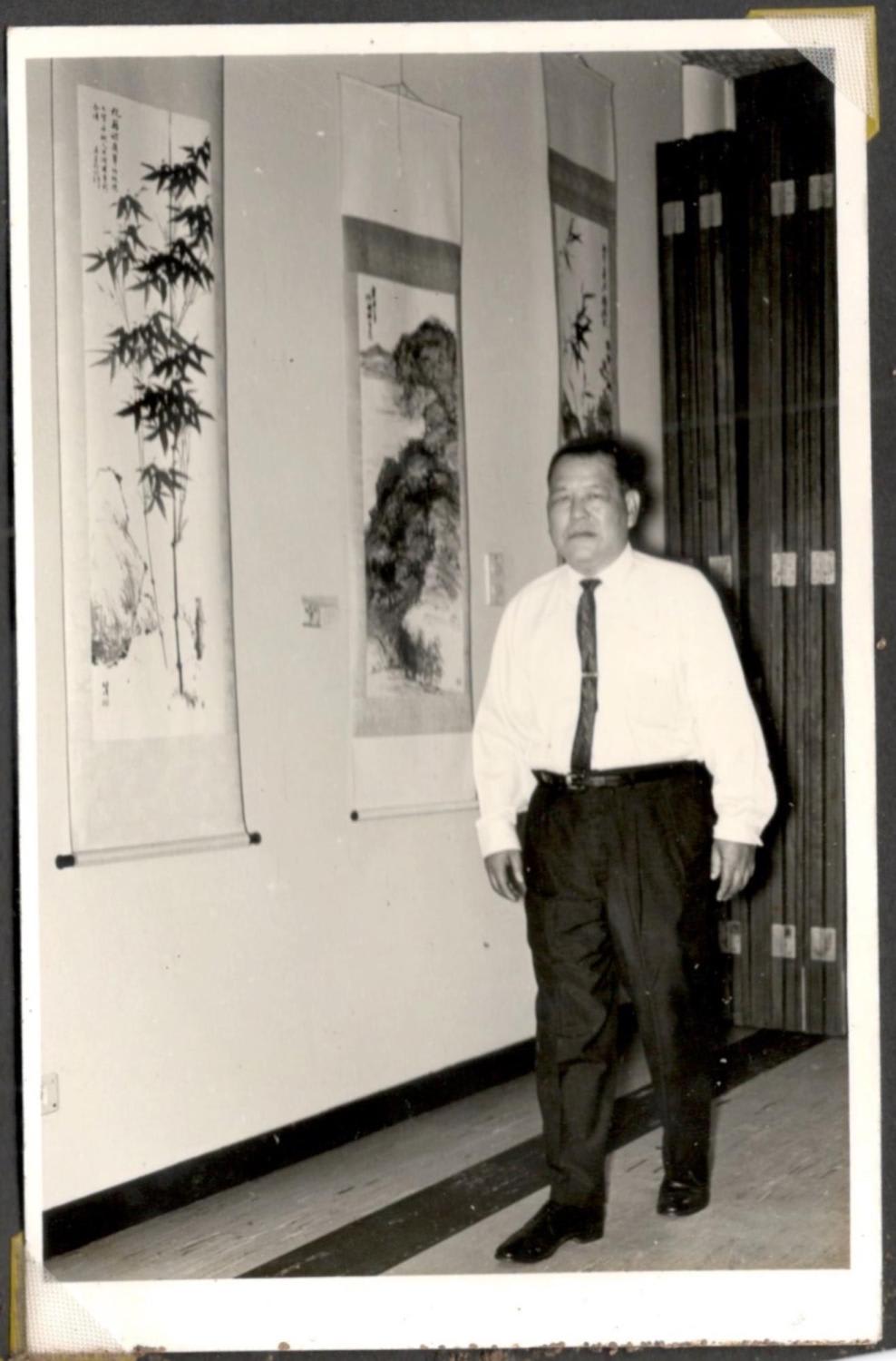 Yet another thread bound Mr Loh to his homeland: Chinese antiques. He always had an appreciation, but only saw the business opportunity after coming to Singapore.
"Singapore did not have diplomatic relations with China then," Judy, who's in her 70s, explained. "It wasn't easy for anyone to go. You had to write a lot of excuses and letters, saying you have relatives there. My father-in-law had connections and saw potential in Chinese antiques."
Mr Loh knew authenticators, collectors, and specialists personally, but rolled up his sleeves when he had to. According to Yinshan, he spent months in ancient cities, rummaging through marketplaces and historic sites in search of remnants from the past.
By 1956, three shophouses along Upper Nanking Street – our central business district in the olden days – were filled with antiques. Mr Loh named the shop after his wife, Mdm Phoon Pui Ying.
"It was quite a romantic gesture, especially back in the day when people mainly had arranged marriages. But my grandfather was a family man, and dedicated the shop to my grandmother."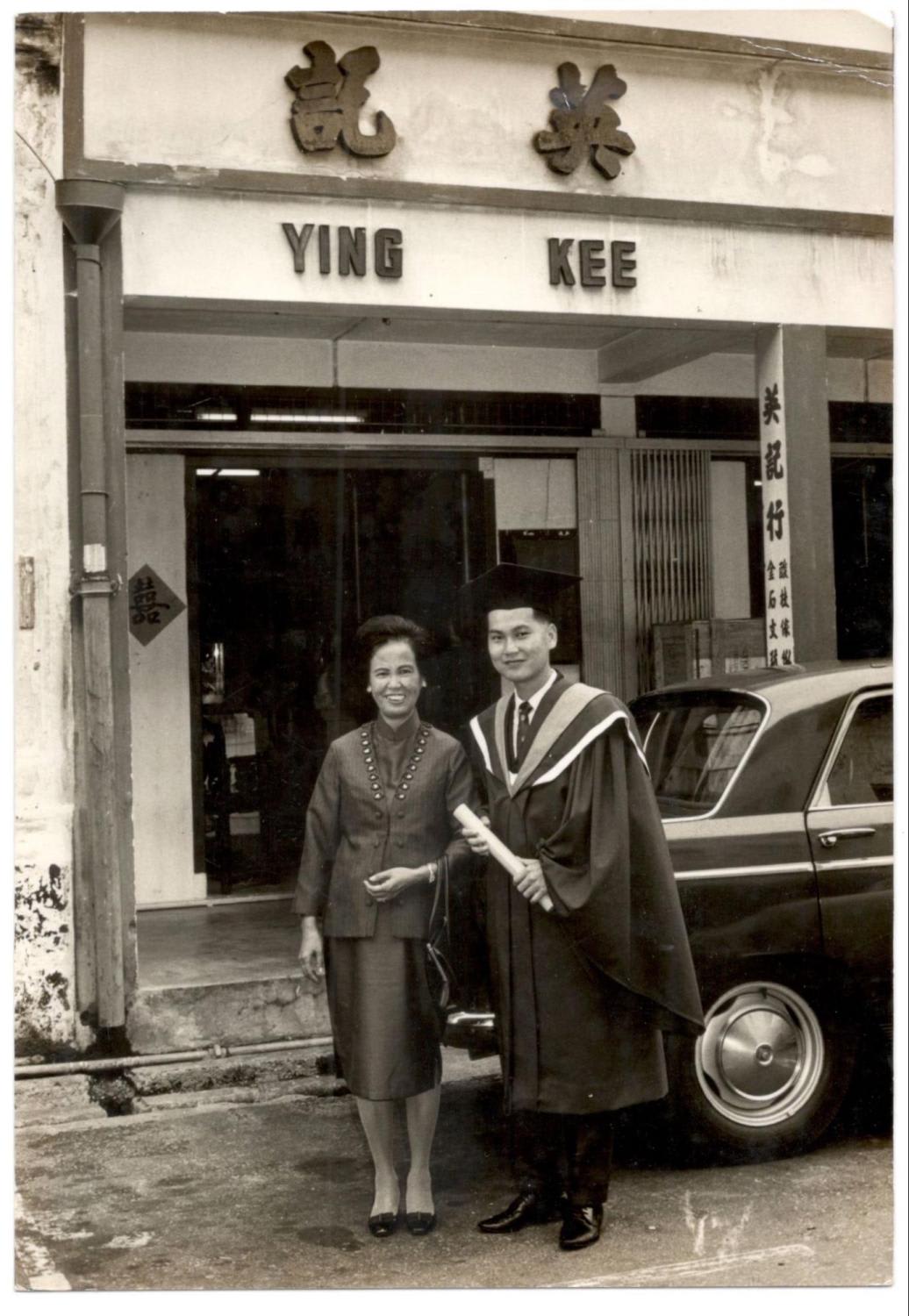 REMAINS OF THE CULTURAL REVOLUTION
The shop's clientele comprised dignitaries, ministers, statesmen, artists, writers and business tycoons who appreciated Chinese culture. The latter included Leung Yun Chee, the founder of Axe Brand Oil, who became a close friend of Mr Loh's.
"Sometimes, he wouldn't even look at the stock. He trusted my father-in-law so much. He knew he was very good at spotting antiques and was willing to pay for good pieces. Sometimes he bought until he had no cash, you know," recounted Judy.
The year was 1972 when the latter married into the Loh family. Even though the newlyweds enjoyed a shared interest in Chinese antiques, only she came on board (her husband remained in the public service).
When she joined, Ying Kee Hong had just moved to Geylang and was in its heyday for one reason: The Cultural Revolution in China was afoot.
"Some of our relatives in China were so afraid of the red guards. Even though they had Qing and Ming Dynasty pieces, they broke and buried them. Because once the red guards found them in their houses, they would be in big trouble," Judy explained.
After Mao Zedong formed the People's Republic of China, the red guards destroyed ancient artefacts to erase the Four Olds: Old ideas, culture, customs and habits. Mr Loh saw an opportunity and salvaged as many as he could.
"Without seeing them, he bought three warehouses' worth of antiques. He didn't have enough money, and came back to Singapore to borrow."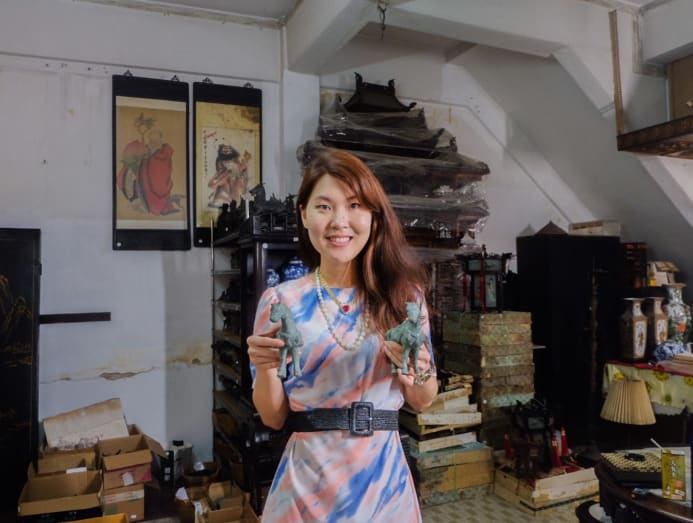 Among these were furniture and artefacts made of porcelain, bronze, and jade, housed in a warehouse in Clarke Quay where Indochine now stands. According to Judy, the inventory along Upper Nanking Road was also flying off the shelves.
"Business was so good. People queued late into the night. All of them were dignitaries and business tycoons. They'd say: How much do you have? Just give them to me. I'll take them all."
KEEPING THE FLAME ALIVE
Mr Loh died in 1979. Ten years later, so did his wife. The second and third generations tried to keep the shop alive but were thwarted as China began to open up.
"Ten to 15 years ago, as China's economy started booming, many businessmen came to buy the antiques back home. There was this idea of 'hui gui' (Mandarin for 'the return of sovereignty'), and having Chinese culture and heritage return to the country," Yinshan said.
Sales took a hit once collectors could procure directly from the source. In 2000, the Lohs decided to close Ying Kee Hong. It's been dormant since save for the occasional auction, but Yinshan and Judy's love for antiques has not wavered.
"With porcelain, certain colours are available only in a certain dynasty. There's this shade of blue from Persia that cannot be found anymore. The ingredient, cobalt, which was burnt to create it in the 1600s had been exhausted," said Yinshan.
An antique's colours, glaze, shine, craftsmanship and signs of ageing help with authentication, but these aren't foolproof by any means. When dealing with 5,000 years of history, nothing is.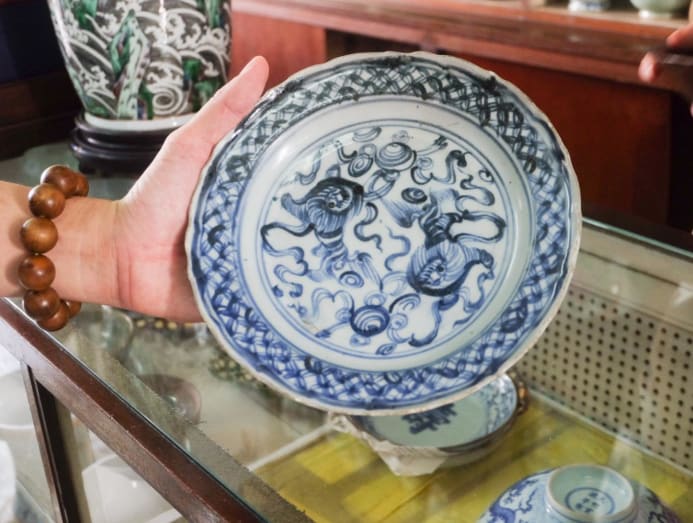 "Unless you dig directly from the tomb, even auction houses find it difficult," Judy said. It was once believed that carved animal heads only started turning (instead of looking straight ahead) in the Ming Dynasty. Later, excavations in China proved otherwise.
New technologies, like carbon dating, make no guarantees either as some antiques are made of old clay and new paint. Plus, craftsmen were fond of replicating the work of the previous dynasty. Sometimes, when collectors are on to details the Lohs aren't, they even make a killing.
"We sold a bowl with 'chicken fat yellow' glaze, which was only used by imperial families in the olden days. The man bought the bowl for S$600. A few months later, he smiled and came back to tell us he had sold it for over S$300,000."
THE END OF AN ERA
After 20 years of closure, Ying Kee Hong is opening for the last time. The Lohs had recently sold the shophouse along Lorong 12 in Geylang, and Yinshan had consolidated the contents of her childhood home in a final estate sale (this Sunday marks the last day of in-person viewings).
She had taken unpaid leave to do just that. In the last two months, she manually opened the crates, removed them piece by piece and polished 70-year-old dust off them. She designed a website and engaged an external vendor to help sort them.
"This whole experience has made me feel even more connected to the antiques. I feel like a treasure hunter inside my own home. I've lived here, but so many things I haven't seen!"
This process also unearthed relics of her childhood, like a computer mouse controlled by a joystick; and documents from her grandfather's journey, like custom declaration forms from as early as 1962.
"At first, my parents were like, 'let's throw them away, it's garbage'. I said no, I think this is a piece of history. It would be great if we can trace these documents and see what he did. I'm so glad that we have them because I can also track where my grandfather went and what he bought."
The Lohs' farewell is twofold; they live right above Ying Kee Hong and will be parting with both a home and business. Of course, they feel sad, Judy said, but "all things have to come to an end". Yinshan considers herself privileged to have grown up here; her definition of home is now synonymous with one's roots.
"Nowadays, minimalism is very popular. But I'd feel so empty being in a house with no history behind its items. These pieces connect me not only to my family but also to the culture of China – their skill, resilience and ingenuity. That makes me proud to be Chinese."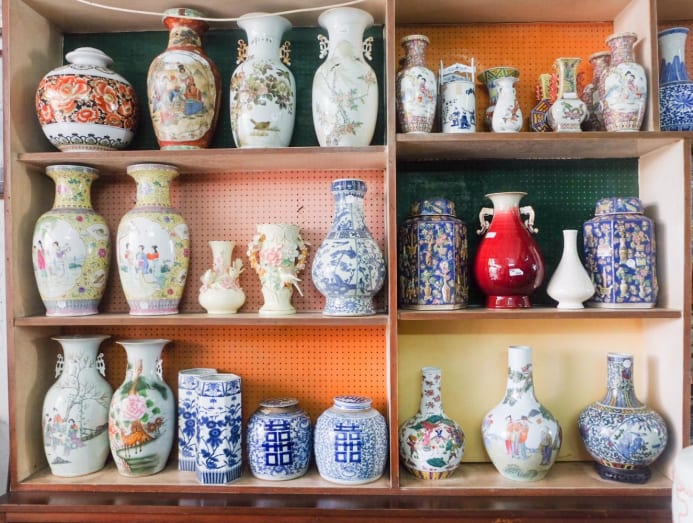 Is Ying Kee Hong's time well and truly over? Maybe not. Yinshan inherited many things from her grandfather, not the least of which was his entrepreneurial streak. In her view, antiques and the younger generation may have more in common than one would think.
"It's actually in line with their values. If we just talk about blackwood furniture, these are extremely sustainable. They've lasted for hundreds of years and can be disassembled if you need to move home. It's simply ingenious carpentry."
Having worked in the Web3 realm, she's also toying with the idea of bringing the trade into it. Blockchain technology could be the answer to authentication, and antiques could live on the metaverse as digital twins or non-fungible tokens for all to see.
"Our family has kept what we can, and we would like to share what we have with the world so anyone who's interested in history can get a glimpse of it."
Ying Kee Hong is located at 25 Lorong 12 Geylang, Singapore 399003. For more information, visit their website here.