The 'world's first bubble tea' gaming PC costs over S$10,000 – but it's not for sale
The custom-built PC was designed by a Singapore computer hardware company and looks like your favourite taro milk bubble tea – pearls included. You can't drink any of it though.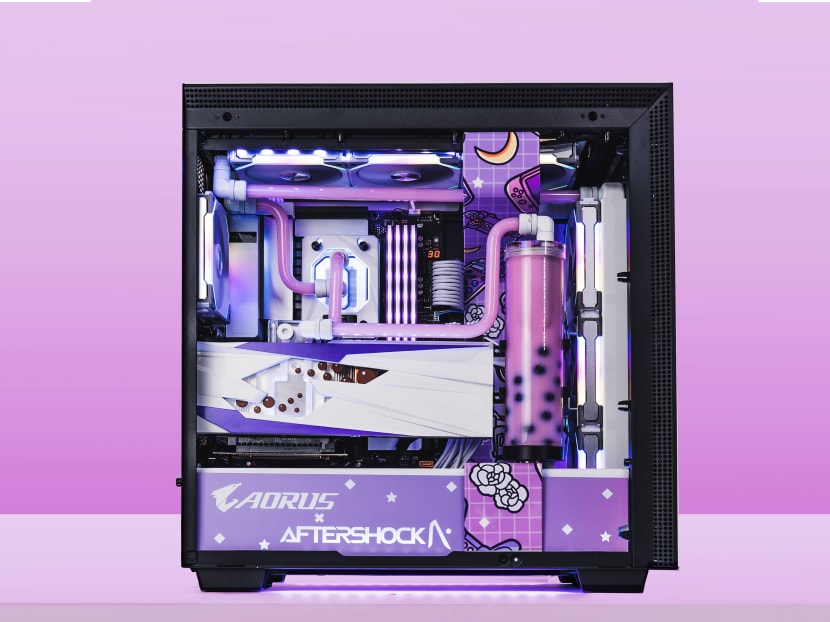 Singaporeans are up for anything bubble tea, and it seems Aftershock, a local computer hardware company, is too. 
The company, which specialises in custom PC designs, was commissioned by a customer based in Australia to build a PC with a boba tea aesthetic.  
Aftershock's team in Australia put it together, using premium computer parts that amounted to over S$10,000.  
Jonathan Teo, Marketing Lead at Aftershock, said the build "took a lot of effort to be customised into the aesthetic achieved".
Teo shared with CNA Lifestyle that the team was already exploring the idea of adding filter balls into their custom loop to create a dynamic presentation of the PC.
"We thought it resembled bobas and decided to make it a bubble tea-themed PC."
The team took pains to create the effect of pearls swirling through the custom open water cooling system. Plus, the build is also able to "maintain exceptional heat performance", Aftershock said in a press release on Friday (Sep 10).
And if that's not appealing enough, see if you can spot a laser-cut corgi that lights up at the front of the PC, a shoutout to the customer's fur baby, which Teo said was an added layer of personalisation to complete the look. 
Just because the highly personalised design is not for sale, it shouldn't stop you from getting your boba fix today. 
Taro milk bubble tea, anyone?