In Singapore, a new 'luxury' cat hotel for rescued kitties and cats on staycation
At The Luxe Meownor, opened by cat rescuer Brenda Wang, feline guests are put up in spacious "bed chambers" complete with customised cat furniture and are served daily by "chambermaids".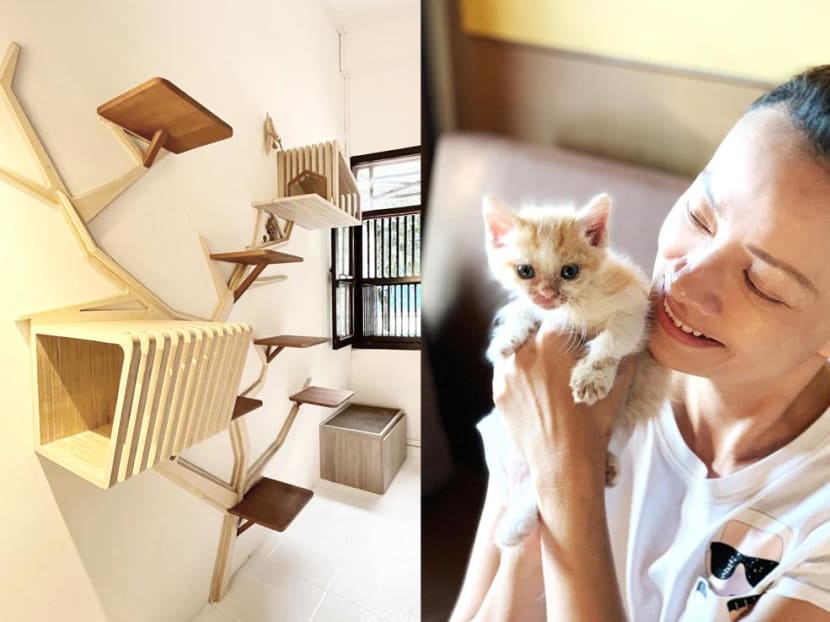 When the COVID-19 pandemic disrupted Brenda Wang's business as an interior design contractor, she turned her attention to rescuing street cats.
"My projects were mainly overseas but as we couldn't travel, business was dormant. There was no activity in the office but I didn't want to close it down as things might recover after the pandemic," the 49-year-old shared.
"As a cat lover, I've always been donating to organisations such as the SPCA, but since I am rooted in Singapore, I decided to do some rescue work of my own."
Wang also runs the private Facebook group Cats & Kittens of Singapore, which has more than 14,000 members, as well as a team of around 40 volunteer rescuers.
"Through them, we get tip-offs from the public regarding cats on the street that need rescuing," said Wang. While looking for permanent homes for the cats, she would nurse them back to health in her office in MacPherson.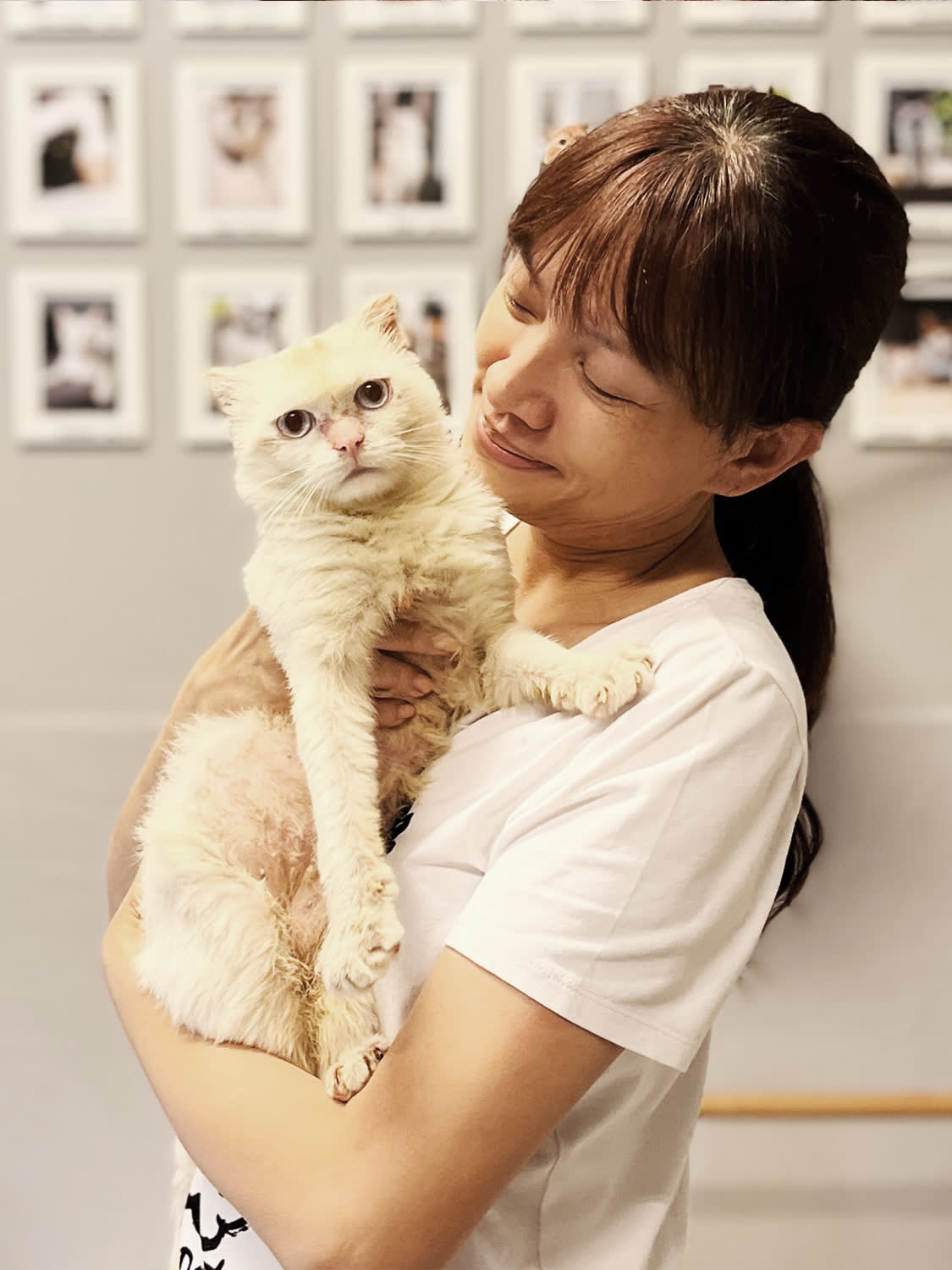 However, she was unaware that, according to the Urban Redevelopment Authority, pet boarding is not allowed in office spaces located in industrial buildings. So when enforcement officers came knocking, she had to rehome the cats. 
"At that point, I had six cats under my care. One of them was recently rescued and was filled with ringworms. I needed time to treat the cat before rehoming him, but thankfully, an adopter agreed to take him in," shared Wang.
Wang decided to take a break from rescuing but after being persuaded by her volunteers and Facebook group members, she decided to look for a permanent space to continue her efforts. She ended up leasing a shophouse on Jalan Besar and applied for all the necessary licences. 
In February, she opened "luxury" boutique cat hotel The Luxe Meownor, a boarding house for both rescued kitties as well as cats in need of a "staycation" while their owners are out of town.
BED CHAMBERS FOR (FELINE) LORDS AND LADIES
As its cheeky name suggests, the interior design of The Luxe Meownor draws inspiration from an old English manor. Although it bills itself as a luxury cat hotel, there are no designer beds, fancy Gucci wallpaper or Swarovski crystal-studded dining ware.
Instead, the "luxury" is in the amount of space that feline guests get to enjoy. Rather than being confined in small cabins, cats get their own spacious rooms – or what the hotel calls "bed chambers" – that range from 25 sq ft to 35 sq ft.
Each bed chamber is equipped with "invisible" safety grills and furnished with cat furniture designed by Wang herself. The customised furniture, made from non-toxic birch plywood, is designed to cater to different cats, from playful ones that enjoy climbing to those with mobility issues.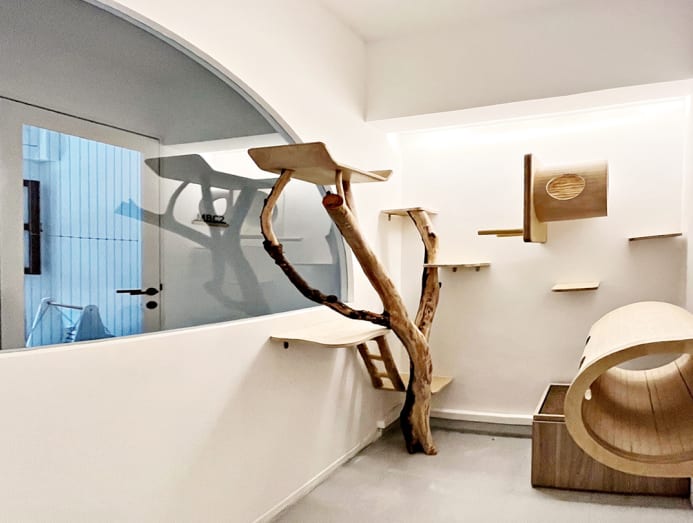 "A few years ago, I was looking for a boarding place for my two cats, Ham and Cheese, as I was going to be travelling. I went around the whole of Singapore but couldn't find a cat hotel that provided rooms. The ones that I found were also boarding dogs," Wang shared.
Confining cats in small cabins for days can make them feel very trapped, Wang said. "Boarding them in rooms will make them feel more comfortable and they can socialise with their carers faster."
There are a total of 13 rooms at The Luxe Meownor. The 25-sq-ft rooms can hold a maximum of two cats, while the 35-sq-ft rooms can accommodate a maximum of three cats. Some of the rooms have interconnecting doors that can be opened for cats from the same family.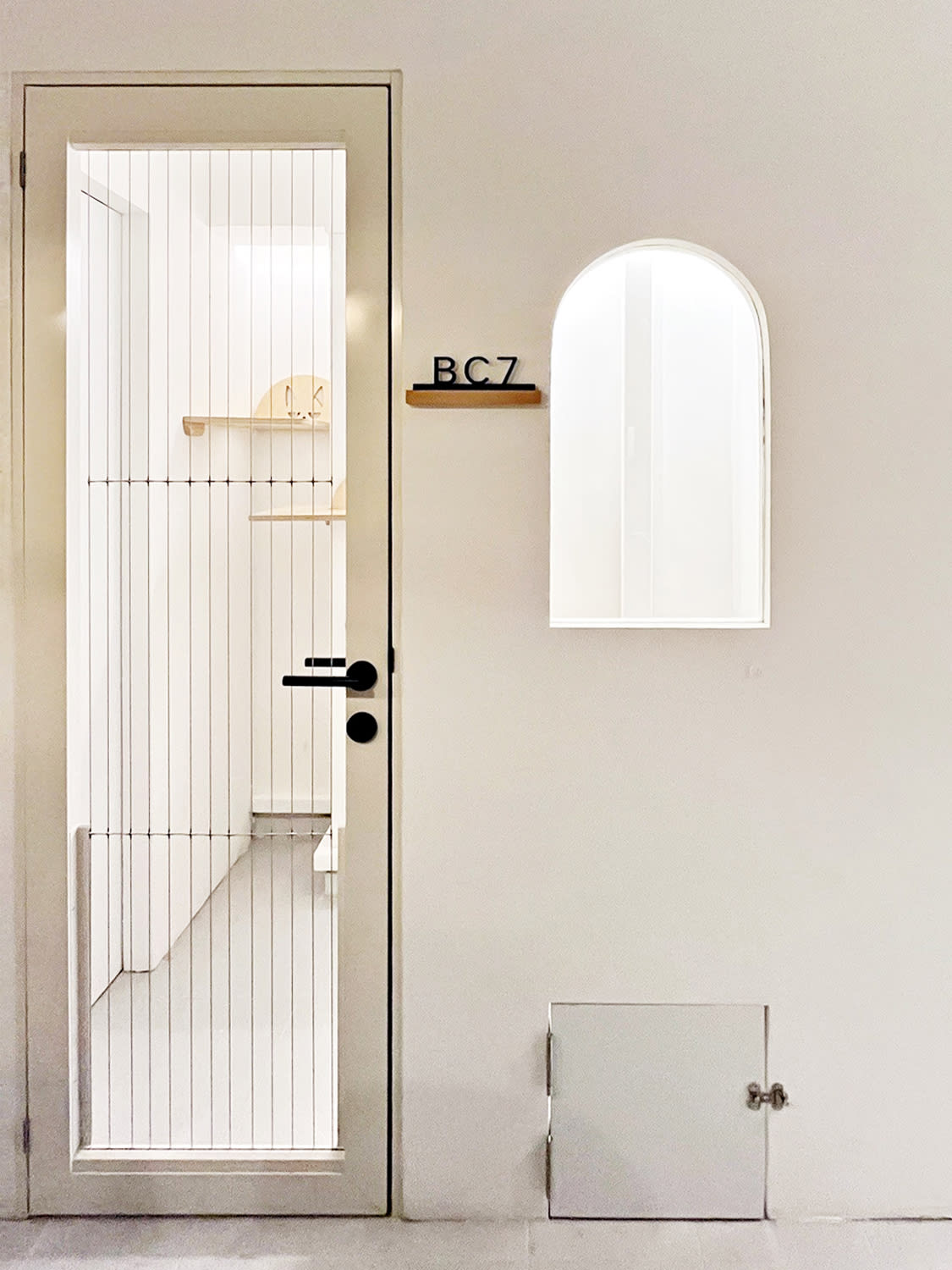 Boarding rates start from S$48 nett per cat per night and go up to S$88 nett per cat per night, depending on room type. Second and third cats are charged at an additional S$20 nett.
Rates are inclusive of cat litter, two wet-food meals a day, free flow of dry food and water changes twice daily. Staff and volunteers (aptly known as chambermaids) will conduct daily "guest maintenance", such as ear cleaning, teeth brushing and nail clipping.
And just as humans can indulge in a massage at the spa while on staycation, guests at The Luxe Meownor will be treated to fur massages using organic coconut oil. But of course, such activities are subject to approval from the cats themselves.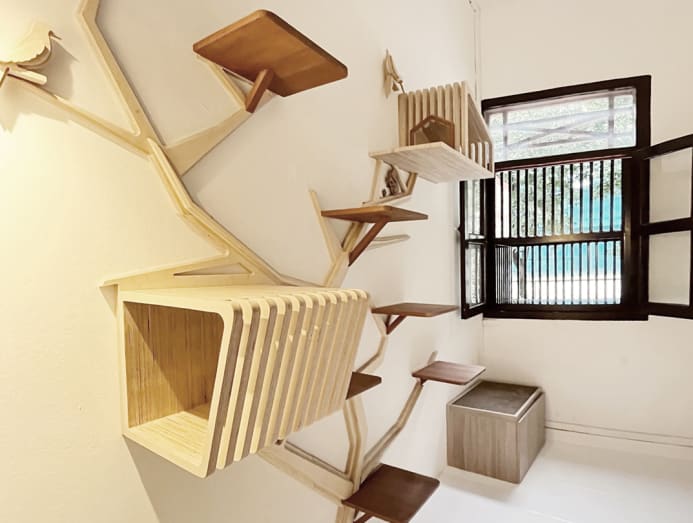 While The Luxe Meownor's price range is "definitely not the cheapest" around, Wang believes it is "reasonable". A check by CNA Lifestyle found that the boarding rates at other cat hotels typically start from S$30 – and that's for a tiny cabin.
"Just because we are a luxury hotel doesn't mean we need to be expensive," Wang explained. "I want our hotel to be affordable, but not too cheap as we still need to pay our staff and overhead costs. If we can make do with our earnings and provide a good option for cat owners, why not?"
At any one time, the number of guests at The Luxe Meownor is capped at 15 cats. One bed chamber is reserved for rescue cats free of charge, while a second bed chamber is offered to rescuers at a 50-per-cent discount.
Although it has only been a month since the cat hotel's opening, demand has been "piping hot", Wang said. There have been owners who board their cats due to travel plans. Other bookings are for isolating the furry guests while their humans recover from COVID-19. There have also been owners who check in cats with behavioural issues.
For such cats, Wang, who has a diploma in feline psychology, carries out rehabilitative work. "We had an owner who had a cat rescued from the streets. When she left, she was in tears because she was finally able to touch him.
"In fact, when the owner sent him here, she was covered with scars," Wang recalled. "We don't just observe the cats, we observe the owners, too. As much as I can, I try to guide owners on how to interact with their cats."
HAPPY HUMANS, HAPPY CATS
Underpinning the experience at The Luxe Meownor is Wang's personal belief that "behind every happy and healthy cat, there's a great carer". It has spurred her to conduct cat care classes every weekend for humans to learn how to properly care for their feline friends.
"The aim of the cat care class is to arm attendees with basic knowledge on cats, such as the type of food to feed them, how to train them to use a litter pan, how to cat proof their house, and how to detect emergency situations that require a visit to the vet," she said.
Spaces at The Luxe Meownor are also designed to foster bonding and camaraderie between the staff and volunteers. For example, The Chambermaids Hall, located on the second floor of the hotel, is designed as a comfortable space for staff and volunteers to relax and hang out.
"We have couples, brothers and sisters, mums and daughters, fathers and sons, who come down to volunteer together," Wang said.
While it may be early days for The Luxe Meownor, she revealed that there has already been interest for franchise within the region. "It's going to take a little bit of time, but the interest has been expressed. But if the concept is going to be diluted, I might not do it," she added.
Pawrents will also be excited to know that Wang is looking at potentially selling her customised cat furniture in the future. In the meantime, if you're a proprietor of a pampered puss that needs its space, a stay at The Luxe Meownor will do the trick for when you need to get away. 
The Luxe Meownor is located at 259 Jalan Besar, Level 2, Singapore 208934