Inspired by a childhood in Brazil, this carbon trader started her own 'cheeky' kids' clothing line in Singapore
In this instalment of Creative Capital, we meet Angela Li, founded Bochechas (Portugese for "cheeks") when she couldn't find high-quality clothing in vibrant colours for her daughters.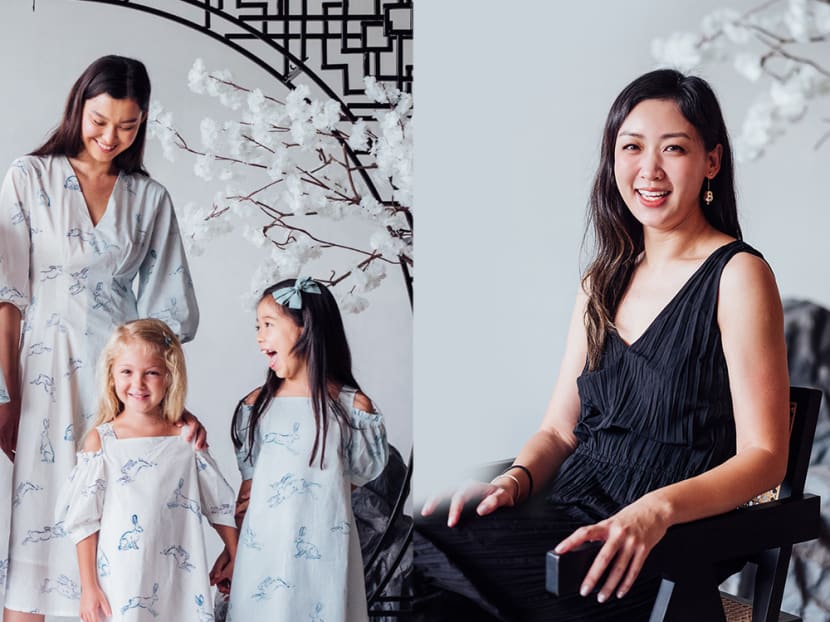 Not too long ago, my mother complained that my daughter was wearing too many dark clothes when they took her out to dinner every Friday. She complained to my in-laws, to me and my wife, and to my daughter. In order to make her grandmother happy, my little girl asked me to take her shopping for a few dresses that would put a smile on her Nai Nai's face.
After looking at several options, we ended up picking a few dresses from the Bochechas store at Takashimaya Level 4. The dresses were comfy, beautiful, colorful and were made beautifully. I assumed, given the branding, that these were by a foreign designer. Looking at the branding, I thought that maybe these were from Brazil.
Digging a little deeper, I discovered that Bochechas is a local brand, founded by 39-year-old carbon trader Angela Li. Li, from China originally and a Permanent Resident here, spent her teen years in Brazil, a period of time she tells me influenced her sense of fashion forever. Bochechas, I also discovered, only launched last year. Intrigued, I asked Angela if I could chat with her for this column.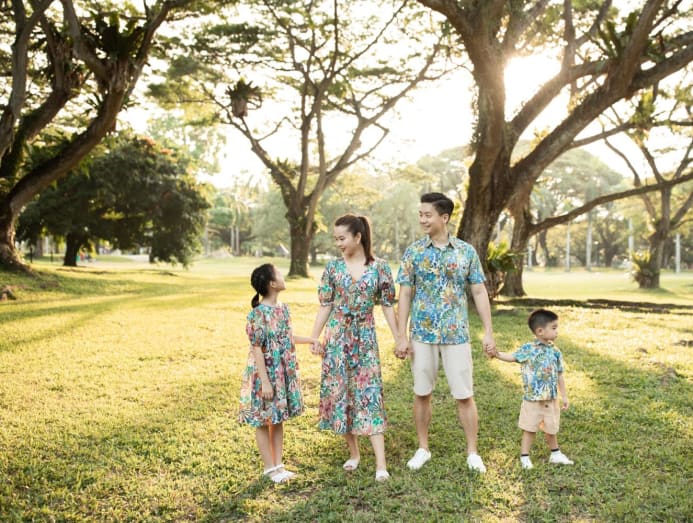 HI, ANGELA. HAVE YOU ALWAYS BEEN DRAWN TO FASHION?
Yes! My dream has always been to open my own shop, but for a long time that was a very premature idea. Coming from an Asian family, I was expected to get a proper job first.
I TAKE IT YOU WERE INTO FASHION FROM A YOUNG AGE.
Growing up in China, I didn't have many clothing options. But I had an aunt who went to the US to pursue her postgraduate studies; she would send me all these fashionable clothes for little girls – at least what was deemed to be fashionable at the time – and I always enjoyed dressing up in them and being different from my peers.
YOU'VE HAD QUITE THE GLOBAL UPBRINGING. HOW DID YOU END UP IN BRAZIL?
My parents emigrated to Brazil when I was six years old. I joined them when I was 14 and then later returned to China for university. Those years spent in Brazil as a teenager have been quite influential to what I wear and the whole concept of Bochechas today. Ever since those years, especially, I have been drawn to prints and vivid colours.
HOW DIFFERENT WAS BRAZIL FROM CHINA? HOW DID THE EXPERIENCE THERE CHANGE YOU?
The two countries sit on completely different sides of the planet, so I would say there are no similarities! China, like most of the Asian countries, is all about restraining from showing your emotions, but in Latin culture, every emotion is amplified and put all out. Interestingly, there's a very big Asian community in Brazil, predominately Japanese and Koreans. You do see the culture collision, which emerged to form something new. It is what changed me the most and I actually see the same thing happening here in Singapore.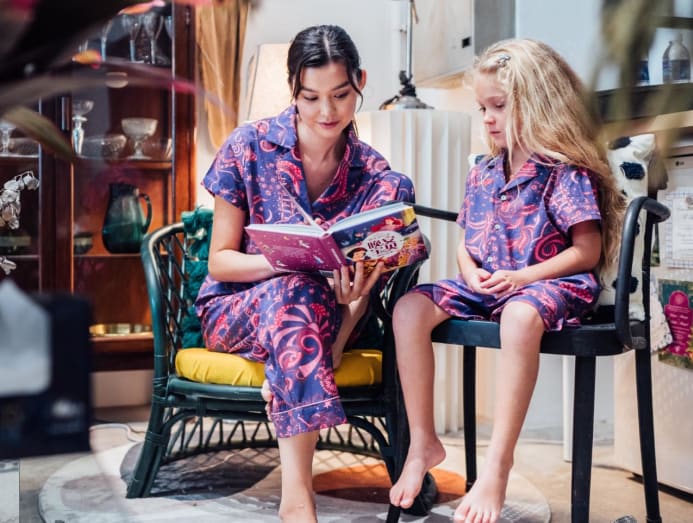 WHAT BROUGHT YOU TO SINGAPORE AND HOW LONG HAVE YOU BEEN HERE?
I relocated to Singapore due to my work. Singapore is the trading hub of Asia. My husband and I moved here in 2017, and both of my daughters were born in Singapore.
I UNDERSTAND YOUR DAY JOB IS AS A CARBON TRADER. FOR A LAYPERSON LIKE ME, CAN YOU EXPLAIN WHAT THAT MEANS?
As the world is moving towards a carbon-neutral path, it requires a lot of effort from both countries and corporations. In the carbon emission world, those efforts can be summarised as "reduce, avoid and offset". We aim to reduce, avoid and offset carbon emissions generated from business operations directly or indirectly. So my work helps corporations to achieve that goal by developing projects that can generate carbon credits to offset their emissions. We also trade around those carbon credits on the financial side to create liquidity in the market and help the corporation to have a financial tool through which they can reduce their carbon emission costs.
HOW DID BOCHECHAS COME ABOUT?
As a mum of two, I love to dress my girls up. It might sound like a cliche, but it really all started with the same old story of how difficult it can be to find the right clothes. So many brands were launched by mums who started with the same idea. But I still could not find the designs that I wanted to use for my girls. I always prefer to dress my kids in natural fabrics rather than synthetics, because the synthetics are just not breathable, especially in the humid weather of Singapore. A lot of kids' clothes are also heavily lined with cheap fabrics. I found them unbearable for Singapore. Too often I found clothes that were either beautiful but not functional, or functional but not pretty enough.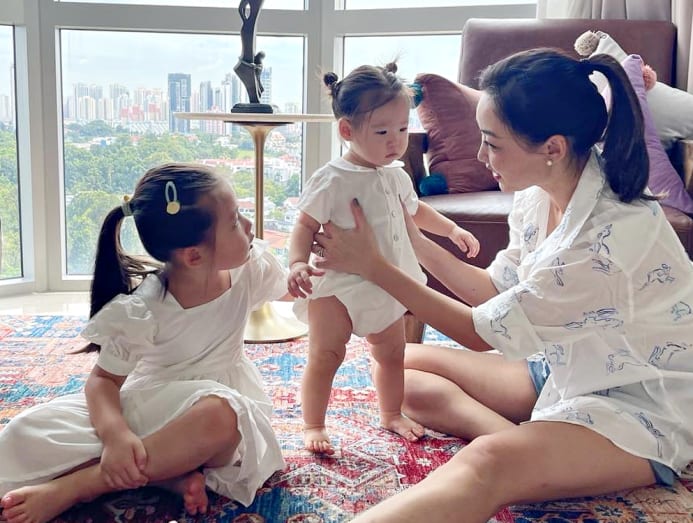 The idea of twinning did sound very cheesy before I became a mum, but after, it hit me that it is actually so sweet to twin with your little ones – when they still want to twin with you! But there are so few great twinning options – most of them are designed identically for adult and kid, but then you have to make a lot of compromises because an adult body is so different from a child's, or they were just designed for the purpose of twinning without too much thought.
I found it so sad that the majority of mass-produced kids' clothes are in Morandi-esque colours, i.e. a little washed out. I believe children are naturally drawn to colours – happy colours, not pastel ones.
So, I wanted to create something that was equally beautiful and functional – easy, breezy, happy, for modern families in Singapore. Life is too short for dull moments, and we design to impress. Our clothes are purposely designed without linings unless necessary, and we try offer an option for the family to twin, but all the garments are designed and evaluated individually with a lot of thought.
We chose to work with premium fabrics such Liberty London, Tana Lawn and Irish Linen, because a good fabric will last, and they are just perfect for Singapore weather. Light, airy, not see-through (so there's no need for a lining) and beautiful!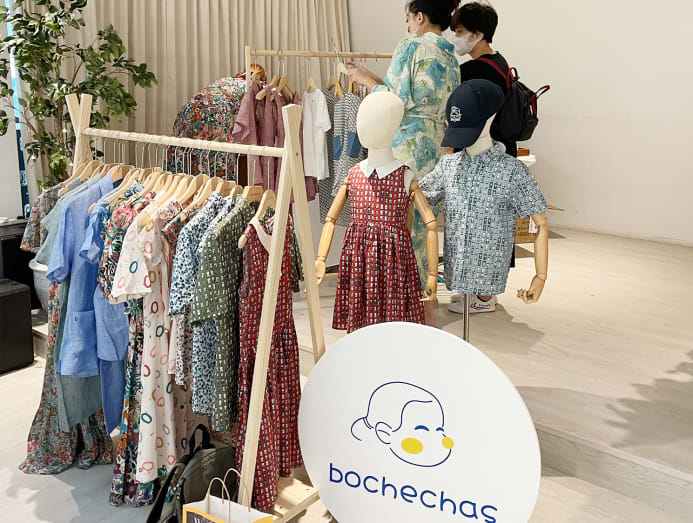 HOW LONG DID IT TAKE FROM COMMITTING TO THE IDEA OF THE BUSINESS TO ITS ACTUAL LAUNCH?
It took me around eight months. I would say it was pretty quick! It wasn't a well-thought-out business model to start with. I just somehow believed that it would work, and I am the type of person who follows through with execution whenever I formalise my ideas. Of course, I have doubted myself a million times since the launch, but it seems we are indeed on the right path now.
WHAT WAS THE HARDEST PART IN SETTING UP THE BUSINESS?
I still believe the most difficult part is figuring out how to be seen – how to really build up the name in the right market. I know we create beautiful garments, and everyone who has tried them loves them, but the question is, how do we bring them to the people that may like them? At one point, we had zero or only friends' orders for months. It was a very stressful time and I began to question myself. I thought, 'There must be something wrong.' It was even difficult to engage in marketing because we were too small to even bridge any conversations.
HOW AND WHEN DID YOU LAUNCH THE BRAND AND HOW DID YOU GET THE WORD OUT?
We launched the brand online at the end of August last year. We mainly worked with social media platforms and individual content creators to market ourselves. We also actively participated in pop-ups whenever we could. I think it was only after we actually had a physical presence that people started to notice us.
DO YOU DESIGN ALL THE CLOTHES YOURSELF?
I am not a designer, nor do I have the technical skills. But I normally visualise the look whenever I see the prints and the direction of a collection, and my designer, who is now a partner, helps me consolidate the look.
WHERE DOES THE NAME BOCHECHAS COME FROM?
Bochechas is Portuguese. It means "cheeks". The idea came from the chubby cheeks of my firstborn; she has a so-called "hamburger face", which also became our logo.
I UNDERSTAND SUSTAINABILITY IS AN IMPORTANT PART OF THE BUSINESS. CAN YOU ELABORATE MORE ON THAT?
As I have been in the carbon industry for over a decade, it is in our DNA that I want this brand to be sustainable. Sustainability is a very big word, and fashion is among the most polluted businesses out there. We carry the concept of "zero waste" and "zero plastic". We are very careful when planning our production. We line up all the cuttings so that minimum production offcuts are generated. We make sure that all the usable offcuts are used for hair accessories, and anything left over, we donate to children's art education classes for art collages.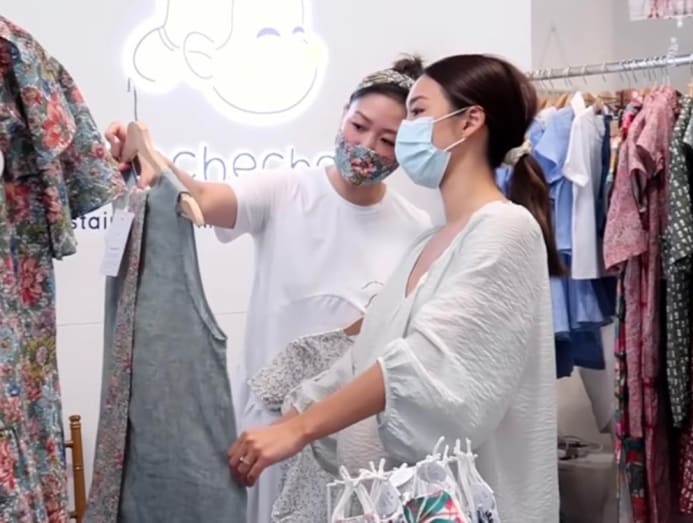 We make sure that all of our packaging, including tags and cards, are made with recycled paper. And we use biodegradable "non-plastic" bags and tape for shipping.
We are also part of the fashion upcycling movement. We have partnered with Retykle to encourage our customers to sell their outgrown pieces to Retykle for a second life. In return, we will provide a voucher for them to spend when purchasing new pieces with us.
And most importantly, we believe in creating something that will last. Since we choose to work with premium fabrics, our clothes are designed to last.
We believe beauty should not come at the cost of our mother earth.
WHAT HAVE BEEN THE BEST SELLERS SO FAR? ANY HERO PRODUCTS?
There are a few best sellers. We are known for our distinctive prints. Our Jungle Trip sets made with Liberty London Jungle Trip prints have sold out twice. We are thinking of bringing them back again, but with a twist. So many people are still asking for them.
WHERE CAN CUSTOMERS FIND BOCHECHAS?
We have two physical stores: One at Takashimaya Level 4 (in the kids' department) and the other at i12 Katong Level 2 Pop Palette. We are also online at www.bochechas.sg.
WHAT HAS BEEN THE BEST THING TO HAPPEN TO YOU SINCE LAUNCHING THE BRAND?
I think the recognition from our customers. It makes our day when a customer tell us or sends a message saying that they love our clothes.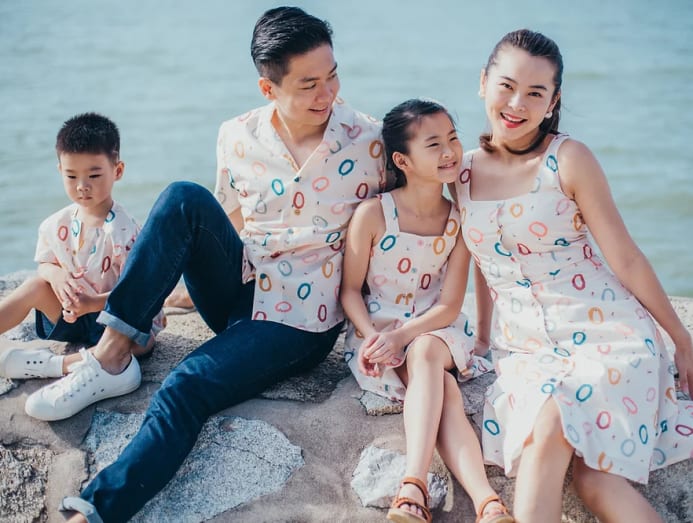 AND WHAT IS THE ONE THING YOU WISH YOU HAD KNOWN ABOUT RUNNING A BUSINESS BEFORE YOU STARTED ON THIS JOURNEY?
It is a lonely journey, and it requires a lot of attention to detail. I wouldn't have started this business if I had known this much work was involved!
WHAT'S THE DREAM FOR BOCHECHAS?
We dream of establishing a global presence, and of course to be known as one of the best family wear brands around.
DO YOU THINK YOU'LL EVER GIVE UP YOUR DAY JOB TO FOCUS ENTIRELY ON BOCHECHAS?
I hope my boss doesn't read this, but, yes! Eventually, I think that's the decision I will have to make. Growing a business requires a lot of thought and attention. My day job is actually very demanding as well. It is becoming impossible to juggle the two.
ANY EXCITING NEW PRODUCTS OR ANNOUNCEMENTS?
We have two upcoming launches before the end of the year – one for Christmas and one for Chinese New Year. We are very proud to announce that we are getting exclusive prints from Liberty London for the Rabbit Year launch.