Christmas decor hacks: How to use your plants and other items to make your home feel festive
Take advantage of the current plant trend to create a very special Christmas look for your home.
It's nearing that time of the year again to deck the halls with – well, not necessarily boughs of holly – but decorations that are more on point for an HDB apartment or condominium. And we don't mean taking the Christmas baubles and lights out of storage, and simply setting them up in a corner of the living room.
Never mind that most of us live in apartments. Even without a dramatic foyer or sweeping staircase, you can still stage a lovely, festive set-up that will wow family and guests alike.
That means getting inspiration from this part of the world (no thanks, tacky fake snow) and the botanic boom that has many of us splurging on plants during the pandemic. Translated: You'll find tropical accents, red and (naturally) green decorations, and space-saving ideas to dress your home for the festive period.
BOTANICAL ACCENTS
Fresh fir and pine boughs just bring in that fresh pine fragrance, don't they? And they look great, too, when they're used to line bookshelves or any empty space at home. Just add some fairy lights and red ribbons, and you're set.
Or if you own plants that have long, trailing vines such as the heartleaf philodendron or any pothos, this is the time to let them all hang out with the aforementioned Christmassy accents.
UPSIDE DOWN CENTREPIECES
As much as you love a dramatic floral arrangement on the dining table, it can take up too much space. Most families have a six-seater table and with a centrepiece taking up half the space, you wouldn't have room for the food.
A great compromise? Turn the pendant lamp that hangs over the table (there usually is one) into a chandelier. Hang baubles or stars at various heights from the lamp, and top them off with some foliage such as eucalyptus branches.
TABLETOP FOREST
Instead of the usual flower arrangements, why not try to evoke an enchanted forest right on your dining table? Bring together your collection of moss balls, mini plants, bell jars, decorative wood, cinnamon sticks or simply dress up your terrarium with fairy lights. Elves not included. 
BAUBLY SIDE PIECES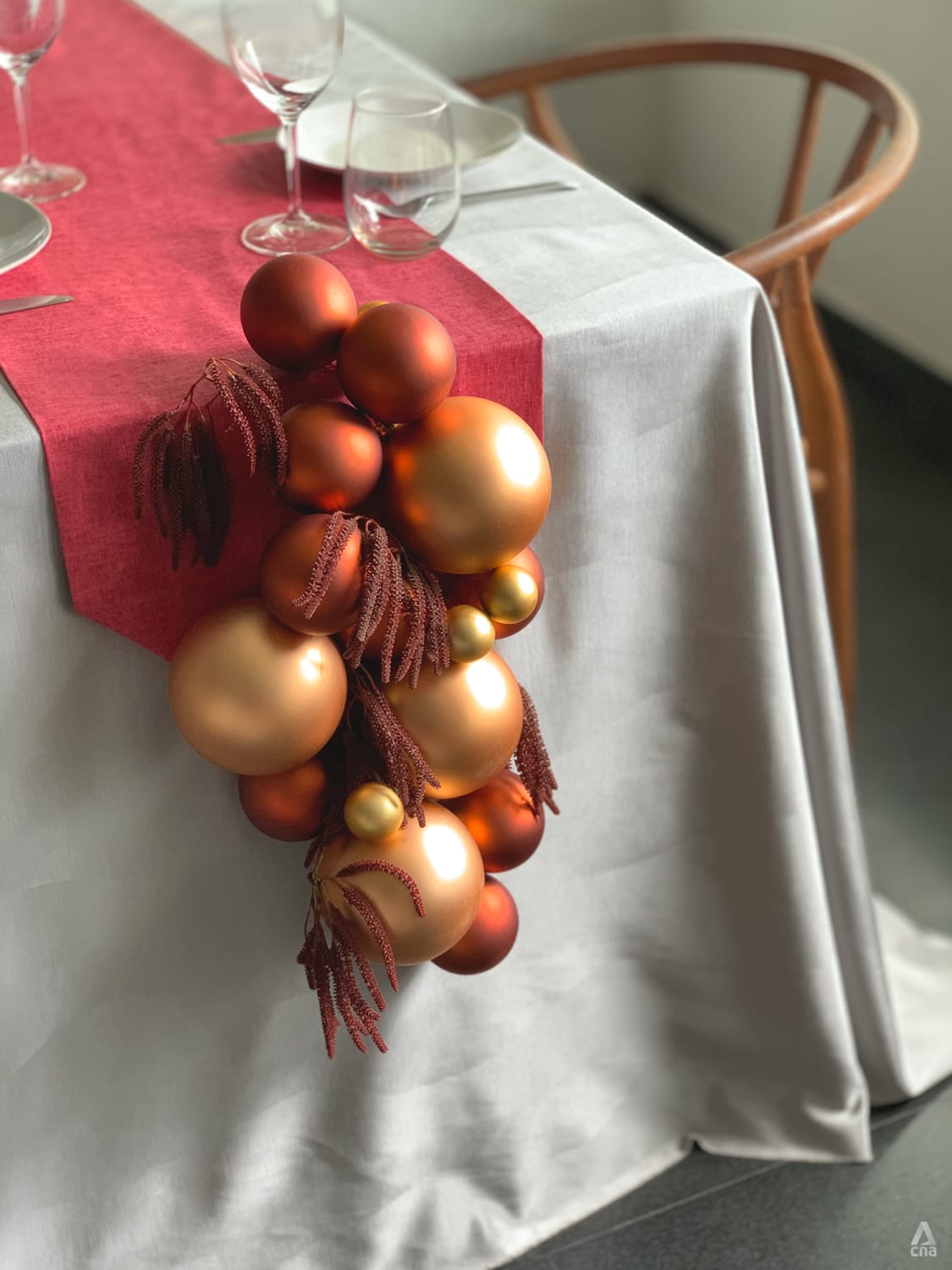 Don't throw away those old Christmas baubles just yet. Tie baubles of various sizes together like a bunch of grapes, fill in the gaps with leaves, flowers or ribbons, and you have a versatile decoration.
For instance, you can tie smaller bauble bunches to the back of the dining chairs. Or pin many bunches to a wide ribbon, then run the ribbon across a surface and let it all cascade down the side.
CHRISTMAS LIGHTING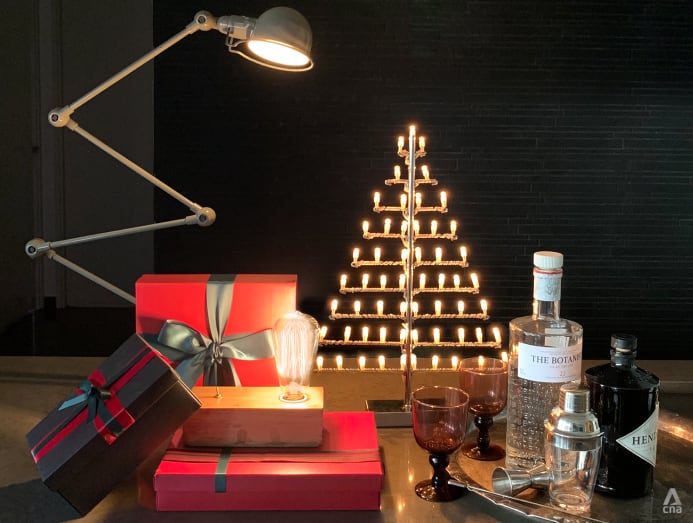 For starters, switch off the bright ceiling lights, especially fluorescent ones or anything that produces glaring white light. This is the chance to put your ambient lamps such as floor and table lamps, marquee lights (yup, those lit letters that typically spell "home") and even tea lights to good use.