In her 40s, she walked away from a successful banking career to pursue her passion as a jazz musician
In this week's instalment of Creative Capital, we spotlight 47-year-old Cheryl Ann Spencer left the world of banking to study jazz. Graduating during the pandemic, she put together Evolution Quartet and they recently released an album.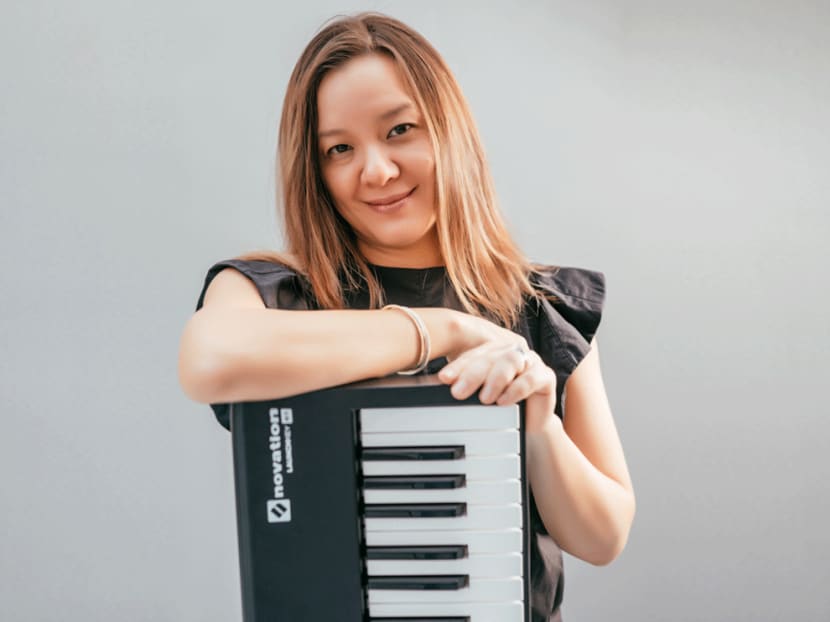 Some people believe that old dogs are unable to learn new tricks. Others believe you can never stop learning, never stop improving, and never stop reinventing yourself. I happen to be one of the latter, which is why I admire 47-year-old Cheryl Ann Spencer so much.
Singaporean Spencer was, until very recently, a high-flying banker. But she is also the daughter of a professional pianist who instilled in her at an early age a love for music. She was also clearly gifted, but, like all kids, wanted to do the opposite of what her parents did, and chose finance over music. Not a bad choice, she now reflects, "banking gave me the financial stability to enjoy my pursuit of music later in life."
Spencer has just graduated from LASALLE and while the pandemic has been hell for live performers, she has pushed forward, composing, arranging, and forming her own group, which she has named the Evolution Quartet. She's joined by well-known musicians, flautist Rit Xu, drummer Tamagoh, and bassist Fabian Lee.
The quartet recently released their second album, titled Pandemic Blues.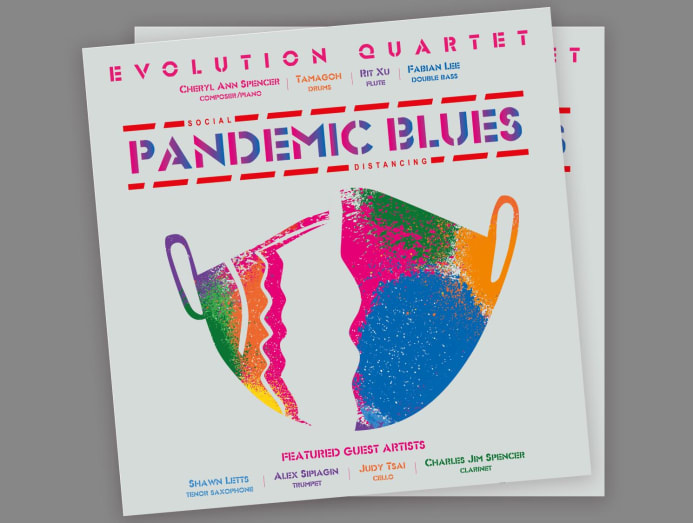 HI CHERYL. YOUR FATHER WAS A PIANIST. IS THIS WHAT FIRST GOT YOU INTO MUSIC?
Yes, my house was always filled with music. Dad listened to music in the car too. He brought us to concerts locally and operas in Europe. I was constantly surrounded by music, which gradually influenced me and I eventually gained a huge interest in it.
DID YOU ENJOY MUSIC LESSONS WHEN YOU WERE YOUNG OR DID YOU, LIKE MOST OF US, REBEL AGAINST THEM?
My mother used to say to me when I was growing up that I would become a pianist, piano teacher, or musician one day. Although I loved piano as a child, I might have unconsciously rebelled and hence chose banking instead of music, despite my passion and aptitude for the former. Back then, my father advised me to go with what I wanted to do. Music, he said, can always be a hobby. I guess it's good that I went down this path as banking gave me the financial stability to enjoy my pursuit of music later in life.
WHAT IS YOUR FAVOURITE MEMORY OF YOUR FATHER AND MUSIC?
My favourite memory has got to be my father playing the piano. He has such a beautiful touch on the piano and plays beautifully. He would tell me how important it is to play a tune meaningfully because anyone can play notes, but not everyone can play them meaningfully. Without any meaning added to it, the piano is just background noise.
WHAT MADE YOU WANT TO LEAVE BEHIND A CAREER IN BANKING TO PURSUE MUSIC?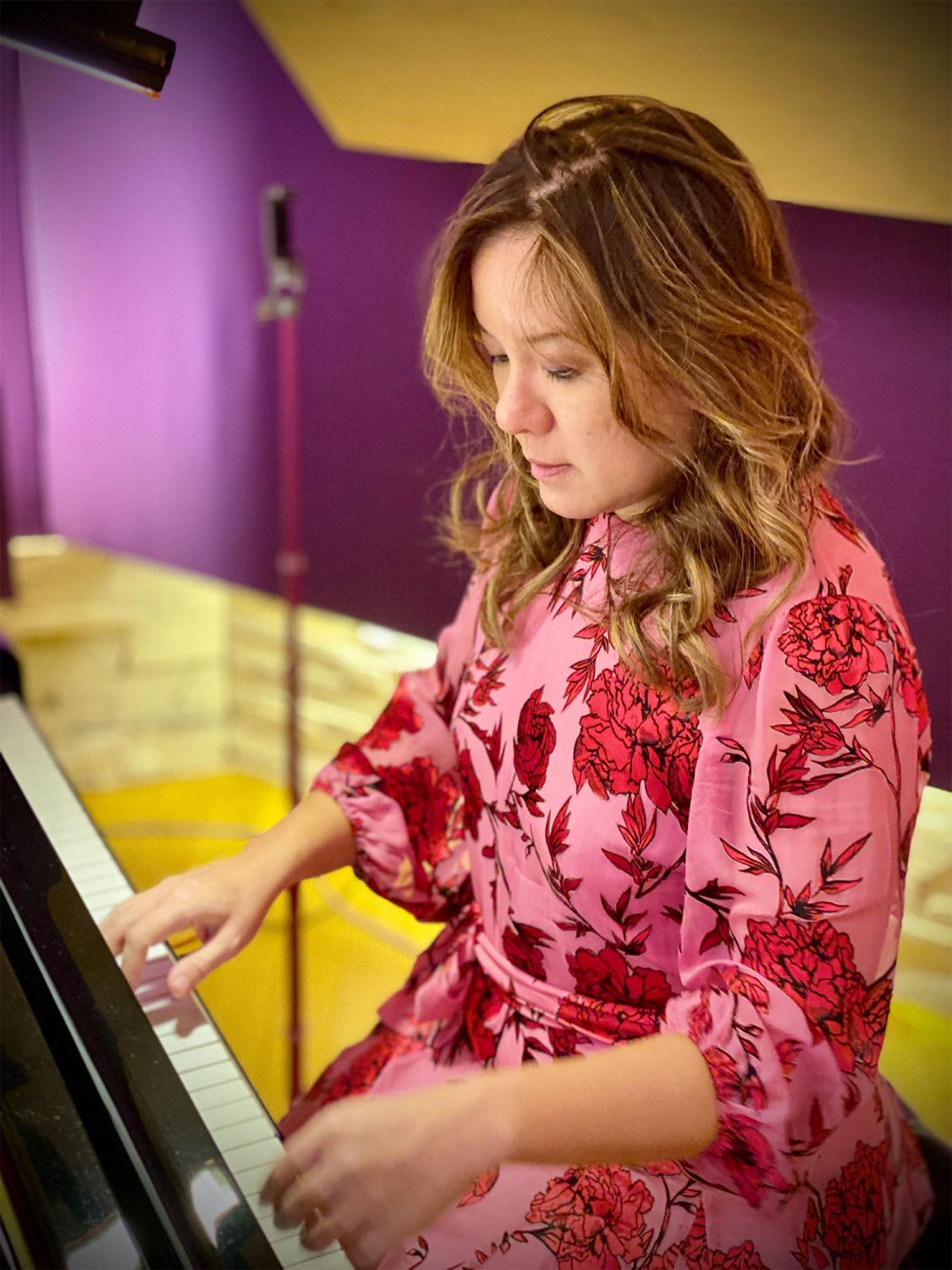 Been there, done that, I guess. I wanted to pursue my passion for jazz piano. Growing up, people had always told me I have a talented and gifted ear. I guess the burning passion for piano in me ignited as I got older.
I wanted to re-explore the field of music. I wanted to study harmony deeply.
I wanted to study jazz. Jazz is so amazing and it's hard to find a jazz teacher to teach you privately. I wanted to pursue my dream at 42... never too late as they say. My late father also encouraged me to pursue jazz before he passed on. He said I had a flair for it. So that has motivated me.
YOU DECIDED TO PURSUE STUDIES AT LASALLE? WHY THERE?
LASALLE is the only university that offers jazz studies. Students there are also guided by an outstanding international faculty, professional artists, and industry mentors. With a strong and professional staff, I was certain that the school could help me to bridge the music gap.
I loved that while there, I had the opportunity to perform and improvise on stage every week. Students are assessed by their lecturers and peers. Performing in front of your peers and lecturers is nerve-wrecking, so the weekly routine of having to perform in front of everyone gradually helps us to build self-confidence and stage presence. Learning the fundamentals of jazz theory and harmony was memorable too.
AND WHAT WAS THE HARDEST CHALLENGE IN GOING BACK TO SCHOOL?
I had to keep up with new technology in music software and reinvent myself. This meant having to purchase a new Apple computer and laptop, pro tools, music software and music notation software. It was overwhelming. On top of that, my son had his PSLEs that year. I had to juggle parenthood and full-time schooling concurrently. It was admittedly a trying time but I stayed focused and persevered. I practised very hard. Although I knew how to play the piano, I remember feeling inadequate since jazz is just like a new language, musically-speaking.
HOW DID YOU FALL IN LOVE WITH JAZZ SPECIFICALLY?
My older sister loves jazz, and I was greatly influenced by her. My dad also loved jazz too; he listened to Henry Mancini all the time. Growing up, my dad always played music in the house and in the car. I was constantly surrounded by it and what he played has helped shape my taste in music.
YOUR FELLOW PERFORMERS IN EVOLUTION QUARTET ARE ALL QUITE WELL KNOWN IN THE LOCAL JAZZ SCENE. HOW DID YOU FIRST MEET THEM?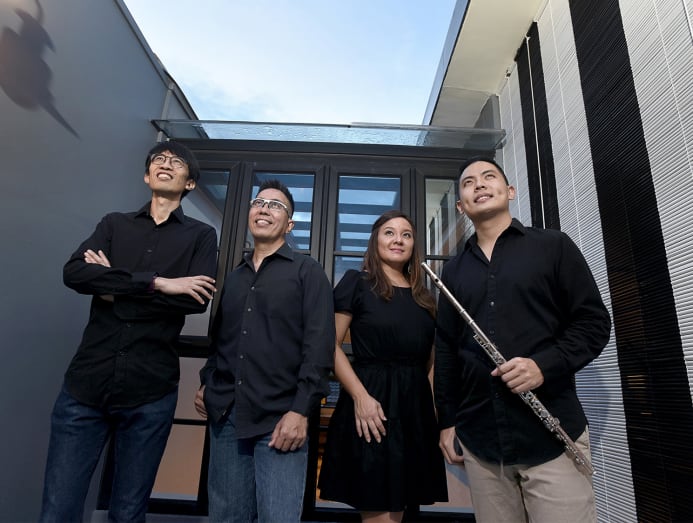 We were friends even before Evolution Quartet was formed. They were kind to support me for my year two recital at LASALLE. They played my compositions with me. They loved my compositions and told me to continue composing. Throughout the entire process – from preparation of recital to the actual performance, I could feel the spark between me and the rest of the teammates. Just like that, our band was formed after the recital.
WHAT MADE YOU WANT TO START YOUR OWN QUARTET?
We had a certain style and vibe in our music, and I could really feel the connection between my teammates and I during the preparation and actual performance of the recital. I wanted our band to have an identity and name. By starting my own quartet, the public can connect with us too. I am so happy that we already have a decent following.
WHEN YOU FIRST SUGGESTED THE IDEA TO YOUR BANDMATES, WHAT WAS THEIR REACTION?
They were as excited as I was and agreed right away. They were like "Yeah! Let's do it!" It was a very natural and organic progression. The enthusiasm was indeed inexplicable.
WHAT IS YOUR CREATIVE PROCESS WHEN COMPOSING/CREATING ARRANGEMENTS?
Every tune has a story, and the story dictates the mood. Sometimes the composition starts from a bass groove, while at other times I have a certain drum beat in my mind. Sometimes I feel like composing for someone – like my husband. I composed Our Journey for him for our 20th Wedding anniversary last year. Pandemic Blues, on the other hand, reflected our mood and experiences during pandemic, with all the pain and gratitude experienced during that time.
SPEAKING OF THE PANDEMIC, IT WAS OBVIOUSLY HORRIBLE FOR LIVE PERFORMERS. HOW DID THAT AFFECT THE PLANS FOR THE QUARTET?
My graduation concert turned into a video recording of my compositions as I played solo. It was so disappointing as I did not envision this. However, as a jazz musician, I am always expected to improvise. Life is indeed full of surprises. I knew I had to accept reality no matter what, improvise and make the best out of any situation. My batch had no physical graduation that year due to COVID-19, and it was hard for us to look for jobs. It was a famine for musicians.
TELL ME ABOUT THE ALBUM PANDEMIC BLUES.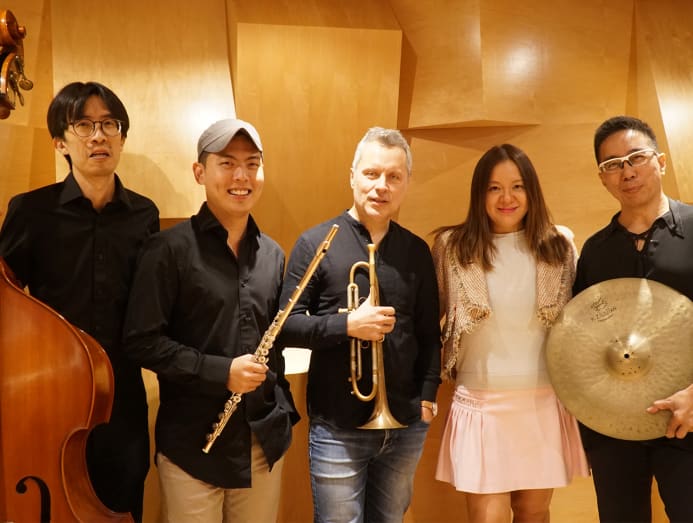 The album is an expression of people's frustration of not being able to socialise freely. I believed that many have felt suffocated and drowned, both literally and metaphorically, by and in it. With a torn mask as their album cover, the band portrays the "true blues" and melancholy felt during the pandemic. Pandemic Blues is an aural diary of the stories, reflections and lived reality. The album speaks to all, allowing everyone to feel relatable regardless of their background.
WHERE CAN READERS GET THEIR HANDS ON THE ALBUM? HOW CAN THEY LISTEN TO IT?
You can purchase the CD on our website. The album is also available on all major streaming platforms such as Spotify, Apple Music and YouTube.
OF ALL THE TRACKS IN THE ALBUM, WHICH MEANS THE MOST TO YOU?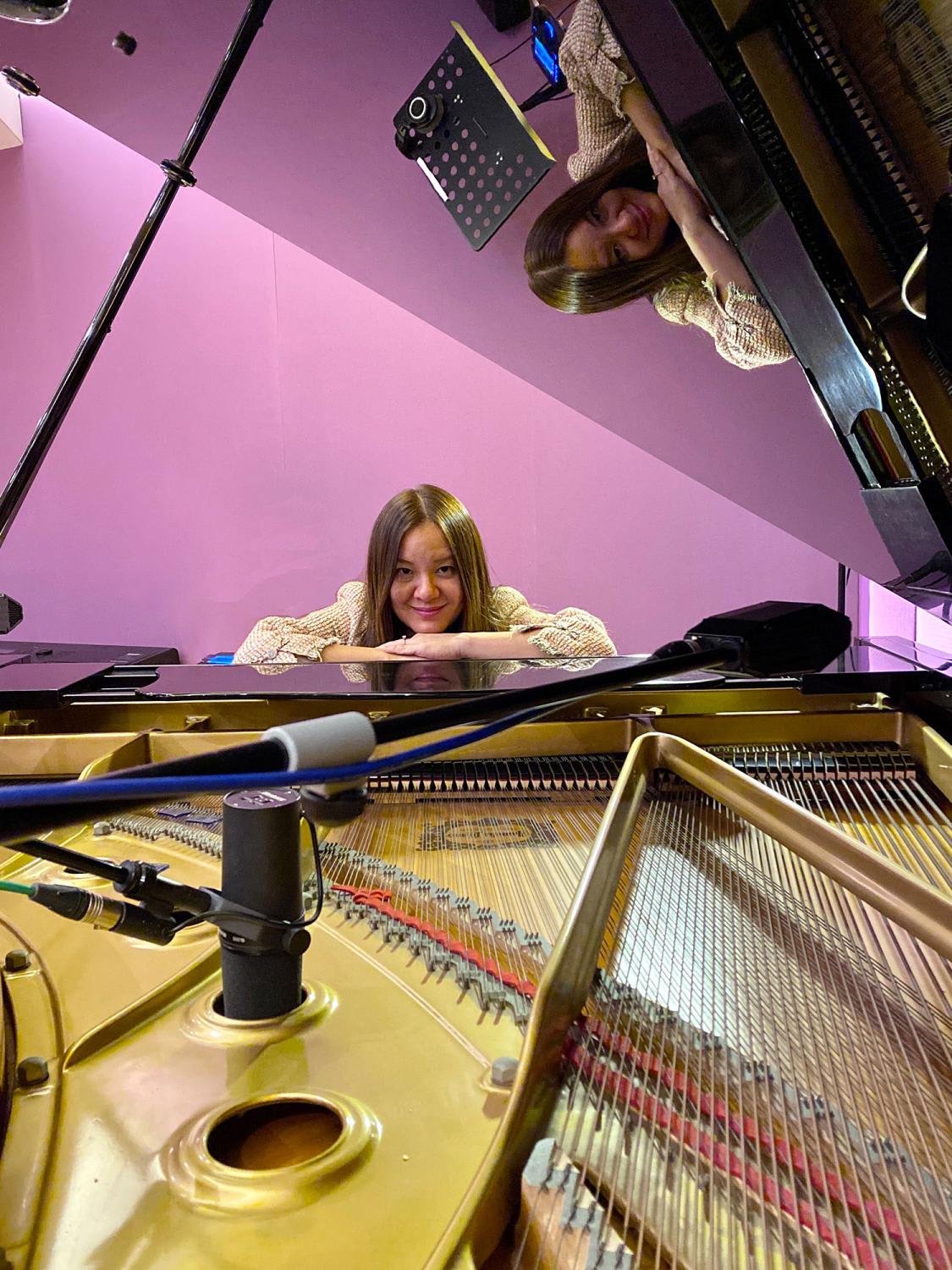 These are a few of my favourites.
Pandemic blues – Brings out the blues experienced by everyone during the pandemic.
Social distancing – Lots of thoughts put in especially for this track; we could feel the frustration among people with the presence of social distancing ambassadors everywhere they went; it felt like we were always under scrutiny. This piece is truly an expression of that frustration of not being able to socialise liberally.
Our Journey – A track specially dedicated to my husband.
The Godfather love theme – My son played the clarinet with me in this track. That really makes it extra meaningful and the experience created such great memories
Hope – It is one of my favourite songs because of the modern jazz harmonic – I feel hopeful and positive when I play it. This track contains a positive undertone, as people look forward to the full recovery of the pandemic. I feel hopeful when I play as well.
PART OF THE PROCEEDS GO TO A LOCAL CHARITY. CAN YOU TELL ME MORE ABOUT YOUR ASSOCIATION WITH THE AUTISM ASSOCIATION?
I do teach some autistic children music and hope society will be able more aware of their plight. They need a lot of support from the public so I do my little part to give back to society. Despite their shortcomings, many of such kids are actually good at music. They are good with practising too.
I KNOW YOU DID A GIG IN FEBRUARY. IS THE QUARTET PERFORMING MORE THIS YEAR? 
Yes! We had a sold-out concert and we will perform again at the Esplanade Recital Hall in September. We are also performing at a private concert in June.
WHAT CAN WE EXPECT FROM YOU THIS YEAR?
I took a break to recharge after our Pandemic Blues concert at Esplanade Recital Hall. I am currently writing again for the next album. Stay tuned.
WHAT'S THE LONG-TERM CAREER ASPIRATION?
I hope to conduct more jazz workshops to educate kids on jazz. I have been especially inspired by autistic children. It made me realise many kids out there are talented in music but have yet to discover their talents. I hope to embark on their musical journeys with them.
I wish to delve deeper into composing and arranging music and have the opportunity to work on projects at a national level, orchestra projects infused with jazz, and even perform at overseas jazz festivals.
ARE THERE ANY MUSICIANS THAT REALLY INSPIRE YOU?
Wayne Shorter, Seamus Blake, Brad Mehldau, Mccoy Tyner, Aaron Parks, Alex Sipiagin, Misha Tsiganov, Sasha Mashin.  Also my lecturers at LaSalle, Kerong Chok, Belinda Foo. And piano pedagogy lecturer at NUS Yong Siew Toh conservatory, Julie Tan.
WHAT INSPIRES YOU IN YOUR DAILY LIFE?
God, my husband, my kids. They inspire me to be a better person. I am thankful and grateful for my blessings. I miss my late father and mother; they taught me to respect others and be hardworking.
Hard work pays off. My husband told me, "Pain plus reflection equals progress" to encourage me to persevere despite the fatigue of juggling both parenthood and school. The pain in my studies and non-stop daily practice were necessary for progress.
I also try to be healthy by exercising daily as it keeps me positive. One must be happy to write good music, therefore it is important to take care of my mind, soul and body.
My band members are so talented and hardworking. They inspire me too.