Could there be a masterpiece waiting in your pantry? Project Coal's Crystal Lee on the art of dyeing
In this week's instalment of Creative Capital, Aun Koh finds out what gave the 29-year-old Singaporean the confidence and inspiration to turn her natural dye service and workshop into a full-time endeavour.
Earlier this year, I had the good fortune of dining at Alter Native. At this incredible private dining experience, you eat in two very different spaces. The first is a dreamy living area that is shrouded by gorgeous textiles. Chef Desmond Shen told me that the fabrics were created by a local artist, Crystal Lee, whose Project Coal is a local pioneer and proponent of natural dyes.
When I started doing research on this 29-year-old local textile dyer, I realised I had seen her work before – she had also created some gorgeous dyed linen aprons for my friend Jeremy Nguee's company, the Batu Lesung Spice Company.
I also learnt that Crystal, while having started Project Coal back in 2014 before slow fashion and sustainability were de rigeur in the fashion world, has only made her dyeing service her full-time gig this past year. Given that major milestone, I thought it would be great to speak to her, and learn more about her and her business.
HI CRYSTAL, TELL ME A BIT ABOUT YOU. WERE YOU A CREATIVE KID?
I'm a self-taught natural dyer with a background in fine arts. Looking back at my childhood, I grew up watching a lot of TV and one of my favourite shows was Art Attack! After each episode, I'd go back to my room, grab some art paper and begin drawing what I had seen Neil Buchanan do. I still remember the smell of my Faber-Castell watercolour pencils that came in a metal tube and how much I treasured it. So yeah, I was a creative kid! Definitely had more interest in making things with my hands than doing Math homework.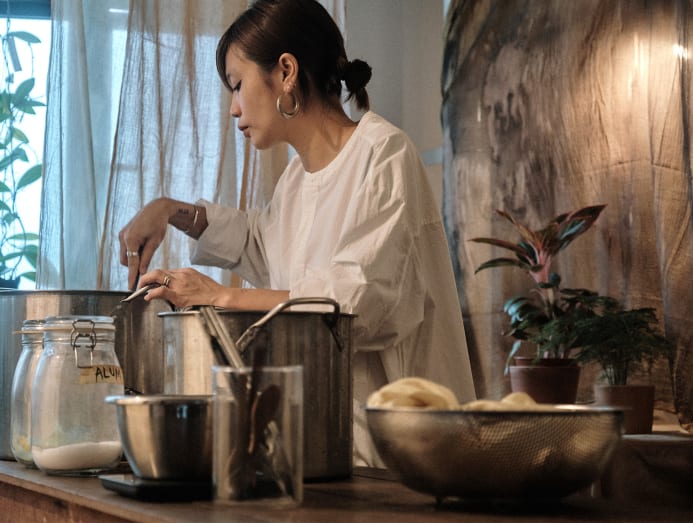 WHAT SPARKED YOUR INTEREST IN NATURAL DYES AND TEXTILES?
I graduated from LASALLE College of the Arts majoring in fine arts in 2013 and I had plans to further my studies in London.
When I got the acceptance letter from two established art schools, I booked a flight to the UK with the intention of checking out the schools to see which might suit me more. I met my then boyfriend there and his mom gifted me with a natural dyeing book. They were living in Kent, in the countryside with a huge garden connecting to the woods. That was when I started foraging and exploring natural dyes for the first time.
Eventually, I found out about Cordwainers Garden, which was a community garden in Hackney that connects people to the natural world through workshops. I was really intrigued by what they were offering so I signed up for a natural dyeing workshop.
I also figured I didn't want to be in debt by spending $40,000 on school fees.
The universe had other plans for me, so I went with my heart and that was when the journey started.
HOW DID YOU FURTHER EDUCATE YOURSELF ON NATURAL DYEING?
After the workshop I attended in Hackney, I started experimenting a lot. With the book that was gifted to me, which was Wild Colour by Jenny Dean, I learnt that there were many methods of dyeing.
The process of unlearning and learning is important; there were many things I didn't know at first and I'm still learning to this day. I also educated myself with books by natural dyers Sasha Duerr and India Flint. It deepened my understanding of natural colours, the plants I could dye with and different types of methods such as eco printing and bundle dyeing.
HOW DID PROJECT COAL FIRST GET ESTABLISHED?
The first products I sold were bundle-dyed silk scarves with extracts from logwood, turmeric, and tea. Eventually I started getting local orders and there were even some stockists abroad who were keen to have my products in their stores.
I was also approached by friends from Itchy Fingers, who were organising creative workshops with local artisans, to conduct natural dyeing workshops.
Once I realised Project Coal was starting to get traction, I went ahead to register my business!
HOW HAS PROJECT COAL EVOLVED OVER THE LAST EIGHT YEARS?
Project Coal started as a personal platform to share my dyeing explorations. At the start, it was purely a craft that I enjoyed doing at home once I began dyeing scarves for close friends, designing bags and creating products. Conducting workshops was also a way for me share the craft. I've also started weaving and making art with natural pigments as well.
In the beginning, I was doing everything on my own, from dyeing to taking photos, and planning campaigns, but since meeting my husband in 2016, he has been the other (silent) half and creative partner of Project Coal. He takes all of the photos and also helps me with dyeing. So I have an extra hand now, which is great.
WHAT ARE THE DIFFERENT THINGS PROJECT COAL OFFERS TODAY?
One of the main services we provide at the moment is the re-dyeing of wearables. Clothes that may have been stained, turned yellow or chucked in your cupboard for a while… instead of throwing them away, we dye them to give them a new life. 
THESE DAYS WE HEAR A LOT ABOUT SUSTAINABILITY AND GREENWASHING IN THE FASHION INDUSTRY. HOW HAS PROJECT COAL PLAYED A ROLE IN EDUCATING CONSUMERS HERE OVER THE LAST FEW YEARS?

Well, when I first started, natural dyeing was quite foreign to the general public, as compared to places like Europe or even other parts of Southeast Asia where natural resources are more abundant and natural dyeing is commonly known as an age-old craft.
Through workshops and meeting people who are interested in what we do, I get to share what natural dyeing is about and the environmental benefits that come hand in hand with that, such as toxic degradation from chemical dyes. It's true that there are many brands out there who are (simply) riding on the sustainability movement and I feel it's up to consumers to do their own research.
WHAT KIND OF PROJECTS DO YOU ENJOY WORKING ON THE MOST?
Collaborations and adorning spaces are my favourite – I enjoy the process of working on projects with like-minded individuals who are open to just creating! I believe that artistic freedom and creating honest works are the basis of any good project.
ANY PAST PROJECTS THAT YOU ARE PARTICULARLY PROUD OF?
I would say my showcase at Alter Native is something that I am proud of. Working with Desmond and Charice to create a unique dining experience at his home, combining both craft and food. It was really inspiring and a lot of fun. I love how the concept was executed beautifully and the experience of the diner was like no other.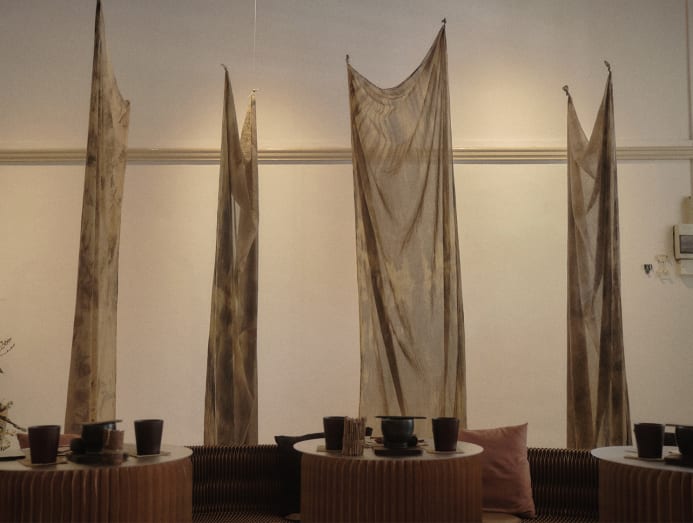 IT FEELS THAT A LOT OF YOUR CURRENT WORK IS ART-BASED AS OPPOSED TO CREATING FUNCTIONAL OR WEARABLE PIECES. IS THIS A DIRECTION YOU ARE TRYING TO MOVE TOWARDS? 
I appreciate your observation and it is exactly the direction I am heading towards. Deep down, regardless of the medium, I'm still a fine artist and natural dyes just happen to be my medium of choice. I do plan to continue creating products that are functional, but right now I intend to spend more time creating art and textile pieces.
WHAT INSPIRES YOU AND YOUR WORK?
When it comes to feeling inspired, it could be from a really engaging conversation with a friend, a feeling I get while I'm listening to Radiohead on a bus ride, after watching a film or during a visit to the library.
I would say I'm largely influenced by textures of nature, indigenous cultures and collections of Southeast Asian objects, textiles and old photographs. For some reason, I'm really drawn to them. It may be because I'm quite a sentimental person – I value things of the past and more so the story behind them.
WHAT WOULD YOU LIKE MORE PEOPLE TO UNDERSTAND ABOUT NATURAL DYEING?
That the alchemy of natural dyeing is fascinating. Other than extracts from plants, there's also a bug called cochineal that produces red pigments. With natural dyeing, the possibilities are endless. I've had workshop participants who are surprised that there are things they can find in their pantry that they can dye with too.
Natural dyeing can only be done on natural fabrics such as cotton, silk, wool, linen or hemp. The process can be a labour-intensive one. From the scouring of the fabric, extracting the colours, dyeing, to rinsing and drying – I do this all by hand. The time spent to produce a final piece may vary from three days to a week depending on the colours and textures I want to achieve.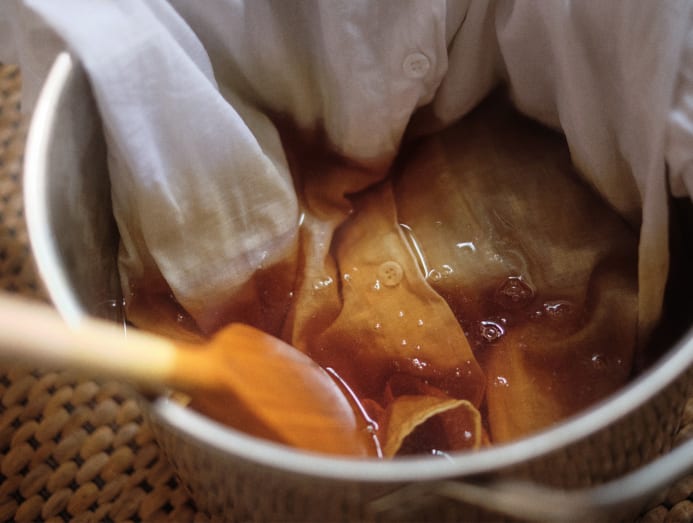 WHAT IS AN AVERAGE DAY LIKE FOR YOU?
My day starts with a cup of coffee. I check my emails and to-do lists, then do some dyeing. I wish I could share an inspiring or solid routine but for the past few months, I've been busy doing up my new place and I'm in the midst of moving soon so every day is kind of hectic right now.
I UNDERSTAND YOU ARE NOW FOCUSING ON PROJECT COAL FULL-TIME. WHAT HAS CHANGED THAT IS GIVING YOU CONFIDENCE TO MAKE THIS YOUR FULL-TIME GIG?
To be honest, I was getting quite drained when I was working a full-time job. I was aware that it was affecting my mental and physical health. Come weekends, I just wanted to chill and do nothing before my week started again. I wasn't present, and had no time and energy to focus on my dyeing projects.
It took courage and having a very honest conversation with myself – did I want to do something for me? I realised I'd gotten to a point in my life where I had to put myself and my goals first.
My husband and mom have always been supportive. Them being creatives themselves, they have always encouraged me to at least give it a go.
WHAT ARE YOUR ASPIRATIONS FOR THE BRAND?  
At the moment, my plan is to do more research and exploration with local and regional dyes. I would love to at some point do a solo exhibition with our archives over the years and share the knowledge of natural dyes in Singapore or even overseas. Eventually, I hope to create works on a larger scale. Think Jean-Claude and Christo!
WHAT ARE THINGS WE CAN LOOK FORWARD TO FROM YOU THIS YEAR?
I am in the midst of planning to work with a few collaborators, one of them being Pudica, a local botanical and landscape consulting agency. Let's see what happens! I'm going with the flow for now.