Creative Capital: The IT executive who is a sought-after chalk lettering artist
Love the raw, hand-drawn aesthetics of chalk art? Singapore-based Nathaniel Ong, 35, of Designate Studio is the chalk artist to go to.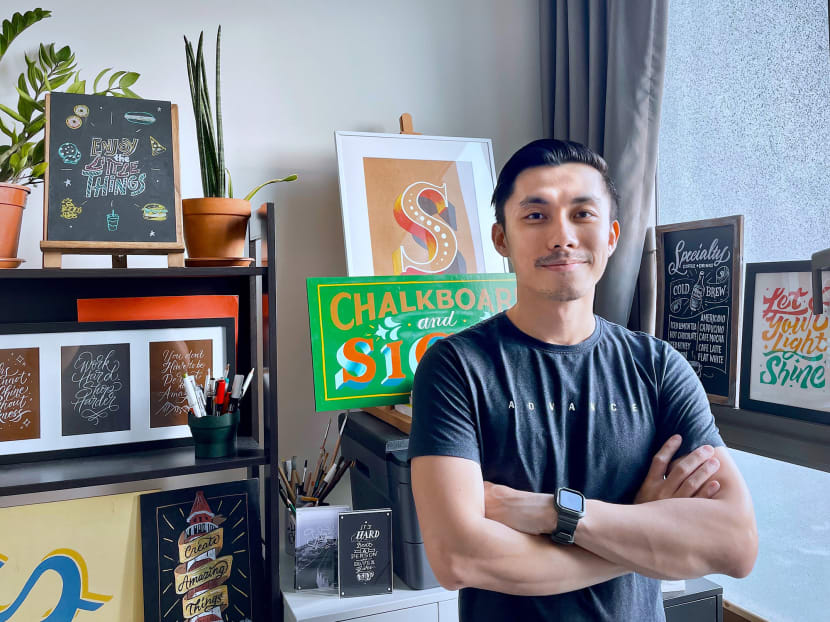 I am susceptible to getting sucked into social media rabbit holes. I see one thing and I get curious. Or I'll click on a hashtag and soon, I'd be watching video after video, scrolling through post after post.
Recently, one such rabbit hole brought me into the functional and beautiful world of chalkboard art.
On Instagram, videos of people lettering signs with chalk can be incredibly mesmerising, almost therapeutic. To have the patience and penmanship to produce a great chalk sign is something admirable.
In Singapore, one of the best chalk lettering artists is 35-year-old permanent resident Nathaniel Ong. Ong started Designate Studio three years ago and offers chalk art services, custom digital lettering and workshops.
Intrigued, I caught up with Ong to learn more.
HI, TELL US ABOUT YOURSELF.
I call myself a chalk lettering artist. I've been chalking for cafes, restaurants, businesses and weddings since 2017. I'm also an avid climber. Ain't it a funny coincidence that both my passions are chalk-related?
I still remember being fascinated with Old English and Roman letters back in primary school. Looking back, I was always good at writing and drawing letters but I didn't take it seriously. While my friends doodled Scooby Doo, Sailor Moon or Power Rangers in class, I drew letters and shapes.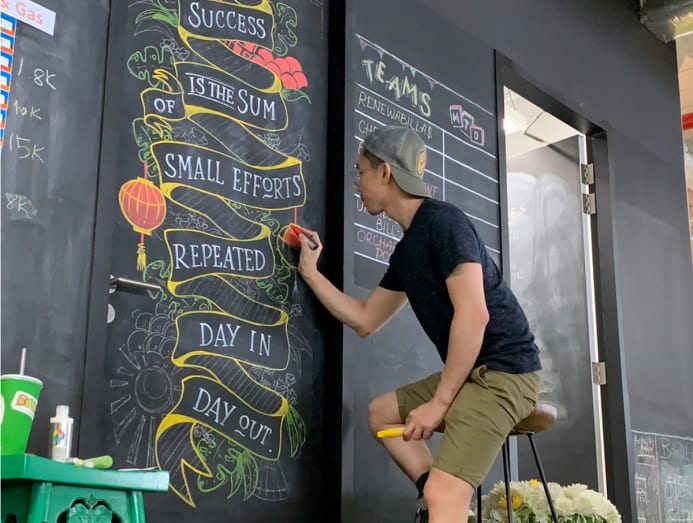 I wish I could tell you a better story, but who would imagine that winning penmanship competitions in school, or being the go-to person for presentation notes on blackboards and Manila paper would come in handy when I grew up?
I never imagined being able to do lettering and calligraphy as a job.
WHAT DID YOU DO BEFORE BECOMING A LETTERING ARTIST?
I was working full-time in the information technology industry before the switch. Growing up in a typical Asian household, my family values practicality a lot and that is reflected in my initial career choice. Since I like computers, I thought I could be a CEO with a computer science degree.
At the time, I never thought that I'd be doing anything else, much less consider working in the arts. Now, I no longer want to be a CEO of a tech company. Instead, I'm the CEO of my own chalk lettering business, which I'm really passionate about.
HOW DID YOU LEARN YOUR CRAFT AND GET STARTED?
Between 2013 and 2014, I started to feel lost and burnt out. I started having bouts of anxiety about the future — a quarter-life crisis, maybe? By then, I'd been working in IT for a few years.
I am grateful to my then manager, who supported and provided me with a safe space to slow down and rest. I took a couple of weeks off from work and explored Singapore. Of course, that was not enough time to figure things out, but it got me started on a journey that I would not have otherwise taken.
A month later, I started attending calligraphy workshops. Over the next two to three years, I went on to explore different styles and mediums, from brush calligraphy to lettering and sign painting.
For months, I would religiously set aside at least 30 minutes every day to draw letters. That was when I knew I was on to something. I truly loved the craft. It was a matter of time before I got my hands chalking and when I did, it was love at first chalk.
ARE YOU READY TO TURN THIS PASSION INTO A FULL-TIME CAREER?
When I started my business three years ago, I was looking at it through a side hustler's lens and was happy for the supplementary income to my day job. Through this exposure, I began to accept that lettering could be a viable option for me in the long term.
With the pandemic drastically changing the landscape, I finally mustered the strength to get out of my comfort zone. There was no better time than now to start treating my passion as an immediate goal, and not just as a dream.
So, I started planting more seeds and laying more ground work to turn this into a full-time career.
WHAT WAS YOUR FIRST PROFESSIONAL GIG?
My first chalk-lettering gig was for a small cafe near my office. I absolutely loved their food, so I struck up a barter with them — my services for their food. I was super nervous pitching the idea to them but they happily agreed. On hindsight, I think it was because my rates were too low!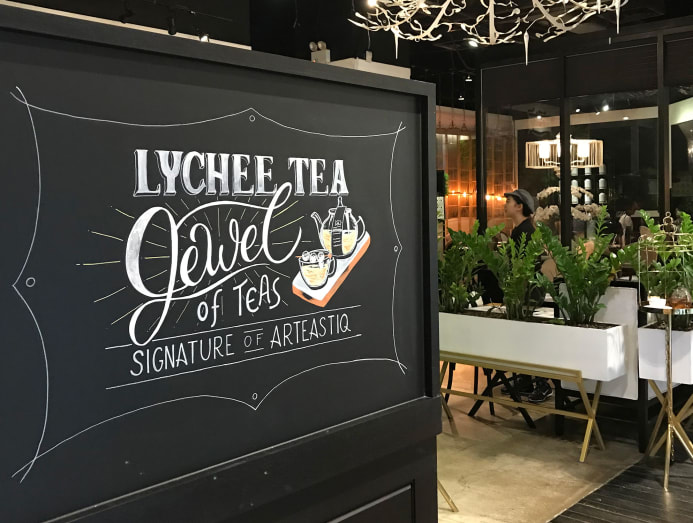 I was on a high. It was my first paid chalk gig after all. I designed and drew both sides of their A-frame chalkboard over a weekend. I got some friends to help me take behind-the-scene photos and videos to document my first gig. It took about five hours to complete, but I was so happy and my clients were, too.
WHAT ARE SOME OF THE FUNDAMENTALS TO PRODUCING A BEAUTIFUL SIGN?
The short answer is, you'd know when you see it. What makes something beautiful is subjective and hard to describe, and varies from person to person. This makes it difficult to get the exact requirements when approached to make a commissioned work.
I can tell you all about the principles of chalkboard designs from consistency to balance, but I want to address the elephant in the room: A sign has to have a purpose.
It's easy to say beautiful boards are clean, nice and evoke a special feeling. But more than that, they should be fit for purpose. They need to be well-thought and well-designed, with the users and target audience in mind.
Anyone can make a nice design, but not everyone addresses the problem. If you simply need an Instagram-able design, looks are enough. But if you want a chalkboard menu that's easy on the customer's eyes, it has to be both clear and clean. A beautiful sign is both aesthetically pleasing and functional.
YOU OFFER A FEW DIFFERENT SERVICES. CAN YOU TALK US THROUGH THEM?
My main service is helping brands, businesses and events attract more customers through beautiful chalkboards and signs, both analogue and digital.
I also teach chalk lettering to aspiring chalk creatives or to people who want to explore a new medium, both online and in-person. Once in a while, I speak at platforms such as Today At Apple and National Library Board events, to name a few. 
Recently, I have been exploring products for home-based experiences through a new brand under my studio called (Got) Nice Things, which we sell via online and offline channels.
Before the pandemic, I also did on-site customisations of products ranging from cards to bags and other printables for luxury, tech and lifestyle brands.
DO YOU ENJOY TEACHING?
I really enjoy it a lot! I'm always excited when there are new people interested to learn the craft. Unlike calligraphy, which has been popular for years now, chalk is still a relatively new thing for many people.
When more people appreciate chalk as a craft and enjoy using it to create their own art, it makes my heart warm and fuzzy.
WHAT DO YOU ENJOY DOING MOST?
Are you asking me to choose my favourite child? Kidding aside, I love chalk lettering and teaching the most.
One of the greatest feelings is the joy of helping my customers, students and mentees achieve their goals. And I won't lie — I get so much satisfaction seeing my works in the new space they were designed for. I love to be able to say, if even to myself, "Hey, that's my work!".
WHAT IS YOUR PROCESS WHEN YOU TAKE ON A WINDOW OR CHALKBOARD PROJECT?
The whole process takes anywhere from one to four weeks. After a consultation call with my client, getting the quote approved and the down payment secured, I'll start my creative process.
I use my own proprietary quote and presentation templates for a fast and smooth approval process. My creative process normally involves consuming content and taking inspiration from various sources such as Instagram, Pinterest and stores.
I'll take photos and screenshots to create a mood board. From those images, I will mark the elements that fit the brief.
I make sure to place the key goals and purpose of the chalkboards at the forefront when planning the design approach.
I'll then take a couple of days to noodle the ideas in my head, and identify a couple of design directions before I start sketching on my iPad. After sketching, I'll throw it into a mock-up to visualise the design.
At this point, if client approval is part of the scope, I will send the mock-up over and schedule an on-site visit. This takes about a week or so.
Once everything's finalised, I'll prepare the materials and transfer the design carefully. Depending on the size of the chalkboard or window and the complexity of the design, it can take five to 12 hours for a surface that's about 1sqm to 2sqm. If the drawing needs to be permanent, I will spray it with a fixative so it can last for years.
Finally, I collect the remainder of the fee and give myself a pat on the back. It takes a lot of effort but it's worth it to see the smiles when the board is done!
YOUR KEY SPECIALTY IS CHALK. BUT WITH MORE RETAIL BUSINESSES GOING ONLINE, ARE YOU LOOKING AT DIGITALISING THE WORK YOU DO?
I prefer the raw vibe of chalkboards, so my heart says that chalkboards are the priority. But at the same time, I do value digital work and even recommend it to customers, depending on what they want to achieve.
Even with most of the retail scene going online, there's still no substitute for the human touch. You can replicate the textures and the design digitally, but it just feels different to have something that's done completely by hand.
I believe that there will always be a need for chalkboards and this is only the beginning. In fact, I have a couple of restaurateurs who can't wait to have chalkboard designs done once the situation improves. They are just patiently waiting in the meantime.
WHAT HAS BEEN THE HARDEST PART OF BEING AN ENTREPRENEUR?
That's a very timely question as I've been discussing this with fellow creative entrepreneurs recently. Everyone's saying how the pandemic has dramatically shifted the way we buy and consume products and services. The shift is so huge that the same promotional or sale methods in early 2020 are not as effective as in 2021 anymore.
I think that the most difficult part of being an entrepreneur is to always stay with or ahead of the curve. You always have to keep up with the latest information and trends, always be learning, and not afraid to pivot when you need to.
Since last year, I have been doing more digital work and hosting online courses since most of the chalk projects got cancelled.
WHAT HAS BEEN THE MOST REWARDING MOMENT SINCE BECOMING AN ENTREPRENEUR?
This! I've always wanted to be featured in a newspaper or magazine, and that likely means I've made it. Mum, I wish you can see this moment.
WHAT IS A BIG MISCONCEPTION ABOUT YOU?
Most of the people I meet think that I'm a full-time creative and that I'm super organised. I'm flattered but sadly, it's not yet true. I just look like I have everything under control.
The reality is, I'm a one-man show juggling two different jobs. It's far from easy. But I'm working on it and hopefully soon, I can make Designate Studio my full-time gig.
DO YOU THINK CRAFT IS RESPECTED HERE IN SINGAPORE?
It is but it is also under-appreciated. And not just in Singapore. It's common in Asia to respect people who pursue their passion in the arts, but at the same time, we think that it's not something sustainable.
I believe things are getting better. In the last three to five years, I've seen the growing appreciation for lettering and the craft industry in general. Customers are now more willing to pay for quality hand-crafted items, and have that as their first choice over printed and mass-produced goods.
It's only going to get better from here. And I'm excited to ride this wave.
WHAT INSPIRES YOU?
Call me weird but I'm inspired by what the future holds. Don't get me wrong. I love the present, too. But whenever I need a little pick me up, I imagine a future version of me doing well in my craft.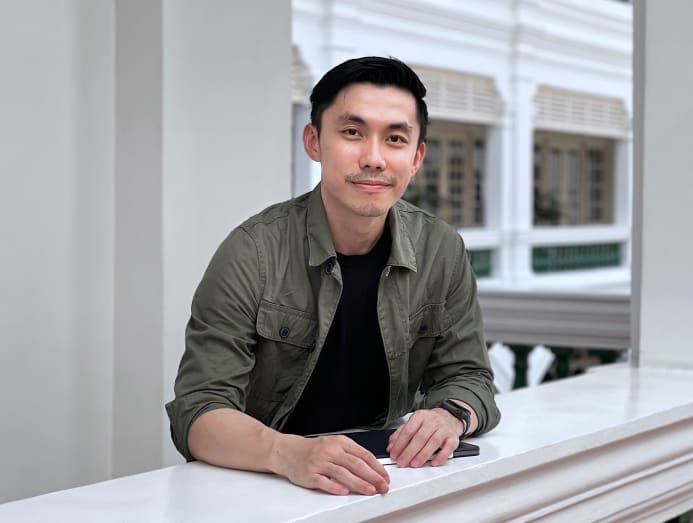 I now know that it's possible to succeed in a non-traditional craft. So instead of being afraid of the unknown, I'm even more pumped at the different possibilities I can achieve. When I see other businesses thriving, I'm inspired because I can be that, too.
WHAT WOULD BE A DREAM PROJECT FOR YOU?
It's a toss-up between designing a lettering piece for a major event in Singapore that will be shown in huge billboards, and painting a huge mural downtown that can be seen three blocks away. Help me manifest this!
HOW HAS THE PANDEMIC AFFECTED YOUR BUSINESS?
With the restrictions, more people have been ordering food and drinks through apps, and businesses see less need for physical signs until the lockdown measures are considerably eased.
In the meantime, I have been innovating and looking for other ways to introduce chalk as a craft in Singapore. This is how I came up with Chalk Art Kits For Kids, which you can purchase.
This is merely a long pause before we get back to the new normal. There will always be a need for chalkboards. When the brands and businesses are ready, I'll be ready to help them get back on their feet, too.
WHAT IS THE VISION FOR DESIGNATE STUDIO?
In the next three to five years, I'm looking to grow Designate into a homegrown Singapore brand for signs that champion personal expression and all things chalk.
From manufacturing our own brand of chalk to chalkboards, tools and services such as designing and painting for boards and murals, Designate Studio will have you covered. Of course, we'll have to grow from a team of one to a huge team to make this happen. But I am ready for that challenge.
ANY EXCITING PROJECTS COMING UP YOU CAN TELL US ABOUT?
It's a secret but I'm brewing a book concept that I should be ready to pitch in the fourth quarter of this year.
Oh, and my fellow creative entrepreneurs and I are looking to host an event this year focusing on the needs of Asian creatives.
If you are reading this and either of these sounds interesting to you, send me a message!