He went from web developer to furniture maker: A more fulfilling life making chairs
In search of a more balanced lifestyle, Shibui Furniture Collective's Kim Choy shared how he decided to turn his woodworking hobby into a career. Find out why in this instalment of CNA Lifestyle's Creative Capital series.
Kim Choy has had a tough couple of years. Two years ago, the artisan woodworker lost two digits on his left hand in a table saw accident. Just as he had recovered enough to begin working again, the pandemic hit, causing work to stop, classes to shut down, and forcing this former web developer to give up on plans to open a Shibui Furniture Collective showroom.
He took the time, though, to rethink his craft and his business. Today, he is focusing on chairs, as opposed to larger furniture formats.
The chair designs he has come up with have been selling well, both in Singapore and overseas. He tells us he has a new curriculum in mind for his classes and he is embarking on other new professional challenges.
WHEN DID YOU FIRST DISCOVER A LOVE FOR WOODWORKING?
It all started when I wanted to tinker with things physically instead of digitally. My previous profession as a web developer required me to deal with coding, even on weekends. I wanted a more balanced lifestyle so I looked for ways to unplug.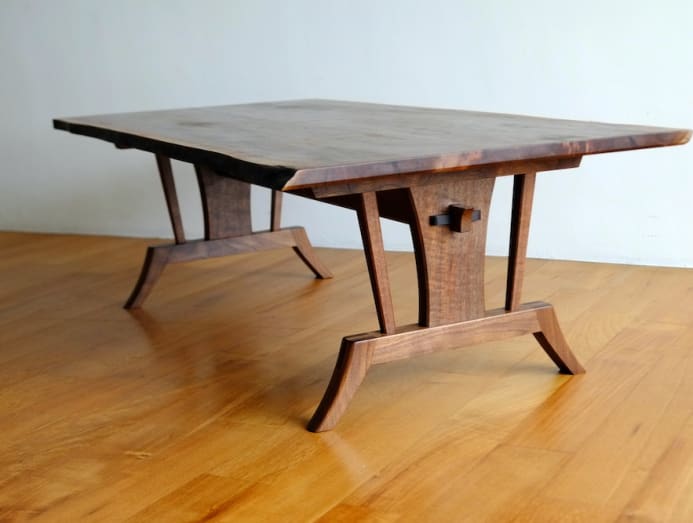 I tried working with metal but it didn't really work out, hence I moved on to wood. I found this new hobby to be very empowering, so much so that it got me to delve deeper whenever each weekend came around.
HOW DID YOU LEARN THE CRAFT?
I am mostly self-taught and I learnt mainly through books with a lot of trial and error. I also visited craftsmen in Japan to get points of references when I hit a hurdle in using Japanese hand tools.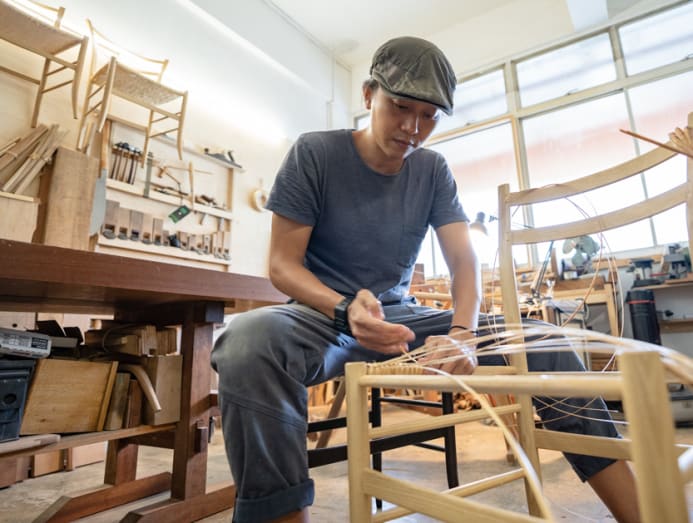 The only "formal" woodworking education I've had so far is learning chair-making techniques from Bernard Chandley, a respected chairmaker based in Melbourne, Australia. I appreciate his design sensibilities and what he was doing with processed lumber which is similar to what we have in Singapore.
WAS THERE A PARTICULAR MOMENT WHEN YOU REALISED YOU WANTED TO BE A PROFESSIONAL WOODWORKER AS OPPOSED TO TREATING IT AS A HOBBY?
I think it was a decision built up over time. Being a web developer over the years took a lot out of me, so much so that it created a void that I had to constantly rely on woodworking to fill up.
I was also naive and wanted to prove to and challenge myself that if I could be a self-taught web developer and make a successful career out of it, I should be able to do it with woodworking.
WAS IT DIFFICULT TO ESTABLISH YOURSELF?
Yes, I would say it was quite a difficult process to establish myself back then. I had set high expectations for myself as a designer/maker in Singapore but the reality was I could not attract enough clients to do so.
Even when I had inquiries coming in, it would be clients who would assume I was available for all kinds of assignments and willing to do it at rock bottom prices.
In response to that, I started building a small portfolio of work that would be representative of what I do. I also work with a stockist, a furniture shop that I patronised several years ago, to carry my work. Apart from being able to sell all my work produced for my stockist, word of mouth began to help me get discerning clients.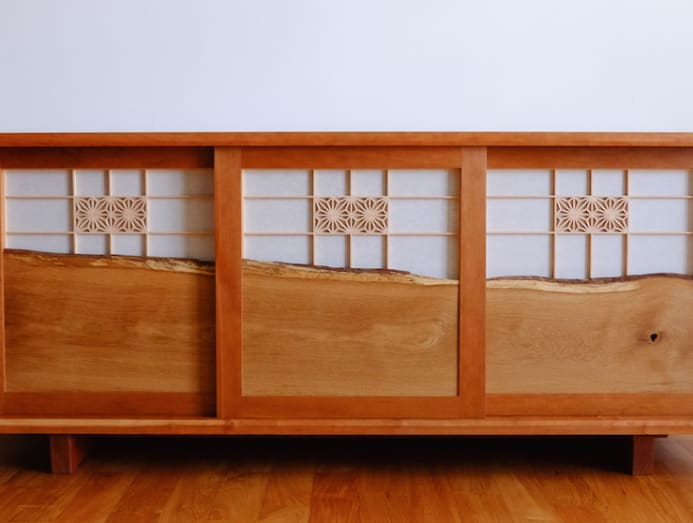 In 2017, Supermama and In The Wild studio curated an art-design exhibition and got me to be part of the lineup of 12 independent Asia-based artist-designers. Being my first exhibition, it allowed me to showcase some of my best pieces, which helped to put my name and brand out there.
LOOKING BACK, WHAT DO YOU KNOW NOW THAT YOU WISH YOU KNEW WHEN YOU FIRST STARTED THE BUSINESS?
Developing my design skills was something I wish I had been more deliberate about when starting out. I think figuring out your own style is paramount to one's success as a designer-maker. I have to confess I'm on a catching-up game in this aspect.
WHAT ARE YOUR FAVOURITE KINDS OF THINGS TO MAKE/DESIGN?
In order, chairs first, followed by stools, benches and tables.
ARE CHAIRS WHAT YOU ARE BEST KNOWN FOR?
I think I'm best known for being sensitive to the materials I use and always having the constant pursuit of deeper understanding of my subjects.
In return, the knowledge I've accumulated is well reflected in my chair-making journey. I'd say my first ladder back chair is my current hero product. It is extremely light, so light that you can pick it up with one finger but yet it is strong enough to support heavy bodies.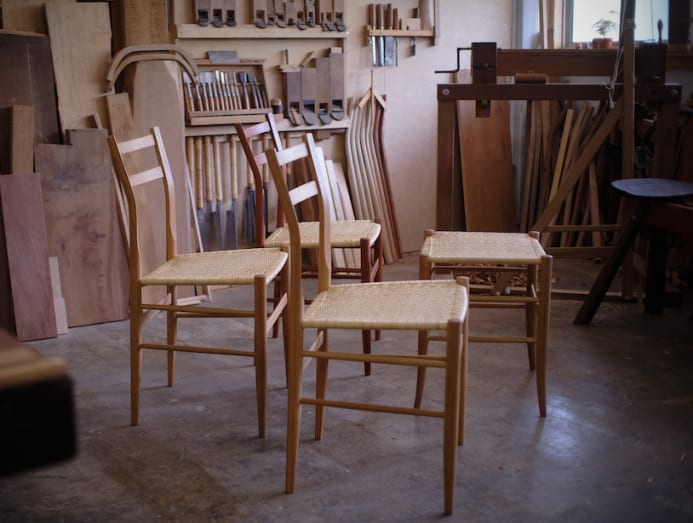 The handwoven rattan seat which can take up to 15 hours to weave – depending on the weaving pattern – is extremely comfortable to sit on. Even though they are produced in small batches, I've had a successful run of it so far.
The number of orders has exceeded my expectations and shipping out a pair of chairs to Melbourne at the start of the year was the icing on the cake.
WHAT HAS BEEN THE MOST FULFILLING PROJECT TO DATE?
A set of stools commissioned by Sunday Folks. They recently opened an outlet together with Bynd Artisan at ION Orchard. The business owner was a previous client of mine and has always been supportive of the local arts and crafts scene, so naturally he signed up for my class to make a bench with his son. The final stool design for the new outlet was adapted from what he made.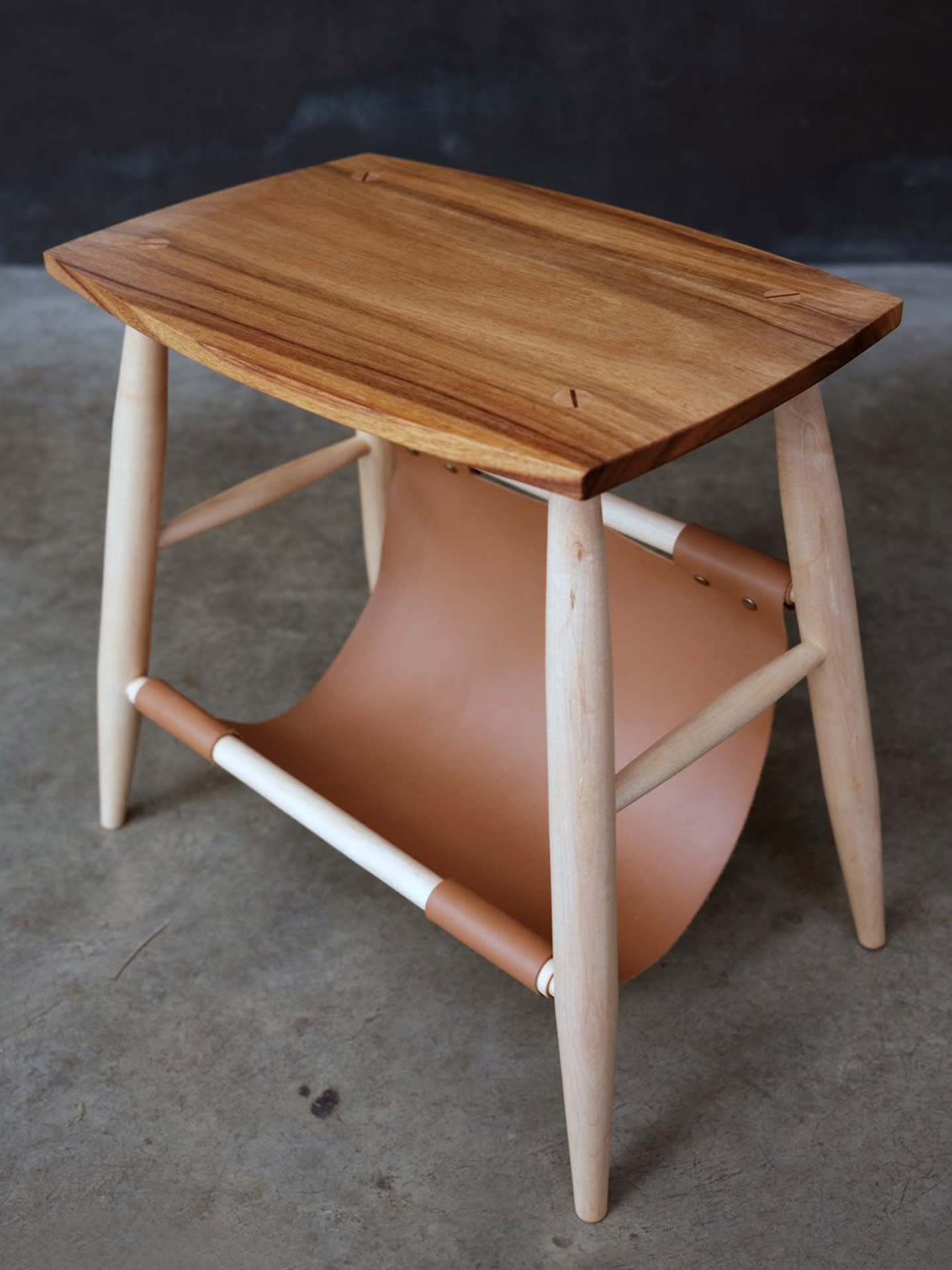 To me the fulfilment comes from how my work or the way I teach gets appreciated in a different way. I thought it was a meaningful commission because those stools probably meant more than furniture to him. Having understood how much handiwork goes into the making process, the stools can be viewed as an extension of what his brand stands for.
AND WHAT HAS BEEN THE MOST DIFFICULT?
I had an order for two chairs and a stool in white oak and every item had steam-bent components. Bending the wood was the easy part once I figured out the optimal steaming duration.
The drying process was what almost broke me because as the parts dried, they started to have drying defects. Even though the cracks were somewhat cosmetic – there was no strength reduction – I still considered them rejects.
Batch after batch, I was still failing and there were times I tried to convince myself maybe it's alright to just fill up the cracks with glue and wood dust. But I chose to bite the bullet and ended up with a sizable pile of rejects before finally figuring out how to make these chairs without the defects.
WHAT WOULD BE A DREAM COMMISSION FOR YOU?
It would be designing and making a big dinner table set with a mixture of side and dining chairs.
THREE YEARS AGO, IN AN INTERVIEW, YOU SAID THAT SINGAPOREANS LACK AN APPRECIATION FOR CARPENTRY. HAS THAT CHANGED?
Looking back at the interview, I think I might have used the terms woodworking and carpentry interchangeably. But I guess I was referring to woodworking, as furniture-making falls outside of the term carpentry.
I don't think much has changed. I feel the level of appreciation for woodworking in Singapore to be somewhat limited to just the making process or the physical act. It's as if design is meant to be decoupled from woodworking and most of the time we see work that is meticulously crafted but rudimentarily designed.
HOW HAS THE PANDEMIC AFFECTED YOUR BUSINESS?
Before the pandemic I was on the mend from a table saw accident that had resulted in the loss of two digits from my left hand. Shortly after coming back to work, hoping to catch up on income loss, COVID-19 came along.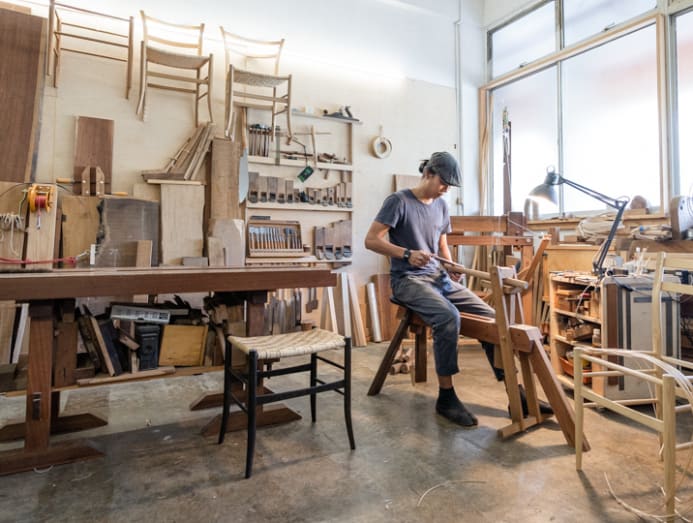 During the extension of lockdown, I thought it would be wise to close down the business for the time being and move the workshop back home. Unfortunately it was not possible … I had no choice but to fulfil the contract.
With the situation looking bad and not being able to conduct workshops anymore, I had a discussion with my wife. She was supportive that I should keep it going by subletting half of my unit. That meant shelving our plans of setting up a showroom area.
I had a strong desire to move towards being a chairmaker after the accident because making chairs would allow me to avoid the machine that had harmed me but wasn't sure of the decision as it's a different realm of woodworking altogether.
The pandemic lockdown offered downtime for me to think about it and during the two months of lockdown staying at home, I managed to complete prototypes of my first chair and stool.
Skipping all the diatribe on 2020, I would say the pandemic has provided itself as a catalyst for change. Without the added pressure from the pandemic, I guess I wouldn't have had the courage to change direction.
WILL YOU BE RESTARTING WORKSHOPS ANYTIME IN THE FUTURE?
Yes! But it's too early to share more details. I'm juggling a few things at the same time and things can be very fluid. But one thing for sure is that the workshop curriculum will be going through a major overhaul. It's going to be pretty exciting.
WHAT ARE YOU WORKING ON FOR 2022 THAT WE CAN LOOK FORWARD TO SEEING?
I am mostly excited about being part of a bigger project where I will be working with a renowned designer. I hope to rise to the challenge of working with someone who has experience working with established manufacturers.
There is also a group exhibition where I am involved with other artists from various fields to come up with objects to re-interpret life in the pandemic.
I also hope to finish prototyping a few chair designs and hopefully launch them as a collection. These have taken a backseat for quite some time and I think 2022 will finally be the time for realisation.