The Singaporean illustrator who brought art into Facebook's offices
During her time with the social media giant, Kristal Melson got to pick and choose artworks as a curator for the Facebook Artist in Residence programme. But she's also made a name for herself as an artist in her own right, working with the likes of Vogue and Nike. CNA Lifestyle talks to her for our latest Creative Capital interview.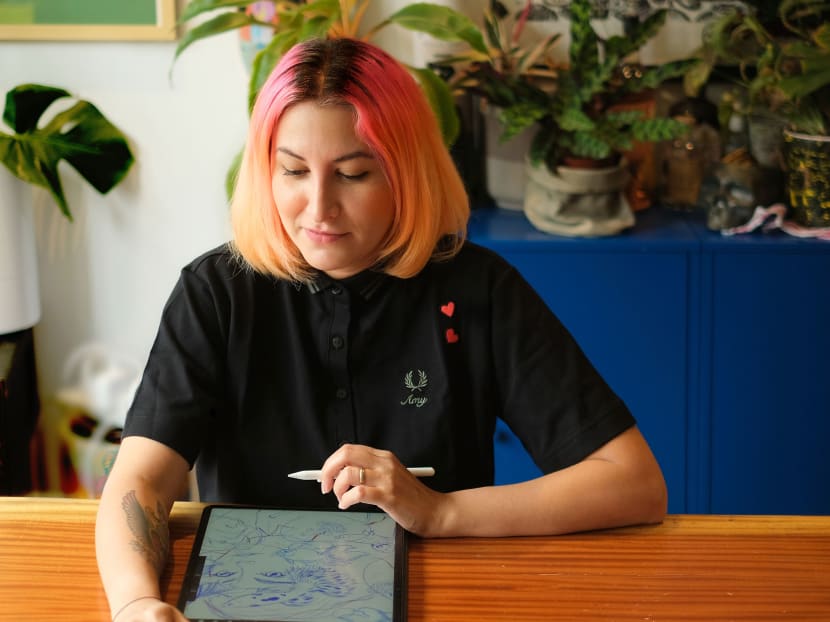 Kristal Melson has had a career that many young illustrators and graphic designers want to emulate. The 38-year-old has succeeded in gaining respect as an artist, in landing great gigs with a range of clients from global brands to small start-ups, and has been in a position to enable other artists, helping to build their careers.
Pre-pandemic, Melson was working at workspace solutions provider WeWork, and prior to that was a regional curator for Facebook's artist in residency programme. Before Facebook, she was the art director for Kult, a gallery and studio which also produced one of the city's most influential publications on art, design and popular culture.
Melson gave birth to her second child last year, just as the country went into its first circuit breaker. The pandemic and motherhood, she told me, created a hiatus that allowed her take a break, take stock and reinvent her work.
She's back at it these days, but more selectively, taking on work that she finds really meaningful.
HI KRISTAL, WHEN DID YOU FIRST THINK YOU WANTED TO BUILD A CAREER IN ART AND DESIGN?
I was not your ideal student in school. I was one of those distracted kids with doodles on everything from textbooks to my sneakers. I would make collages, silly stuff like that, for as long as I can remember. I loved books and magazines with awesome pictures. Loved She-ra and My Little Pony books.
A few months before my O Levels. we had a graphic designer come in to speak to us and I was really mind-blown. Like, wait, that kind of work exists? I think I can do that!
I then worked really hard on my O Levels to make sure I got into the Visual Communication course at Temasek Polytechnic.
DID YOUR PARENTS ENCOURAGE YOUR CREATIVE STREAK?

My mum would grumble that I was spending time on silly things and not studying – my grades were far from good. But she did nurture me in other ways. She encouraged things like singing and dancing, and she helped on every single art project.
As I got older and my future was starting to define itself, my parents were concerned. Being an illustrator or designer wasn't common at the time.
I mistook their worries for doubt and as a rebellious kid I took that as a challenge to prove them wrong. When I have a fire in my belly, I do my best work.

YOU'VE HAD AN AMAZING CAREER. YOU'RE WELL-KNOWN AS BOTH AN ARTIST AND A CREATIVE DIRECTOR, IS THERE ONE DESCRIPTION YOU PREFER?

I think there's tons I could do better but it's encouraging to know efforts are felt.
I always struggle with this title thing. Illustrator? Artist? Graphic designer? Doing a lot of things gets me pumped up and a great or fun idea energises me.
If I had to choose I would say artist because those ideals or belief systems are at the core of everything I work on.
DO YOU THINK IT'S HARD OR EASY FOR YOUNG ARTISTS AND DESIGNERS TO MAKE THEIR MARK TODAY? WHAT ADVICE WOULD YOU GIVE THEM?
There's so much more accessibility to resources now but there's also the flip side: With more accessibility, more people are creating and with that saturation I think there's a lot more pressure to produce and be seen.

I think my core rules still apply: Be honest. When you approach an idea, allow yourself to question your intent while trusting intuition. That keeps you grounded or focused. 
It's a long game. You can't define yourself overnight and you are constantly evolving. You are creating that conversation with yourself that you want to keep having.
I believe that having that discipline to keep working not only sharpens the work but also helps you to find ways to balance feeling satisfied.  
The other important thing I'm learning in this age of spectatorship is that people invest their time following an artist that brings them value. That's a common thing I see with artists that are really successful with large followings. And there's something out there for everyone, so those honest questions you ask yourself will tend to bring like-minded people together.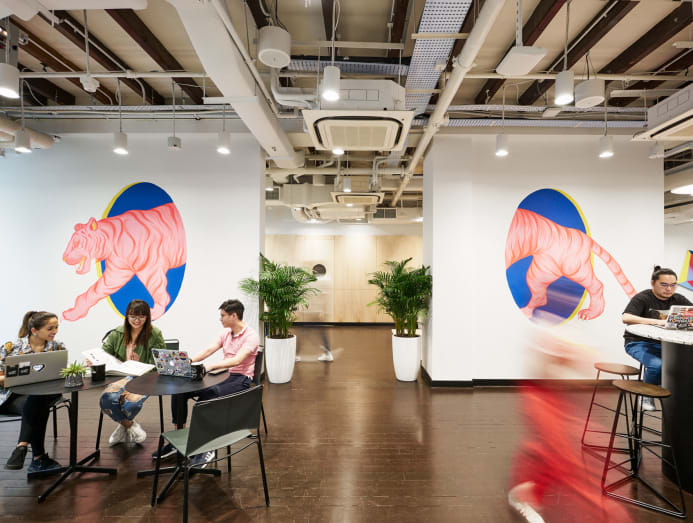 YOU SPENT SIX AND A HALF YEARS WITH FACEBOOK AND TWO OF THOSE AS A CURATOR. THAT SOUNDS FASCINATING. WHAT DOES A CURATOR AT FACEBOOK DO?
Essentially, we curated art for the Facebook offices. I was a regional curator for the Facebook Artist in Residence programme.
I was lucky enough to be selected as an Artist-in-Residence as well and the curators I worked with included Drew Bennett, who founded FBair and is such an amazing person. Drew felt that I understood the Facebook culture well and was able to help translate that to artists and vice versa.
It was a privilege to meet all these different artists who were at different points of their careers and stir up conversations in the office that covered some very challenging topics. I can't express how much love I have for the friendships I made with artists I looked up to, like Kristin Farr, for example.
YOU'VE HAD A FRONT ROW SEAT TO THE SINGAPORE ART SCENE OVER THE LAST TWO DECADES. WHAT ARE YOUR PERCEPTIONS OF HOW IT HAS EVOLVED?
When I first started out, there were a lot more gatekeepers that felt young artists or illustrators needed to pay their dues before getting recognition. The attitude was very much like, you don't use a spray can, so you are not allowed to paint a wall. Oh, you are a designer, not really an artist. Your work is a lot like this artist, you are unoriginal. Stuff like that.
Now, people are a lot more interested in creating platforms for other artists. It is so great to see that more and more artists see the value of raising up other artists and being less competitive.

I assume this is the case in every country. It's interesting that, with all the imagery Instagram feeds us, things start to look quite similar. A lot of work blends into each other and seems to follow a trend of the moment. I get very excited when I see work that is different and shakes things up.

WHAT PROJECTS ARE YOU PROUDEST OF?

Earlier this year I worked on an animation for Vogue magazine. It was my first real attempt at animation and the brief was perfect – a katana-wielding heroine. I got to indulge in a few old influences in a short amount of time.  
I've also just finished working on a campaign for a local start-up called Pace. I'm very excited about it. I can't wait until its launched – I think the tastes and sense of humour between everyone involved aligned perfectly.

I LOVE YOUR HIGHLY ILLUSTRATIVE STYLE. DO YOU FEEL THAT ILLUSTRATIVE OR MORE GRAPHIC ARTISTS ARE GIVEN THE SAME RESPECT AS ARTISTS WHO WORK IN MORE TRADITIONAL MEDIA?

Unfortunately, I don't think so, not locally at least. I have always wanted to be in the gallery scene here, but I've been told my work is too illustrative.
I find most people who have an interest in collecting are keen to own a (Takashi) Murakami or a KAWS because there is a market for that hype and there's definite resale value. I totally understand it because I'd love to own art like that.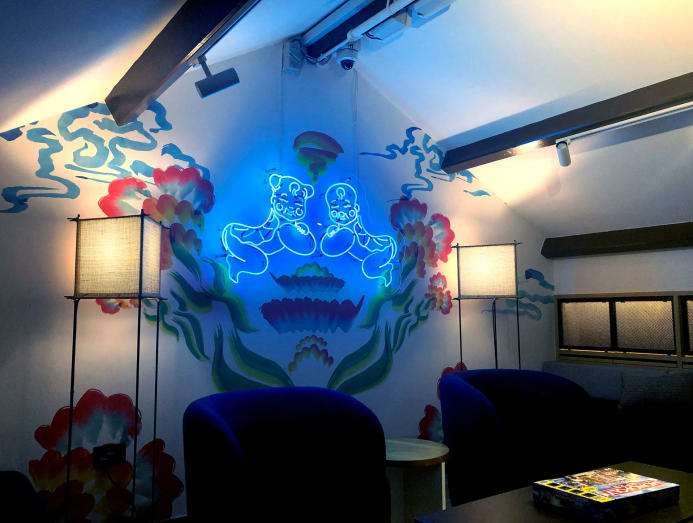 It's a supply and demand issue that leads to artists not feeling confident enough of living off making paintings. Maybe the NFT space will change perspectives about digital art or illustrative art. I think we could definitely benefit from more people in the fine art community that would give more value to illustrative or graphic-based work.

WHAT IS YOUR CREATIVE PROCESS LIKE FOR YOUR ART PIECES?
I make notes constantly or make small sketches when I have an idea. I try to leave them for some time to "bake".
I fell in love with the sentiments of automatic drawing a few years ago, and part of it, I felt was similar to my process. That is why I chose @Krisonautopilot for my Instagram account. The early sketches are very much like automatic drawing, and very much led by my subconscious and emotions.
In the last few years, I have been trying to put more intent into the work, so there's a lot of refinement and experiments before I feel something is ready.
WHAT IS THE BIGGEST MISCONCEPTION ABOUT WHAT YOU DO?
Because I enjoy doing both art and design, and I love ideation and even writing, I want to be able to help shape a project in totality. But sometimes, I am only asked to work on the aspect that the client or agency knows me for. The worst is – and I get this a fair bit – "Orh? You do other stuff beside just draw pretty pictures?"
WHAT IS AN AVERAGE DAY IN YOUR LIFE LIKE THESE DAYS?
Early mornings I spend with my kids, either breakfast or getting them ready if they are not staying home with me. I try to sketch or develop work that is ideation-based while I have the most focus.
I have to give myself a timetable because as a mum, I can't work through the night like I used to. So finding time to draw means I have to use my time a lot more wisely, while still being really flexible. For example, I try to sketch when the kids are occupied with something. 
I want to be very present as a mum so if I do say yes to a project, my rule is that it's something that can be creatively satisfying.
WHAT INSPIRES YOU THESE DAYS?
Definitely my babies. I am experiencing things through them, which has been amazing because often I'm witnessing them seeing something for the first time.
My son is obsessed with marine life, so I think that is creeping into my work. We live in Katong, so I think that mix of old and new is a great backdrop for ideas.
WHAT ARE YOU BUSIEST WITH NOW? ARE YOU FOCUSING ON YOUR ART OR TAKING UP MORE COMMERCIAL ASSIGNMENTS OR TAKING ON ANOTHER CORPORATE POSITION?
I have been busiest with the children, but now that they are getting older I have more time for myself to work. I am trying to focus on art, but I still have bills to pay. So I say yes to commercial assignments that are "good practice" for my personal work.
I don't plan to take up another corporate position until the children are older. My hope is to get into the NFT space which is really overwhelming but pretty wild. I've been putting together ideas that are helping me navigate through this reinvention of myself after becoming a mum, but I'm taking small steps because I don't want to miss out on watching them unfurl.