The former tutor and MasterChef Singapore contestant championing authentic South Indian cuisine
In this instalment of Creative Capital, we meet 41-year-old Vasunthara Ramasamy, who runs workshops as well as a South Indian private dining experience called Cutlery Optional.
Earlier this year, a colleague messaged me about a new private dining experience being set up by a friend. Vasunthara, he said, was on MasterChef and she was specialising in South Indian traditional cuisine. Trusting his tastes, I immediately contacted Vasun (as friends refer to her) and booked an evening a few months later. 
For that dinner, my wife and I invited four close friends, among them a Malaysian-Chinese foodie who gets very turned on by authenticity. None of us knew what to expect from Vasun's Cutlery Optional experience, other than the name of her pop-up decreed that we'd be eating with our hands. 
From the very first bite of food, we were hooked, amazed, enthralled. By the time she served us her freshly made thosai, my Malaysian-Chinese friend was close to tears. He declared it the best thosai he'd had in recent memory and begged for a second one, which he lovingly ate kosong, appreciating the flavours of the sharp, delicious, fermented batter.
The meal quickly turned out to be one of the most memorable of the year. My wife, equally enamoured with the beautifully authentic dishes made by 41-year-old Vasunthara Ramasamy, signed herself and another food-writer friend up for a thosai workshop.
Vasun has, thanks to time on MasterChef, made herself known. Her food, now that we get to try it, is going to catapult her into true culinary stardom. 
WHAT IS YOUR EARLIEST SIGNIFICANT FOOD MEMORY?
My earliest significant food memory is of my maternal grandmother brewing black coffee in the morning while preparing thosai for breakfast in her Joo Chiat shophouse when I was five years old.
Almost every morning, I'd have thosai or idli with sambhar, thuvaiyal (thick chutney in Tamil) and podi (lentil-based coarse powder) made all from scratch using traditional implements by my grandmother, Kamalatchi.For some reason, the smells and sights of her kitchen have stayed with me the longest. I'm always reminded of her when I make my thosai and the smell of the fenugreek-tinged thosai batter hitting the pan and gingelly oil (cold-pressed black sesame oil) wakes me up like no other aroma can.
 
WERE YOU A PICKY EATER OR OPEN TO ANYTHING AND EVERYTHING WHEN YOU WERE A KID?
I was actually a very picky eater as a kid. I drove my mother nuts with my food habits! I had strong opinions on what foods should be eaten together.
My favourites were the biscuits and sweet confections that the mobile food cart uncle brought at about 4pm daily. I even remember counting the exact number of seconds that a Marie biscuit could be dunked into hot milo to achieve the perfect softness.
Despite being picky I was, I was also open to trying any type of food. Apart from thosai, my favourite breakfast is a good bowl of kway teow th'ng. I think I was a self-made foodie from birth! 
CAN YOU TELL ME A LITTLE ABOUT YOUR PROFESSIONAL LIFE PRIOR TO MASTERCHEF?
I was a primary school teacher for several years before I went on to become a full-time private tutor. Then, I explored food blogging and photography in the day while tutoring in the evenings. 
WHAT MOTIVATED YOU TO APPLY TO MASTERCHEF?
Every year since I turned 30, I have tried to do something for myself that's outside of my comfort zone. It was 2020 and the pandemic changed everything for me. When the opportunity to sign up for MasterChef came, I jumped at the opportunity because I had been toying with the idea of leaving the education industry for many years.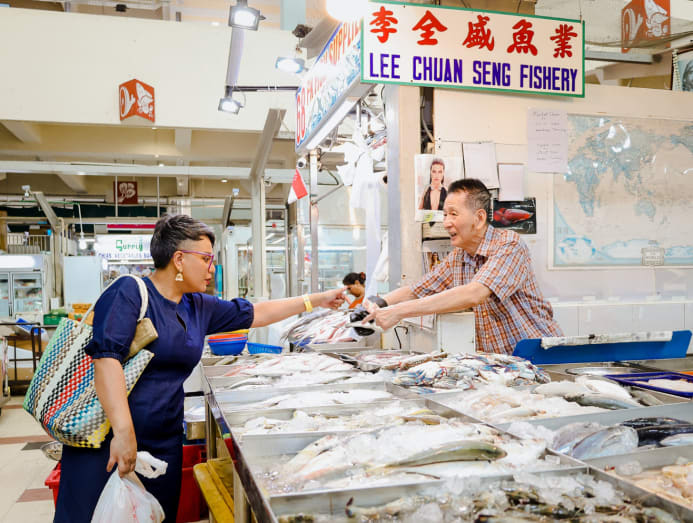 WERE YOU SURPRISED YOU MADE IT ON THE SHOW OR WERE YOU CONFIDENT ABOUT IT?
It was a surprise! I only knew I got in for the auditions and the show itself a few days before filming began. It was nerve-wrecking and exciting all at once. 
WHAT DID YOU ENJOY THE MOST ABOUT MAKING THE SHOW?
I enjoyed being part of a very big production because it's really an experience of a lifetime. There were so many life lessons and skills that I picked up from being on MasterChef.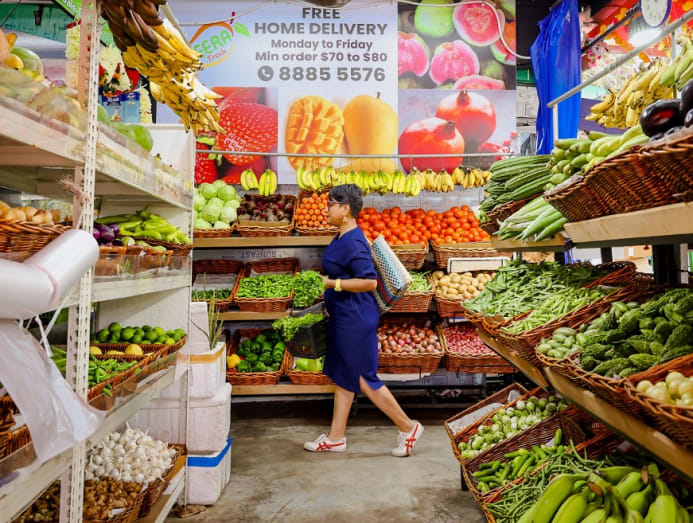 WHAT KEEPS YOU BUSY THESE DAYS? I KNOW YOU HAVE YOUR PRIVATE DINING. AND YOU DO WORKSHOPS?
Between conducting Thosai Masterclasses and my South Indian Home Private Dining, I write food articles for online magazines and I've just begun my own newsletter- V-nacular.
I'll also be offering more cooking classes that go into the foundations of South Indian cooking next year.
WERE YOU AT ALL NERVOUS ABOUT LAUNCHING YOUR OWN PRIVATE DINING EXPERIENCE?
Other than having my family and friends over, I had never cooked for anyone until I started. So, to say it was nerve wrecking would be a major understatement.
I wanted every detail to be well-thought out and representative of South Indian culture from the choice of tableware to dining style. 
WHY CALL IT CUTLERY OPTIONAL?
A few years ago, I read a comment from a newspaper reader that they had found the use of hands for eating very unsanitary. At first, I was unnerved by such an ignorant remark but then I also realised that there needs to be more opportunities for Singaporeans to experience each other's cultures.
I guess you could say that the educator in me saw this as an opportunity to share my South Indian food culture. 
WHAT HAS THE EXPERIENCE BEEN LIKE SO FAR?
When I started in May this year, I chose a very safe menu with dishes that were familiar to most. But as time went on, I decided to showcase dishes with bolder flavours requiring different cooking techniques, such as my Andhra Spicy Chicken, Goat Neck Biryani and Goat Bhuna finished with a dhungar smoking technique.
I make almost everything from scratch, including the spice mixes, chilli, turmeric and asafoetida powders and to my surprise, most diners notice that my food is more fragrant and nuanced than what they get at restaurants. It's been extremely gratifying and heart-warming to receive such positive comments about my food.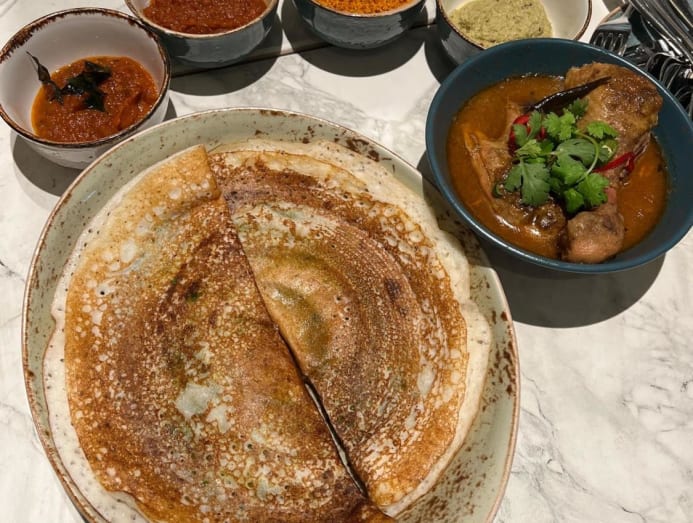 DO YOU FEEL THAT MOST SINGAPOREANS UNDERSTAND INDIAN CUISINE OR ARE WE PRETTY IGNORANT OUTSIDE OF THE MOST POPULAR DISHES?
I feel that to fairly answer this question, one has first to understand that there is no such thing as Indian food.
Indian cuisine is so varied and there are so many different regional Indian foods. So, what most Singaporeans understand about Indian cuisine is largely based on what they are able to get at restaurants. This is just a microcosm of what regional Indian cuisine has to offer.
Also, most people associate curry powders with Indian cuisine but the introduction of commercially made curry powders is fairly recent, dating back to colonial times. Personally, I find that the use of premixed curry powders has led to the homogenisation and dilution of Indian cuisine. I'm all for decolonising my food and rediscovering my food heritage from its original perspective. 
DO YOU FEEL A SENSE OF CULTURAL RESPONSIBILITY TO SHOWCASE YOUR CULTURE'S CUISINE CORRECTLY?
It is a huge responsibility. I try to showcase to the best of my abilities how nuanced and varied South Indian cuisine can be and, in that process, show why overly commercialised and cheap Indian food is damaging to our food culture.
From my experience, Indian cooking is very sophisticated and complex; there are no shortcuts and every layer of flavour has to be cooked from scratch. Even simple, everyday dishes like a vegetable poriyal (stir fry) require precision and skill.
In short, Indian cooking is artisanal and yet the versions we get in restaurants are a far cry from what it has the potential to be. I feel a tremendous sense of despair when I find it virtually impossible to find a good thosai, sambhar, chutney or rasam in any South Indian restaurant now. This was not the case two decades ago.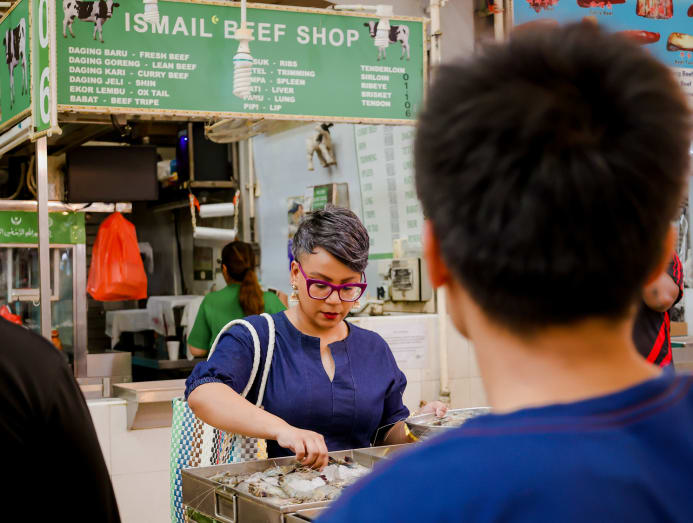 WHAT DO YOU FEEL ARE SOME OF THE BIGGEST MISCONCEPTIONS ABOUT INDIAN FOOD?
The biggest misconception is that Indian food is very spicy and unhealthy. This cannot be any further from the truth. In fact, any well-written regional Indian cookbook will state that everything on the plate has to be balanced.
In a traditional banana leaf meal or thali, some dishes are purposefully kept plain and lighter to provide a counterpoint to full-flavoured dishes. 
HOW HAS YOUR LIFE CHANGED SINCE MASTERCHEF?
I enjoy being in the kitchen and cooking for people. It's my love language. And so, since MasterChef and starting private dining, I've been living my best life, although my feet disagree. 
WHAT IS AN AVERAGE DAY LIKE FOR YOU?
A day before private dining, I begin my prep at 8am or 9am with peeling onions and toasting spices. Then I prepare as much as I can for the next day. I take breaks for meals – my meals are often very simple.
On rest days, I mostly hibernate in front of the TV watching a crime drama, catch up on reading or answering emails and messages. I try to end my day by midnight on most days. 
WHAT IS YOUR DREAM GIG?
My passion is South Indian fermentation with thosai being my favourite. It's my dream to own a restaurant or cafe that features different thosai varieties with modern, fresh sides. 
IF YOU COULD INVITE ANY THREE PEOPLE IN SINGAPORE TO COME EXPERIENCE YOUR FOOD, WHO WOULD YOU INVITE?
Both my grandmothers passed on before I could feed them dishes that they'd made for me as a kid. If I could turn back time, I'd love for them to experience my food.
I'd also like to invite Minister K Shanmugam for a thosai meal because I've read that he enjoys thosai.