She works in a bank in the day but becomes an expert rattan weaver after-hours
In this week's Creative Capital instalment, we meet Ng Si Ying who is passionately exploring a craft that she feels hasn't evolved for generations.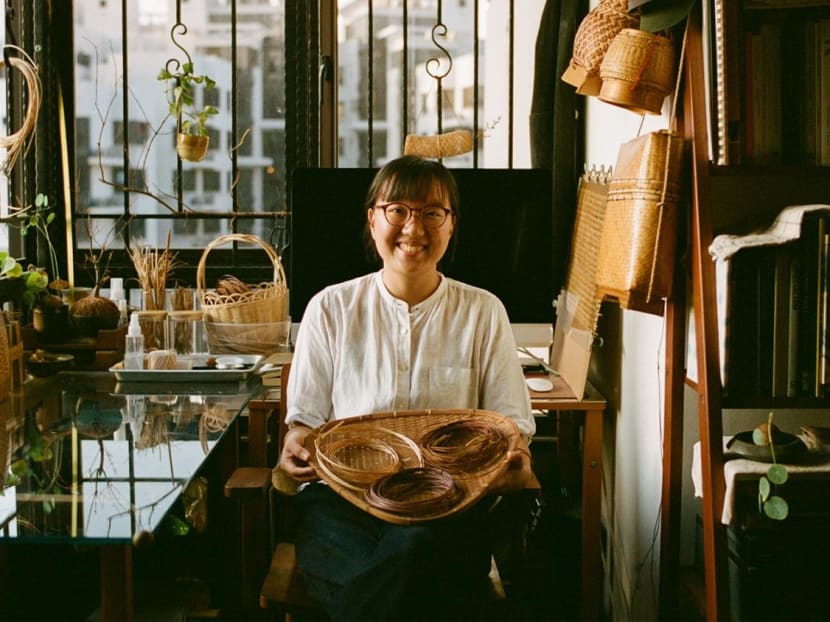 A few weeks back, my wife excitedly told me she discovered someone who could help her fix a broken antique chair that she treasures. It was a gift from her brother-in-law and while not especially functional – it's a tad delicate – it is quite beautiful.
She asked me to bring the chair to the library@Orchard and drop it off with a young woman named Ng Si Ying, who is an expert rattan weaver. She was confident that Si Ying, also known as @atinymaker, would be able to reweave the broken rattan seat.
Since then, I have been checking out Si Ying's feed and have learnt more about her. While she works at one of Singapore's top local banks by day, in her after-hours, she is one of our most interesting young creatives, passionately exploring a craft that she feels hasn't evolved for generations. She is one of the few young creatives locally specialising in rattan, and definitely one of the very few trying to look for new ways to use the material.
TELL ME ABOUT GROWING UP. WERE YOU AN ESPECIALLY CREATIVE KID?
I definitely had a lot of chances to dabble in creative endeavours growing up. My mum used to do a lot of arts and crafts with us at home, and I also took a few years of art classes. I would spend quite a bit of time decorating my school journals and art class homework, and had exceptionally kind teachers who encouraged me to pursue the arts.
But at some point, I decided that I didn't want nor enjoy being graded for the "art" that I did, and didn't pursue it further in school. Perhaps I knew somehow I would go back to it in due time, but I wasn't really sure exactly when or in what form.
In fact, I actually spent many more years playing competitive netball than anything else. But then again, perhaps creativity isn't limited to the arts, and I was learning to be creative through other ways too.
YOU SEEM TO DO A LOT OF DIFFERENT KINDS OF DESIGN WORK? CAN YOU TELL ME MORE ABOUT WHAT YOU DO?
Honestly, I just see myself as a designer. Sometimes I design in 2-D, sometimes in 3-D, sometimes with software, sometimes with rattan or clay, sometimes for different types of people, and sometimes for myself.
I graduated with a degree as a visual communicator, and then worked as a graphic designer and now a UX designer – perhaps they are but labels that help others identify the mediums of which you are currently designing for.
Professionally, I'm currently a user experience designer at a bank, and I design the digital experiences for banking services.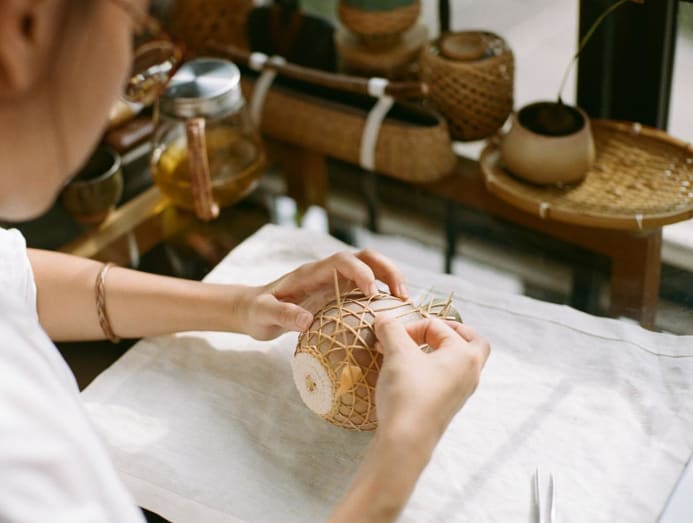 AND YOU HAVE THIS WHOLE OTHER PERSONA, THAT OF A RATTAN CRAFTSPERSON. WHERE DID THE LOVE FOR RATTAN COME FROM?
The love for rattan was a natural development over time. Initially, I approached rattan solely as a material to study and a potential area of forgotten interest. It was only with deeper interaction with the material and reading that I also realised its beauty and cultural significance. It occurred to me that there was so much more to be explored with this mysterious plant, and even more to be investigated and loved.
WHAT PROMPTED YOU TO WANT TO LEARN THE CRAFT YOURSELF?
The lack of formal materials and guidance forced me to learn it from whatever resources I could get my hands on: YouTube videos in various languages, and any other disciplines that teach weaving or knot tying, and just good ideas that I thought could be translated to rattan.
When I had just graduated, and had some free time on hand, that was when I actually discovered rattan by accident. A good friend of mine wanted to buy some rattan furniture for a new place and I simply tagged along on the adventure and met Uncle and Aunty Zeng who own a rattan shop.
To cut the long story short, I went back about two to three times after the first visit, and they finally agreed to teach me. And so began a one-year rattan chair weaving restoration "lesson" with them.
WAS LEARNING THE CRAFT DIFFICULT OR EASY?
The interest in rattan grew and developed into a rather investigative one. I wanted to exhaust the material completely, experiment with it, and push its aesthetic, physical and cultural boundaries.
Rattan as a material feels like it has been forgotten and seemingly left behind in the contemporary world. But that is also a double-edged sword. I get to explore and experiment without any baggage, but that also means it's been difficult to find a rattan 'teacher'. I have to learn through whatever materials I can find:  books, YouTube videos, etc.
Not a lot of my work is just reverse engineering on my own, to learn and understand rattan better. It gets difficult sometimes, but mostly enjoyable. Having many sources of learning points also means having many different teachers — anything and anyone can inspire!
SOME OF YOUR PIECES ARE REALLY BEAUTIFUL. DO YOU FEEL LIKE YOU ARE CREATING CRAFTS OR ART PIECES?
I never really thought of my work as one or the other, I just make things.
WHAT IS THE HARDEST THING ABOUT RATTAN WEAVING?
Like every other material, rattan has its own characteristics. Whilst learning from many other disciplines and materials – such as bamboo, paracord weaving, knots, etc – not everything can be adapted to rattan.
This might get a little technical but rattan skin, also known as rattan peel, has a front and a back side. And working with them also means that you have to be mindful about the way you twist and turn it. Rattan is highly malleable and thus relatively forgiving, but only up to a certain number of times before it starts to fray and breaks.
DO YOU FEEL LIKE YOU ARE KEEPING PART OF OUR CULTURE ALIVE?
We know rattan as the furniture our grandparents used to sit on, as the punishing cane we feared as kids, and the basketry that we may have for laundry at home. There hasn't been much exploration into new designs with rattan since. We still use the same pattern for weaving chairs.
What I want to do is to look for new ways to use rattan, to introduce a new aesthetic to break out of what we commonly see. I'm not sure if that is keeping our culture alive, but I hope to keep rattan alive! And evolve it.
WHAT DO YOU HOPE TO COMMUNICATE THROUGH THESE WORKS?
The work I make is an investigative process. There is no inherent message outside of studying rattan as a material and investigating its process, form and materiality.
WHAT INSPIRES YOUR WORK? HOW DO YOU DECIDE WHAT TO WORK ON?
I never really know how to answer the question of what inspires me because I am inspired by so many things. It differs from period to period and is constantly changing. As for what to work on, since I make my own ceramic pots, the making sometimes begins there. I may have in mind something I want to test with rattan, so then I plan how to achieve it.
Other times I just make the pots and then decide after. I also have ongoing projects such as 100 Rattan as Wrap and 100 Rattan as Weave that are solely rattan works to help me further learn and explore the material. I jump around projects all the time.
ARE YOU SELLING WORK? HOW CAN SOMEONE COMMISSION A PIECE AND WHAT KIND OF WORK DO YOU OFFER?
My works are for sale upon request. I rarely take on commissions unless it is in line with what I want to explore and/or if it pushes me to do something new. I try to keep to that because I want to enjoy what I make without being tied down by whether it sells.
All that being said, if anyone wants to get in touch, they can contact me through my Instagram account, @atinymaker, for any sale/commission requests.
ANY EXCITING PLANS FOR THE YEAR YOU CAN SHARE?
I'm currently having an artist residency at the library@Orchard until the end of March 2022, and working on a collaboration piece for the botanical design studio, This Humid House, which will be shown in Paris. There is also a group exhibition piece that I am working on. It's good busy-ness, but I'm hoping to really start on my next 100 project!
WHAT'S THE DREAM WITH YOUR RATTAN WORK?
It's a long way to go but I hope to explore deeper into rattan and be someone that understands it. I'm not sure what might happen in the future, but I'm enjoying where I am now and I'll take a step at a time!