Meet Yellow Mushmellow, the Singaporean artist making colourful works inspired by her sisters
In this week's instalment of Creative Capital, meet Nur Aida Sa'ad, or Yellow Mushmellow, whose two sisters with special needs inspire her fun and quirky artistic concepts and installations. CNA Lifestyle dives into a world where rainbows are re-imagined as playground fun and rubber bands are made into play structures.   
In May this year, I received an email from Apple informing me of an upcoming workshop. It was being led by a 12-year-old girl with cerebral palsy and global development delay, mentored by and co-presented with 30-year-old local art director and illustrator Nur Aida Sa'ad.
Apple was working in partnership with local nonprofit Superhero Me, a ground-up inclusive arts movement that empowers children from diverse backgrounds through the arts, social mixing and purposeful programming.
While this was Aida's first mentorship for Superhero Me, she's no stranger to working with people with special needs, or in creating artworks inspired by them. Aida, also known as Yellow Mushmellow, has created some exceptional projects influenced by people with special needs whom she cares deeply about.
HI AIDA, WERE YOU A CREATIVE KID?
I never pursued art properly in school or in CCAs. I only really thought about the creative field as a career when I took a major in visual communication in university, and even then, it didn't feel all too serious – I enrolled with a 'portfolio' consisting of amateur doodles.
Looking back, I am lucky that my parents (Mum is from a literature background, and Dad's a creative director), encouraged me to read and draw a lot as a kid, even if the outcomes weren't polished or pretty.
Imaginative play was a huge part of my childhood. I would dream up stories for my cousins and I to 'act out' in front of our parents, like theatre plays complete with costumes, scripts and cardboard props.
WHEN DID YOU FIRST REALISE YOU WERE TALENTED ENOUGH THAT YOU COULD SELL YOUR ARTWORKS PROFESSIONALLY?
I don't think it was talent, as much as it was just shamelessly doing whatever I felt like. In school, I bought S$5 white canvas shoes from the market, and drew on them with paint because I thought it'd be fun to wear shoes that represented what you felt on any given day. I made customised shoes for people that captured their personalities, or drew on shoes to 'match' the seasons in my life.
It was so self-indulgent and silly but I think that impulse to just do things, make things, inspired by what I felt or observed in my day-to-day, was that creative energy that I got to hone through my 'nonsense' personal projects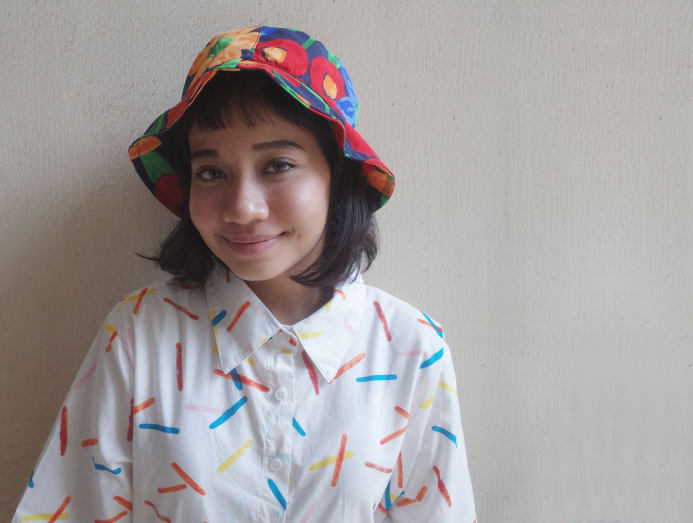 In junior college, the months leading up to the A-Levels were filled with dreadful 'common tests'. I remember making a doodle depicting how terrible each paper made me feel, after every test. For example, feeling 'poisson-ed' by the poisson distribution graphs in the Mathematics exam. Or Literature, being smothered to death by a pillow, in the style of Shakespeare's Othello murdering his wife.
The stick figure drawings found an audience in my friends, who found them funny and relatable. Even teachers became seemingly more interested in the drawings, than in how I actually fared in those exams.
I found confidence in an audience that welcomed and found joy in those lighthearted pictures, during a particularly stressful period in life. And I guess that's the outcome I want to achieve still, today, no matter the medium or skill of expression.
I LOVE YOUR ILLUSTRATIVE STYLE. IT JUST MAKES ME SMILE — IT IS SO HAPPY AND COLOURFUL.  
I am really drawn to bold colours and shapes because they brighten up your day and are such a joy to look at.
But if you take away the colours and smiley characters on the exterior, I don't think the themes in my art are cheerful all the time. I find that humour and light-heartedness are good ways to talk about sometimes serious topics.
I admire how they do it in children's books. One of my favourites is Sad Book by Michael Rosen, which describes death in such searing clarity, only because it is done in simple words and drawings – without a need for profound answers.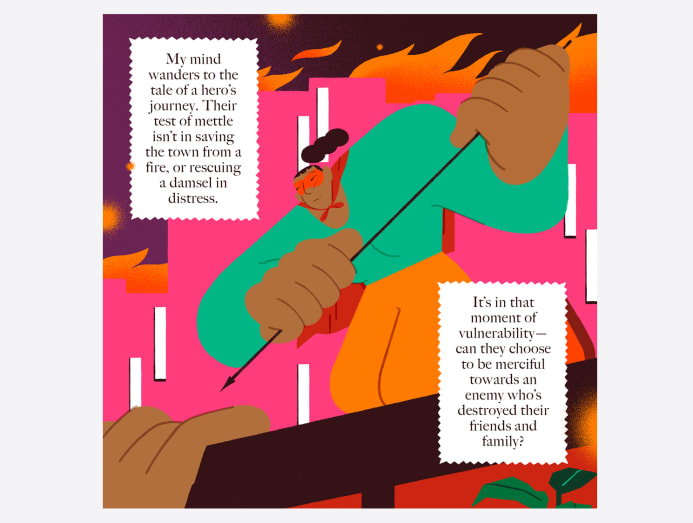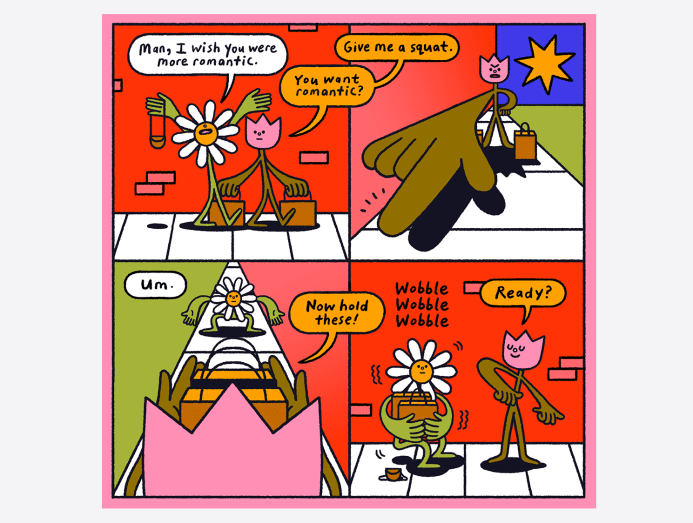 In that vein, I often chronicle my experiences living with two special needs sisters in comics. It is not 'happy and colourful', but my candid depictions of our everyday encounters are well-received because it makes light of frustrating, unpredictable situations.
CAN YOU TELL US MORE ABOUT YOUR SISTERS?
I have three younger sisters, and two of them have special needs: Sheila, 26, has global developmental delay, and Aisha, 21, has autism. Together with Dianna, who is 28, my sisters are my world.
Sheila and Aisha inspire me to look at the world differently and challenge my ideas of what 'normal' can be. It's thinking outside the box, right?
Growing up with their different behavioural quirks also means that unpredictability is a big theme in my family. We learn to roll with the punches.
For example, Aisha doesn't like loud noises and when it gets overwhelming, she sometimes reacts by having tantrums or a meltdown. So when there is construction work going on in the neighbourhood and it gets noisy, the rest of us pretend that the drilling sound is music and we dance to it, inviting Aisha to join in instead of being afraid of the noise.  
When Sheila graduated from the school system at 18, we were worried that she would get bored spending her adult life at home, because there weren't many programmes that supported her needs after school. However, she surprised us by making herself very at home – a master at the art of relaxing.
She spends every day chilling out on the balcony, watching the world go by. Bonus if it rains. She is happy, and doesn't seem to mind it at all. She teaches us how to take it slow. Unpredictability can be surprising in a good way too.
IS THERE ANY PROJECT YOU ARE MOST PROUD OF SO FAR?
Hullabaloo (2018) at The Artground is one that I hold dear. It was my first time putting up an installation on that scale, and while I didn't think it was a technical masterpiece, it was an experience that was new and personal to me.
I wanted to create a rainbow-themed playground, inspired by my sister Aisha. People with autism love routine, so Aisha tends to get fixated on certain things for a period of time. She spent a whole year being obsessed with rainbows.
She loves drawing, and she would draw rainbows every day. But not your usual semi-circle ones. She dreamt up zig-zag rainbows, squiggly rainbows, upside-down rainbows, rainbow smiley faces, rainbow everything!
Rainbow prata, rainbow pants, rainbow sailboats... discovering a new 'rainbow' creation each day made me smile, and I thought they were an inspiring example of what creativity truly is: No limits. A mundane thing turned magical. I wanted people to know how brilliant she was, an artist in her own right.
When The Artground approached me for a collaboration in 2018, I jumped at the opportunity to capture Aisha's rainbow hullabaloo in a space people can enter – something like walking into her world, and seeing how she sees things.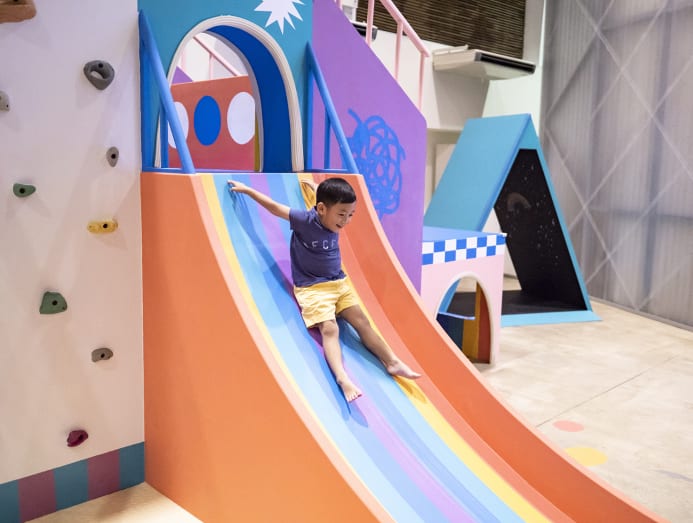 Rainbows don't have to be semi circles in the sky. They can be slides, or tunnels you can crawl under; turned into hills you can climb, or a kaleidoscope of colour you can lie down under. Hullabaloo was a celebration of Aisha's way of looking at the world – sometimes silly but always fun. Kids loved it. They are the experts at fun.
The best part about Hullabaloo, however, were the unexpected outcomes from the experience. The Artground really supported my vision, and supplemented the dream with programmes that promoted inclusivity. We had interactive theatre performances open to kids and people with sensory needs. During the launch of Hullabaloo, the Artground also made sure to cater food from a business that works with people with special needs.
Aisha and her friends played a part in creating some of the tactile elements in the space, and were paid to do so. Students from special needs schools were also welcomed to play during The Artground's closing days, giving them quiet time to enjoy it without the stress of large crowds.
I think when dreams turn out bigger than your mind can conceive, that's magic. 
TELL ME MORE ABOUT RUBBERBAND LAND, ANOTHER INSTALLATION YOU PLANNED AND DESIGNED.
Rubberband Land was commissioned by Singapore Tourism Board for a two-day Singapore Tourism festival in Hanoi, in March 2019. They invited me to create a fun installation to engage the children who attended the event.
Rubberband Land is a looping play structure that uses rubber bands of all kinds, to create play elements. For example, rubber bands woven into a surface makes a platform you can bounce on, while giant rubber band loops hanging from a bar makes for springy stretchy 'swings' you can sit on.
For this, I was inspired by my sister Sheila, and how she finds joy in the mundane. One of her favourite toys is the rubber band. She can spend hours creating sensory experiences with it – twirling it around her fingers, stretching it, fiddling with it. In my installation, I wanted to bring to mind how, with some imagination, a single loop of elastic can mean endless fun.
HOW DO YOU APPROACH A COMMISSION? WHAT IS YOUR CREATIVE PROCESS LIKE?
I am lucky that most of the projects I receive are in line with my working style. I especially enjoy projects that allow me to actively draw inspiration from the things and people around me. Creativity to me is seeing the magic in everyday things.
For example, one project that I like was Small Joys, a collaboration with Butterknife Folk (a local gelato boutique) as part of Funan mall's Creative Unions in January 2021. It was the turn of the new year, and people were feeling optimistic about the first IRL Singapore Art Week event after an unpredictable 2020.
One thing that the pandemic has taught us is that, without the ability to indulge in big gestures of happiness and the creature comforts we are used to, the things that sustain us are the small everyday things we delight in – whether it is catching the sunset on the bus home from work, or finding sushi on discount at the supermarket.
I thought it would be fun and timely to celebrate those 'small joys,' so we crowd-sourced a list of them from our social media audiences, and turned those responses into ice-cream flavours.
We had a rosemary matcha gelato with raspberry coulis to represent the joy of early mornings at Clementi forest; Cookie Swap, a mix of cookie flavours to symbolise friends sending each other baked goods to tide through the lockdown. I drew comics documenting each anecdote, and many found them relatable.
THE RECENT WORKSHOP YOU CONDUCTED WITH APPLE AND SUPERHERO ME LOOKED SO AMAZING AND INSPIRING. HOW DID THAT COME ABOUT?
Superhero Me paired me up with a student from Rainbow Centre, Aliyya, who's 12, in a six-month mentorship. In partnership with Apple, we used the iPad to explore the child's creative expressions, culminating in a sharing at Today at Apple in May this year. The aim was to use technology to make creativity accessible.
Aliyya has a big cheerful personality. She doesn't shy away from reaching out to people, even when she uses an AAC (Augmentative and Alternative Communication) app on the iPad to talk. She can tell jokes on it. She also loves accessorising and dressing up, and wants to be a fashion designer. Creative expression was not the problem.
Aliyya has global developmental delay and finds it challenging to hold a pencil due to the limited mobility in her fingers. We found a way to make pictures on the iPad by putting shapes together on the Keynote app. For example, a triangle on a square makes a house. Layer many shapes and you can just about create any picture you like with this formula. You can do this using your finger too, so you don't even have to pick up a pencil to be able to draw. Aliyya is good with technology, so she mastered it quite quickly.
Throughout our mentorship, we created a series of illustrated patterns that were made into wearable items. During the Today at Apple session, she was able to share her technique and teach other kids how to make their own patterns too. I thought it was cool that a 12-year-old kid got to lead a workshop at Apple. I think that was an empowering experience for her.
YOU'RE JUGGLING AN ART DIRECTOR ROLE WHILE ALSO WORKING AS AN ARTIST AND ILLUSTRATOR. IS THAT DIFFICULT?
Yes, but I love it. I use one role as refuge from the other, though they don't always have to be at odds. Everything you do adds to your bank of experiences and allows you to grow your craft and yourself.
I'm currently an art director at VaynerMedia, an integrated agency that does work across digital platforms for brands including Disney, SK-II and Prudential. I enjoy diving into a world that's completely different from the colours and 'fun' that I'm used to. I want to learn to create work that communicates with the aunties on the streets, as much as an audience in a gallery.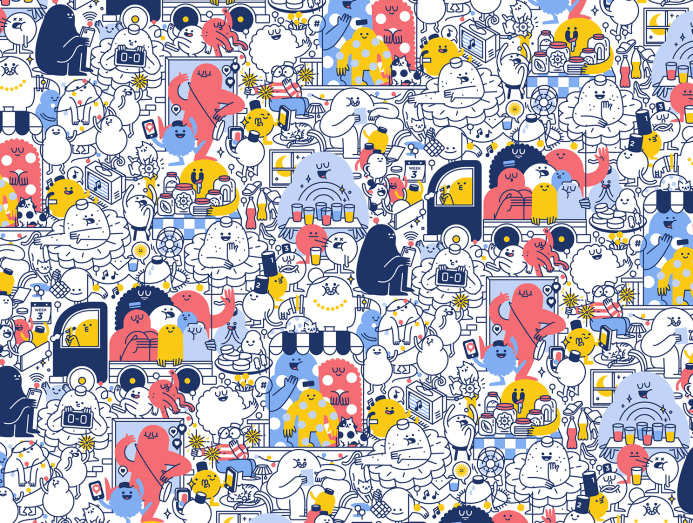 Being an artist, "thinking outside of the box" is easy; it is being creative with budget, time, and brand constraints that is challenging.
My favourite part about working in advertising is seeing how pictures and words work together to communicate something. I also like being around really creative people every day and being inspired by ideas. It's like being paid to scroll on Pinterest.
I LOVE SOME OF THE COLOURFUL OUTFITS YOU HAVE MADE AND SHOWN ON IG. IS FASHION DESIGN SOMETHING YOU ARE GOING TO BE EXPLORING IN THE FUTURE?
I have been learning to sew my own clothes for the very self-indulgent purpose of being able to wear my illustrations some day. It is more of a hobby at the moment. I enjoy working with my hands.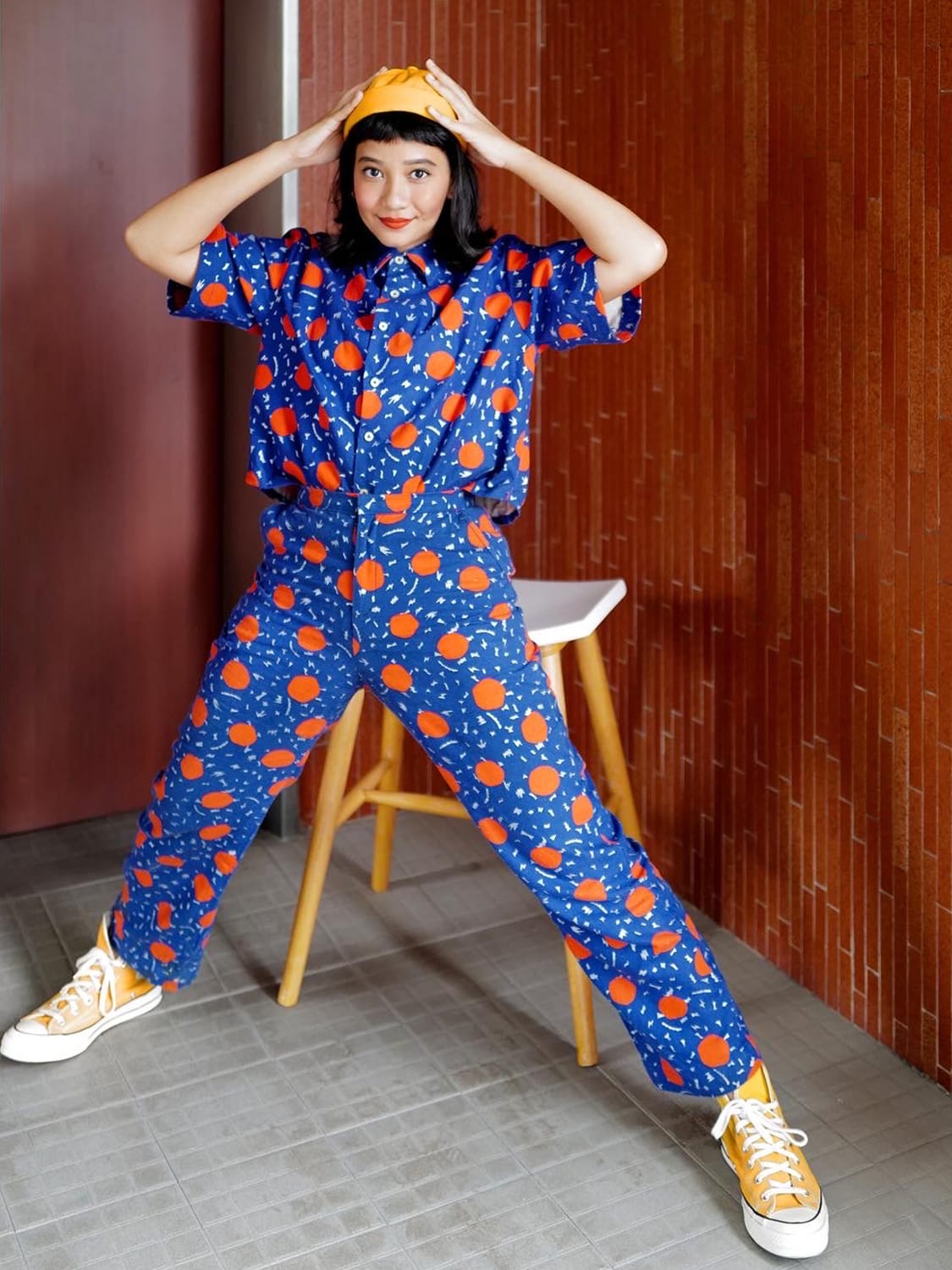 FINALLY, WHERE DID THE NAME YELLOW MUSHMELLOW COME FROM AND WHAT DOES IT MEAN?
I wish I had a good origin story for you, but I just liked how it sounds. And yellow is my favourite colour, for obvious reasons.