How the couple behind Soilboy grew their plant and ceramic business from side gig to full-time job
In this week's Creative Capital, we meet couple Angeline Goh and Ivan Woo who met on a dating app, which led to co-founding Soilboy which specialises in curated indoor plants and ceramics.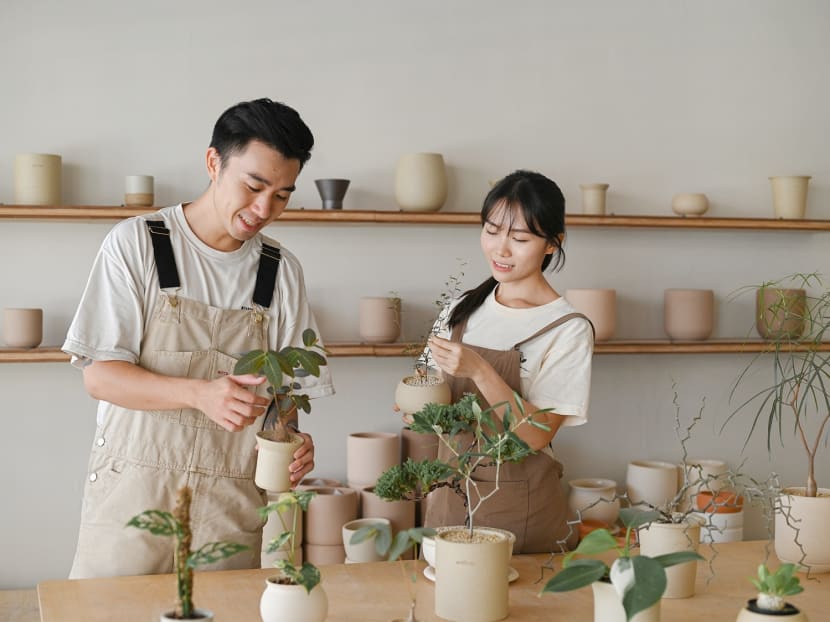 In November 2021, 30-year-old Ivan Woo and 27-year-old Angeline Goh, opened their first shop off Upper Thompson Road. Offering a stylishly curated selection of indoor plants, paired with handmade ceramics, this charming and calming store has attracted a loyal following of young couples looking to add warmth and a little life to their homes.
While their physical shop only opened in last year, the pair actually launched the business the previous year in December 2020.
Success through their website gave the young couple the confidence to not just open the store but to leave their former jobs and focus on their botanical business full-time.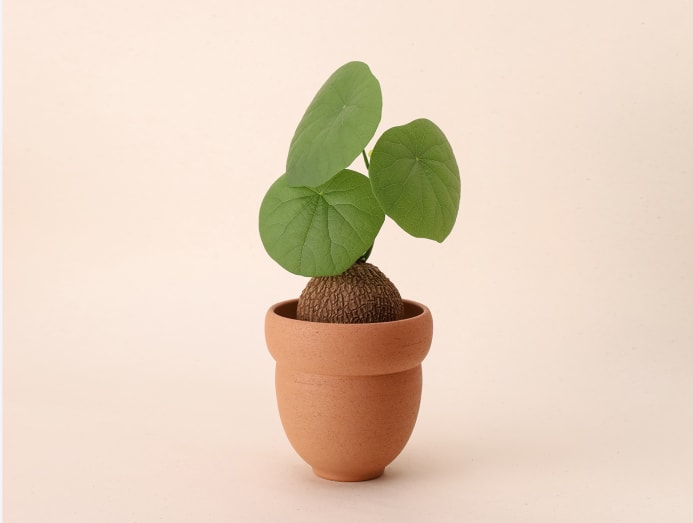 HI GUYS, WERE EITHER OF YOU INTO PLANTS AND GARDENING WHEN YOUNG? 
Angeline: When I was young, I accidentally grew a loquat seedling when I left the seed in an empty pot. It grew into a tree and is probably about 15 years old now. I gave the plant to my neighbour when we moved! If you're asking whether I have green fingers, I actually don't! My first indoor plant was a cactus and it didn't survive long, despite it being a low-maintenance plant.
I was constantly surrounded by plants while growing up but totally took them for granted. When I was younger, my mother would ask me to water the plants at home for her. I used to think that plants would do well just by watering them every day, but I ended up overwatering them! That's pretty much all the 'gardening' experience I had when I was young.
WHAT DREW YOU BOTH THEN TO PLANTS AND PLANT CARE AS ADULTS?
Angeline: I was watching a lot of Korean-inspired room makeovers on YouTube, and I really love the clean, minimal aesthetic and neutral colours. In most of the videos, there will be one or two plants in the room like an Olive Tree on a low stool, or a mini plant on the desk, with soft natural light entering the room. This visual inspired me to start my hobby of keeping plants indoors because I wanted to recreate that scenario, but I could not find a lot of information on how to keep a plant alive, especially indoors, at the time.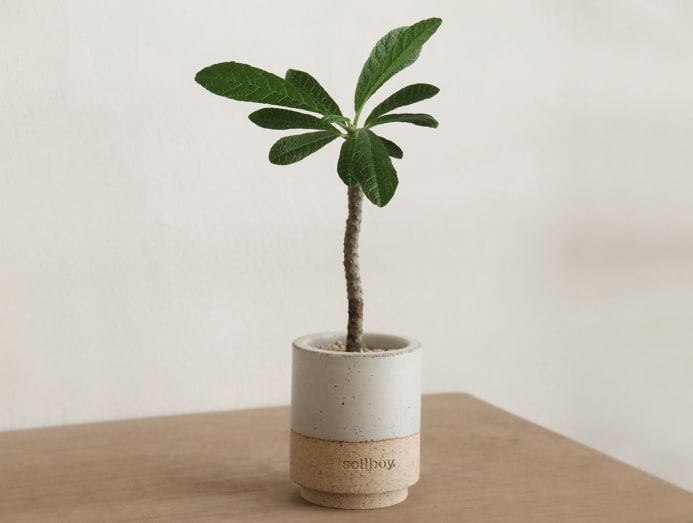 Ivan: I was scrolling through Pinterest for interior inspiration for my bedroom, and most of the photos have plants in them. It led me on a casual hunt for plants and I came across one called a Monstera Thai Constellation which had patterns of cream-coloured speckles and flecks on its leaves.
I found and purchased a similar one from a local seller, but less than two days later the plant fell out of the pot – without me doing anything to it—as the roots had all rotted away. This sparked me to do a lot of research on this subject and found out that the plant was not in a suitable potting mix—but I wouldn't have known better back then. There wasn't a lot of helpful information online, so I made a bold move to chop away all the rotted parts and four-fifth of its leaves, and miraculously the plant grew back after six months. I would say this started it all!
HOW DID YOU MEET?
Ivan: We met online over a dating app! Not long after knowing each other, we discovered that we had a mutual interest in plants and shared the same motivation to start a business.
Angeline: I remember we were having a Zoom call, and I was showing Ivan my new plant. He was successful in keeping his first plant alive as well, so we thought that we could share this information with others who are new to planting as well.
Ivan: I've always wanted to start a brand of my own and saw the opportunity of turning our shared hobby into a business. In mid-2020, We decided to start Soilboy and officially launched it in December 2020. The goal of the business is to inspire a sense of curiosity for the greener things in life by sharing our planting knowledge with others by providing a plant care guide for each plant and making plants more accessible to everyone in general.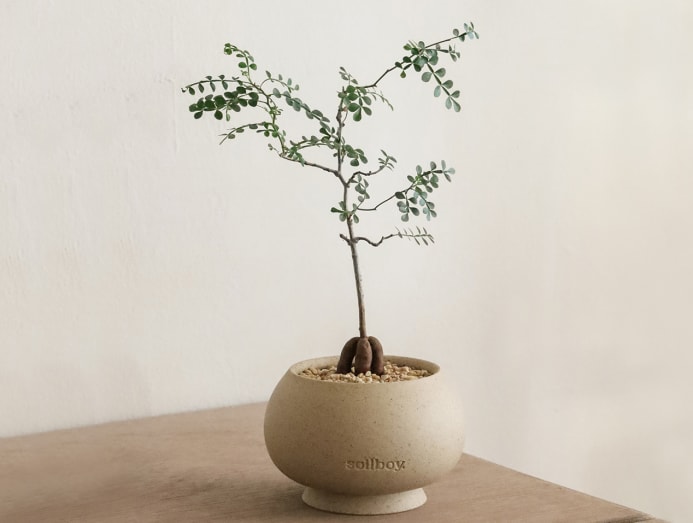 WHAT WENT INTO GOING FROM THE INITIAL IDEA TO ACTUALLY OPENING THE BUSINESS WITH PRODUCTS TO SELL?
Ivan: As said, that took about six months. Most of the work involved designing the care cards and website and building a line-up of ceramic planters and plants. We started with low-maintenance indoor plants that were easy to care for, such as Phyllanthus Mirabilis and Whale Fins. We also sold our indoor potting mixes.
Thereafter, we started designing our own ceramic pots and commissioned ceramic artists in Korea to make them. We work closely with them to design the shapes and sizes of the pots that would match the plants and living spaces best. 
WHAT WAS THE HARDEST PART OF SETTING UP THE BUSINESS?
Angeline: The hardest part for me was time management. We had to sacrifice our sleep and spent most of our waking hours doing research, sourcing new plants, learning more about plant care techniques, and conceptualising new products.
BETWEEN THE TWO OF YOU, WHO DOES WHAT?
Ivan: Angeline is the plant specialist here, she does most of the plant care. I'm in charge of brand marketing and design.
YOU WERE BOTH WORKING WHEN YOU STARTED SOILBOY. WHAT WERE YOUR PROFESSIONS?
Ivan: I was freelancing as a brand and graphic designer, and Angeline was working as a pre-school teacher.
WHEN DID YOU REALISE SOILBOY WAS VIABLE ENOUGH TO COMMIT TO IT FULL-TIME?
Ivan: We started seeing a demand for our products from our monthly launches, and we gained a lot of traction on Instagram. That's when we decided to go and commit to the business full-time in order to meet the demands for our products.
WHO IS THE SOILBOY CUSTOMER?
Ivan: Couples who just got their BTO, and a majority of them are young adults who are looking to add a potted plant into their living spaces. 
WHAT HAS BEEN THE BIGGEST LEARNING CURVE SINCE STARTING SOILBOY?
Angeline: The biggest learning curve would be helping the plants that were shipped from overseas to acclimatise to our local weather. Most of our plants are imported and can take up to three months to grow well in our environment.
AND WHAT HAS BEEN THE MOST REWARDING PART OF THE JOURNEY SO FAR?
Ivan: When our customers are happy with their purchase and share with us photos of their plants. It is most rewarding when our customers are able to care for their plants well through our online support and suggestions.
WHAT IS YOUR HERO PRODUCT?
Angeline: Our line of planters from Korea and our Caudex plants such as Phyllanthus Mirabilis and Stephania Erecta. These plants come without roots and leaves, and we grow them ourselves! 
HOW IMPORTANT HAS SOCIAL MEDIA BEEN IN GROWING YOUR BUSINESS?
Ivan: Instagram is our main marketing platform, and through that, it has helped us reach a larger audience. Our customers often share photos of their plants, and by reposting their content, we create a wider reach and our existing and new customers gain confidence in our products. 
OPENING A BRICK-AND-MORTAR STORE MUST HAVE BEEN A BIG DECISION. HAS IT PAID OFF?
Angeline: It is definitely a big milestone to open our own store. We believe it paid off immensely because our customers are now able to visit our store in person to see our products. It is much easier for people to choose a plant in the physical store when they are able to ask questions about their potential new plant purchase.
Ivan: We always want our brand to be approachable, and having a brick-and-mortar store has definitely allowed us to do that; meet our customers, exchange plant care knowledge and even have a short conversation about our favourite plants. We really like that. 
ARE THERE ANY PLANT TRENDS YOU SEE WITH LOCAL CUSTOMERS?
Angeline: Most people like to buy plants that can be grown or taken care of easily. Low-maintenance and uncommon plants are also what people are looking for in general. We try to keep a lookout for these.
HOW DO YOU STAND OUT OR DIFFERENTIATE YOURSELF FROM THE OLDER MORE TRADITIONAL PLANT SELLERS HERE?
Angeline: The products we carry offer a more curated experience for our customers. The majority of plants in our store are already paired together with a planter, so it is much easier to visualise and select a potted plant.
Soilboy is more than a plant shop. We want to envision and build a lifestyle brand that encourages people to slow down and go at their own pace – much inspired by one of our taglines, "slow and grow."
Ivan: Right from the beginning, we started Soilboy with a design-centred mindset to harmonize both people and plants together. Our works can be enjoyed through our website and social media where we showcase all of our best plants. We constantly work with local artists and overseas ceramic artists to bring in something different for the community here.
WHAT'S THE VISION FOR SOILBOY? 
Angeline: To inspire a sense of curiosity for the greener things in life. Curiosity is how we got into planting in the first place, and we would like to share this experience with people everywhere.
ANY COOL PLANS FOR THE REST OF THE YEAR YOU CAN SHARE?
Angeline: There are several new products that we are working on at the moment, but more details about them will be revealed in due time! The next step for Soilboy will be extending our retail days to more days of the week and organising more plant care workshops.