From punk to NFTs: This artist is a Singapore pioneer in the digital marketplace
In this instalment of CNA Lifestyle's Creative Capital series, we meet Farizwan Fajari, the artist known as Speak Cryptic, who sold his first non-fungible token (NFT) just a day after minting it.
A friend of mine wrote, not too long ago, that it wasn't until he hit his 40s that he really became content with his life and his life choices. It feels too that Farizwan Fajari, known in the art community as Speak Cryptic, who entered his 40s last year, has similarly found some inner peace and as happiness.
He has a new solo show opening in November, presented by the Chan Hori Contemporary and the Spaceless Gallery, which will move from Singapore to Paris.
He has also found success as an NFT (non-fungible token) artist, and is seen by the community as one of the local pioneers of the NFT art scene.
You can see Farizwan's monochromatic works not just in galleries, but all across town. His works have adorned the walls of clubs and bars. His complex illustrative works comment on such weighty topics as current events, race, and identity.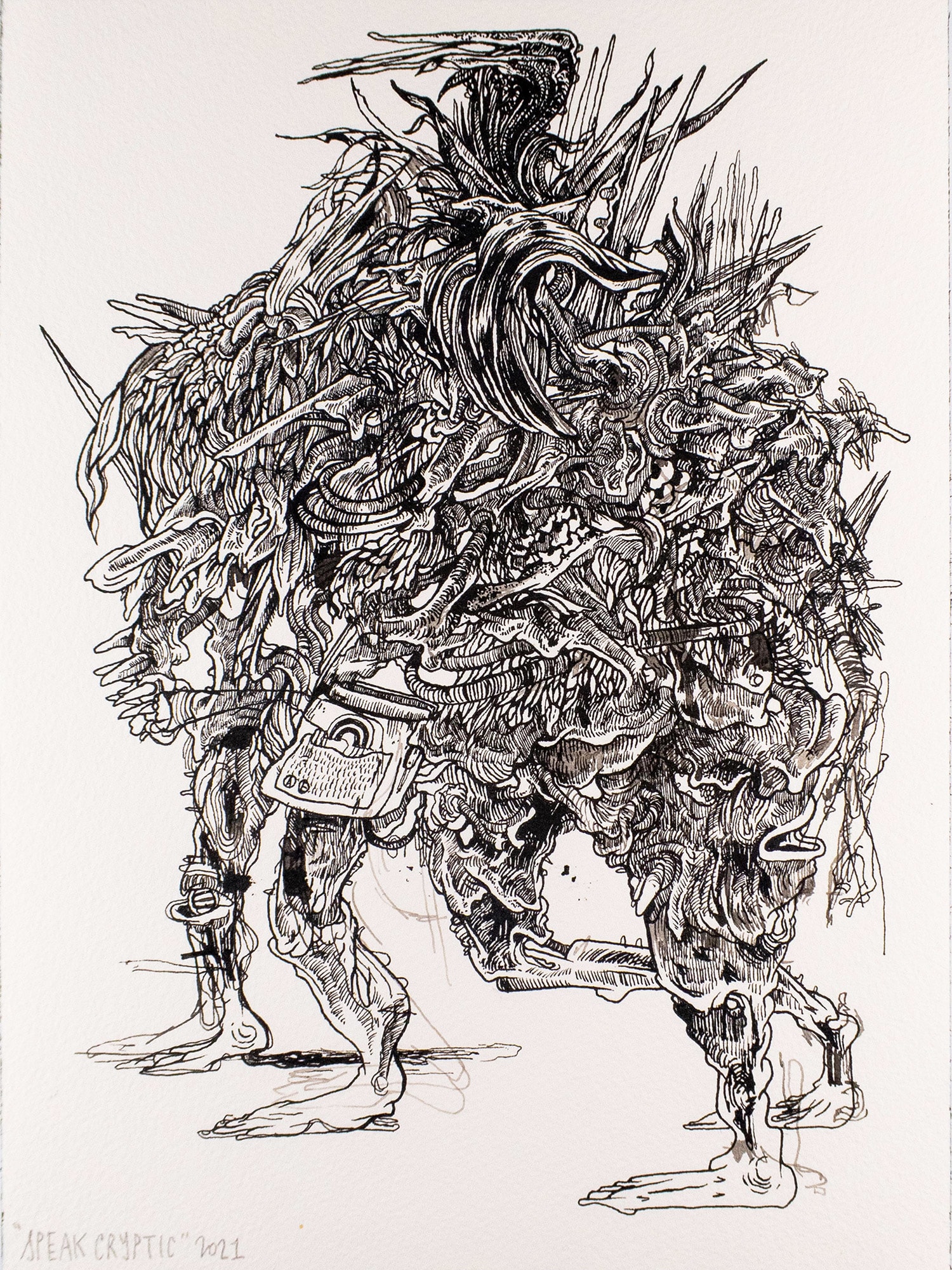 WERE YOU ALWAYS CREATIVE AND ARTISTIC WHEN YOU WERE REALLY YOUNG? DID YOUR PARENTS ENCOURAGE THAT?
I don't think I was creative per se, but I did like drawing and have always been comfortable expressing myself visually, even when it wasn't making any sense to anyone else but me. But you know, my idea of "studying" maths was to copy the textbook word for word, number for number and then effectively redesign it to fit my own aesthetic. That was my version of studying, which I found out years after, is not the best way to retain information. My school results were also a reflection of that realisation!
My parents didn't really encourage me nor did they discourage me. But they kind of let me be myself, which was a great thing. I think they've always have seen me as this creative kid or at least someone who wanted to be creative. And they've let me be me, which I am so grateful for.
I UNDERSTAND YOU WENT TO LASALLE. WHAT DO YOU THINK WAS THE BEST THING YOU LEARNED WHILE THERE?
I went to LASALLE and graduated in 20007 with a BA in Fine Arts, majoring in painting. But it wasn't a first class honours or anything like that. I was an average student. I think I did okay. The problem I had when I was in art school was not knowing why I was there. I was naive going into it, thinking, "Hey, I'm an artist and whatever I create now should be regarded as art!" Of course, this declaration was based on absolutely nothing. But, that was the mindset I had going into it. So, because of that, I didn't really learn as much as I could and should have. I was so bent on my own belief and was more focused on this idea of looking like an artist instead of being one. So, that caused some friction, which, on hindsight, could have been avoided if I had practiced some sort of humility.
DO YOU THINK THEN THAT ART SCHOOL IS A GOOD OR NECESSARY THING TO BECOMING AN ARTIST?
Despite what I said, I don't think I would have had any success if not for the people I met in art school. As much as I was this naive kid, I also kind of understood the importance of meeting people who might share the same ideals and approach to art as I did. Of course, you don't have to be in an art school to do this, but knowing that you are in a place that is already filled with artists helps a lot.
FOR YOUNG ARTISTS, HOW HARD IS IT TO START GETTING RECOGNISED? HOW DID YOU START BUILDING YOUR CAREER AND START GETTING GALLERISTS AND CURATORS TO TAKE NOTICE OF YOU?
I think good things come from good intentions, so to have an idea of why you want to be an artist is a great place to start. The life of an artist is not for everyone. And everyone's journey is different, based on various factors. So, it would be really useful to be aware of who you are before choosing this path.
There is a quote somewhere, and I can't really remember who said it, but it goes something like, "Recognition comes from doing the same thing over and over again." I might have butchered the quote, for sure, but I kind of agree with that statement. I think consistency is key. If you keep doing something, over and over again, day in, day out, and you keep showing that to the people around you, it's going to add up. And it's not so much about quantity over quality, but quantity to achieve quality. I was quite relentless in showing people my work consistently over the years and I think that was what worked for me.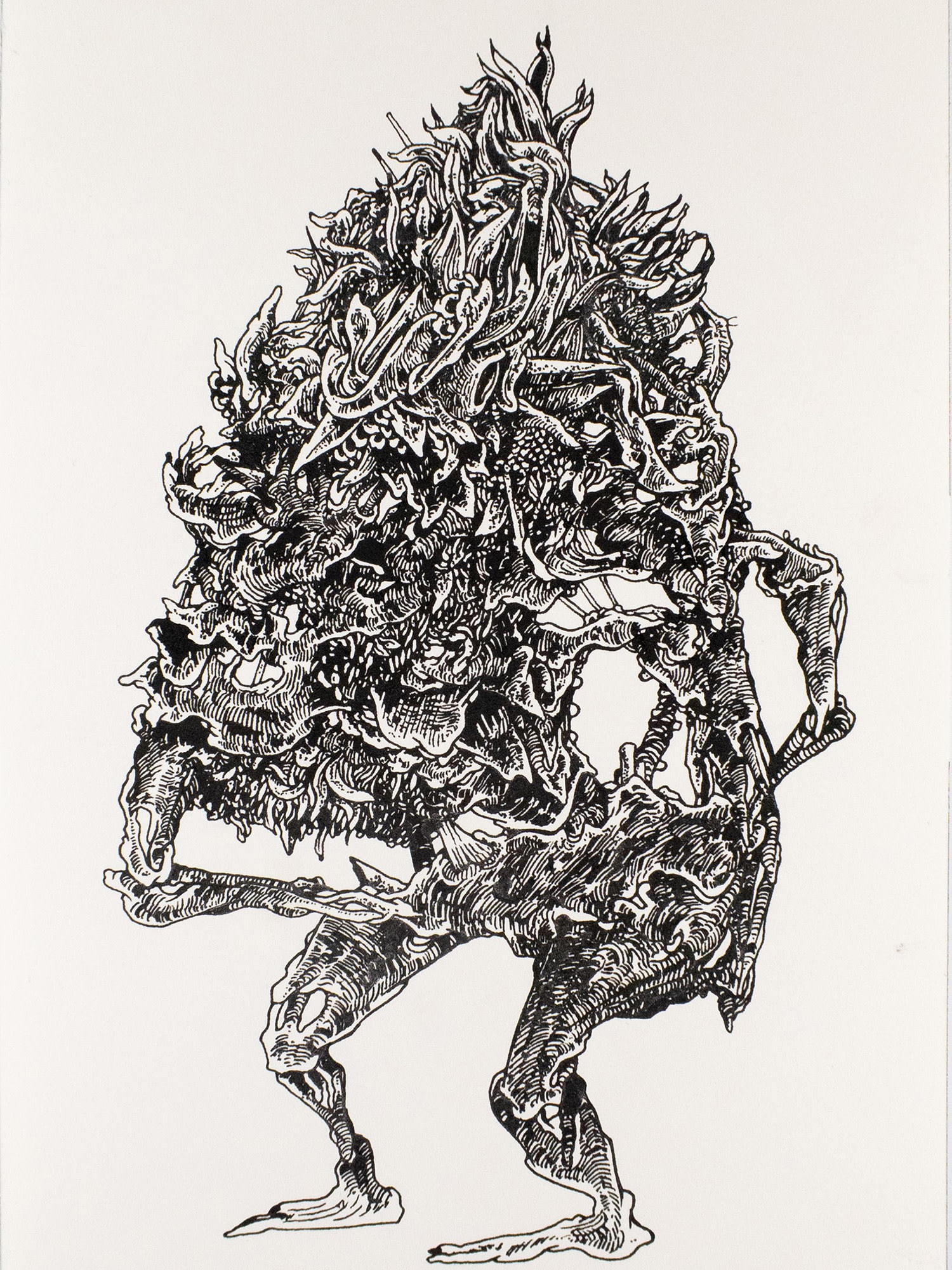 DO YOU THINK CIRCUMSTANCES HAVE CHANGED? SHOULD YOUNG ARTISTS EMULATE WHAT YOU HAVE DONE OR ARE THERE DIFFERENT PATHS THESE DAYS?
Things change and they kind of stay the same. But I think people have a better chance of becoming who they want to become now than before and it's all thanks to all of these new tools that are already presented to them. But everybody should remain true to themselves, to their own vision and ideas. I think that's one of the ways to cut through the noise.
WHAT HAVE BEEN SOME OF THE HIGHLIGHTS OF YOUR CAREER TO DATE?
Being included in the Singapore Biennale in 2013 was definitely one of them. It helped a lot with this whole imposter syndrome that I was carrying around with me before that. I mean, it's still there, but I think that was the first time when I felt that, "Hey, maybe I am a real artist, after all."
AND WHAT HAS BEEN THE TOUGHEST?
This is a little hard to answer because the days have been quite consistent. I mean, it's tough every day but it's manageable, you know? I mentioned this before to another artist friend of mine a long time ago. I said something along the lines of, "Maybe the path to success comes from having the ability to stick to doing something long enough". And you know, I'm not talented, at all. I don't think I was born to be an artist. I started drawing because it is what I love to do, despite what people might think. Sticking with it, being consistent and just chugging along probably had a lot to do with my ability to do this for a living. But the reality is, there is no guarantee that I can do this professionally tomorrow or the day after that, you know? And I think those are the toughest things to get over sometimes – the ability to keep having faith that things will work itself out just as long as I keep showing up.
DID YOU EVER CONSIDER A CAREER OTHER THAN THE ONE YOU HAVE NOW?
Not really. All I wanted to do when I was young was to do something creative. There were many versions of what my idea of a creative was when I was growing up. I remember telling my late mum when I was about 7 or 8 that I wanted to be a comic artist or an architect. I didn't know what my options were, but all I knew was that I wanted to draw because I loved it so much. And I remembered very distinctly at age 14, standing in the middle of the school's canteen and deciding that I was going to art school. I'm not good with options. So, I became hyper-focused on wanting to get there.
TALK TO ME ABOUT WHAT INSPIRES YOUR WORK. WHERE DO YOU DRAW YOUR INSPIRATION?
This is such a cliche but I'm really inspired by daily life, to be honest. Sometimes my work is informed by a single word and how it looks, or it could be inspired by a smell that reminds me of a memory. I try to draw all of this, if I can. I have a drawing app installed on my phone just so I can record it in the form of a sketch if and when inspiration hits. And since my work is mostly in black and white, it makes the process simpler, in a way. More immediate.
A LOT OF YOUR WORK LOOKS AT ISSUES OF ETHNICITY. HOW MUCH OF THAT HAS BEEN BASED IN UNDERSTANDING YOUR OWN CULTURAL IDENTITY?
There was a point in my art practice when I thought the best way to understand my cultural identity was to read books about it, before realising that all I really have to do is to just live my life. Because reading about it is not as good as just being present. And I'm just trying to be more aware of what's going on and how it makes me feel. My cultural identity is not just about being a Malay of Baweanese descent. My identity is also made up of many other things, from the clothes I'm wearing to the music I listen to and to the things I read. And it's all connected. So I trust the gut a lot more than the head when I create.
DO YOU THINK MOST NON-MALAY SINGAPOREANS ARE A LITTLE IGNORANT OF WHAT REALLY IS MALAY CULTURE?
Ignorant I think is a too strong a word. I mean, since culture can be deemed a social construct, everyone's relationship with it is different; it's very personal. And we could be of the same race but have different relationships with what informs our race, you know? So, we know what we know and I'm okay with that. But of course, it would be good to know more about one another. Being aware of our differences and similarities only enhances the human experience.
TELL ME ABOUT YOUR ENDEAVOURS INTO THE WORLDS OF NFTS. WHEN DID YOU FIRST DISCOVER NFTS AND WHAT DID YOU THINK?
I first heard the term I think around two days before the "big Beeple bang", as I would like to call it. I'm always interested in finding new ways to show my art and I initially thought that NFT was kind of like Instagram. I found out very quickly that it's not at all like that. It is essentially a marketplace, with items being bought and sold using crypto currency. And when I found out, I was a little intimidated. I knew there was going to be a learning curve that I had to get over, and I wasn't too sure if I could do it. But it was interesting enough for me to make that decision to learn, so I did. It took me about three to four days of deep-diving to gain a basic understanding of what it was before I finally decided to mint something on the block chain.
HOW HARD WAS IT TO START MAKING YOUR OWN AND SELLING THEM?
Besides the learning curve, it's actually not that hard. I mean making the work is relatively easy, since I pretty much draw every day, but I was extremely lucky to have sold my first NFT a day after minting. And I think it has a lot do with the timing. I was one of the early adopters in that sense, although NFTs had been around way before. But the space wasn't as crowded as it is now and I think that helped tremendously.
WHAT HAS THE RESPONSE BEEN LIKE SO FAR?
It has actually been pretty amazing. The NFT community is incredible and I'm super lucky to have found myself a group of artists and supporters who are a part of this world. Shout out to NFT Asia! It's exciting to be a part of something that could potentially change the lives of artists, not that it hasn't already. I've seen many artists who were struggling in the past finding success in the NFT space, and I'm really happy whenever I see that.  
DO YOU THINK THAT WITH THE CREATION OF THINGS LIKE NFTS, THE ART MARKET IS BEING CHANGED RADICALLY?
I guess that depends on your definition of what's radical. Are there more art collectors now than before? You bet! Has the art changed? I'm not too sure.
The intention I believe is still the same and we have many artists in the space who are trying to push the envelope of art making but it's anyone's guess how art in itself will change in the coming months, or even years. We are still in the early days, that's for sure.
WHAT'S YOUR TAKE ON OUR CONTEMPORARY ART SCENE TODAY AND HOW YOU'VE SEEN IT EVOLVE OVER THE LAST 17 YEARS?
I think everything comes in cycles and it feels like that's the same when it comes to contemporary art. But to be honest, I'm always doing something, thinking up a new work, different ways of approaching it. I always had my head down, not looking up as often as I should so I can't really tell you what my take is. I know that I am in the thick of things but I'm just trying my best to keep creating the best work I can, work that is relevant to me. It's a little hard to be doing anything else.
But everything seems to be moving really fast. I mean, it's been 17 years. It doesn't feel like 17 years. It doesn't even feel like 17 months.
YOUR BIO SAYS YOU ARE INFLUENCED BY PUNK. CAN YOU EXPLAIN THAT TO ME IN MORE DETAIL?
Punk has shaped my views on so many things. I was able to articulate my intolerance for injustice and inequality through punk music, its lyrics and ideologies. Punk also introduced me to the do-it-yourself culture which helped a lot when I was starting out. Having the attitude of not waiting around for things to happen and trying to make it happen for yourself all came from Punk.
I UNDERSTAND YOU ARE ALSO A MUSICIAN. TELL ME MORE, PLEASE?
I wouldn't exactly call myself a musician but I've been playing in bands since I was 13, with most of my friends being people that I met in this particular scene. I mean, I met my wife at a local punk rock show, just to give you an idea of how deep my involvement with it goes. But music is so much a part of me and my identity. Recently, I've been trying to insert more music into my work, which led to starting this project in early 2020 called Primary Motif.
AND FINALLY, IS THERE ANYTHING EXCITING TO SHARE THAT YOU ARE WORKING ON?
I've been preparing for a solo show the past couple of months which will be happening in early November. It's called The Weight of Water and it's presented by Chan Hori Contemporary and the Spaceless Gallery, supported by TEZOS. It's  going to open in Singapore and then Paris and I'm super excited for that.
I also just completed work for the Children's Biennale, collaborating with ADDADDADD, an art collective. I'll also be presenting a new installation work in January which will be shown at the Arts House. And, of course, I am working on more NFTs.