Creative Capital: This speech therapist wants people to 'drink serious teas less seriously'
No meditation and zen required, says Li Hongyuan of online teashop Pekoe & Imp, who is taking a leaf out of coffee connoisseurs' book to inspire appreciation for single origin teas.
I remember sitting with my wife and a few friends at our dining table. She and the other women were comparing tasting notes on the tea we were sipping. As they described the flowers, fruits and other things, I sat there smiling, nodding along. But in my head, I was saying to myself, "What are they talking about? This just tastes like dirty water!"
You see, when it comes to tea, I tend to be very much of a Ted Lasso. Forty-year-old Li Hongyuan of Pekoe & Imp made me think about that as she talked about the interesting dichotomy of enjoying tea. On the one hand, being able to tell a great tea from a bad one is easy, she said. On the other, getting into tea can be tough because of the artificial, and sometimes, pretentious or old-fashioned barriers put up by traditionalists.
Hongyuan herself had to overcome that in her own journey with tea. But this speech therapist is on a mission to change that. I love her motto, "drink serious teas less seriously".
DID YOU ENJOY TEA AS A CHILD?
Not particularly. I had a simple childhood and tea didn't feature at all in my growing-up years. I have the same memory as many Singaporeans do and that is Chinese tea is that bitter stuff that you drink at the temple.
I only drank tea in my early 20s and I remember the time I was out for cakes with my friends. I ordered earl grey, which was my favourite tea before I turned purist. My friend had commented that I should appreciate the tea's natural flavours when I promptly added a copious amount of sugar. That is how far I was from my current state of tea appreciation!
DID YOU HAVE A SPECIFIC TEA EPIPHANY?
When I first learned about tea, it was purely for work. In 2011, I left speech therapy because my husband had asked me to help him start a cafe called Smitten Coffee and Tea Bar. That was the early 2010s, and single origin coffee was the buzz. To match the theme, I wanted to learn about single origin teas. I started by ordering single origin teas online to taste and brew, starting with single estate teas from India and Sri Lanka.
Single origin refers to tea, whose harvest and production can be traced to a single region, farm or location. Single estate teas from Anglo-Indian regions then had the clearest indication of origins and harvest periods.
We also looked at Chinese tea. We visited traditional Chinese teashops and merchants, but the teashops then were especially daunting. The shops looked very serious, the process somewhat complicated, and the people running the business were often not used to customers who didn't know anything about tea and asked a lot of questions. It was unpleasant and I felt very intimidated.
I was ready to throw in the towel after one particularly bad experience when we walked by The Time of Tea on Mosque Street. I remember I was very reluctant to step into another Chinese teashop that day. My husband had to drag me in and I am very glad he did!
They invited us to sit down while they brewed tea for us. When they served it, we were blown away. It was an elegant darjeeling tea and I was all the more impressed because this was a through-and-through Chinese teashop. 
The folks at the teashop demonstrated great patience and took the time to talk to us. Once they understood our situation, they suggested that we took lessons on the tea ceremony with them. But I was not keen. I thought the tea ceremony was meaningless and old school.
Also, the shop's head tea teacher looked very serious and even a little fierce, which added to my hesitation. I called them over the next few days and asked if I could learn about tea instead of the tea ceremony? No. Can I have a more concise tea ceremony course? No.
Eventually, I realised that if I wanted to learn about the types of tea they curated, I had to learn on their terms. And they had the best teas I could find. That was the beginning of my tea-learning journey and I am forever grateful to my late Chinese tea teacher Beljean Ong.
TELL US ABOUT THOSE LESSONS.
Beljean taught me that all teas can be brewed using the Chinese tea ceremony method she taught. She had learnt about tea through the countless rounds of brewing and experimentation such as adjusting the pouring and temperature. Tea brewing is embedded in her in an intuitive manner.
It also helped that the other tea students were very helpful and we explored tea studies together. Some of the senior students took the time to explain the concepts to us. It was like a little tea community.
I like to say that my "tea upbringing" is very mixed and open. As I was absorbing the traditional concepts of Chinese tea brewing, which has a spiritual and philosophical slant, I was also linking it to the single origin approach to coffee, tea and food, which is more factual, systematic and scientific.
The latter is my preferred learning style, and the amalgamation of the two approaches helped me retain a cultural and spiritual appreciation for tea while working with it in a technical way.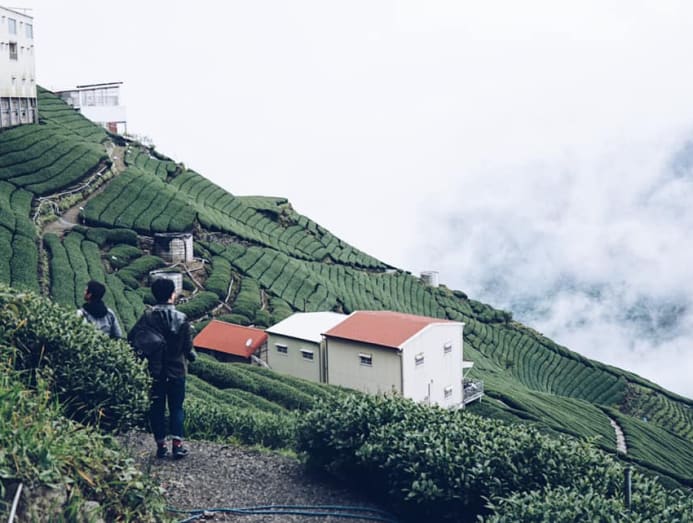 HOW ELSE DID YOU BUILD YOUR EXPERTISE?
Some of the best lessons were from travelling around the world, speaking to teashop owners, tea farmers and tea enthusiasts. I am so fortunate to have met people who are so generous in sharing their knowledge, pointing me in new directions, and even sharing their personal precious stashes of really good teas.
I will always remember the time a friend in Taiwan, who specialises in darjeeling tea, took out a batch of Oriental Beauty, a Taiwanese oolong that derives its sweet fruity or floral flavours from green leaf-hopper bites. This tea was very rare and expensive!
The sweet flavours were so clear and soft, while the texture of the tea was extremely smooth. I told my friend that I felt somewhat melancholic because that was a tea that I probably will never get to taste again in my life.
DOES PEKOE & IMP FOCUS ON CHINESE TEAS OR ALL KINDS OF TEAS?
We are tea purists and not culturists at heart. We are essentially seeking beautiful flavours, which is usually the result of a combination of the terroir, cultivar, processing method, and finally, the artistic flavour-scape that the tea maker is aiming to create.
The history, stories and culture behind the tea help us understand the way the tea culture has developed in that region, or why they drink tea in a certain way. But sometimes, we enjoy them as romantic stories that make the tea appreciation more fascinating.
I have met tea enthusiasts who only drink Chinese tea because they feel that it has the longest history. Thus, the brewing techniques are the most polished and the teas, the best quality. I can understand why they think that way.
But I also think the world is getting more connected through travel and information technology. Tea makers from many other regions have been sharing their expertise and experience. These days, the tea makers who are the most creative, passionate or hardworking can produce wonderful tasting teas, regardless of where they come from.
WHAT LESSONS DID YOU LEARN FROM RUNNING SMITTEN THAT YOU APPLIED TO STARTING PEKOE & IMP?
It brought a more open-minded and methodological perspective on tea. Coffee people are so open and they discuss coffee at the scientific (origin, cultivar and roast) and technical (brew method, temperature and water type) levels, whereas tea has been mired in a slightly traditional and "proper" approach for a long time.
Coffee folk taught me to taste and identify flavours, understand the organic chemistry behind how flavours work, and that a collaborative spirit is important to promote specialty coffee appreciation in Singapore.
While working with folks from various coffee places, I found most of them very open to recommending other speciality cafes to their customers. They would encourage people to cafe hop and taste as widely as possible. They believed that only by helping people learn to appreciate specialty coffee can specialty coffee take root and grow here. Some of the newer tea businesses these days are doing the same now, which is really nice to see.
IS PEKOE & IMP YOUR FULL-TIME BUSINESS SINCE YOU ARE ALSO A SPEECH THERAPIST?
Speech therapy is my main job. After Smitten, I realised I couldn't give up speech therapy. But I fell in love with the interesting combination of geekiness and aesthetics in tea. Also, specialty tea is still quite a niche market. To be able to sell the kinds of teas in the way I enjoy, I am not ready to make it a full-time business at this point in time.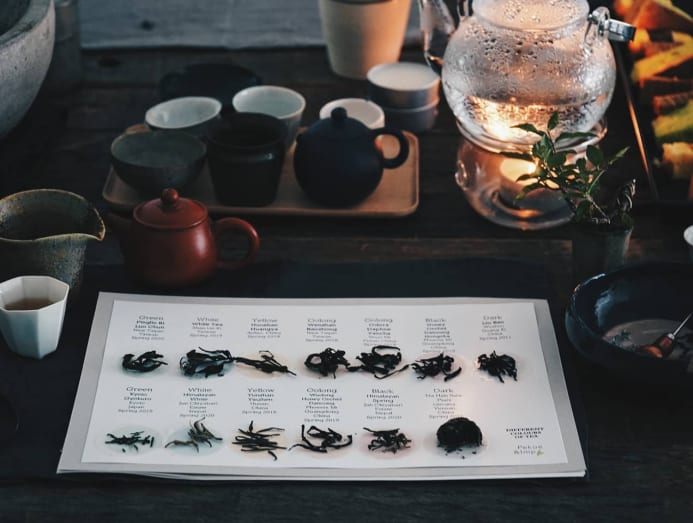 I UNDERSTAND YOU HAD A CO-FOUNDER PREVIOUSLY?
I met my co-founder J at Smitten. She was a regular customer and was into flavours in not just tea, but also other types of beverages and foods.
She studied under the same Chinese tea teacher I had and very quickly picked up the subtleties of how to brew tea well to bring out its best flavours. She was the one who taught me about using distilled versus mineral water to brew different types of tea.
When we started Pekoe & Imp, the focus was on tea workshops. Because we had spent a lot of effort learning about tea, we wanted to share the knowledge in a way that was approachable and fun.
J was with the business for two years and chose to leave to pursue other interests. But without her, I wouldn't have started Pekoe & Imp.
DO YOU DEAL MORE WITH BUSINESSES OR DIRECTLY WITH CONSUMERS?
I mainly sell tea and teaware online. I do work with a few cafes as well – I enjoy working with the people in these cafes tremendously. They are usually very knowledgeable about coffee and oftentimes tea, too, and that gives me an opportunity to learn from them.
Good-quality single origin teas can be considered pricy to serve in a cafe setting compared to the usual blends, so I am very grateful that these cafes would like to serve these teas.
HOW DO YOU SOURCE YOUR TEAS?
I work with farmers, plantation owners and overseas merchants whose curation I appreciate. Most of the farmers and merchants are folks whom I have visited personally, though the current travel restrictions make it difficult for us to meet the new folks we are working with.
HOW CAN SOMEONE TELL THE DIFFERENCE BETWEEN A SO-SO, GOOD OR GREAT TEA?
My personal opinion is that tea is easier to appreciate than coffee or alcohol. Tea's flavours are more upfront and obvious. Tea is one of those things that you don't need much tasting knowledge or training to identify when a brew is good. The flavours will be pleasant, balanced and textured. A bad tea, on the other hand, tastes unpleasant, is astringent or is uninteresting.
Most of our guests can tell if the tea tastes complex and interesting, or flat and boring, even if they cannot identify the notes. Many of them do not have tea knowledge but that does not make a difference. They can even agree that a tea is good but they may not like it.
One such tea is the Japanese gyokuro, which many can tell is complex and interesting because it can taste like sweet, brothy seaweed soup due to the umami, but they may not like to drink it.
WHAT IS THE BEST TEA TO GIVE SOMEONE WHO IS NEW TO SINGLE ORIGIN TEAS?
My friends and I always encourage new tea drinkers to try the dancongs first. These are a group of Teochew teas, which have naturally sweet and fragrant flavours that often mimic natural fruits or flowers.
The best dancong ambassador is definitely the Honey Orchid Dancong; it tastes of lychees. My current favourite of the dancongs is the Pomelo Blossom Dancong, which has a hint of pomelo as an end note.
YOU ALSO SELL BEAUTIFUL TEA CUPS, POTS AND ACCESSORIES. IS THAT AS MUCH OF THE BUSINESS AS THE TEAS THEMSELVES?
Yes! The journey of tea also led me to appreciate other things, such as specialty foods and bonsai, but nothing is as associated with tea as teaware. When I was learning from Beljean, I was taught certain teaware is more suited for brewing certain teas because of their mineral composition.
There are clay teapots we have that are dedicated to a specific type or group of teas because they bring out the best profile in those teas. Over time, we've also developed a love for beautifully made teapots. Many of them may not be as perfect as porcelain or specific clay teapots but having beautiful teaware also contributes to the enjoyment.
I always make the effort to use a potter's ware – at least one item – before carrying his or her items. This has, of course, been affected by the travel restrictions imposed by the pandemic, so I cannot meet the new potters. Meeting them is important because they help me understand their works. You see the potter's character, values and personality in the pieces.
I like to talk about the two Taiwanese potters I work with. Yang Huiting runs a tea studio with her husband, a renowned potter whose creations I cannot afford. They are simple artists who enjoy making teaware, and teaching and sharing about tea with like-minded folks. She has a love for the textures of old wood, which she recreates in the glazes of her gaiwans (traditional Chinese tea brewing vessels that consist of a lid, bowl and saucer).
Mei Zi, on the other hand, is an artist first and a potter. Her ware is more focused on aesthetic expression. She once mentioned that making artistic teaware is easy for her, but making them functional took a lot of time and experience. When you look at the teaware by these two different potters, you can see their personalities reflected.
HOW HAS THE PANDEMIC AFFECTED YOUR BUSINESS?
The pandemic has not affected my business too much, except that we do not get to do workshops or sell at events and markets, which takes away the in-person interaction with our customers.
I noticed that more people have picked up tea appreciation as a hobby due to the pandemic, so in a sense, the pandemic contributed to the growth of the single origin tea or kungfu cha community.
YOU HAVE COLLABORATED WITH FOSSA CHOCOLATE. HOW HAS THAT BEEN?
We enjoy working with Jay Chua and Charis Chia of Fossa Chocolate so much because they are such big explorers of flavours. Jay will taste anything exciting you offer him. Despite her delicate appearance, Charis will also sample the weird things that Jay offers her, and she works very hard to perfect the flavours she wants to project in her creations.
Not only that, Jay and Charis like to get to the bottom of the processes that craft-makers go through to achieve their unique flavours. They hold great respect for people who do things differently, even if the steps are more time consuming and tedious, just to achieve the right flavours and textures. They are constantly pushing the boundaries of flavour creation and are definitely role models for me because of how they run a proper, commercial business while preserving the level of craft in their creations.
I also regularly collaborate with gelato makers Butterknife Folk. They, too, are very adventurous with the tea choices they make to create new gelato flavours. For example, among the various teas they've selected this year, they picked liu bao, which is an earthy, woody-tasting tea that is similar to the pu'ers we drink at dim sum restaurants.
Many people would regard liu bao as an old person's tea and not the top choice for making gelatos. But the resulting flavour has an interesting ice kacang and herbal taste, likely because of the gelato's sweetness. The earthiness of liu bao comes through in the aftertaste of the gelato.
WHAT'S YOUR VISION FOR PEKOE & IMP?
We definitely want to be the name that pops up when people talk about good single origin teas, and a teashop that is geeky but fun and approachable at the same time.
We also want to spread the word that drinking good tea can be as easy as you want it to be. A lot of serious tea drinkers use the kungfu-style of brewing, which is not a tea ritual. It is just a method that uses a smaller pot to brew multiple steeps to taste the evolving flavours, with adjustments made to the temperature, steeping time and leaf-to-water proportion for different teas. Of course, you can just add hot water and drink if you like.
At the same time, we hope to build a tea drinking community that is discerning, but at the same time, friendly and collaborative. After all, tea brewing is not that complicated. Being able to taste whether the tea is good or not is not difficult, and tea is more fun when consumed with like-minded friends.
No meditation and zen required. I think our tag phrase sums up our values well. We drink serious teas less seriously.