The former ad exec who sells pre-loved toys and launched a cute card game during the pandemic
In this week's instalment of Creative Capital, we meet 45-year-old Italian expatriate Tulika Sahai who not only runs a curated toy company, but also has a platform for selling and buying pre-loved toys.
I first met Tulika Sahai at Boutique Fairs. As a father of three, I am always on the lookout for new toys, games and experiences to introduce to my little ones. At the fair, she showed me a game that she had designed herself titled Space Puppies. I thought it was charming, and as my kids are big fans of other card games such as Unstable Unicorns, I knew I wanted to show them Space Puppies and ask them if we should purchase a set.
Before I had the chance, by coincidence, a friend gifted my eldest child with the game. I highly recommend this fun, family game designed by the entrepreneurial and creative 45-year-old Italian expatriate.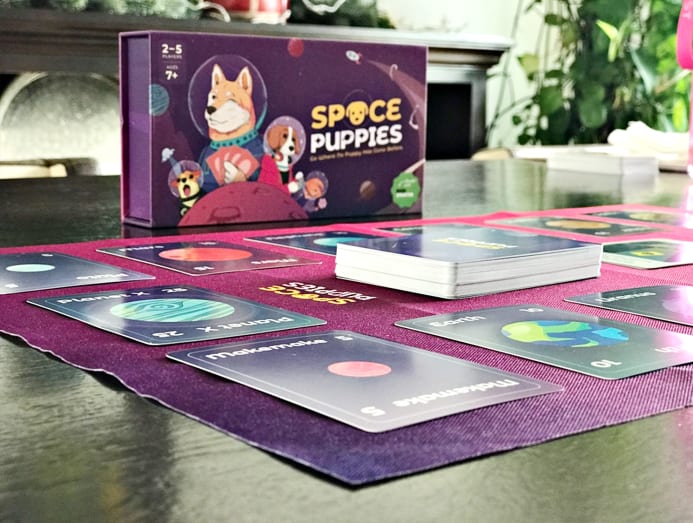 In addition to Space Puppies, Sahai also owns and runs Toy Around, a toy business that has a platform for selling and purchasing pre-loved toys, as well as curated selection of brand-new products.
HOW LONG HAVE YOU BEEN IN SINGAPORE AND WHAT BROUGHT AND KEPT YOU HERE?
I moved to Singapore with my husband and son, Ayan five years ago. A couple of years later our daughter, Amaya, was born. Raising kids in Singapore has been a joy so I think we'll definitely be here for some time. And the ease of living gave me the opportunity to be an entrepreneur, so that's the cherry on the cake.
TELL ME A BIT ABOUT YOUR CAREER PRIOR TO TOY AROUND.
I worked in advertising for 20 years before I started my own business. I was a Regional Strategy Director for Asia in my last job – taking brands and giving them an identity that would resonate with the people is what I loved! I have worked in five countries across most categories ranging from automotive, insurance, home care, personal care, travel, beverage, tech and travel.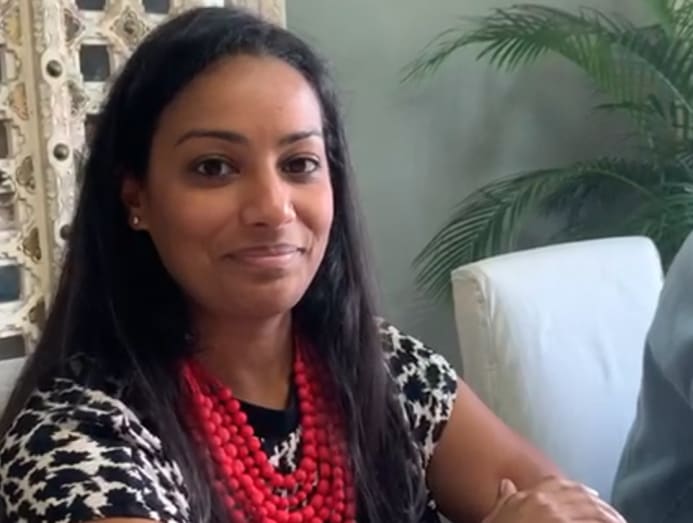 WHAT MOTIVATED YOU TO START YOUR OWN BUSINESS? DID YOU HAVE THE IDEA FOR TOY AROUND FIRST OR WERE YOU ALREADY LOOKING TO DO SOMETHING ON YOUR OWN?
I always felt I wanted to do something on my own. I just never had an idea that inspired me enough. My inclination was always towards doing something big enough that would impact society in some way. After having kids, I realised toys are slowly taking over the world, but not in a good way. So, I felt the Toy Around app, which allows parents to buy and sell used toys, was the idea I was looking for to impact the society.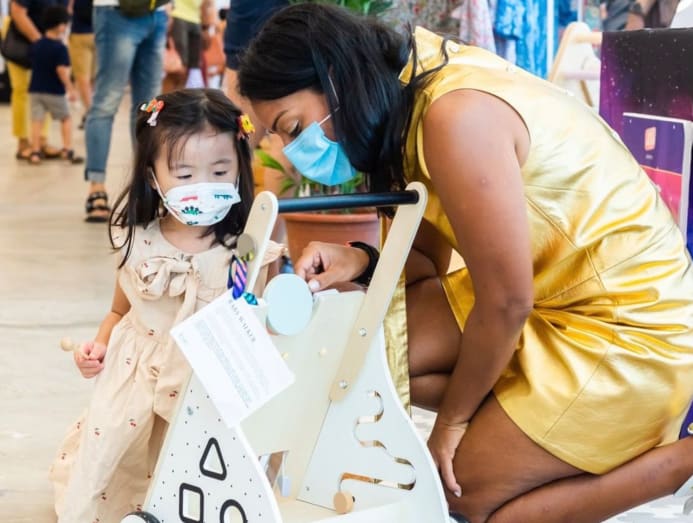 HOW LONG DID IT TAKE TO GO FROM IDEA TO LAUNCH?
It took nine months to get Toy Around up and running as an app first, and this coincided with giving birth to my second child. The website, where the brand sells new sustainably produced wooden toys by milestones was launched one and a half years later. Space Puppies, which we'll talk about later, was the result of five months of super solid hard work!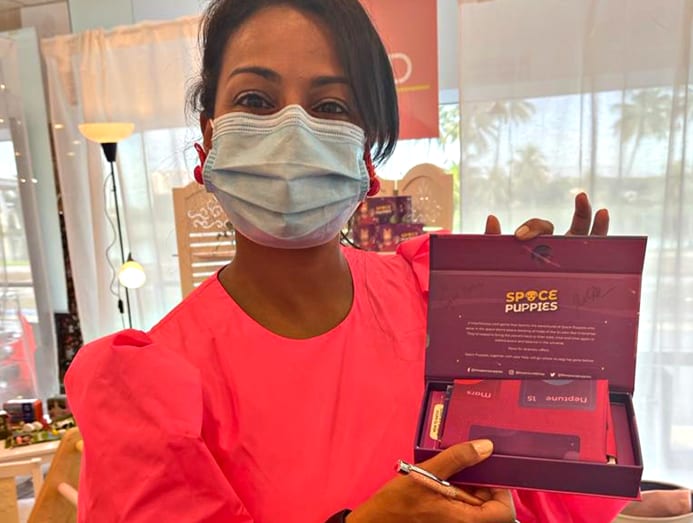 WAS IT SCARY TO STRIKE OUT ON YOUR OWN?
Scary, exciting, thrilling, crazy, and best decision ever! Having said that, the financial side of things wasn't the worrying part because I knew I'd figure that out. But the realisation that there isn't a safety net anymore, and if things go south the entire responsibility is yours was the scariest thing.
WHAT LESSONS FROM YOUR AD CAREER WERE YOU ABLE TO APPLY TO YOUR OWN BUSINESS?
Uncovering insights. Advertising is about thinking outside the box to understand what the consumer really needs, but don't know they need. For any idea to survive it needs to deliver against a real need. And also, working at all hours of the day! As a budding entrepreneur, with two little kids at home, you need to find pockets in the day to get the business started and for me that was usually at night after they went to sleep.
I GET THE SENSE THAT TOY AROUND HAS TWO DIFFERENT MODELS. ON THE ONE HAND, YOU CURATE NEW TOYS ON YOUR WEBSITE BASED ON DEVELOPMENTAL STAGES OR AGES, BUT YOUR APP IS ABOUT USED TOYS. WHICH IS THE FOCUS? WHY DO BOTH?
Thanks for asking this question. The essence of Toy Around is to help parents limit toy strain on the planet. And we believe that of all things in the world, toys have the power to bring joy to kids over and over again. So, we provide two solutions for that: either you can recycle the toys and allow others to enjoy them or buy toys that are designed to last longer not just by way of material but also open ended enough to continue growing with the interests of the child. In the meantime, the planet can get some respite.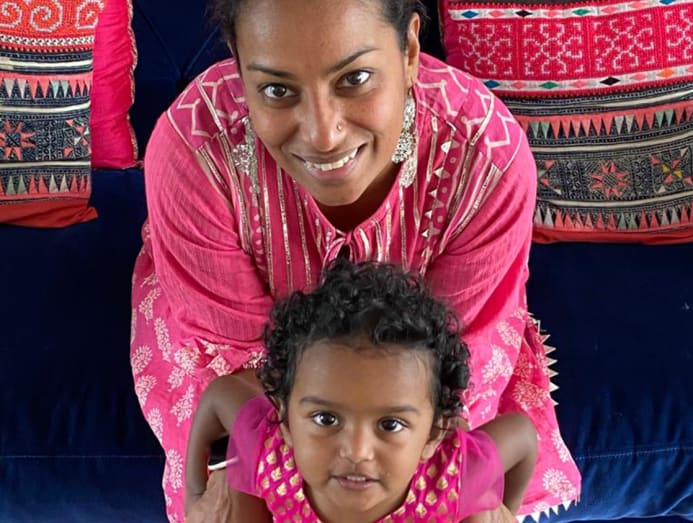 CAN YOU SHARE SOME THOUGHTS ON THE CIRCULAR ECONOMY MODEL VIS A VIS CURRENT CONSUMPTION PATTERNS?
I read a phrase somewhere that stayed with me, "our job as a collective is to make the world work better for 100 per cent of humanity in the shortest possible time".
In my mind, the circular economy, which utilises waste, is an answer to that question instead of our current consumption patterns which resemble more an equation of make-take-waste. I don't think the circular economy is rooted solely on Sustainability, although that certainly is a major part, but a circular economy is at its best when it brings in other aspects of humanity.
For example, with Toy Around Buy/Sell app, we are also promoting the idea of empathy amongst kids. Looking after their toy so that others can use it after them instils in them civic sense, therefore impacting society as a whole.
WHAT HAS BEEN THE MOST POPULAR TOYS ON YOUR SITE?
All of our toys have struck some nerve with the parents, because they are fun in unexpected ways but most importantly, they strengthen skills in ways that the child doesn't realise. Specifically, we have a Busy Cube which is designed for kids aged 12 plus months.
This busy cube is perfect to help build fine motor skills, allowing kids to really use their little fingers. It helps to build on logic skills early on whereby they start understanding cause and effect, or sequencing –  "If I do this, then this will happen". And finally, because they are impeccably designed, they last a long time.
HOW DID SPACE PUPPIES COME AROUND?
After the age of five, we noticed kids started playing games rather than toys. And since our website offering was limited to the younger years and the games market didn't have any innovative products, we thought why not create our own?
Space Puppies was also a result of being bound indoors due to the pandemic and having a five-year-old at home! He did help me come up with the card game in fact.
HOW LONG DID IT TAKE TO CONCEIVE THE GAME AND CREATE THE FIRST PROTOTYPE?
Not long at all, five months from conception to manufacture! We ran a Kickstarter campaign to validate our idea soon after creating a prototype. Within three weeks of launching on the crowdfunding website we met our target. That's when we knew we had something interesting on our hands.
WHY KICKSTARTER?
Kickstarter is a fabulous platform to test an idea that hasn't gone into production. The platform has seen $6 billion pledged to over 200,000 creative projects since its foundation in 2009.
Notably, Kickstarter has helped fund many now-famous card games, including Exploding Kittens and Unstable Unicorns. So that gave us some hope for sure. Also, it felt like a less risky direction than printing 1000 copies and hoping they sell!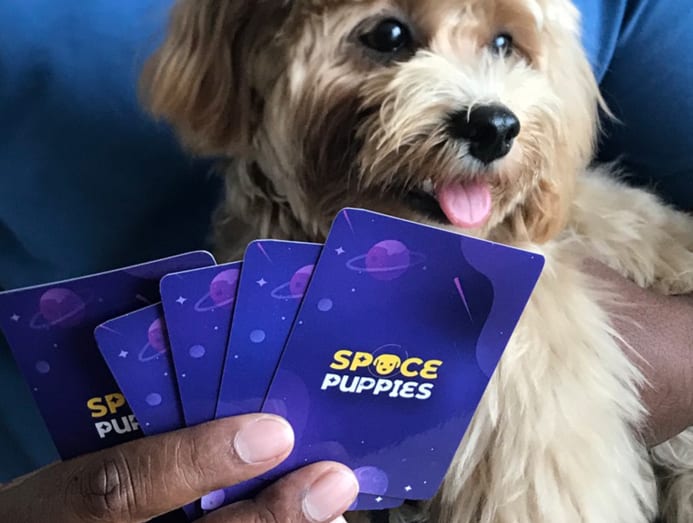 HOW HAS THE RECEPTION BEEN SO FAR?
The concept of dogs going into space has been very well received. The characters we created seem to have resonated with every player in some way, especially dog owners because they identify with the dogs in some ways.
And that in itself has been very encouraging and certainly a pleasant surprise! And the fact that it is all combined in a card game, gives us access to families in ways that we hadn't before.
WHAT DO YOU WISH YOU KNEW AT THE START OF YOUR ENTREPRENEURIAL JOURNEY THAT YOU KNOW NOW?
That I don't need all the answers. I always felt that I need to know exactly what I'm doing before I become an entrepreneur but turns out one knows very little and it's ok to learn along the way. I've had a steep learning curve, and dare I say I still do. There is always something you hadn't thought about. But it's ok.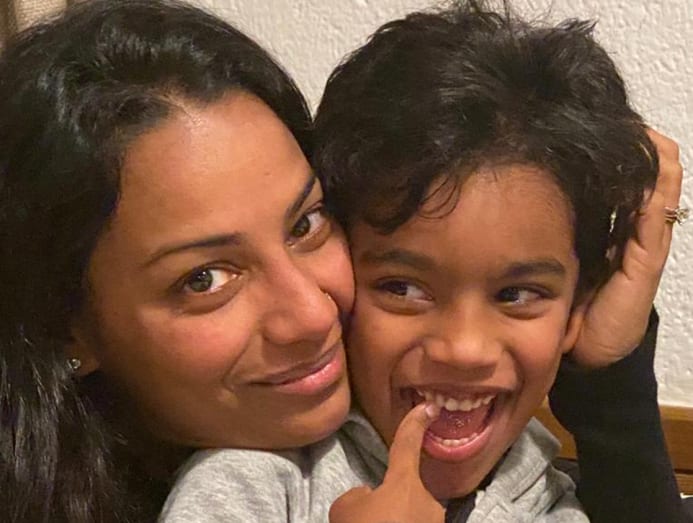 WHAT HAS BEEN THE BEST THING TO HAPPEN TO YOU SINCE STARTING TOY AROUND?
Space Puppies. I am super excited by this project and the fact that it is truly my creation. The satisfaction that comes from creating your own product, and seeing people react positively towards it, is inexplicable. I think Toy Around enabled that because of constantly living in an environment of play.
WHAT'S THE LONG-TERM BUSINESS PLAN? WHICH ASPECT OF YOUR BUSINESSES ARE YOU MOST KEEN TO GROW?
Space Puppies has huge potential and we've seen that through people's reaction. But not just that. Given the assets we have on Space Puppies – the puppies for example – opens us to explore the metaverse and we are certainly poised to explore that space, pun intended, in the near future. Toy Around's sustainable products will also be refreshed continuously to keep it relevant to the changing needs of course.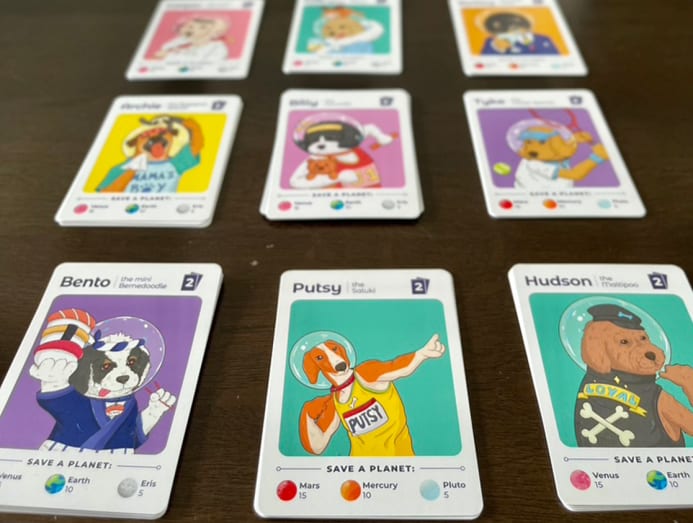 ANY OTHER IDEAS FOR GREAT GAMES IN THE WORKS?
Yes, we have a board game in the works. The premise of this new game is that the Aliens are taking over the universe and the Space Puppies have to work together to stop that from happening! It's a game of pure strategy suitable for kids aged five plus. We can't wait for it to hit the market!
WHAT INSPIRES YOU?
Joy. We entered the world of toys and games because it's an environment that is surrounded by joy – toys, kids, creativity, learning. The commonality between all these things is yoy. It feels airy fairy to say it, but I truly believe joy breeds joy. Whether it's business or personal.
And Gary Vee! He's an inspirational entrepreneur who always seems to have the right thing to say at the right time.