The new etiquette guide to post pandemic-era parties: Who to invite, who to gift, what to bring
Now that COVID-19 safety measures have been relaxed and the parties are back in full swing, how do you navigate the festivities in the new norm? Is it crass to size down your Christmas gifting or guest list? Is it rude to keep your mask on during a party when you're not eating?
For those of us who grew up attending big year-end parties with extended family and friends, celebrating Christmas in 2020 and 2021 was a real shock to the system. The safety measures in Singapore that capped visitors to a maximum of five guests per household meant that some of us have not caught up with our usual Christmas party buddies for the last two years.
Although the restrictions have been lifted, not everyone is keen to dance back into big-scale parties. We know some introverts, who secretly rejoiced at avoiding all the noisy shenanigans, are dreading having the festivities forced down their throats again.
Others may be looking forward to the merrymaking but feel uncomfortable with big group gatherings, given the fluctuating COVID-19 infections.
Do you have to revive your annual party? Is it okay to trim your Christmas gifting list? Any conversation starters to help everyone catch up in a jiffy? Time for a revised etiquette guide to ease us into pandemic-era parties.
MY PRE-PANDEMIC GIFTING LIST USED TO BE REALLY LONG – IS IT RUDE TO CUT BACK IN THE NEW NORMAL? 
Balancing the gifting scale is always tricky but after two years of not receiving – and not buying – gifts, people are more receptive to change. So, this year is probably your best shot at trimming your gift list permanently.
It is not just about cutting down on your shopping, it is also about not adding to the clutter, especially for those with young kids whose house is overflowing with toys.
However, you don't want to be caught off-guard at the party, looking like you've under-gifted. Send a group text to your fellow guests before the party. Thank them for their love and gifts over the years and ask if they'd be open to a simpler celebration from this year on.
Explain that your kids have more than enough toys and suggest exchanging a gift per family. You might be pleasantly surprised to receive replies of relief and support from everyone.
PRE-PANDEMIC, I USED TO HOST A HUGE PARTY BUT I'M NO LONGER COMFORTABLE WITH LARGE GATHERINGS BECAUSE OF COVID-19. HOW DO I INVITE FEWER PEOPLE WITHOUT OFFENDING ANYONE? 
Just like many hospitable folk end up hosting annual parties because it is expected of them, many guests attend out of habit too. It is perfectly fine to 'recalibrate' during this new norm. Your house, your party, your rules.
Give advance notice so your usual guests can make other plans. You can send a handwritten Christmas card or text a family photo with a heartfelt message. For example, "Dear Tan family, as we're downscaling our celebration during these pandemic times, we're sorry we won't have a chance to party together this year. Sending you and your loved ones Christmas cheer, blessings and all our love. Merry Christmas and Happy New Year!" 
I'M HAPPY HOSTING A PARTY FOR 20 BUT CONCERNED ABOUT ACCIDENTALLY EXPOSING ANYONE TO COVID-19. HOW DO I KEEP EVERYONE SAFE WITHOUT LOOKING LIKE A PARTY POOPER? 
You're doing the right thing in wanting to protect your guests and you'll be appreciated for it. A day before the party, send out a gentle (health check) reminder:
"We're looking forward to catching up with you at our Christmas party! If you feel unwell and are unable to join us, please drop me a line. For your safety, my family will be doing an Antigen Rapid Test (ART). We hope you'll join us and do the same before attending the party. Thank you in advance, and see you tomorrow."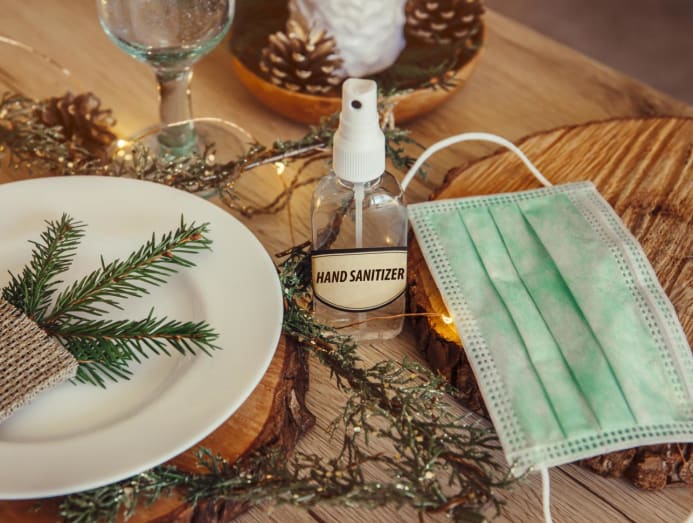 Provide a nice-smelling handwash in the washrooms and at your kitchen sink. Before inviting your guests to start their meal, let them know they can wash their hands first.
Prepare bottles of hand sanitiser at convenient spots (for example, at the presents table where guests will make their first stop, on the coffee table, at the kids' table) so guests can help themselves throughout the evening.
I'VE MANAGED TO DODGE COVID-19 SO FAR AND INTEND TO KEEP IT THAT WAY. IS IT RUDE OF ME TO KEEP MY MASK ON AT THE PARTY WHEN I'M NOT EATING?
No, it's a personal choice and you should not be made to feel uncomfortable about it. In fact, it would be rude to assume the host is happy with everyone going maskless. It's always prudent for guests to check with the host before entering the house, if they are okay with you removing your mask.
Let your host know about your situation but also be prepared for some quizzical looks throughout the evening. Offer a quick explanation first, rather than have other guests misunderstand that you're feeling poorly yet insisted on joining the party.
A simple "Hey guys, feel free to go maskless, I'm wearing one because I have vulnerable folks at home so I always keep my mask on to protect them. No worries, I'm not sick and I tested negative on my ART" will ease any niggling concerns.  
MY HOSTS HAVE NOT THROWN A BIG PARTY IN TWO YEARS SO I'M GUESSING THEY MAY BE FEELING A BIT OVERWHELMED WITH SO MUCH TO DO. WHAT'S A TOUCHING WAY TO OFFER HELP?
Do offer to bring a dish but don't just ask the cursory, "Do you need me to bring anything?" Many hosts tend to politely decline. Suggest bringing a dish that would complement what your host is preparing. For example, making a salad, roasted vegetables or veggie lasagne to go with the turkey.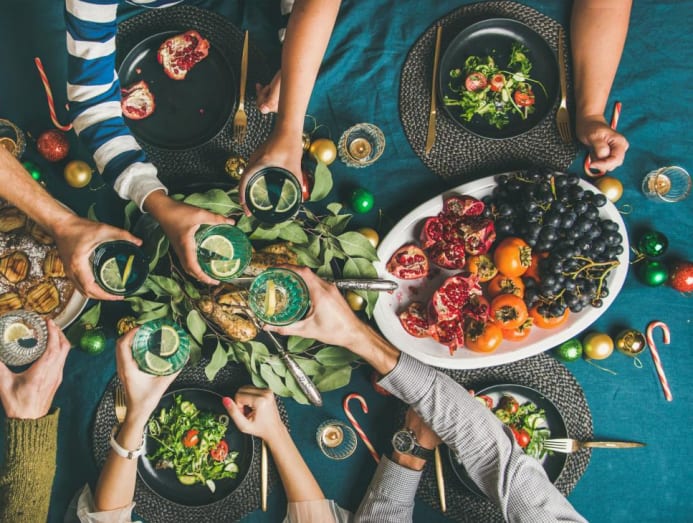 You could also bring something for the kids' table, such as finger food or even sparkling fruit juice. The kiddos will love feeling all fancy as they pop the bottle, alongside the adults with our real booze.
Dessert is always a popular option but check with your host if anyone (or everyone) else is bringing it. Your host might appreciate more help with the mains or sides, instead of inducing a sugar coma with six desserts.
Offer to come earlier to help. If your host insists they have the kitchen under control, you could set the table, prepare the drinks or take care of a Christmas activity. During the party, keep an eye out for things that need refilling, such as the ice bucket or paper plates, to take some load off the host.
Above all, let your host know how much you appreciate their generosity in opening up their home, and do your best to ensure they get to enjoy the party as much as you do.  
OOPS, I FORGOT THAT MY HOST AND MOST OF THEIR GUESTS DON'T DRINK ALCOHOL BUT I BROUGHT A BOTTLE OF WINE AS A PARTY GIFT. HOW CAN I SAVE THE SITUATION?
A sincere and short apology, "I'm sorry, I should have checked if you and your guests drink before I brought the wine", will do. If you think your host may be uncomfortable about having wine in their household, suggest bringing the bottle back with you and sending over another gift.
Most hosts wouldn't make a big deal so as not to make you feel uncomfortable. Some may even offer to open the bottle just for you. We suggest that you decline, especially if you're not familiar with how the other guests may react. You can still have a good time while sober, just this once.
SINCE WE HAVEN'T SEEN MOST PEOPLE IN SO LONG, WHAT ARE SOME QUICK CONVERSATION STARTERS AS WE CIRCLE THE ROOM TO CATCH UP WITH EVERYONE? 
We noticed that the most common ice-breaker these days seems to be about whether one has caught COVID-19 yet. Please, kill the chatter on thick phlegm and epic sore throats, if you don't want to spoil your party appetite.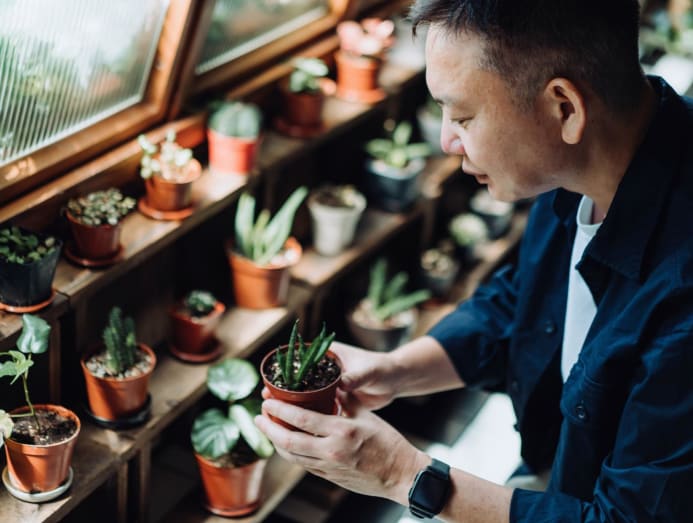 Keep the convo light and positive. Ask if they have picked up a new hobby during COVID-19. Many people started baking, cooking or growing plants and would relish the chance to share.                  
You could also ask what has been the best or most exciting thing that happened to them in the last three years. From having pandemic babies to career switches, many people made life-changing decisions and this is the perfect time to catch up with their lives.  
A sure crowd-pleaser is to trade travel plans. If they've already ventured out of Singapore, ask for a tip on a place to visit or a local restaurant to try.
If you don't have travel plans yet and don't want to stew in jealousy, find out how they spent their S$100 SingapoRediscovers vouchers given during COVID-19. Many visited local tourist attractions, went on walking tours or booked staycays – it's the perfect chance for you to crowd-source ideas for a date night or a day out with the kids, as you clear your annual leave.