'I feel alive when I am on my BMX': The 48-year-old 'uncle' who loves doing tricks
Tay Seng Tee can certainly teach you more than the wheelie if you're up for it. Check out our video below.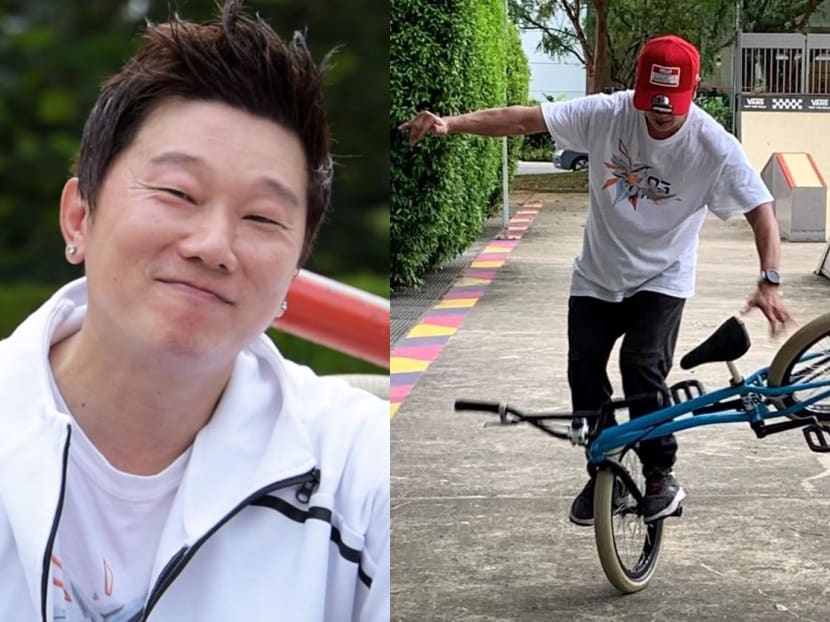 Commuters en route to work wouldn't have given the skate park next to Somerset MRT station a second glance. But on one Friday morning, in this domain of skateboarders – and instructors guiding their young charges up and down the halfpipe – a figure in a red cap would've stood out.
Like a human cyclone swirling with the force of a blue-framed BMX bike popped up on a wheelie, Tay Seng Tee harnessed balance, momentum and, undoubtedly, gumption, to put on a show for our video shoot.
"We do another take?" he asked, as the front wheel came down, ending the trick.
That, we soon realised, was going to be a question we were going to hear a lot – even when he was completely soaked by the rain that eventually arrived. "I can spray the water with the tyres. It'll be epic!"
If you're thinking Tay was a youngster trying out for an extreme sport video shoot, well, not quite. The automation engineer is a husband as well as a father and coach to two teenagers: A 14-year-old daughter and a 12-year-old son. He's also 48 years old this year.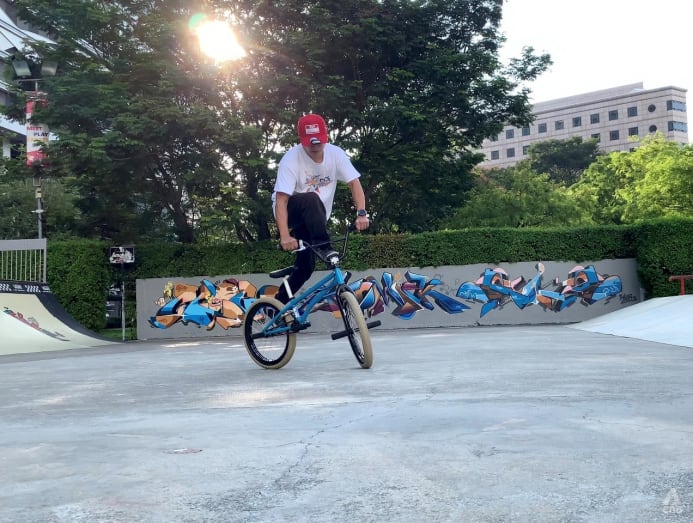 Tay certainly puts those half his age to shame with his energy and enthusiasm. He had coasted into the skate park on his BMX bike, with coffee and sandwiches for everyone hanging off the handlebar, and a backpack full of his own camera equipment. "I'm taking video for my own YouTube channel," he shared.
What the father of two specialises in is flatland BMX riding. It is a style that is sometimes described as a form of artistic cycling with a blend of breakdancing, at least according to Wikipedia. Tay agreed: "Flatland is a bit like breakdancing; to get from one move to another, we use the momentum of our bodies to link them".
Unlike the freestyle version we saw at last year's Olympics, flatland riding is traditionally done on flat, concrete surfaces. "But these days, flatland riding has evolved to have some elements of street styling," he explained, referring to the occasional use of ramps, jumps and rails.
FROM BASIC TRICKS TO PERFORMING AT EVENTS
Tay's first BMX bike at age 18 was a hand-me-down from his father's friend. "His son was no longer using it, so he gave it to my father for a token fee of S$20," he said, recalling that he shared the bike with his brothers.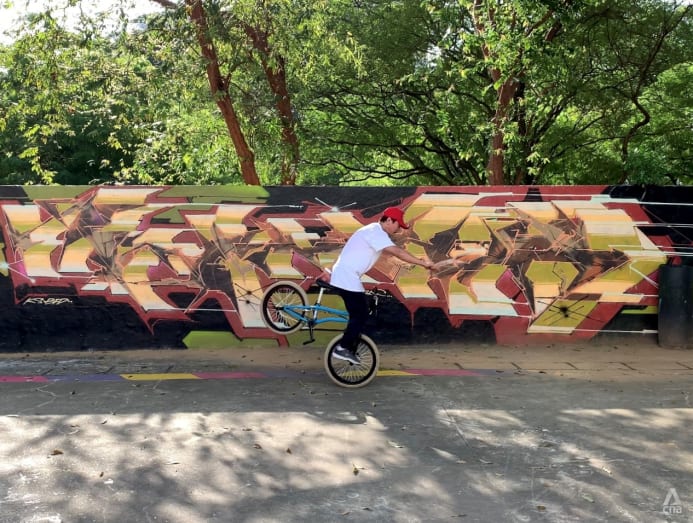 His siblings hardly rode the two-wheeler and Tay ended up spending the most time on it. "I would master a new trick every week and each time, my confidence to take up more challenging and difficult tricks grew," he remembered. "But the bicycle was not built for stunts. So I gradually upgraded its parts when I started working part time during the school holidays. By the time I was done, it was a completely new bike!"
That was in the early 90s, when kids still played with marbles at the playground, read magazines and watched movies on VHS tapes. "I loved anything that was BMX-related such as the ET movie. I would buy BMX magazines and VHS tapes, and get motivated to try new tricks."
He continued: "The earliest trick I mastered was the bar ride (standing on the handlebar and steering with the feet). I first saw it on a VHS tape and a magazine segment taught it step by step in a how-to tutorial. I was able to mount and stand up with both feet on the handlebar but I could never return to the pedals".
In BMX's early days, riders honed their craft at East Coast Park, Bishan Skate Park and Clifford Pier or what is now known as The Fullerton Bay Hotel. (These days, they practise just outside The Shoppes At Marina Bay Sands or in the underground area linking Esplanade and Citylink Mall.) "I remember it was Andy, a pioneer rider who showed me how to slowly bend my knees to go back to the pedals. That was when I finally mastered the bar ride trick," he said.
WHAT MAKES A FLATLAND BMX BIKE?
It doesn't have brakes (mostly): Sans brakes, the BMX bike is easier to maintain, lighter and most importantly, there are no brake cables that can catch your clothes, explained Tay. In fact, most of the flatlanders in the world ride brakeless now, he said.
However, Singapore's law doesn't allow brakeless bike riding and as such, Tay has installed the Gyro, a rear brake system that allows for 360-degree rotation, on the bikes he uses for tricks. (He has three flatland BMXes, a street BMX, a foldable bike and a mini bike.) 
It has a smaller sprocket: Instead of the 25-tooth sprockets that other BMX bikes use, the flatland bike uses a smaller, 20-tooth sprocket, so that it doesn't catch the foot.
There are plastic pegs: In place of smooth, metal pegs (cylinders that attach to the front or rear axle) that other BMX bikes have for the rider to grind on rails, flatlanders use plastic ones with grippy surfaces to help them with their tricks.
The tyres require higher pressure: We're talking about 90psi to 100psi, compared to the 55psi to 75psi range for street BMX bikes.
By then, Tay had already gotten the basic tricks in the bag such as riding backwards, the wheelie, bar spin, tailwhip and techniques such as scuffing (pushing on the tyre with your foot and making it roll). "When we first got started, we'd go with just one, two or three scuffs. Once you can hit four scuffs, you can try to cover a longer distance and incorporate left and right steering."
Soon, he was mixing tricks up to choreograph his sequence. "You first start with tricks A, B and C. As you get better with these three individual tricks, you link A to B, then A to C, C to B and other combinations. It's very freestyle. It becomes your signature trick. So far, my signature trick is standing on the handlebar of the bike."
Tay got so good that he went on to perform – sometimes with his daughter – at events in recent years, such as the FIBA 3x3 Asia Cup, Singapore Motorshow, Chingay and Star Awards. You may also have seen him perform at charity events and local BMX competitions.
His proudest moment, though, is being featured in Red Bull Illume 2021, a competition that gathered the winning works of action photographers worldwide.
"As we're speaking, they have my poster on tour in Europe," he said of photographer Ebrahim Adam's picture of him balancing on his BMX in a sea of pre-fabricated residential units. "It's now in Berlin (at the time of the interview), so a shoutout to Singaporeans there to tag me if they see it!"
Tay's Instagram Story collaboration with Adam was also featured, this time in Red Bull Illume Special Image Quest 2020's overall and Storytale category, which celebrates action sports creativity on the social media platform.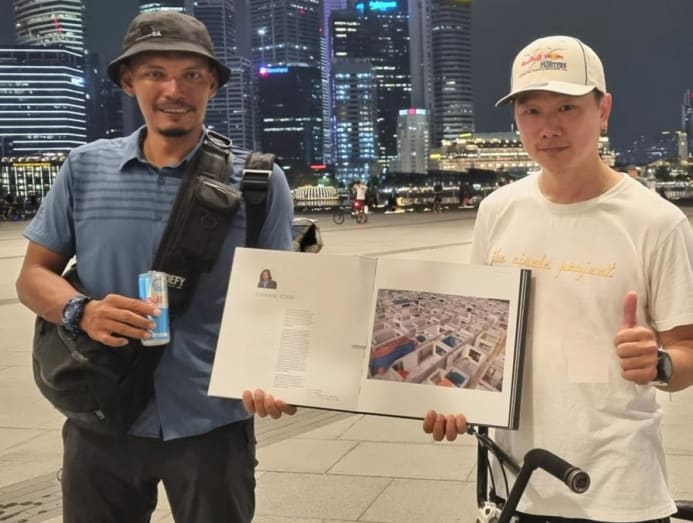 FAMILY, WORK, THEN BMX
Tay observed that the new generation of "extreme freestylers" are more into fixies (fixed-gear bicycles) than BMX – if they aren't already into skateboarding, longboarding and roller-skating. But regardless of the mode, "I always respect them and their space and element. We are just drivers driving different cars".
There is a public group on Facebook consisting of more than 970 members but the veteran rider isn't sure about the number of regular riders "as only a few active ones ride regularly". His contemporaries, who rode with him in the 90s, for instance, have mostly dropped off the radar. "Some even switched to foldable bikes for casual riding," he said.
Still, Tay isn't ready to downgrade to gentler activities just yet. Even a bad fall – and a subsequent health scare – last February didn't deter him.
"The back pain from the fall did not go away but worsened instead. The fall was a blessing in disguise because an MRI scan to check my back found a tumour. Luckily, it was benign and resulted in the doctor removing about 4cm by 6cm of tissue from my back," he said.
"I feel 20 years younger now. I am able to relearn my old tricks and continue to push the boundaries to learn new ones. I have even pulled off some hard tricks that I couldn't do when I was 20."
My body is like an old car and I've renewed my COE. My engine is still running well. Just need to warm it up and it is good to go.
What has further changed for him since his teenage riding days are the added responsibilities of work and family. "On Friday nights, which are my BMX-riding time after work, I will ensure that I take care of my family first, including housework, before heading out to ride," he said.
"Family is my top priority, followed by work. For instance, when my kids came down with a fever and tested positive for COVID-19, I stayed at home to take care of them. Riding can wait for another week."
As for his parenting style, it is pretty much the same ethos he applies to riding. "Academically, we don't stress over achievements but the learning journey. The philosophy is, whatever the kids do, they do their best".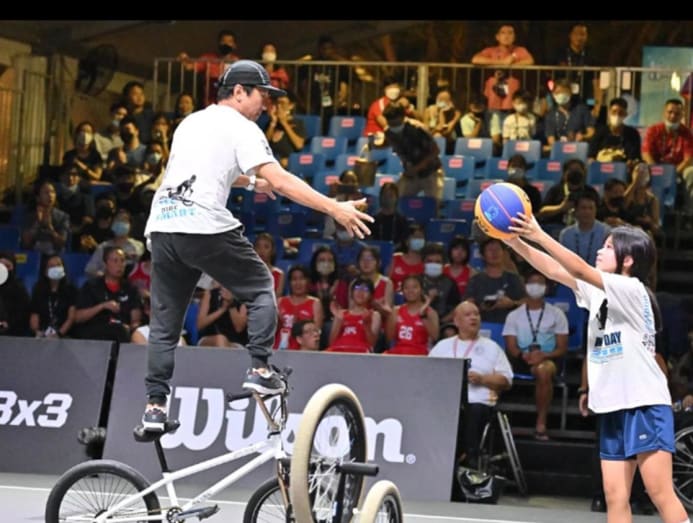 MAKING IMPRESSIONS
The combination of Tay's youthful appearance, age and his choice of extreme sport often catches people off guard. "Those who don't know my age are often surprised and impressed. Those who know me will tease me about my falls on YouTube. Some will show concern and ask me to be more careful," he said.
Tay started his YouTube channel a few years ago to keep his in-laws in Thailand updated on their grandchildren's lives. By chance, he discovered that his subscribership would increase whenever he posted BMX-related content.
"I am aware that not everyone is into BMX, so I try to make my videos entertaining. The last one I did had a 'choose your gamer' concept. I'd shoot a bit each day, then edit when I have the time. It took me a year to make as there were a lot of technical things to look into. I'd keep watching and editing until I am satisfied with the end result before posting."
Flatland riding has also proven to be a family-bonding activity with his children – and provided him with some life lessons. "I teach my kids how to do the tricks on the BMX like how I teach everyone else. Instead of thinking about falling, I focus on what is workable.
"Take downhill riders, for example. They don't focus on the trees on the sides; they focus on the path they're on. If you focus on the obstacles, you're not going to clear them. You focus on the path to keep going."
Other than his children, this self-described "uncle" has also taught kids as young as six years old. "Their parents would take them to join us at Citylink Mall."
He hasn't ruled out the possibility of teaching older individuals. "It is similar to swimming. First, you need to overcome the fear of water. For BMX, you need to know the risk assessment and how to bail from the fall. When this stage is overcome, you may proceed to learn the basic tricks."
As for age putting the brakes on his own riding, Tay isn't letting that happen yet. "My body is like an old car and I've renewed my COE," he laughed. "My engine is still running well. Just need to warm it up and it is good to go.
"So why stop when my engine is still running great? I feel alive when I am on my BMX. I will keep riding till my engine fails me. Hopefully, that day will never come as I plan to keep renewing my COE."
Meet Tay Seng Tee, an automation engineer, father of two teens – and an avid flatlay BMX rider. CNA Lifestyle finds out what drives him to pursue his passion on two wheels ever since he got his first BMX at the age of 18.