From Our Backyard: The family doctor and her favourite moringa tree that yields tasty and healthy dishes
In our new mini-series on sustainable garden-to-table lifestyles, we meet physician Elly Sabrina, who began gardening during the pandemic and is now reaping the rewards of her greens not only through healthier eating but also through bonding moments with her family.
Like many of us, Dr Elly Sabrina, a family physician in private practice, found herself with extra time on her hands when the COVID-19 pandemic struck and decided to pick up a new hobby – in her case, gardening.
"My husband is the one who's into gardening, composting, rainwater harvesting, DIY solar harnessing, chicken farming, what-have-yous. I was frustrated by how messy and disorganised he is. Since many of my meetings, lectures and seminars were cancelled, I decided to pick up gardening more seriously in order to make our garden look more acceptable," quipped the mother of two, whose 23-year-old daughter and 21-year-old son are both undergraduates at the National University of Singapore.
Each morning, Dr Elly spends about 20 minutes doing a quick round at the 6m by 10m garden of her terrace house in the western part of Singapore, before heading off to the clinic she works at. Her husband, Dr Zuraimi Mohamed Dahlan, who is also a family physician, and her son, Edel Hakeem, are in charge of watering the plants daily.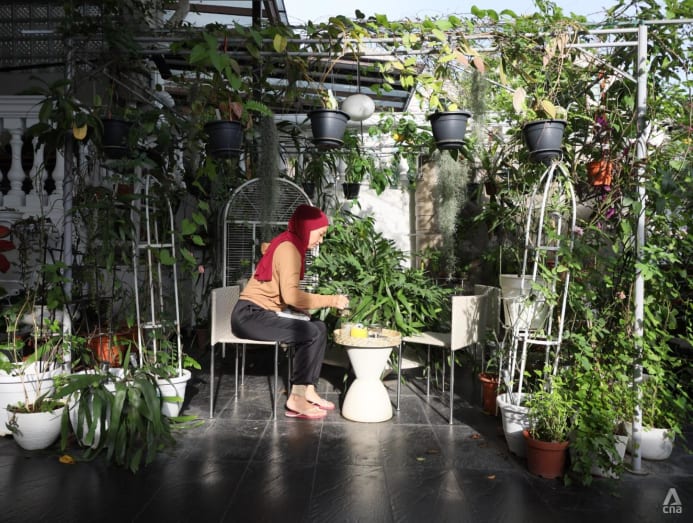 "I find gardening is like doctoring. There is this saying: 'The most important point for the success of gardening is the shadow of the gardener'. That means you have to look at your garden every day," she said.
"So every morning, I make my morning 'grand bloom' round or 'garden round' so that I can pick up any pests around or check if some plants could use a bit of care. When I pay attention to them, they grow. The nurturing of plants is like nurturing patients at the clinic."
On her days off, which are Tuesdays and Saturdays, she devotes about two hours each time to do pruning, weeding, planting, repotting, adding fertiliser and harvesting.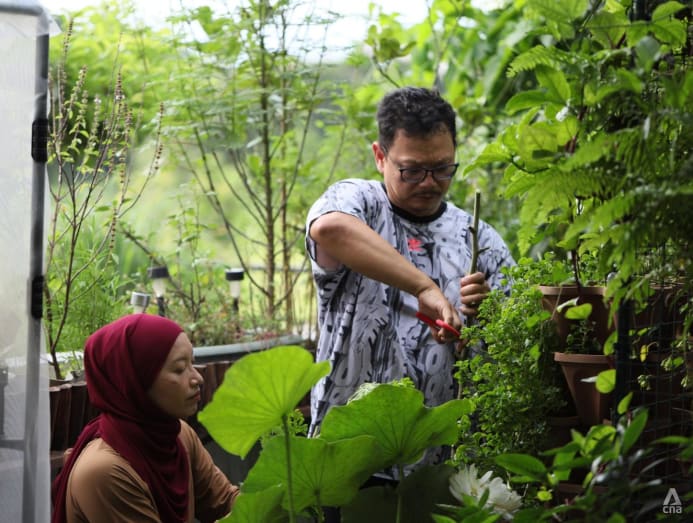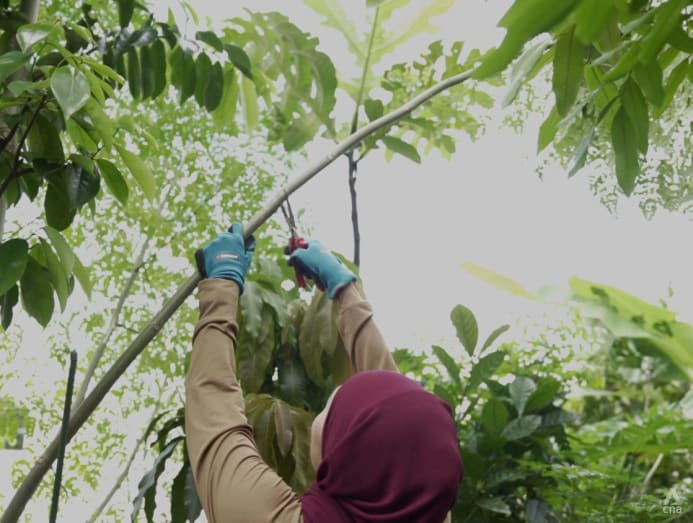 Her favourite plant is her moringa tree, which her clinical assistant gifted to her when she was just starting out her gardening journey.
"She said: 'Doctor Elly, don't worry, just plant it into the soil, and it will grow and never die'. She was right!", recalled Dr Elly.
Also known as the drumstick tree, horseradish tree or ben oil tree, the moringa is native to the Himalayan foothills of India and Bangladesh, and is one of the fastest-growing trees, growing about 10 ft annually,  and reaching a height of 25 to 35 ft when mature.
Established moringa plants are low-maintenance and require little care, especially if grown outdoors year-round. Regular pruning helps keep them healthy and promotes leaf growth, while preventing the tree from becoming too tall. 
What's more, moringa leaves, which can be added to soups, stews, curries, stir-fries, scrambled eggs and omelettes, are high in protein and have anti-diabetic properties. They also contain seven times more vitamin C than oranges, and 15 times more potassium than oranges.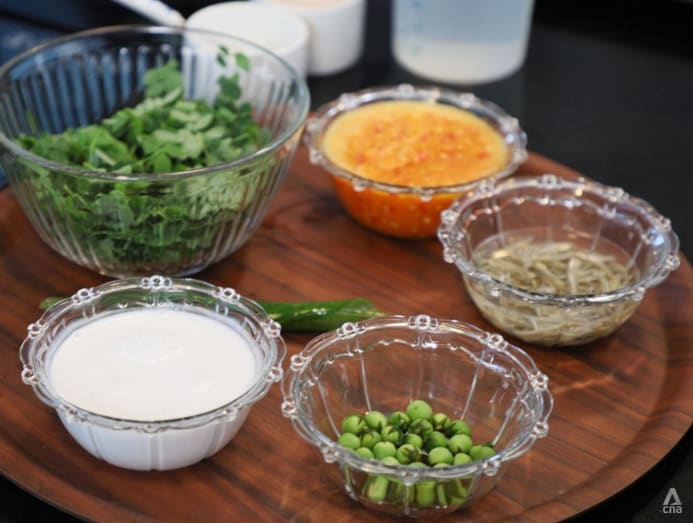 A simple dish that Dr Elly often cooks, using ingredients freshly harvested from her garden, is lemak pea eggplant and moringa. She soaks ikan bilis, blends a large onion together with turmeric and cili padi, adds equal amounts of coconut milk and water, and finally, when the mixture comes to boil, throws in the pea eggplants and moringa to make a tasty, spicy stew.
The moringa tree sparked Dr Elly's interest in growing mainly edibles in her garden and she easily rattled off a grocery list worth of plant babies: "Ulam raja, basil, dill, kaffir lime, Chinese chives, Ceylon spinach, Brazilian spinach, kangkong, bak choy, American kale, curly kale, mustard, lettuce, watercress, roselle, pandan, mint, Black Face General tea, curry, melinjo, katuk (sweetleaf)…"
She added: "Sometimes as physicians, we are very into Western medicine, pills and all that. And then you find out about how food can actually be used to create healthier living."
Of course, the doctor in her couldn't resist extolling the health benefits of adopting a plant-heavy diet. "Most greens are nutrient-dense yet low in calories, full of vitamins, minerals, antioxidants, and help in maintaining a healthy weight. Thus, they're anti-diabetic, anti-hypertensive, anti-cholesterol, improve heart health and reduce the risk of cancers linked to obesity," she said.
Her garden is also home to fruit trees such as passionfruit, rose apples (jambu), carambola (starfruit), longan, noni, kedondong, mango, custard apple and soursop. "Not all are fruiting though," she said regretfully. "I need more space!"
Health benefits aside, Dr Elly added that this hobby of hers has also proven beneficial for family bonding. "I share a passion with my husband. That really brings us really close to each other. I find that it's also good for our children. Gardening has taught them a sense of responsibility."
And it comes with social benefits too. "We became closer as a community here in this small neighbourhood, as all our neighbours are into gardening. We started sharing our produce, especially with my neighbour next door, so that's really nice."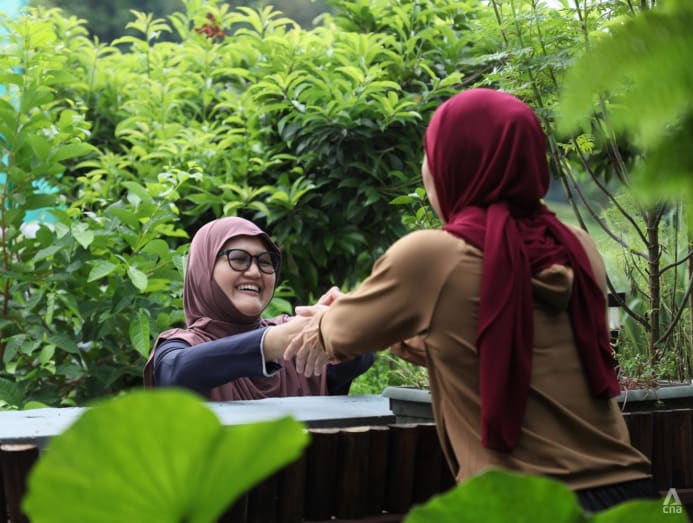 Gardening has also imparted some valuable life lessons. "What gardening has taught me, is to not be afraid to try. Of all the plants that you see, you know there will be some that survive, and some that will die," said Dr Elly.
And what's the most important tip she wants to share with newbies flexing their green fingers? "Never give up! You'll finally find the one plant that will thrive in your hands."
She added: "Gardening has opened a whole new world for me because I've made new friends who share the same passion, and it's introduced me to other forms of sustainable living because once you garden, you are more aware of the world and the little things you can do towards making the world more green."
At work, Dr Elly Sabrina takes care of her patients. At home, she keeps busy with her plants – including her favourite moringa tree, one of the healthiest edible plants around and perfect for her dish lemak pea eggplant and moringa leaves.