The woman behind Chokmah's candy-coloured trays has had an equally colourful career
Joyce Orallo was an interior designer and then a flight stewardess. She was even going to become a minister. Today, she makes home accessories and runs a successful business based on a groundbreaking material that can be recast over and over. Find out more in this week's instalment of Creative Capital.
Thirty-five-year-old Joyce Orallo has an interesting CV. After graduating from the LASALLE College of the Arts, she worked as an interior designer but at her mother's advice, changed careers and became a flight attendant. After doing that for a while, she decided to explore her faith, enrolling in a theology programme with the intention to become a minister.
Today though, Orallo, while still spiritual, is promoting sustainability through her company Chokmah (pronounced hok-mah, meaning "wisdom" in Hebrew). The company, which she started three years ago, produces homeware out of jesmonite, a unique material that can be recast over and over. The business combines Orallo's background in interior design, her experience working with people and her passion for environmental responsibility. Customers can purchase directly or sign up for her very popular workshops, where they can learn to make their own pieces
WERE CREATIVE PURSUITS SOMETHING THAT WAS ENCOURAGED IN YOUR HOME?
My creative influence mostly comes from my father, who is an architect. Growing up, I would always be around my father while he was working at home. He would pass me his old drafts and designs, and I would use them to draw and colour. At a young age I was already exposed to various design styles. I grew up playing with model houses and was fortunate to see how a design that starts on paper becomes an actual building.
On days when my father was not using the computer for work, he would let me use the Paint software. I could spend hours on it playing around with the colours. Unknowingly, I guess, I grew up designing and it encouraged me to pursue the arts in my secondary school years, which led me to LASALLE College of the Arts, where I graduated with a diploma in interior design.
YOU DABBLED IN A FEW VERY DIFFERENT INDUSTRIES BEFORE STARTING CHOKMAH. HOW DID THAT HAPPEN?
While working in the interior design sector, I really enjoyed interacting with people and designing their homes. It was most fulfilling to see my designs coming to life in this way. However, my mother encouraged me to pursue a career as an air stewardess. I wanted to respect her wishes so I agreed to give it a try.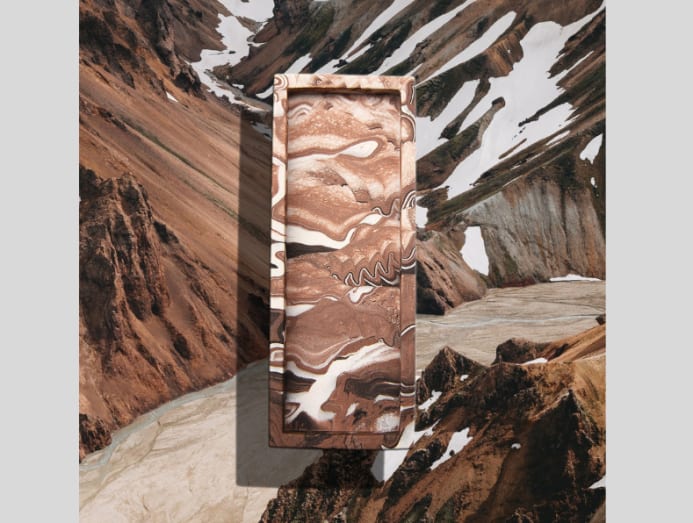 But I soon discovered that the arts were in my blood. It's not that I didn't enjoy flying – I love travelling and interacting with people of different cultures – but I couldn't be creative. I'm also really close to my family and being away from them made me homesick.
My parents embraced Christianity when I was in primary school. I didn't know much about it back then but as I grew older, I began to question the purpose of my life. I soon started to believe that I had a greater purpose – a calling. I wanted to make an impact in the world. So, after leaving the airline industry, I took a theology diploma with the intention of becoming a minister. 
But after getting married, I got pregnant and my husband and I decided that I would stay home and take care of our son, Jireh.
TALK US THROUGH HOW CHOKMAH CAME ABOUT.
Chokmah is actually an evolution from my previous business, Vinreh. 
After my son was born, I started taking pictures of him and my family, and uploaded them on Instagram. Soon, I started getting messages from people wanting me to represent their brand. I would do a post, and tag their brand and products – the photos had made me an accidental influencer. I would also help local companies manage their social media marketing and content creation. Friends and family began asking me why I didn't just start my own company and that's how Vinreh was formed. 
Later on in that journey, I realised I wanted to create physical designs and began experimenting with turning polymer clay into jewellery. I would sell my designs at flea markets and even started teaching workshops. During this time I noticed how experimenting with designs was creating a lot of material waste. I had large boxes of waste after my workshops. It made me realise I had to become more responsible; my business had to be more sustainable. So I did some research and discovered the material jesmonite, which was then only available in the UK.
Jesmonite is eco-friendly – it can be recast repeatedly. Using jesmonite, materials from failed experiments and prototypes could be remoulded into new products instead of being thrown away.
This was the "aha" moment for Vinreh and the beginning of my Chokmah journey.
TELL US MORE ABOUT JESMONITE.
Jesmonite is a composite material invented in the UK to be an eco-friendly alternative to cement and plaster. It was initially used for architectural purposes, but became warmly received and loved by crafters and sculptural artists due to its non-toxic, water-based, durable and fire-resistant properties. Working with jesmonite is also easy, making it ideal and comfortable for beginners. It also comes in a wide range of vibrant colours.  
WHAT KIND OF PRODUCTS DOES CHOKMAH OFFER?
My current product line is focused on homeware. I am drawing on my interior design background to create fashionable art pieces that add value to anyone's home. The current collection consists of terrazzo and marbling designs.
Products that fail our quality check, as well as unsold pieces from previous collections are recast into designs for our "Broken Made Whole" collection. When a design from one collection is combined with that from another, they create a unique piece.
I've been experimenting with marrying the beautiful colours of jesmonite with materials like resin, dried flowers and gemstones to much success.
I'm also working towards building my own furniture to explore more applications of this wonderful material.
WHAT CAN ONE LEARN FROM YOUR WORKSHOPS?
We hope to bring out the creativity in all of our students. We encourage them to be bold with their designs and we help them to achieve the results they want, while teaching them that mistakes are part of learning. 
Students also learn the properties of jesmonite and how to bring out their vibrant colours. 
We share our sustainability process at the Broken Made Whole coaster workshop, where participants can experience first-hand how we salvage broken pieces and turn them into beautiful coasters.
HOW HAVE YOUR PAST EXPERIENCES HELPED SHAPE YOU AS AN ENTREPRENEUR?
Growing up I always thought I had to work for someone. What changed my mindset was remembering that my grandfather had his own company and that he enjoyed every moment of it.
I also remember all the discouraging comments I received for wanting to study the arts. Some said it was a waste of time and that it had no future. A few even told me leaving the airline industry was one of the biggest mistakes I could ever make. 
I'm glad I took that leap of faith despite it all.
WHAT ARE SOME OF THE HIGHLIGHTS OF RUNNING CHOKMAH OVER THE LAST THREE YEARS?
One of my highest points was successfully building a creative community through my workshops. It's given me the opportunity to meet other local crafters, to learn from them and to collaborate with them. It's such a humbling experience to meet those who have been at it much longer than I have. I have also enjoyed meeting budding artists whose challenges may be different from mine. It's such an honour to be a part of this community. 
In the spirit of building communities, many of my students and customers have become friends, who have opened up other avenues through which we can share our sustainability initiative. I've lost count how many doors have been opened for Chokmah through them. All it takes is just one point of contact and it's continuously linked to many other possibilities.
Best of all, my craft has made it possible for me to help support my family while still spending them with them. Many precious memories might have been lost if I'd been working an office job or in the airline industry.