He designs genderless athleisure for men and women that's perfect if you dance or do yoga
In this week's Creative Capital, we talk to Leonard Cheong, who left a long career in public relations to pursue dreams of designing modern, genderless athleisure that would appeal to anyone.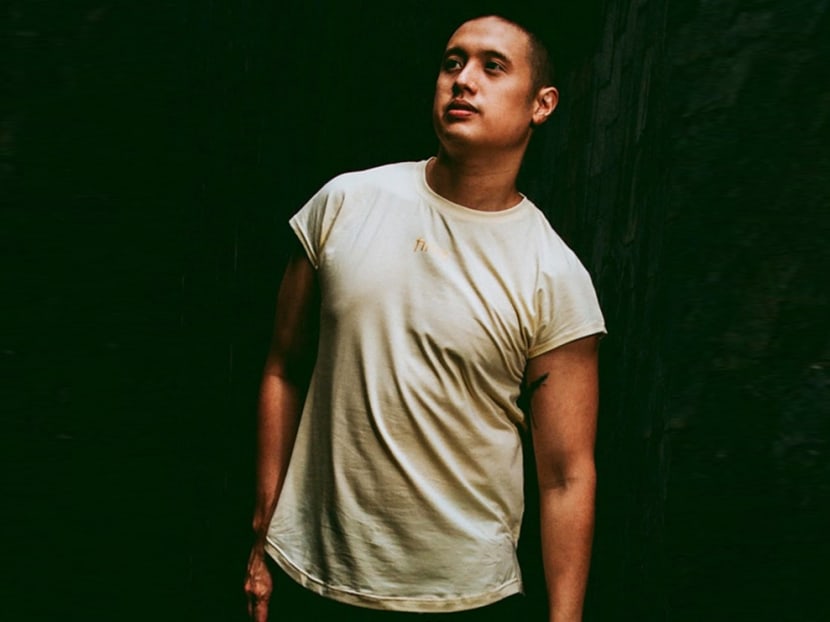 In one of our previous interviews, we met a young entrepreneur who has put sustainability at the centre of her athleisure brand. For her, that meant pursuing environmentally sustainable materials and ethical suppliers, and finding ways to give back through her brand. Sustainability, though, can also translate as creating garments that fully embrace the diversity of today's customers.
One local athleisure brand that is trying to do this is Finix, founded by 38-year-old Singaporean Leonard Cheong.
Finix specialises in genderless, modern athleisure, informed by Cheong's past experiences as a dancer and current passion for yoga (he's a certified instructor). Having felt that athleisure catered to specific body types and customers, Cheong, who spent his career prior to Finix in public relations, launched his brand in January 2020, just months before the pandemic changed our lives.
Finix has just launched a new collection, titled "Freedom".
HI, LEONARD. YOU WERE A PR PERSON IN THE FIRST PHASE OF YOUR CAREER. WHAT PROMPTED YOU TO SWITCH CAREERS AND START YOUR OWN FASHION BRAND?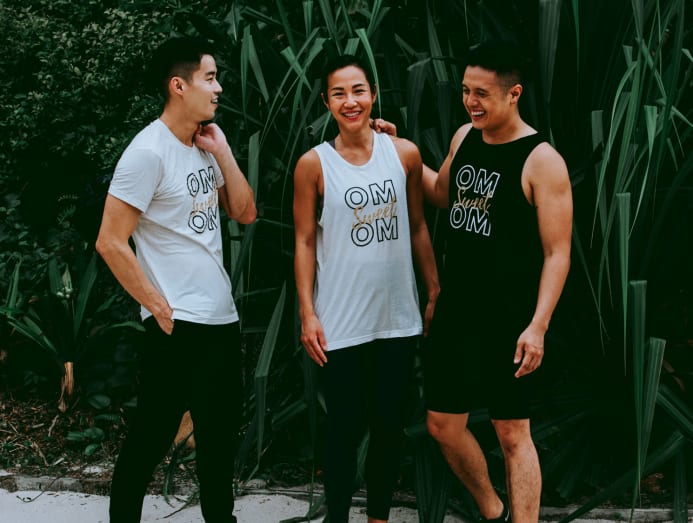 The idea of switching careers had been in my mind for quite some time. I think I was already thinking about that right before I applied for a job opportunity in Japan back in 2009. However, the catalyst that finally made me make the career switch came in 2017 when I was going through a very challenging period of my life. It was a very existential moment. I was feeling a lot of negativity that stemmed from my aversion to proactively changing my circumstances.
The idea of starting my own fashion line, though, only came to me very recently, in the past two or three years. Truth be told, I was doing okay at my day job but I think what was gnawing at me deep inside was this nagging feeling that I was not realising my full potential. This kickstarted my journey of introspection and self-reflection in which I started noting down all my strengths and what brought me the most joy.
In the end, fashion, art, design and creativity came up highest on the list. I eventually went with fashion because it sat right at the heart of everything I wanted to do and achieve for myself: Creativity, commerce and building a community.
HOW LONG DID IT TAKE YOU TO GO FROM IDEA TO ACTUALLY HAVING PRODUCTS READY FOR SALE?
I started my brand Finix at the beginning of the COVID-19 pandemic in January 2020. So, my product development timeline would not be the most indicative of standard industry timelines.
I ran into a lot of manufacturing and logistical issues and delays. Factories then were not running at full capacity due to the economic and manpower uncertainties. Logistics was also slow and limited as countries were going into lockdown.
My most recent collection took slightly more than a year to land the right manufacturing partner who had the capabilities and was willing to see the project through from start to end.
WHY GENDERLESS?
It actually started from a personal pain point: I did not see much variety of styles and looks in men's activewear. Mainstream brands were offering all the same styles built for the archetypal "male" in fitness – and I felt that was very restrictive and limiting.
Taking a genderless style approach with Finix, I felt it would give people the power to decide and choose how they wanted to dress and express themselves in their everyday active clothes. Going genderless also allows for cross pollination and hybridisation of designs from both ends of the spectrum, which I find very empowering and uplifting.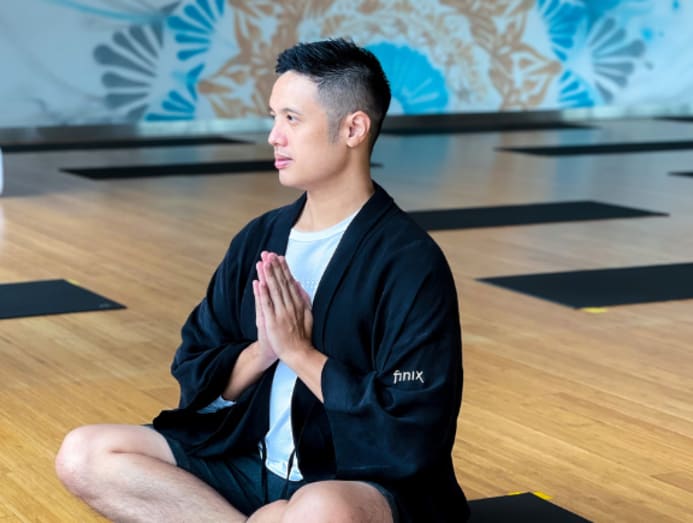 DO YOU FEEL THAT THE MAINSTREAM FASHION INDUSTRY HAS BLINDERS ON WHEN IT COMES TO CERTAIN AUDIENCES?
Of course it does – but so do other industries. As a brand or business you can't be everything to everyone. Certain segments of society are bound to get left out. But I think the problem arises when industries persistently overlook these segments or individuals' needs and/or desires, and perpetuate a certain look or way of dressing that becomes prescriptive and limiting - particularly if the look or style does not reflect the reality of most people on the ground.
HOW HAS THE RESPONSE BEEN TO FINIX SO FAR?
I would say it's progressive. It definitely has taken time for people here to warm up to the concept of genderless fashion. When you live your entire life seeing the world in a binary, it's hard to imagine one beyond it.
Since I started the brand, I've had people come up to me and say, "Isn't genderless fashion just unisex clothes?" There are some who even think it's too risque and can only be worn by a certain segment of society - the progressives and the LGBTQIA+ community.
What I tell these folks – and everyone for that matter – is that genderless fashion is for everyone. It is all of that, and more. Genderless fashion is about bending fashion rules. It's about self-expression and self-empowerment. It's about wearing what you want rather than what the world wants you to wear.
DO YOU DO ALL THE DESIGNS YOURSELF?
Yes, I do. The designs we have at Finix are physical manifestations of what I have not seen – and wish I did – in the athleisure world.
WHAT HAVE YOU LEARNT ABOUT RUNNING A BUSINESS THAT YOU WISH YOU KNEW WHEN YOU STARTED IT?
To trust my instincts more and just look forward. I used to struggle a lot - and still do, although much less now – with my own self-belief. But I think since I started running this business, I've definitely learnt to trust my gut more. All I can say is, you can do all the research in the world but if you can't trust your own instincts, you'll never move forward.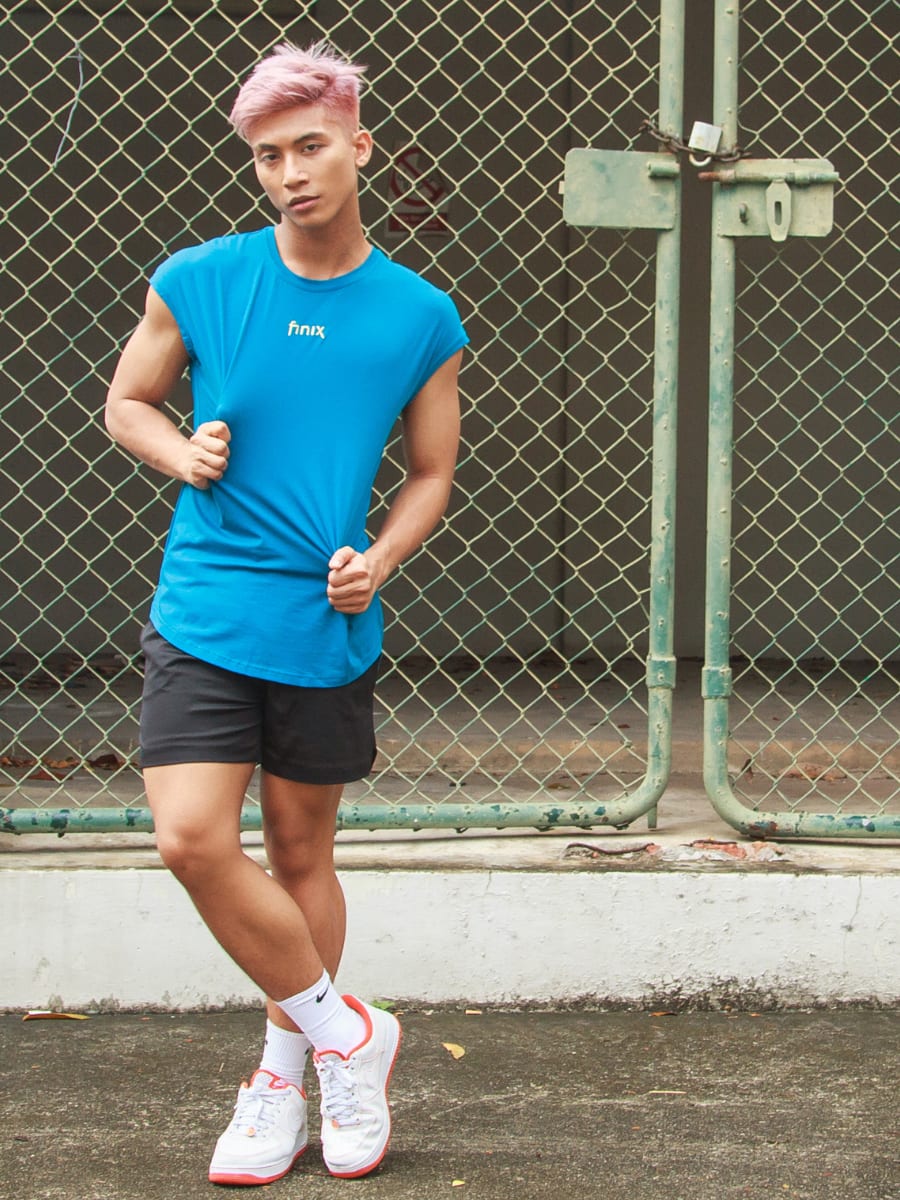 WHAT HAS BEEN THE BEST PART OF THE JOURNEY SO FAR?
I think it would be the tremendous growth I've seen in myself – mentally, emotionally and spiritually – over the past two to three years.
Another would have to be developing a sense of self-awareness – to catch myself before I spiral into a mindset of limiting self-belief, and to be able to turn that narrative around and look at it from a positive angle. It's really true when they say, "Your thoughts become your reality". You first have to know deep inside of you that what you're doing is good and needs to exist in this world. If you do, then you're already setting yourself up for success.
ARE YOU A ONE-MAN SHOW OR DO YOU HAVE A TEAM AROUND YOU?
I am currently a solo entrepreneur but I am also on the lookout for a partner who understands and resonates with my vision, and who can help me with the operational side of the business. At the moment, I do have a small team of part time advisors, contractors and assistants who help me drive various aspects of the business, from social media and digital marketing, to finance and accounting.
DO YOU HAVE A HERO PRODUCT OR BESTSELLER SO FAR?
Our bestseller so far has been our Keep the Fire Burning (or "KTFB") t-shirts and tank tops made from bamboo fabric. Customers have unanimously mentioned how exceptionally comfortable and cool the fabric is - and how it works great for warmer climates like Singapore.
Our Rise Dropped Armhole Tank Top made in Odell ice cotton has also been selling well. Wearers love the smooth, cool hand feel of the ice cotton and are not only drawn by the fresh colours it comes in – dusty rose and fresh mint – but also the dropped armhole cut that is perfect for yoga and movement practitioners.
TELL ME ABOUT YOUR LATEST RELEASES. WHAT WERE THE INSPIRATIONS BEHIND SOME OF THE KEY PIECES?
Our latest collection "Freedom", which we launched about a month ago, features pieces such as our Freedom Noragi Jacket, a casual relaxed version of the kimono built for comfort and mobility; our Freedom Harem Joggers and Shorts that move with the body and take the modern-day jogger to a whole new level of hippie-street; our Freedom Scoop Neck Sweatshirt with its wider, more dropped-cut neckline that dancers know and love; and the edgy Rise Cropped Hoodie that brings out the bold spirit in you.
Key pieces of the collection, like the Freedom Noragi Jacket and the Harem Joggers, were inspired by my time living in Japan. The Freedom Scoop Neck Sweatshirt on the other hand was inspired by my time in dance, when I used to cut open the necklines of my old t-shirts to give greater comfort, mobility and space for more dynamic movements.
YOU WERE A DANCER AND ARE NOW A YOGA INSTRUCTOR. HOW MUCH OF THESE DISCIPLINES HAVE INSPIRED YOUR WORK AND YOUR LIFE?
My experience in dance and now yoga certainly has inspired my work and life in many ways. When I was a dancer back in university, I was very intrigued by how clothes moved on the body. While costumes served to enhance our movements and tell a story, our everyday dancewear played a key role in how we moved and presented ourselves during rehearsals and training. Being the poor students we were, we would cut up our old t-shirts to create larger armholes and more open necklines to facilitate greater mobility and comfort while dancing. There was also a certain aesthetic quality to it which you couldn't get off the rack from any mainstream activewear brands at that time.
Like dance wear, yoga apparel also requires a lot of comfort and ease of movement. In yoga – or any other movement practice for that matter, be it martial arts, pilates, gymnastics or parkour and so on – no one wants to feel inhibited in any way. In such practices, you either want your clothes cinched close to the body to give you a more aerodynamic flow, or more loose-fitting and flowy to allow you to feel more relaxed and fluid in your motion.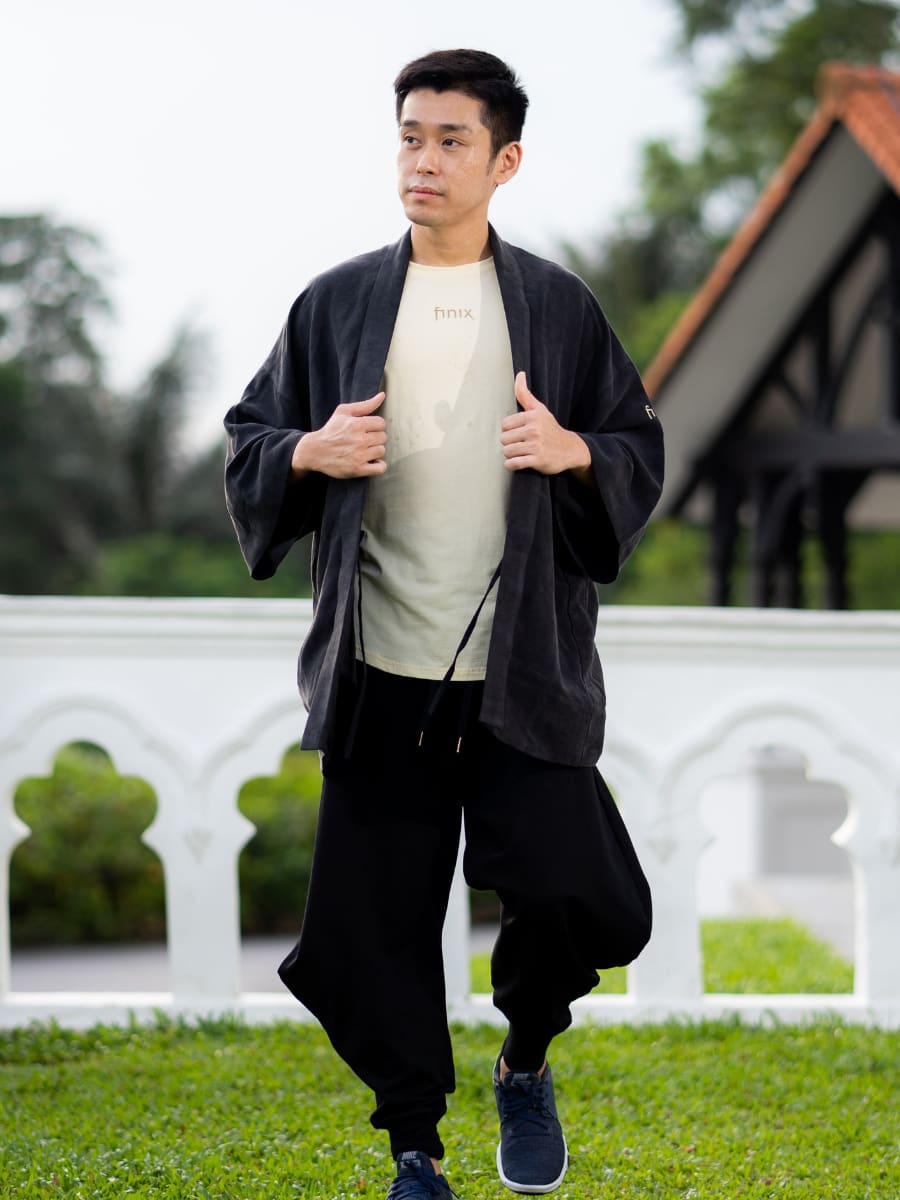 WHAT IS YOUR OWN CREATIVE PROCESS?
I don't really have a fixed process per se – at least not for now. My design inspirations come to me in the unlikeliest of moments – on a bus, having a meal, in a dream or on vacation.
When I do get inspired, I usually jot my ideas down in my notebook or phone, or sketch them out in my scrapbook. Sometimes I try to also find images online of similar looks or styles to reinforce my sketches so that when it comes to creating them, it's much easier to communicate and visualise.
WHAT IS AN AVERAGE DAY LIKE FOR YOU?
I usually wake up around 7am. I start my day with some light meditation and affirmation, after which I go for a run, which really helps start my day on a good note.
On a typical weekday, I work for about six to eight hours in the day with a few breaks in between for meals and some me-time. I recently incorporated the 25-minute Pomodoro Technique into my daily work flow, which helps keep me focused on my task at hand.
My late afternoons are usually reserved for yoga and/or gym. It's a time I set aside for myself to disconnect from the day's work and just focus on my personal fitness and wellbeing.
I sometimes work in the evenings if the occasion calls for it but I usually leave the lighter, more mundane stuff to those hours so that it doesn't affect my sleep. I'm usually quite a late sleeper and am in bed around 12.30am.