The millennial karung guni man who set up his own company to 'make something of himself'
Bryan Peh has been working in the recycling industry for more than eight years and also picked up acting on the side. What keeps him going through the long hours and navigating misconceptions that people have of the karung guni profession? He sat with CNA Lifestyle to tell us more.
When thinking of karung guni (literally Malay for "gunny sack"), or karang guni, you're more than likely to think of the weathered uncles and aunties strolling through HDB corridors toting a horn and trolley. 
Many of us would also be familiar with their drawly shout: "Karung guni, buay bor zua gu sa kor, ray-dio-dian-see-kee", which is Hokkien for "Karung guni, newspapers and old clothes, spoilt radios, televisions", with the sound of their horn echoing across the block. 
However, Bryan Peh's the furthest thing from that image, being significantly younger and all that. He was sprightly and delightfully chatty, even on a Tuesday morning, when most people would still be fighting off sleep while at work. 
Apparently, not a lot of people could believe that a young person would be a karung guni man either.
"When I go out and meet friends or friends of friends and they ask me for my profession, I would call myself a karung guni," he shared.
"They would question me, asking: 'Why are you making fun of them? It's not a joke, you know.' And I have to say 'I am a karung guni' and show them proof of my job before they realise, they had misunderstood me." 
The 29-year-old recently talked more about his eight-year journey in the recycling industry – and his foray into acting – with CNA Lifestyle at his family's home in Tampines. 
Peh mentioned that this was, in fact, his first job out of university – he had graduated from the Singapore Institute of Management – Royal Melbourne Institute of Technology (SIM-RMIT) with a degree in business management. 
So, what got a millennial into the recycling industry, which is typically dominated by older folks?
"I couldn't get employed for a year, so my dad was like, 'You know what? You should help out at the store', and that's how I got started." 
He eventually learned that the skills and know-how he obtained at university were also helpful in the recycling industry.  
That's why he left his father's company Ace Recycle Trading to set up his own, Earth Recycling Services, in January of this year.
What motivated him to strike out on his own was "breaking out of being stuck in the family business, in the sense that setting up my own company would help me grow and potentially reach out to more clients. 
"It's also about being able to set myself apart from my family's business to make something of myself."
He admitted that while there was initially no "pull" factor for him, he ultimately chose to stay in the sector. 
"There was a lot of denial before I reached the stage of acceptance because I had big dreams, like how everyone talked about working in an office and climbing the corporate ladder. 
"After a while, I eased into the lifestyle, and I do like the freedom of working around the family business. It also makes it easier to get days off!" 
Speaking of days off, Peh added that while he enjoys the freedom that comes with his job, he and his family usually work daily – yes, including on weekends and most public holidays – from 9am to 7pm. "If we were to have days off, it would either be me taking a break while my dad must work or vice versa." 
"There will be easy days but most of the time, it's physically draining with loads of materials to unload and/or sort out and the long hours can get repetitive, where it's a cycle of unloading and sorting." 
It's not an easy job, but he's found ways in which it's enjoyable. "I enjoy the freedom, and the lack of corporate hierarchy and office politics that come with that environment.
"Given that I interact with a lot of people across social statuses, it's taught me to be more grounded and humble."
It was apparent from the get-go that there's no typical day at work for Peh. "It really depends on the number of customers we have on that day. Most of the time, if we don't go outdoors for collection, it would mainly be walk-ins.
"Some days would be hectic with, say, five lorries within the same period. Our shop's actually small, so we can't accommodate everyone at one time."
His company's storefront sits right next to his father's at an industrial building in Kaki Bukit, where both companies share the spaces to collect materials. 
When we visited the stores, we saw bags of copper wires and piles of dismantled machinery alongside bundles of paper and even the odd brass or copper statue.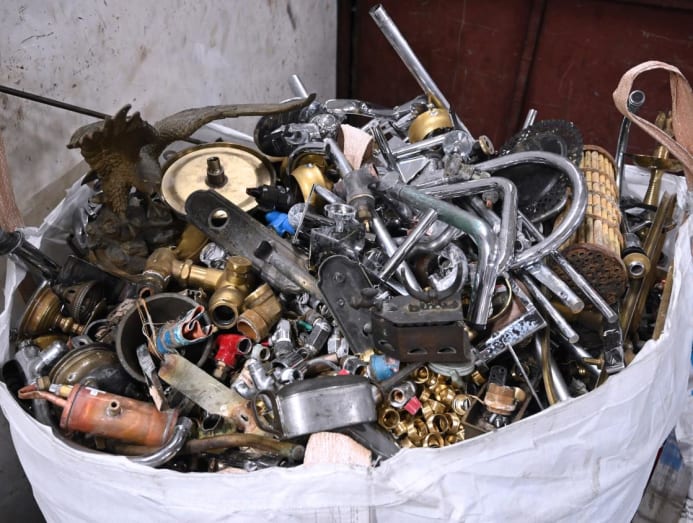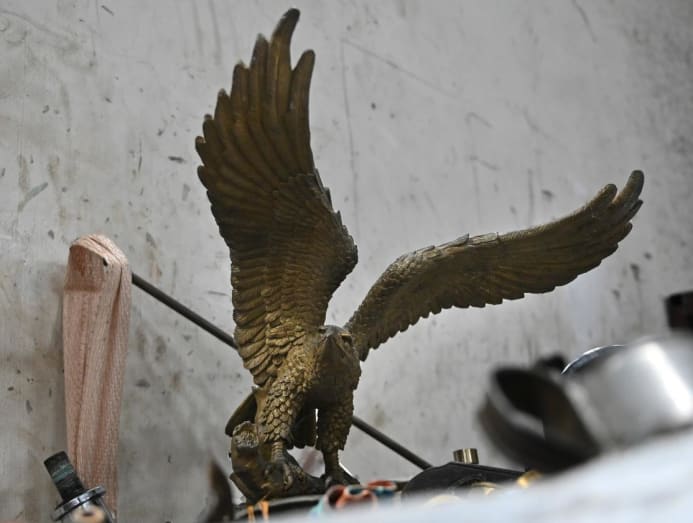 Peh explained: "We collect almost everything except wood, plastic and glass, which are a hazard to deal with and expensive to dispose of. Everything else that we collect can be traded as raw materials." 
What were some of the stranger things (don't cue the theme music) that found their way into his store? 
"We mostly get a lot of antiques, some of which we clean up and rehome," he said. 
Some of the furniture and decorations at his home, such as a pair of cylindrical copper tables that wouldn't have looked out of place in a showroom and a row of crystal ornaments, were salvaged and repurposed from previous disposal jobs.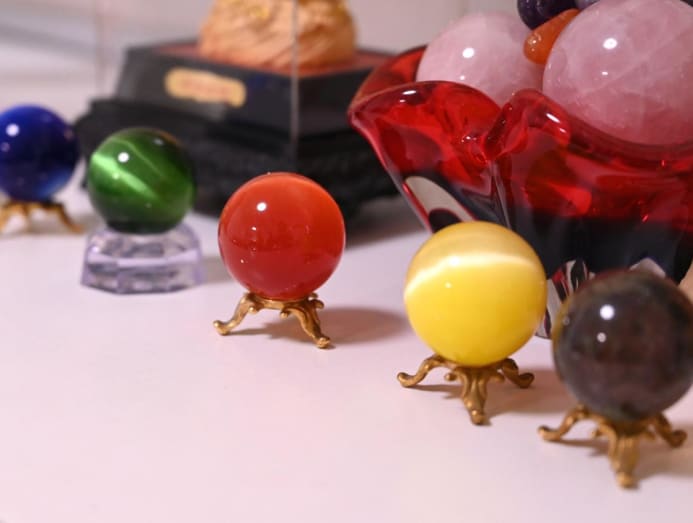 In terms of interesting experiences, he shared an anecdote from when a lady's brother engaged his services to clear the things she had hoarded. "Towards the end of the process, she came all the way to our house to find some of her things!" 
Clarifying that decluttering hoarders' homes is part of the job in the recycling industry, he added: "This person hoarded so much so you'd see pests like cockroaches, but you get used to it. Sometimes, though, you see unexpected things like centipedes, or even a dead animal." 
"You really can't anticipate what's going to happen or what you'll see." 
Peh went on to speak about how working with his parents has improved his bond with them: "I see them all the time, and I think that keeps us close as a family, which is in itself memorable for me." 
He added that there's no separation between work and personal time with family, chuckling that "it's always work". 
"I would say it has been a blessing in disguise because we often don't see eye to eye on certain things. Ultimately, I'm just grateful for the opportunity to help my dad in my own way."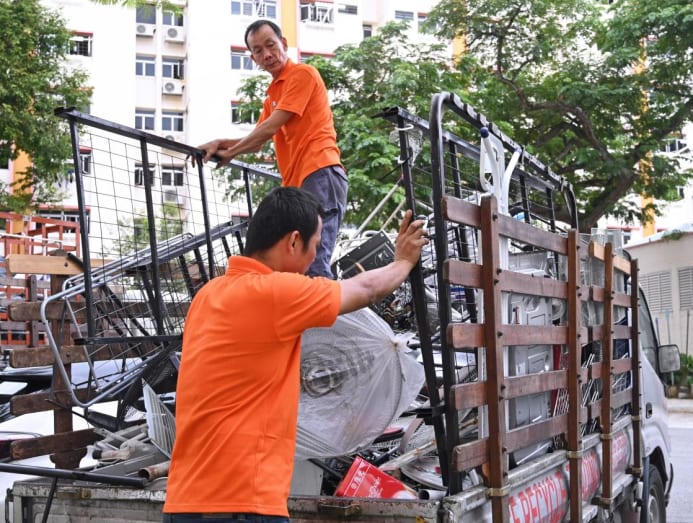 Working with family can attune someone to the art of compromise with one another, but what about complete strangers? 
Peh said: "We do get a lot of people who look down on us. I get a lot of questions because I look young compared to the average karung guni.  
"So, I've had people ask me whether I speak English or if I dropped out of school.  
"Sometimes, when they find out that I hold a degree, they ask things like 'why are you working here in this hopeless place with a degree?'" 
He also shared one particularly discomfiting conversation with a customer who needed his services after closing her business. "She was chatting about new avenues with her husband and said something like 'Oh, darling, we could (join the recycling industry).' 
"I asked her whether she really thought so, to which she said 'yeah, I think it's brainless.'" 
It's not easy to manage these conversations, but Peh has his way: "I approach it knowing that they're not as informed about the industry and it's up to me to decide if I want to educate them. 
"If it's my friends making these comments, I would be able to share some knowledge with them. But if it's random passers-by making such remarks, I choose not to comment." 
The karung guni industry, like many other service jobs, is typically misunderstood, and Peh pointed out that it's a hard job that's worked on by hard workers.  
"There's no 'bad' job if you're willing to commit to and embrace it. It's intriguing to see the differences between privileged people and people with adversities, so what I do has helped me stay grounded as a person." 
"I would encourage everyone to buy less stuff," he said, gesturing toward how his work is tied to people's relationships with both material goods and the environment. 
What's a typical day at work for this 29-year-old? There isn't one. "It really depends on the number of customers we have on that day," says Bryan Peh.
Seeing that his family was already in the business, we wondered about Peh's parents' reaction to him setting up Earth Recycling Services. 
He said: "They were quite positive about this, because (the family is) trying to reach out to more potential clients.  
"They even pushed me to do it because, besides my father, my uncles and aunts are also in the recycling industry and do disposal services. So, it's easier to coordinate everybody where needed." 
We guess "networking" events would be, well, significantly easier, too.
Peh explained that rather than an organised business network or karung guni community, there were more informal circles.
"Every part of Singapore will have a fixed set of karung guni. So, the ones in Tampines wouldn't go all the way to Ang Mo Kio or Jurong to collect stuff," he said.
"Within Tampines itself, my uncles, father and I have a lot of long-term customers, but when we meet them it's more like seeing a friend. We don't deliberately hang out, but when we do meet, we share knowledge like market prices for materials and how to dismantle certain things." 
We imagined that in these conversations, Peh would tend to be the youngest person in the room, to which he responded with a resigned, tongue-in-cheek "yes". 
"When I started at 21, I think it was harder to get my message across to customers. But over the years, I've taken on leadership roles, so they know my personality better. 
"I initially didn't have a strong or aggressive personality, but to work in this field, you really do need to be assertive. Eventually, my regular customers and I have reached a better understanding of how to work together." 
Another thing that Peh and his father do is they hold collection sessions at two estates in Tampines, where some of their customers, who are older, bring down waste materials like old machinery, newspapers and metal. 
"Initially, we only did it for regular customers who came down to our old store at SAFRA Tampines. 
"They couldn't push their items to our new shop, which was when they started calling us. So, we decided to collect everyone's items at one spot at a fixed date and time each week. 
"Essentially, the main idea was to help these customers. While some of them are doing it for leisure, there are many for whom it's their main source of income." 
Earlier in the conversation, Peh mentioned that working with the family gave him a level of freedom, which he uses to pursue another passion: Acting. 
As a freelance actor, he's appeared in the web series Uncanny Valley, which he said was his "first official supporting role which lasted more than one episode".  
He also had a minor role – his first Chinese-speaking one – in the Channel 8 drama series My Guardian Angels, which starred industry veterans like Zoe Tay and Kym Ng.
Laughing, he confessed that his acting career was born partially out of spontaneity. "On my fourth or fifth year of working, I wanted to quit the family business and do something else but didn't know what to do or what interested me. That's when I thought of giving acting a try and went for classes.  
"Along the way, I had good opportunities to do work and that's how I got into acting." 
Interestingly enough, Peh wasn't interested in the theatre growing up. "I used to be timid and didn't dare to take any risks or step out of my comfort zone," a far cry from the person we were speaking to. 
"It was a struggle to fight my own demons and break out of my shell."
Although his parents were supportive of him starting his own company, they were a little more apprehensive about his acting career at the beginning. "They were like, 'what are you going to do?' but I proved them wrong."
It seemed like a common thread in Peh's story was having to prove people wrong, be it others or himself. So, what's kept him going? 
He felt that he was finally at the stage of acceptance, "where I feel that this is something I'll be doing and it's good that my personal business is taking off well". 
His company's still new, which involves "a lot of trial and error", but he's optimistic about where it's headed. 
"The plan is to build and expand the business towards being a trusted brand for disposal services and encourage people to reuse by giving access to used furniture and miscellaneous household items, be it through sales or charity." 
Ultimately, work isn't all there is to life for Peh, but it's part of a continuous process of self discovery. "For me, this field and family business gives me the freedom to still discover who I am and what I want to be, which is the best part about it."