The candlemaker cousins who turned their passion hobby for scented candles into a budding business
In this week's Creative Capital, we meet multicultural cousins Sarah Wee and Cheyenne Naidu, who started candle company Nitwick as a way to bond while indulging their love for creativity.
You would think cousins Sarah Wee and Cheyenne Naidu have pretty intense and busy lives. Both work full-time in the nonprofit sector. 29-year-old Sarah raises funds for cancer care and research at the National Cancer Centre Singapore, while 32-year-old Cheyenne is a youth counsellor specialising in mental health. You'd think they would want to use the time after work or their weekends to rest and recharge.
Instead, the two enterprising young women decided to work together to launch a candle company.
Today, Nitwick is a year old and the cousins are still happy to spend every weekend working together on producing fun, quirky, unique scents that they hope trigger memories or emotions for their customers. Their bond too, as cousins and now business partners, has only grown closer than ever.
HI, SARAH AND CHEYENNE. WERE YOU CLOSE AS KIDS?
Sarah: Yes, we spent most of our childhood together, especially in primary school. We come from a big family so there were a lot of us cousins, but Chey and I have always been particularly close because we were the 'tomboys' out of the group. I taught her how to climb trees and she taught me all the lyrics to Limp Bizkit's 'My Generation.'
Cheyenne: Our mothers always made it a point for us to sleep over or spend holidays and exam periods mugging together. Little did they know we'd end up practicing wrestling moves or spending five hours on Neopets instead. I'm an only child so this was always fun for me. Plus, Sarah and I were also the only girls playing football or exploring the network of our neighbourhood longkangs with the boys, so we naturally stuck together.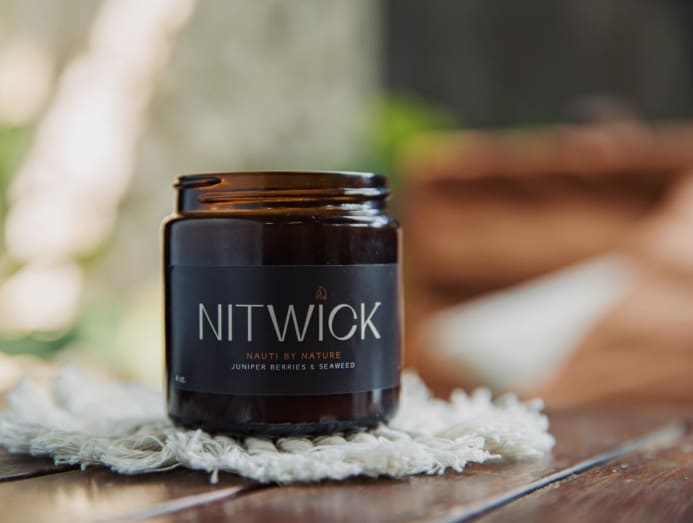 YOU ARE BOTH DOING WORK THAT HELPS OTHERS. WAS THAT SOMETHING THAT CAME FROM YOUR FAMILIES?
Sarah: My mom definitely had an impact on my career choice. She has been a special needs teacher for over three decades. I really admire her strong purpose and commitment to the cause. It made me want to approach my work the same way. She's also just a natural giver, she constantly goes out of her way to help everyone around her and put them at ease, especially with my friends. They all have a great relationship with her too because of that.
Cheyenne: Not directly. It was different for me. Some of my close friends growing up were going through pretty hard times and I wanted to be there for them. I think from that, I always knew I would end up in this line of work. While it took me a lot longer to get here, not being the most academically-driven person, I think I've found a great fit with the role I have now.
WHOSE IDEA WAS NITWICK?
Sarah: I had had the idea in my head for a while. Since my career has revolved around serving the community, I thought it'd be interesting to do something just for myself, but I didn't want to do it alone. So I persuaded Chey to turn off her PlayStation and start brainstorming with me.
Cheyenne: I wasn't sure about taking on a side project as I already had so much on my plate. But after a few weeks of talking, I got more comfortable with the idea and we realised that candles were a genuine interest we shared. Since we're both psych trained, we were really fascinated with how closely linked scent is to memory.
WHEN DID YOU START FOCUSING ON IT? AND HOW LONG WAS IT BEFORE YOU HAD A PRODUCT THAT YOU FELT YOU COULD SELL?
Cheyenne: We first toyed with the idea in Jan 2021 I think. It started out almost as a joke because I don't know if we believed we were capable of something more. After five months of mucking around in the kitchen, we made our first candle that we were proud of… kind of.
Sarah: On hindsight, we were just starting to understand how to balance scent notes but after months of sweating in the kitchen and supergluing our fingers together, we were just eager to launch because we were already so invested in the idea.
HOW HARD IS IT TO LEARN CANDLE MAKING?
Sarah: Essentially, making a candle in itself is not easy but it's not hard either. What's difficult is understanding fragrances; learning how to blend and balance scent notes to get a great throw. Developing scents with a partner is interesting too because the same ingredient can have different profiles for us and it's hard to articulate that to someone else. Sometimes reaching a consensus means shoving scented paper strips under all our friends' noses and passive-aggressively demanding honesty. Candle-making regularly makes a fool of us – there's so much that could go wrong at any turn.
Cheyenne: We used the wrong type of wax for the first two months and wasted so much time and money, but the stupid stories don't end in the learning stage. I think the dumbest thing we did was shatter our glass beaker full of hot melted wax right above the sink. We spent six hours taking the piping apart to clean out the hardened wax and glass. I was pretty handy as a kid when it came to fixing up the house, be it appliances or plumbing. My dad shares the same interest, so cleaning up this mess was secretly exciting for me. We even ironed the kitchen cabinet (don't try this at home) to remove the wax residue from the wood grain.
Sarah: We still superglue our fingers together every other weekend, and each time, we instinctively reach for tissue and make a bigger mess of things.
Cheyenne: Every other weekend. (Laughs)
BETWEEN YOU BOTH, WHO DOES WHAT?
Cheyenne: I think this is a hard question because we honestly do most of the work together, from socials to production and branding, etc. Sarah handles the finances though, and I handle the shipping and delivery.
Sarah: Yeah, we instinctively take the lead on different things at different times. We do have different work schedules so we know to pick up where the other left off.
WHAT'S THE BEST THING ABOUT WORKING TOGETHER?
Sarah: I think it's just hanging out with Chey. Behind the scenes, Nitwick is really just us solving puzzles and cracking up. We were already close but this has added a new dimension to our relationship. Even though we can be such different people, we hold the same values and that has been our strongest and most comforting anchor. It's actually quite nice working with family because it allows for full transparency, at least for us. I feel comfortable with every decision we make because I know exactly where she stands.
Cheyenne: I agree about Nitwick adding a different dimension to our relationship. It has deepened a lot, since we spend a significant amount of time together. I've learnt a lot more about Sarah outside of what I already knew. Observing our different working styles brings about growth in areas I didn't even know I could grow in. Much like what Sarah said, we just have fun, really. Some weekends, after work, we binge-watch movies or pick up from our Resident Evil game chapters. We always make sure to find a balance in our relationship.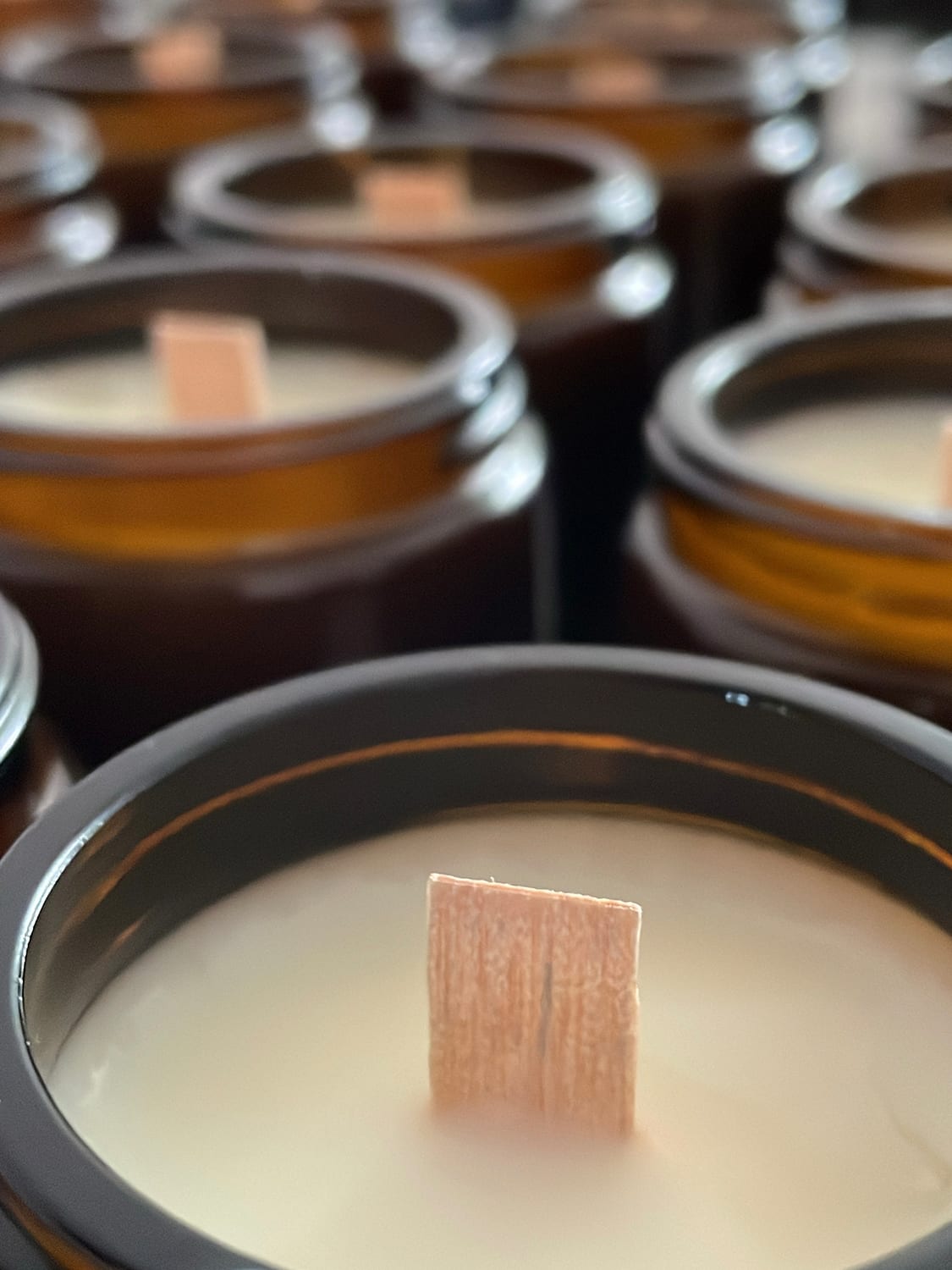 WHEN AND HOW DID YOU LAUNCH NITWICK?
Cheyenne: We spent weeknights and most weekends together planning and making candles for months before we felt ready to launch. It's been a year since then, all the way back in June 2021.
Sarah: Candles aside, the trickiest part was honestly figuring out online platforms and how to connect with the public. We just crossed our fingers and hoped for the best when we set up our IG profile. That's really how our name came about, just two nitwits trying their best at this candle game.
WHICH SCENTS ARE YOUR OWN PERSONAL FAVOURITES?
Cheyenne: Beaches and Cream, an OG from our initial launch collection. I prefer scents that have a vanilla base and put me in vacation mode. The rock salt and driftwood combination does that so well for me, it smells like a luxury beach resort.
Sarah: If I had to pick, it'll probably be Fir Leaves Navidad. It's a dry woodsy scent but with a tinge of warm sweetness that reminds me so much of Christmas. We threw a bunch of evergreen coniferous trees into this one and it's just a great bright and clean scent year round.
HOW DO YOU DECIDE ON OR CREATE A SCENT?
Sarah: Each scent is steeped in nostalgia in the sense that they are somehow connected to Chey and I. Fir Leaves Navidad was because Christmas is such an important affair in our family and we have an uncle that gets real trees for us sometimes during Christmas. The Grape Gatsby was created because as kids (and adults), Chey and I loved the Grape flavoured Yakult and Hi-Chew candy. So we knew we wanted a grape scent as an ode to that part of our childhood. Each scent is really inspired by a shared moment or feeling between the two of us, and from there we break it down into ingredients and combinations that we feel capture it best.
Cheyenne: At the heart of it, we are really fascinated by scents and how they link to specific events and memories, so this process is the most fun part of Nitwick for us. Figuring out the right blend and ratio of oils can be quite tedious though, we lean towards odd or uncommon combinations to really capture what we envision in our mind. It is really a giant science experiment. A great scent also doesn't guarantee a good throw. If the scent from the candle doesn't fill your space, then what is the point? It is at this juncture that brings us back to the drawing board.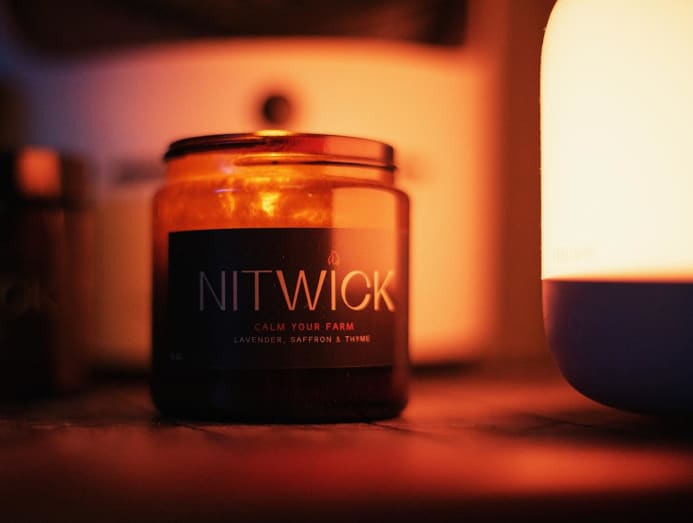 YOU TALK ABOUT THROW. WHAT DOES A GREAT CANDLE DO FOR A SPACE?
Sarah: People connect with scents so differently, the right scent can completely transform your space. Different scents trigger different receptors in each of us and affect the part of the brain that controls mood. The right fragrance can have such a positive effect on your environment and mental health.
Cheyenne: A great candle helps you connect with the space and of course, it adds to mood lighting as well. It creates a certain atmosphere that can only be achieved with an open flame. We specifically picked our amber jars because they add to that warm glow we love – it softens the room and puts you at ease.
THERE ARE A NUMBER OF LOCAL CANDLE MAKERS THESE DAYS. HOW DO YOU STAND OUT OR DIFFERENTIATE YOURSELVES FROM COMPETITORS?
Sarah: We really care about developing unique fragrances. In our creative process, we try to pair the familiar with the distinctive; notes that you may not typically find together. Scent is so subjective and versatile, it's like food, with an infinite number of combinations and profiles. Every candle maker has a different focus though – there are so many components to this whole process. Like how some might hone in on aesthetics and intricate designs, we really embrace the fragrance blending process.
Cheyenne: We also don't take ourselves too seriously and that's Nitwick at the end of the day. One of the best things about working together is the laughs we've had and that was important to translate into the brand too. We weave our personality through our candles' names and in random pockets of content online.
Sarah: I'm still sad Chey vetoed the name 'The Amazing Cider-Man' for one of our festive scents.
WERE YOU BOTH CREATIVE AND CRAFTY WHEN YOUNG OR WAS THAT SOMETHING THAT CAME LATER IN LIFE?
Sarah: I loved making things as a kid. If I wasn't out playing with my brothers, I was making a mess creating some thing or another in the kitchen or balcony. Art Attack was one of my favourite shows. I used to drive my dad crazy cause I kept every scrap piece of cardboard and packaging box I could find. I do think as adults, we return to our childhood interests in some way or another. Nitwick has been a great journey of rediscovery for me. It's so fun creating things with my hands again.
Cheyenne: I was never that creative or into crafts as a kid but every time I slept over at Sarah's, she would convince me to make a mess (and then subsequently, blame it on me). Some of my favourite memories growing up were of Sarah and I making potions in the kitchen and pretending to be scientists. So, in a way, it feels like we've come full circle. With Nitwick, it's exciting watching people connect with our scents in the same way that we do. That joy inspires more creativity in me, like, 'I created something and you like it too? Crazy.'
WHAT INSPIRES EACH OF YOU?
Cheyenne: I've always enjoyed scents and fragrances. I'm the kind of person that sniffs items out of curiosity and spends ages in a perfume shop. For Nitwick, conversation seems to be the biggest inspiration for me. Talking about funny vacation stories or fond memories with different people helps me think about what we can do next. The connection with scent and how the brain triggers memories is so cool and we're always trying to explore that with each new scent. It's like creating a time travel machine with candles.
Sarah: I'm an introvert at heart so I'm the most creative when I'm by myself. Conversations with my dad also inspire a lot of my ideas for Nitwick. I really like his view on life and how he embraces all his interests and approaches new subjects. It defines how I approach this whole venture. He's an entrepreneur by trade so he lends us lots of business advice and insight too. Chey and I work for non-profits so it's been really interesting for us working for ourselves instead of a cause. I think my dad helps us bridge that gap a bit.
WHAT'S BEEN THE BEST THING TO COME FROM RUNNING NITWICK?
Cheyenne: I'm picking up a lot of skills I never thought I would. Understanding all the different components that have to come together for a business to work has been a shocker, but a positive one. I look at local businesses differently now and have more respect for what they do, because it's a lot of effort.
Sarah: I don't know if I have a 'best thing'. I think it's just the fact that Nitwick continues to exist. The whole process is so fun to me because there's always something new to do or learn. I'm a naturally curious person – my friends joke that I have a new hobby every two months – so Nitwick fulfills that side of me. It's also a really nice feeling knowing others appreciate something you've created. Getting to connect with other like-minded people through our pop-ups and events is definitely one of my top positives.
AND WHAT IS THE TOUGHEST?
Cheyenne: Managing time. We're still very much connected to our day jobs. Sarah raises funds for cancer care and research, and I counsel youths. They are both jobs we're still passionate about, so it's a balance being able to do our best for both roles. It took a while to adjust to using Saturdays as full work days, but my friends are still there when I need company and so is my Playstation (laughs). It's a good thing we're family though – at least this fulfils family time.
Sarah: Every family gathering is a Nitwick board meeting for the both of us.
WHAT'S THE PLAN FOR NITWICK? DO YOU THINK YOU'LL EVER WANT TO MAKE IT YOUR FULL-TIME GIG?
Cheyenne: We're excited to grow. We're only a year in. We still feel like there's so much more to learn and build. Like we said before, we are not ready to let go of our other pursuits yet but it'll be exciting to do this full-time and see how much we can accomplish.
ANY NEW RELEASES OR UPCOMING PLANS YOU WANT TO SHARE WITH US?
Sarah: We're launching a new limited-edition scent at the end of July. This one's extra special because we collaborated with a local potter (@_berrypotter) on the vessel. It was something we wanted to do for our anniversary. The scent was developed based on a winning contest entry.
We're also doing a few pop-ups at Hort Park. Catch a whiff of Nitwick at Gardener's Day Out on 20 Aug 2022!