The Singaporean artist who broke 4 Guinness World Records and created 2 of the cutest stars on Giphy
In this week's Creative Capital, we talk to Peter Draw, who is the most viewed artist on Giphy (43 billion views). His work entirely revolves around two animated characters, a little boy and a shiba inu, whose designs were inspired by Picasso and Disney.
Imagine being kicked out of an art class when you're just six years old because you're told you're too poor? Would that stop you from drawing? From loving to create? If you are Peter Zhuo, it inspires you to use art to heal people's hearts. If you are Peter Zhuo, who now goes by Peter Draw, it motivates you to earn four Guinness Book of World Records and become the world's most viewed artist on Giphy.
Draw, 38, is known as the creators of Ai and Aiko, two adorable digital characters – a little boy and his Shiba Inu companion. Known almost as much for always wearing a red sweater, as he is for these globally-recognised characters, Peter shares with us his journey to becoming an artist as well as what he hopes you take away from his work.
WHEN DID YOU FIRST DISCOVER YOUR LOVE FOR ART?
My mum told me I fell in love with drawing at three. I was drawing on paper surfaces at home. A fond memory I have is that of my mother buying me my first drawing block after I drew on every page year of the calendar. 
WHEN DID YOU DECIDE TO PURSUE ART PROFESSIONALLY? 
I never decided to pursue art professionally. I was just keeping the promise I made to my late grandfather when I was younger – to be a great artist one day. I promised him that I would draw in order to make people smile, because we believed the most beautiful curve in the world is one's smile.
I made this decision in December 2000, the same month my grandfather left us. I realised sometimes we don't realise the true value of a moment until it becomes a memory. Sometimes, 'later' becomes 'never'. That was the time I created the very first version of Ai.
I ABSOLUTELY ADORE AI AND AIKO. WHERE DID THE INSPIRATION COME FROM?
In 1990, when I was six, I went to a free trial art lesson near my HDB block in Ang Mo Kio. It was a life-changing day. I was told I couldn't hold a pencil properly, and I couldn't draw well. I was then kicked out of the lesson after I told the art teacher I'm only here for the free lesson to learn as much as I can, and I won't be able to afford future lessons. I went home and cried.
My grandfather then comforted and consoled me by telling me a story of how a little boy used to be just like me, going through the same situation. He loved to wear red like me and even had the same haircut as me. But this boy never once gave up on his dreams. He worked hard and before he died, he became successful. He created Disneyland. 
He told me his name was Picasso.
This story got me fired up. I can still remember the feeling when I heard this story for the first time. I thought, I can be like this person. There's a role model for me to follow.
Later in upper primary school, I discovered Picasso and Disney were two different people. I went home and asked my grandfather about it. His response was "oh? I didn't know that." He really thought Picasso created Disneyland and I believe he tried his best to encourage me not to give up on my dreams.
He didn't have someone to protect his dreams. No one knew what his dreams were. I remember asking him what he did in the past and what his dreams were; he didn't reveal much. But he was the only son among many sisters. He didn't go to school. He had to start work as a child, holding construction jobs, cooking for an expat family, and clearing tables at a nearby coffeeshop. Life wasn't easy for him. And this is why I hold this story close to my heart.
When he passed away in December of 2000, I wanted to keep my promise to become a Picasso who could create a Disneyland. Ai's earliest inspiration was created with this in mind. Picasso's dove inspired the shape of Ai's head, and Disney's Mickey inspired the roundness of Ai's face and ears.
WHY DO YOU THINK THE CHARACTERS AND THE WORK CONNECT WITH PEOPLE SO MUCH?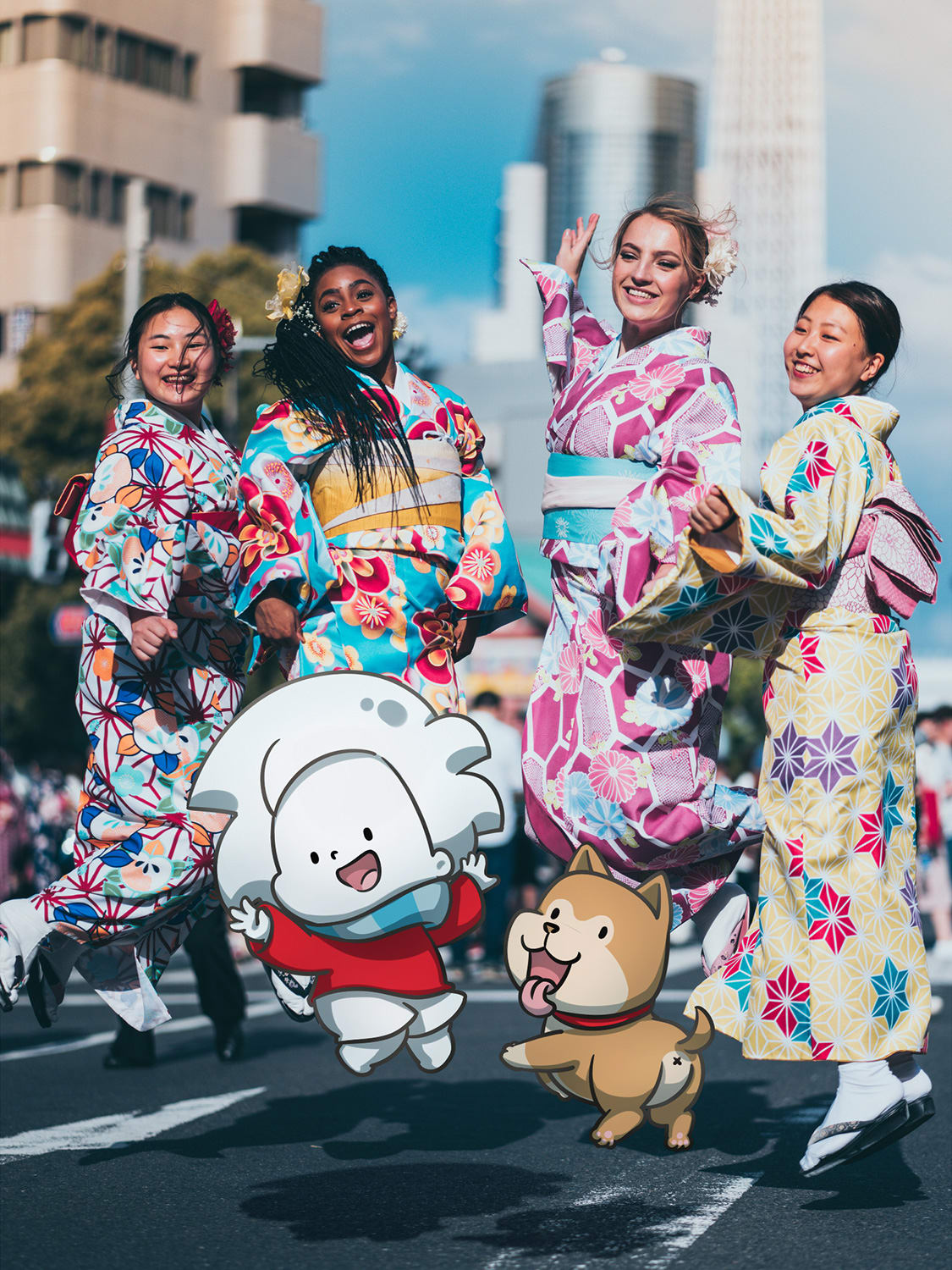 I believe in a world where hurt shouts and love can quietly transform. Ai and Aiko exist to remind us that everything is going to be alright, that love can happen anywhere.
There is an urgency and growing importance to remind people that it's going to be okay. I believe Ai and Aiko resonate with people who want to believe that we are all going to be okay and that things will be better.
On the other hand, the few people who have followed my quiet progress over the past 22 years will know that "Love Can Happen Anywhere" isn't just an idea, it's the devotion of the whole of my adult life.
WHEN DID YOU START USING THE NAME PETER DRAW AND WHAT DOES IT MEAN TO YOU?
My name is Peter Zhuo. The children I met kept calling me Peter Draw, similar sounding to Peter Zhuo. I just accepted it as a gift and starting using it. 
We always have a choice. Some people see One Day, putting off their dreams as something they hopefully achieve in the future, while some of us see Day One.
Rounding back to your question, both the red sweater and the name Peter Draw reminds me of Day One – reminding me to never forget how I started, why I started, and my beginner's spirit – much like how I always wear my red sweater.
YOU HAVE FOUR GUINNESS BOOK OF WORLD RECORDS. CAN YOU TELL ME ABOUT THOSE?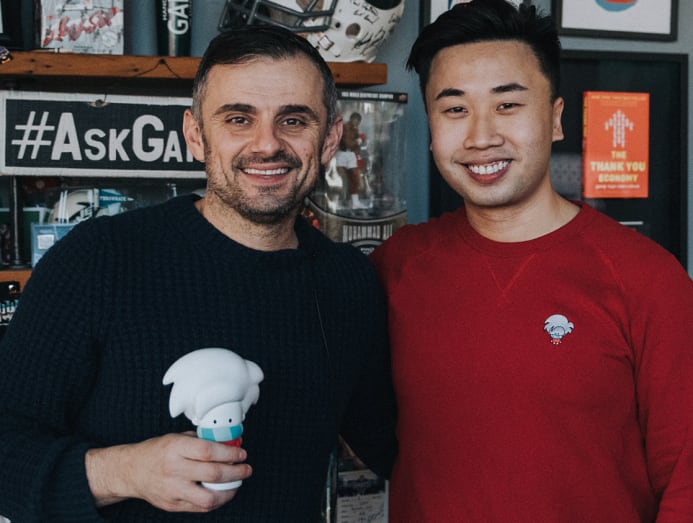 I see those four Guinness Book of World Records as a reflection of a life cycle inspired by Hanyu Pinyin of the word Ai. In Hanyu Pinyin, like Ai's name, the first sound refers to Ai1 Sorrow 哀. The fourth sound refers to Ai4 愛. I believe how we begin our life does not necessarily decide the rest of our life. Even if we begin our life with sorrow, we all can eventually find love.
Let me elaborate. I was once a kid who was told he couldn't hold a pencil properly and couldn't draw well. I was kicked out of a free trial art lesson because I could afford the future lessons' fee. Today, the same kid has gone on to draw the largest drawing in the world, taught the largest art lessons in the world, drew the longest drawing in the world, and empower other young people to draw the longest drawing in the world.
The four Guinness records are: Longest caricature in the world (356 sq m) on Oct 1, 2007; largest art lesson in the world (1,893 participants across 12 countries) on Oct 2, 2010; largest drawing in the world by an individual (601m long) on Oct 4, 2014; and longest drawing in the world (9.58km long) Oct 4, 2014.
I see the first record as trying my best to do my best work, and the last record as empowering others. I believe there are many ways of giving, and to give back and give forward are two of the most beautiful ways of giving. That's why I involved the children from Ang Mo Kio and young people around me in my last Guinness Book of Records.
WHAT MADE YOU WANT TO HAVE A WORLD RECORD?
While I believe all artists must take pride in what they do, I also have the view that it's competitive, tiring, stressful, and often expensive to be the world number one - not to yourself, but to people who care and worry about you.
I believe there's another way, a better way. Instead of competing to be number one, let's focus on being the only one. It means a blue ocean. It means you define the rules.
YOU ARE ALSO THE WORLD'S MOST VIEWED DIGITAL ARTIST ON GIPHY. WAS THAT SOMETHING YOU PURSUED OR SOMETHING THAT JUST HAPPENED?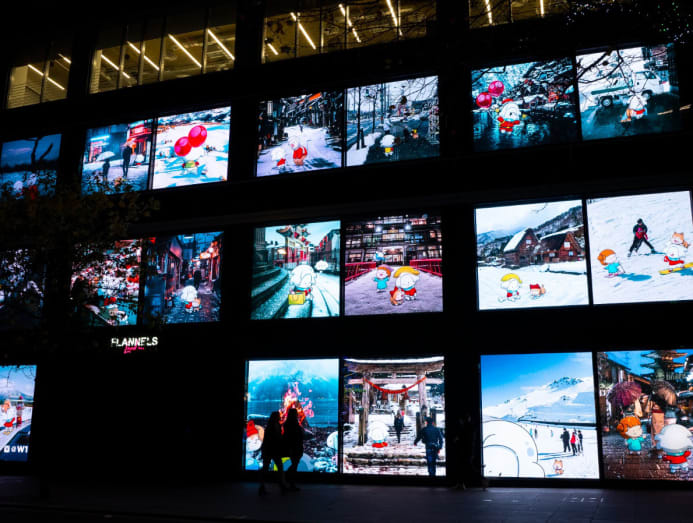 To do my best work, this is up to me. To be the most viewed digital artist with over 43 billion views, this is not up to me. I am just grateful. When my GIPHY account got verified in Sep 2018, I was hoping I could hit one million views in a few years. I hit almost 20 million views on the first day.
WHAT ROLE DO YOU FEEL ART CAN OR SHOULD PLAY IN SOCIETY?
This is not up for me to decide. You know, I really believe that what I feel doesn't really matter. Personally, I just hope Ai and Aiko serves as a reminder to people around us that no matter what happens, everything is going to be okay. We are all going to be okay.
WHAT IS YOUR CREATIVE PROCESS LIKE?
I believe that the most important artists are artists who are the pioneers, or founders of their own art movements. I've coined and fashioned this digital art movement called POSTpost. POST as a prefix refers to the after-effect of something. Like post-workout, post-breakfast etc. Post as a noun refers to the digital content we post, like an Instagram Post or a Twitter Post, etc.
POSTpost put together refers to the billions of appropriated content that we create and consume today, every day. Internationally, facts shared online by countries or corporations get manipulated into fake news. Individually, millions of people post selfies of themselves, that are appropriated with filters. I describe the world today as a POSTpost world and all my digital art for Ai and Aiko are built on the foundation of POSTpost.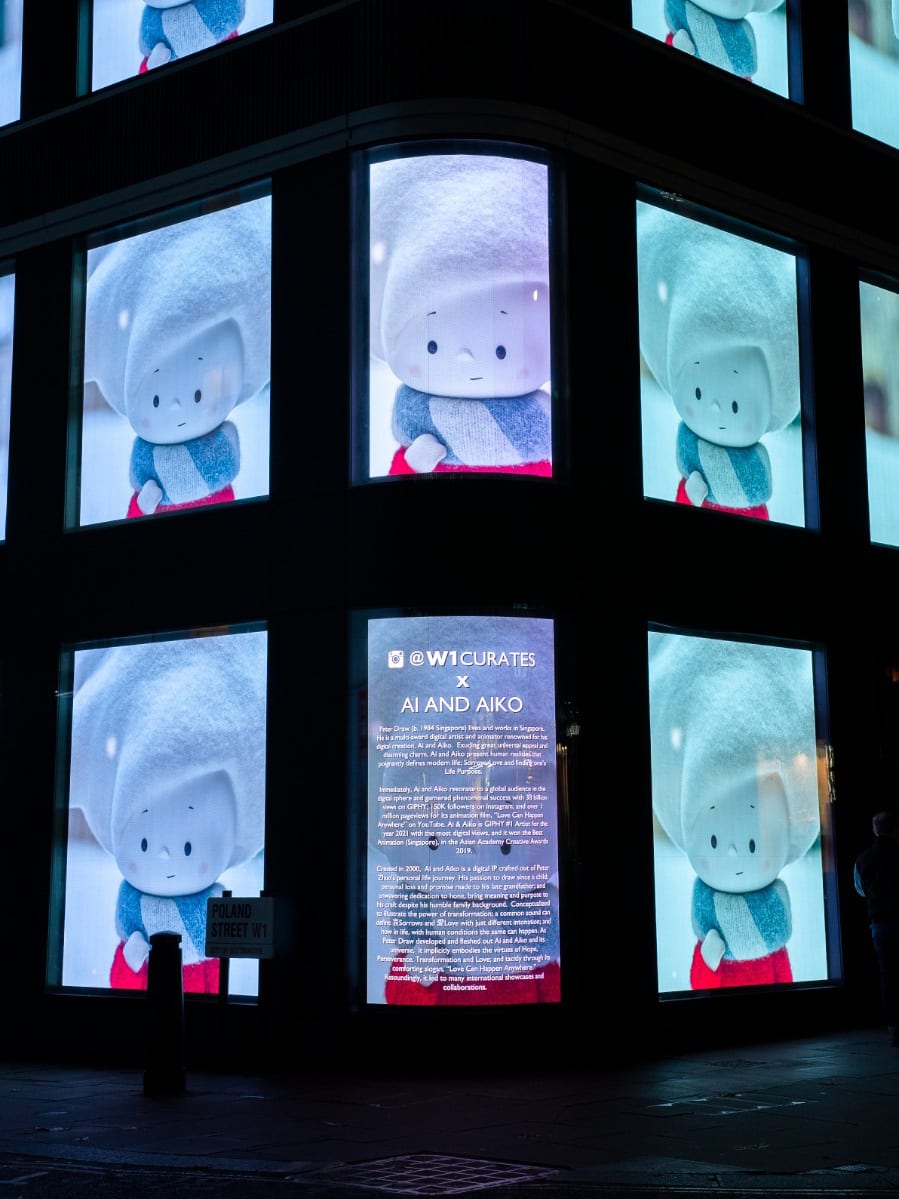 What you see on Instagram: I make digital graffiti with Ai and Aiko into existing Digital surfaces of photos taken of places and spaces around the world.
What you see on my GIPHY: I make programmable graffiti of Ai and Aiko, where millions of users are using them on their Instagram stories or Snap stories, generating billions of views.
WHAT IS THE BIGGEST MISCONCEPTION ABOUT WHAT YOU DO?
Probably that I wear red sweaters all day, every day. I have about 15 red sweaters but I don't wear them every day. Haha.

I UNDERSTAND YOU RUN AN ART AND ANIMATION STUDIO.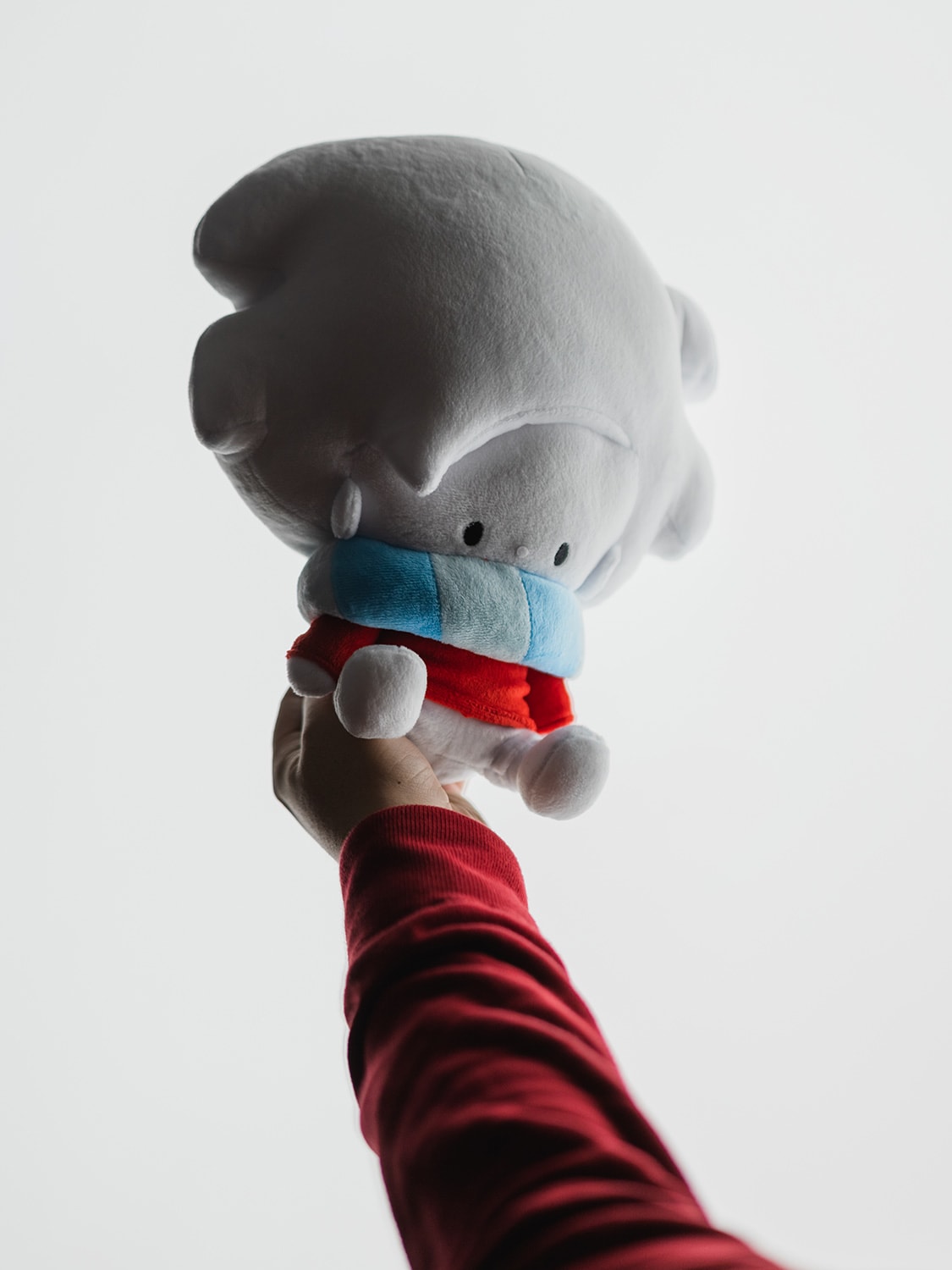 Yes, the studio is named HappWhy. I believe when we find our "why", everything else, like happiness, comes naturally. I don't do commissions though. Every single effort is focused on building my large and growing art estate of Ai and Aiko.
I HAVE TO ASK IT, BUT HAVE YOU OR ARE YOU LOOKING INTO TURNING YOUR WORKS INTO NFTS?
I believe there are tourists and purists in every industry that is trending. I understand NFTs are hot and there are an increasingly large number of tourists in the space, both as collectors in the short term and as creators for the quick gains.
I am from the other category. I prefer to pursue intellectual happiness and satisfaction derived from the long game. I am working on something and I do hope to share the results soon and let the results reveal my quiet ambition.