Spring cleaning: Where to donate and recycle clothing, books and bulky items in Singapore
One man's trash is another man's treasure. Here are more than 30 places in Singapore that will help you declutter and do good at the same time.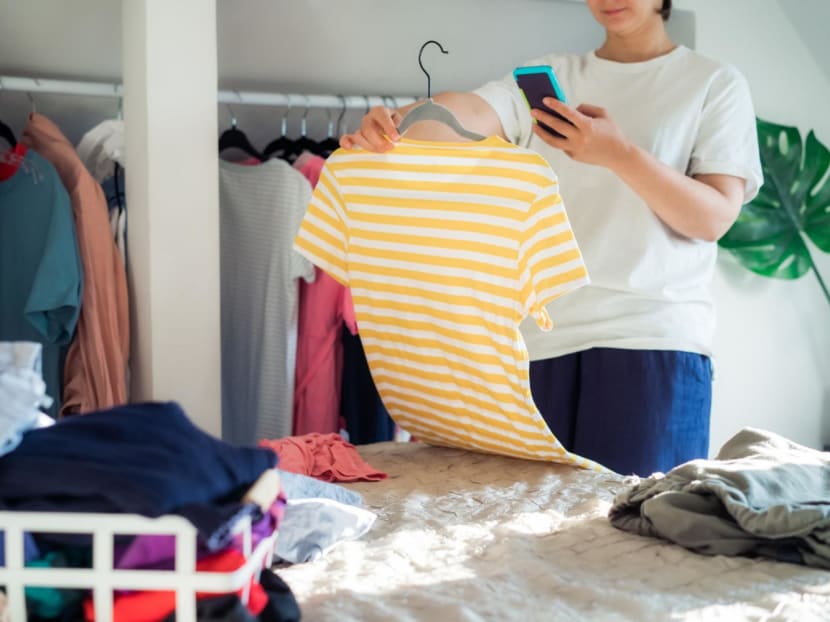 What we declutter is just as important as how we dispose of it, which is why the spring cleaning season calls for both our inner Marie Kondo and karung guni. But rather than binning your unwanted items, how about donating, recycling, or cashing them in for a quick buck?
The Salvation Army is an obvious option, but they're known to be snowed under during this time of the year. Thankfully, there is no lack of alternatives where our unwanted items can find new homes. Just be sure you're donating things that are actually usable. (Who'd want your mouldy clothes or damaged appliances?)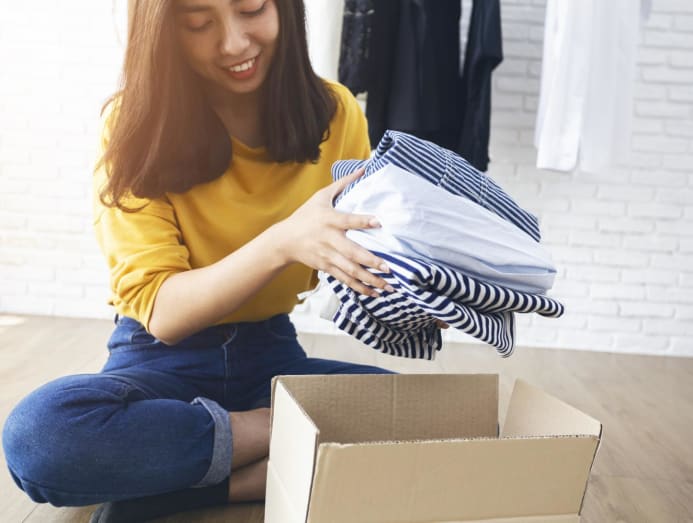 CLOTHING, ACCESSORIES, AND SHOES
If your closet is bursting at its seams from all the double-date sales (your parcels' packages can also be donated), a purge may be overdue. Generally, there are two piles of unwanted apparel. Those that have seen better days, and those that are good enough for resale. Here are some ideas for the former.
Greensquare (Multiple locations)
With Greensquare, unwanted but clean apparel and household linen get a new lease of life as rags or exports to developing countries. You can bag and deposit them at one of their drop-off bins, or opt for a free collection service if your loot comes up to at least five bags. Pillows and soft toys are a no-go, so don't get any ideas about your partner's chou chou.
Cloop (Multiple locations)
If the "good" ones go to Greensquare's bins, where do the "not-so-good" ones end up? Probably one of the bright yellow drop-off bins Cloop and Lifeline Clothing have been scattering across Singapore. By the end of the year, there will be 200 bins collecting textiles to be reused, repurposed, and upcycled. But if you don't see one in your neighbourhood, try getting the town council or PA behind it.
Cloop also holds regular clothing swaps and thrift events, which you can check out on their Instagram page.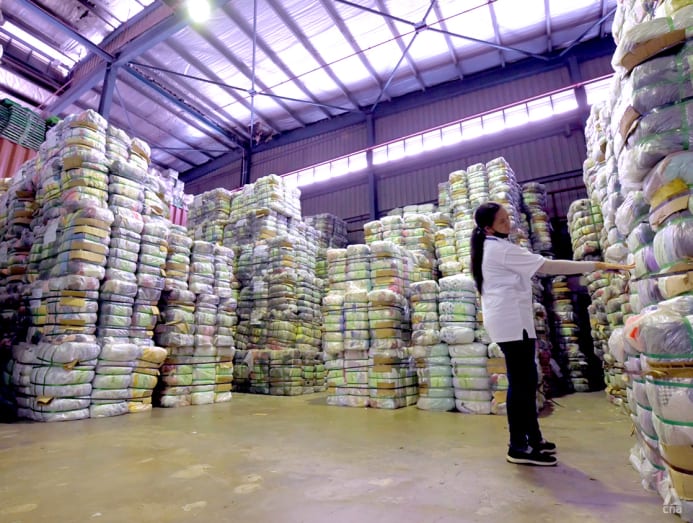 Fashion stores (multiple locations)
You may have heard of Levi's' trade-in programme, where old jeans can be exchanged for store discounts; or UNIQLO's recycling initiative, which distributes your used but wearable UNIQLO clothing to refugees and the less privileged. But there are other brands that accept pre-loved clothing of all brands, too.
You can drop them off at H&M in exchange for a voucher, Love Bonito, or stores under Wing Tai Asia Retail like G2000 and FOX Kids & Baby. Bras in new or good condition can be donated to local lingerie retailer Perk By Kate, which redistributes them to the less privileged.
Now, the second pile can be hard to part with. You can do a clothes swap on platforms like Swapaholic and The Fashion Pulpit, but your wardrobe would be back to square one. Carousell is an option, but you'll be stuck with the goods for a while.
Thrift shops could be the answer, but rather than flooding The Salvation Army, here are some alternatives.
Something Old, Something New (Simei)
Something Old, Something New by Singapore Anglican Community Services provides employment to individuals recovering from mental health issues. They have eight stores across the island, but donations are only accepted at their Simei Branch between 9am and 5pm on weekdays.
SSVP Shop (Geylang)
The SSVP shop by the Society of St Vincent de Paul supports the less privileged by amassing pre-loved fashion and household items for sale. Their wish list includes fashion accessories such as handbags, sunglasses, watches and jewellery, on top of children's apparel, electrical items, kitchenware and household appliances. You can drop a maximum of two shopping bags off at their store with an appointment.
The Barn (Katong, Ang Mo Kio, Pioneer)
The Barn is a volunteer-run thrift shop by Cornerstone Community Services, whose beneficiaries range from students to migrant workers. The Katong and Ang Mo Kio stores accept household items, sports equipment and toys on top of men's and women's clothing, accessories and shoes. The Penjuru store, on the other hand, only accepts men's items. You can drop these off during their respective office hours.
​Siloam Thrift Store (Yishun)
Siloam Thrift Store by Siloam Outreach supports low-income households and ex-offenders in Singapore as well as mission and relief groups in Cambodia. Besides generating sales proceeds for the less privileged, your pre-loved items – not limited to clothing – are also distributed to local and overseas beneficiaries for free. You can drop these off at their office only with an online booking.
MINDS Shops (Woodlands, Queenstown)
MINDS supports people with intellectual disabilities by training them for the retail and customer service sectors, and these testbeds are none other than their three flagship stores. Apparel, accessories, furniture, household equipment, ornaments, gifts, and souvenirs can be dropped off only at the Woodlands and Queenstown stores during operating hours.
Refash (Multiple locations)
While Refash is no social enterprise, it's a godsend for shopaholics to "undo" some of their damage. Depending on brand, condition, trendiness, material, popularity and type, they pay S$0.50 to S$10 a piece for saleable clothing. Some brands are valued more than others, and we recommend familiarising yourself with their payout estimator before lugging your bags to the store.
Some thrift stores may be iffy about shoes, but folks like Ten Feet Tall and Soles4Souls will be happy to take them off your hands (and feet) if they're in good condition. You can drop them off in Geylang and Holland Village, wherefrom they'll be shipped to adults and children in developing countries. If your trainers look more like sampans, you can still close the loop by sending them to ActiveSG, where they'll be reduced to rubber granules and literally pave the way forward.
LUGGAGE, HOME APPLIANCES AND FURNITURE
It's the time of the year when seemingly pristine swivel chairs and suitcases magically appear at the void deck. If you have bulky items that lie somewhere between trash and treasure, they could find new homes at the following places.
​It's Raining Raincoats (Multiple locations)
That bicycle sitting in your bomb shelter can be life-changing for migrant workers who frequently travel between dormitories and amenities on foot. Likewise, suitcases, household appliances and mattresses can go a long way for their living quarters or personal use. Smaller items such as clothing, personal items, and electronics are also accepted.
Drop-off points and persons in charge differ across regions and the types of donation.
Grant A Wish (Multiple locations)
Whether you're moving or making room for a baby on the way, someone out there could use that bed frame or television you no longer want. From furniture to electrical appliances, Grant A Wish consolidates the wish lists across family service centres in Singapore. Smaller items such as baby essentials and school textbooks are highly sought after, too. You'll know exactly who you're helping here.
BOOKS
Many of us bought books during the pandemic but tossed them aside to collect dust once we resumed regular programming. But if you aren't the voracious reader you set out to be, decluttering is just as good a new year's resolution as any.
Here are three places accepting donations because good books are read, not kept.
​Books Beyond Borders (Marymount)
Books Beyond Borders supports rural classroom projects for students in Nepal by collecting and selling donated books. While genres like young adult, self-help and memoirs are welcomed, they do not accept technical books, travel guides and non-English material. We recommend running your stash by their criteria before dropping it off or scheduling a doorstep pick-up.
Dignity Mama (Kent Ridge, Jurong)
Dignity Mama by Project Dignity supports young adults with special needs and their caregivers by giving them a shot at entrepreneurship. You can help stock their stores by donating children's books, adult fiction and non-fiction, as well as magazines, but note the exceptions before dropping them off.
Thryft (Bukit Merah, Pioneer)
Thryft supports family service centres, migrant workers, and ultimately the environment by enabling the circular economy in Asia. You can donate to their Books For Charity collection or trade them in for Thryft credits to buy new books on the platform. Donations can be dropped off at both locations, but trade-ins can only be done at their site in Pioneer.
GROCERIES AND HOUSEHOLD ESSENTIALS
With Lunar New Year around the corner, it's time to brace your pantry for the incoming goodies. From biscuits to bottled sauces, leftover supplies from our year-end parties can get in the way. Thankfully, you can drop them off in a Food Bank box near you or the sites below.
Food From The Heart (Tai Seng)
Food From The Heart supports low-income families and the elderly and is currently looking for canned foods, biscuits and Milo. You can drop these off at their office between 9am and 6pm on weekdays, or at any of the 24/7 food drops outside their community shops in Mountbatten, Boon Lay, Lengkok Bahru and Punggol.
Willing Hearts (Katong)
Willing Hearts supports the elderly, the disabled, low-income families, less privileged children and migrant workers by delivering more than 10,000 meals a day. They're currently looking for cooking ingredients, which you can drop off between 4.30am and 3pm.
The following sites accept groceries, but could also use hygiene essentials, personal care products, electronics, school supplies, and basic clothing as they care for diverse groups.
Society For The Aged Sick (Hougang)
Society For The Aged Sick supports the elderly, especially the less privileged, who cannot be cared for at home. Groceries aside, they're looking for stationery, radios and personal care items such as Vicks VapoRub and Axe Brand Universal Oil. You can drop these off at their office between 9am and 5pm.
Lions Home (Bishan or Bedok)
Lions Home supports nearly 400 elderly persons in two nursing homes. Groceries aside, they're currently looking for bath towels, bed linen, cutlery, Velcro sandals, T-shirts, shorts for men and cropped pants for women. You can drop these off at their office, but they'll need a week's notice.
Metta Welfare Association (Simei or Woodlands)
Metta Welfare Association supports the disabled, the elderly, patients with medical conditions, as well as children and youths with special needs. Groceries aside, they're currently looking for toiletries, IT equipment and wearable clothing. You can drop these off at their sites in Simei or Woodlands, depending on the type of donations.
Chen Su Lan Methodist Children's Home (Simei or Woodlands)
Chen Su Lan Methodist Children's Home supports children and youths from low-income and broken families in Singapore. They're currently looking for groceries with a shelf life beyond six months, and toiletries including shampoo and deodorants. You can drop them off between 9am and 6pm, but they'll need at least three days' notice.
The shelter also welcomes school supplies, so if your child would like to share their Christmas presents from Smiggle, you know where to look.