From Tharman's cats to Jokowi's goats: The beloved pets of 7 world leaders
From the kitties of Singapore President Tharman Shanmugaratnam to the goats of Indonesian President Joko Widodo. Also, guess which world leader has an entire private zoo with tigers and flamingos?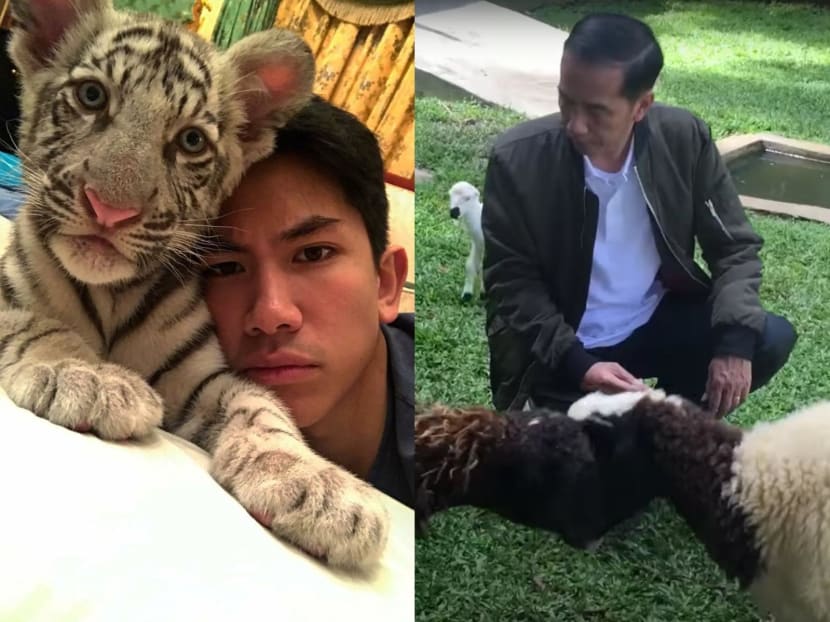 Now that Mr Tharman Shanmugaratnam has officially been sworn in as the ninth President of Singapore, he joins an exclusive list of world leaders. And an even more exclusive list of those who have fur kids. From adopted cats and dogs to even Bengal tigers, here are a few animals who are living it up as pets of the most powerful people in the world.
1. PRESIDENT THARMAN'S SOCKS, JUDY AND AWAN 
On Aug 30, Mr Tharman went IG-official with his three cats, Socks, Judy and Awan. The cats were adopted from the Cat Welfare Society and a veterinarian in Jurong. They've also won the hearts of a few netizens, thanks to their adorable faces and quirky personality traits. Apparently, Awan enjoys biting Mr Tharman's ankles.
Animal lovers have also praised Mr Tharman's decision to adopt cats, instead of buying them from a pet store.
2. BRUNEI SULTAN HASSANAL BOLKIAH'S TIGERS
Zoo animals count as pets, right? A report published by Insider revealed that Brunei's Sultan Hassanal Bolkiah owns a private zoo that houses Bengal tigers, falcons, flamingos and cockatoos which can play games and sing. The Sultan reportedly entertains foreign dignitaries with animal shows at the zoo, whenever he has an audience with them.
In 2018, Bangkok Post interviewed the Thai animal trainers who looked after the animals at the Sultan's private zoo. According to the trainers, the Sultan and his queen "often praise" them for "doing a good job" and give the trainers "benefits and perks equivalent to those of a government official in Brunei".
3. US PRESIDENT JOE BIDEN'S COMMANDER AND WILLOW
US President Joe Biden currently owns two pets: Commander, a German Shepherd, and Willow, an American tabby domestic short-haired cat.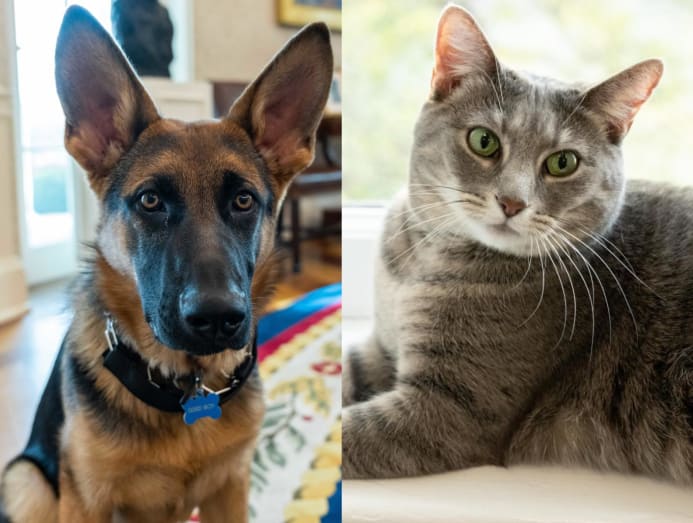 This year, US Secret Service email correspondence revealed that Commander was involved in several biting incidents, including one where he bit an officer's arm and thighs. Willow, on the other hand, has the honour of being the first cat to live in the White House since India, President George W Bush's black cat.
In a stark contrast to Commander, Willow has been the subject of a few amusing stories, including one where she would sleep on top of President Biden's head at night.
4. FRENCH PRESIDENT EMMANUEL MACRON'S NEMO
Nope, French President Emmanuel Macron's pet is not a clownfish but a black Labrador Retriever-Griffon. Nemo was adopted by the Macrons in 2017 and has had his fair share of hijinks since then – including an incident in 2017 where he was caught relieving himself on a fireplace at Elysee Palace, Macron's official residence.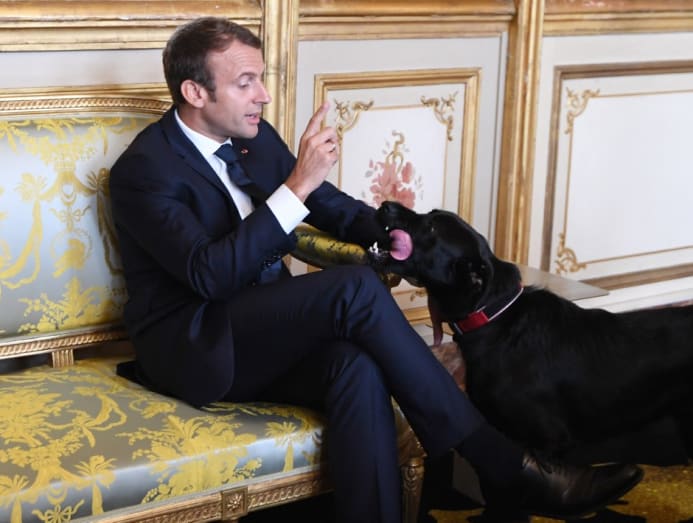 In 2020, Nemo was the star of a Christmas video encouraging citizens to adopt pets during the holiday season.
5. INDONESIAN PRESIDENT JOKO WIDODO'S GOATS AND FROGS
Indonesian President Joko Widodo's choice of pets is interesting, to say the least. Over the years, he has reportedly owned an eclectic variety of animals including frogs, turtle doves and parakeets.
In 2017, Mr Widodo uploaded a video on his personal YouTube page, showing off the goats in the pen of Bogor Palace, one of his residences. He highlighted two baby goats that were recently born, saying that "birth is a blessing from God and signals new change".
6. CANADIAN PRIME MINISTER JUSTIN TRUDEAU'S KENZIE 
Not much is known about Kenzie, the pet of Canadian Prime Minister Justin Trudeau – other than that she joined the Trudeau family sometime in 2016.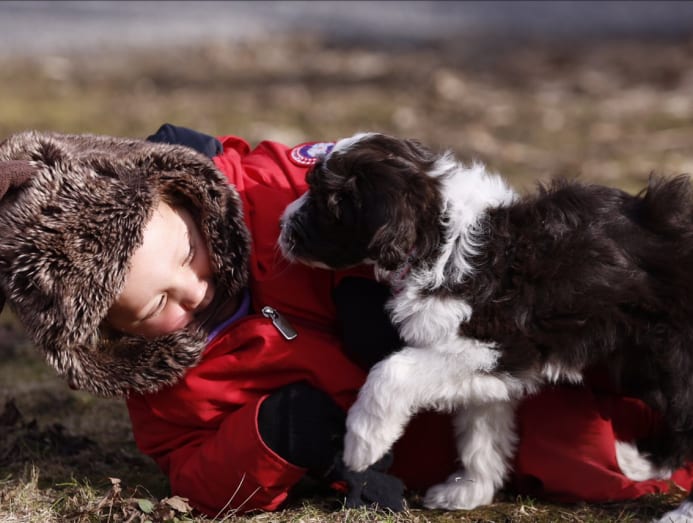 The Canadian Kennel Club responded positively to Kenzie, calling the Portuguese Water Dog "the perfect breed for (the) Prime Minister and his family" as "the breed is intelligent, resourceful and protective of family".
7. JAPAN'S EMPEROR NARUHITO'S YURI
Born in 2009, Yuri is an Akita dog that was adopted by Japan's Emperor Naruhito and his family.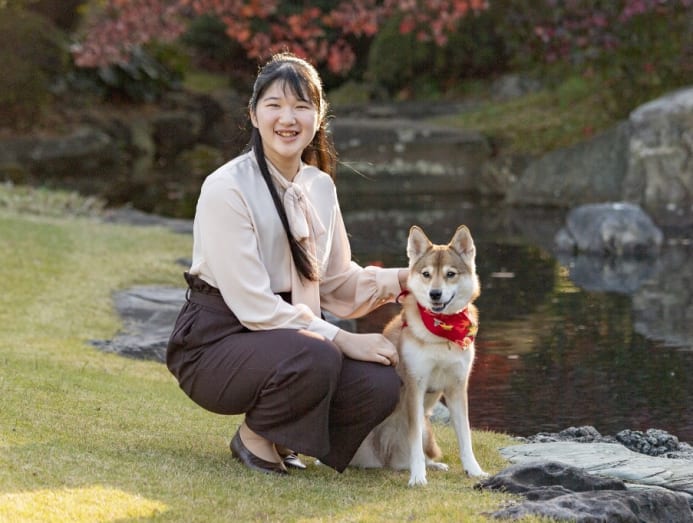 Yuri has since made multiple public appearances, including at hospices to comfort elderly residents and terminally ill patients – according to Japanese publication The Asahi Shimbun.
More pet-related stories: