Meet the founder of Qisahn, the iconic game shop in Far East Shopping Centre: 'We'll be the last store around'
What will become of the iconic game shop Singaporeans grew up with? Its founder, Soon Qishan, tells CNA Lifestyle about its origin story and plans for the future with its current home at risk of en bloc.
Even with news of its possible en bloc sale, a stroll through Far East Shopping Centre remains uneventful. Unlike places like Golden Mile Complex, which teemed with wistful shoppers during its numbered days, the mall is still a ghost town.
But that's not to say no one is concerned about its occupants. Take the beloved video game store Qisahn, which received a query so decidedly Singaporean: Will there be a moving out sale?
"We're just happy to see this kind of comment because it really reinforces what we want customers to remember us for, which is price," said Soon Qishan, the 37-year-old behind one of Singapore's go-to game shops.
Despite the lack of footfall, or precisely because of the low rental that it affords, Qisahn has made the most of a conventionally poor location for the last 15 years, not least because its following was first nurtured online.
CNA Lifestyle recently spoke with Soon to learn about his journey from HardwareZone user account to an icon of Far East Shopping Centre.
AN ENTREPRENEUR AT 18
Long before the likes of Carousell and Taobao, conducting e-commerce in Singapore was a cumbersome affair. Having bought and sold "for fun" on HardwareZone and Yahoo Auctions while serving National Service, Soon knows the struggles all too well.
"I would meet buyers at MRT stations, which was about two kilometers from my place. Cycling was faster than taking the bus, and I was really free when I was young," he recalled. (And in case you're wondering, Qisahn was Soon's forum nickname.)
The tedium eventually caught up, and Soon figured that supplying to retailers in Singapore would be a more lucrative pursuit. Not long after, the 19-year-old was on a plane to China with nothing but a contact he made on Alibaba.
His search for products with a decent margin got him into the business of screen protectors. One thing led to another, and a game shop he supplied introduced him to selling video games online – except they had an agenda.
Recognising that Soon was tech-savvy, the shop owner, who had no skin in the digital game, entrusted him with a ton of cheap PlayStation Portables (PSPs) – which were all the rage then – and put him up to disrupt their rival's business.
"(The owner) said, 'Boy, can you help me disturb them?' Because they had a competitor who was selling at lower prices online," Soon said.
He obliged, waging a price war in which he was clearly triumphant. But while his foray into the industry seemed like a stroke of luck, he was on his own in building Qisahn.com while in university.
He wasn't the first online video game reseller, but one innovation positioned him ahead of his time: A shopping cart. Wildly simple, but effective.
"That was the state of disrepair the industry was in. We really took advantage of the shopping cart – something so basic – for a very long time."
This allowed him to take the business offline, operating in a conference room within IOI Plaza in Woodlands for four months before relocating to Far East Shopping Centre in 2008.
"PRICE IS WHAT OUR CUSTOMERS FOLLOW US FOR"
"There were no mobile phone games. No PUBG or Mobile Legends to compete with. Everyone was playing PSP or PlayStation 3, so they would come to buy and trade games with us," Soon said.
The 2000s were Qisahn's heyday, and meeting the overwhelming demand was their only challenge. Asked what the mall looked like 15 years ago, he laughed and said it looks exactly the same as it does now. The store's proposition hasn't changed, either.
"We're built to be the shop that sells one of the cheapest video games in Singapore, even though business textbooks say this isn't sustainable, People can deny and say price isn't the only thing that's important; service is. But price is what our customers follow us for," he explained.
One of Soon's best bets in the early days was importing their goods directly from suppliers abroad. No doubt, it was a logistical nightmare that saved them a paltry dollar or two per unit. But it made them less reliant on local distributors, enabling them to pull off some of their most ambitious launches.
"For the Diablo launch, we were able to break the street date because some shipments arrived early. Those were fun times. These things really help carry our branding, showing that we aren't just any store you can find in the neighborhood."
Being a discount store has its challenges, though. As companies like Sony and PlayStation shifted towards digital sales and e-commerce giants like Shopee and Lazada emerged, Qisahn's position was precarious at times.
Fortunately, price-sensitive customers started returning as online marketplaces scaled back on their promotions. And while COVID-19 mangled most businesses in 2020, Qisahn was among the handful that thrived.
"It was huge. We're talking about ridiculous numbers, easily 20 times the volume that we see on a regular day," Soon recalled. Alas, the unexpected windfall stirred up mixed feelings.
"The competitive side of me said, we need to be very aggressive in taking the business. But the other side of me felt it was strange to be profiting off a disaster."
To make peace with their earnings, Qisahn made a donation of S$25,000 to the Children's Cancer Foundation.
DEALING WITH ONLINE FLAK
When Qisahn joined forces with PLAYe – a larger online and offline games and collectibles store – in 2016, some customers reacted badly and chided them for "selling out". Even after Qisahn withdrew, citing "too many bosses" as the reason, their critics did not let up.
Asked if he keeps up with online reviews, Soon matter-of-factly acknowledged that negative comments typically target their customer service, or lack thereof, and his "arrogance".
"We don't normally bend over backwards for our customers. When transactions go south, we stick by our policies, which can be very harsh," he elaborated.
In the early days, one such policy held customers who opted for normal shipping responsible for lost parcels. Qisahn would provide proof of mailing, but offer no remedy for these empty-handed buyers.
As for complaints about customer service, Soon shared that he had replaced staff members with poor attitudes and raised the full-time salary by S$800 to attract high-quality candidates.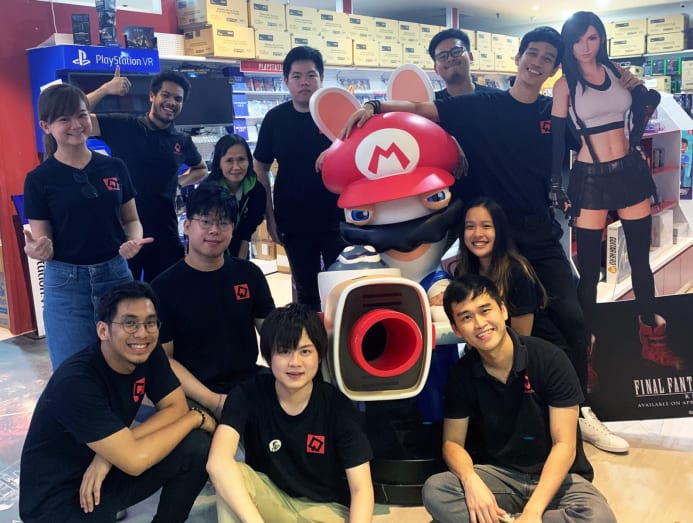 Candidly, he admitted that he can take negative feedback in his stride as long as the authenticity of their products isn't called into question. Until then, he has no plans to directly respond to these online commenters.
"Fortunately or unfortunately, customers are still drawn by our low prices. We have to stick by it, which leaves very little room for us to (invest in other areas)."
WHAT'S NEXT FOR QISAHN?
Over the last 15 years, Qisahn's clientele has grown alongside the brand. Schoolchildren who once hung out at the store now return with little ones in tow. What better place to introduce their kids to the world of video games?
Yet, when asked about his interactions with regulars, Soon drew a blank.
"Wow, this is difficult. I should have a story for your soundbite but nothing comes to mind. I don't see customers often enough. My whole focus has been on preventing problems," he confessed.
So when walk-in customers reminisce about Qisahn's first set-up in Woodlands, Soon would respond sheepishly as he hardly recognises them.
"You see, this is where I'm really lacking. I spend so much time trying to streamline our operations and I don't spend enough time thinking about how we can appreciate our regulars."
If and when the en bloc sale goes through, what's next for Qisahn? According to Soon, he has not made concrete plans but will keep his fingers crossed for another winning combination of a prime location and low foot traffic.
"We're definitely reluctant to leave, but it's not really a choice so we'll cross the bridge when we get there. For sure, our business will always be focused on low prices and accessibility."
Addressing the future of video game retail, Soon referenced the collapse of the music retail industry over a decade ago. In just two years, all the players were wiped out. Could Qisahn meet a similar fate? He doesn't rule out the possibility, but has no intention of bowing out till then.
"We'll be the last store around. I'm very sure."