Transforming a 980 sq ft HDB flat with a tricky curved wall into a welcoming space
CNA Lifestyle's Making Room series looks at small homes with big transformations. This week, we visit a bachelorette pad that embraces a troublesome feature and local art to create a "friendship canteen."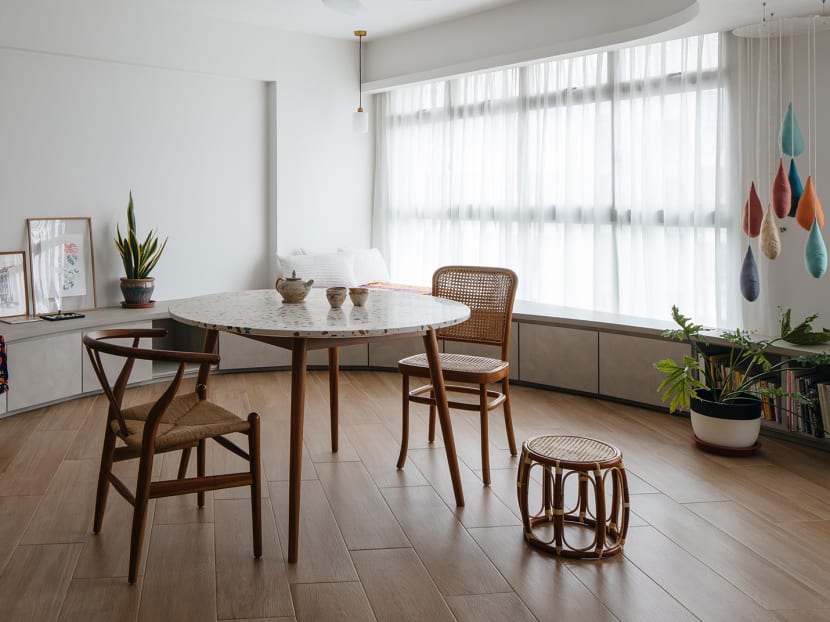 Homeowner Medha Lim dabbles in calligraphy, watercolour painting and pottery; supports local artists and enjoys playing host to her friends and family.
So when she bought a 980 sq ft four-room resale HDB flat in Compassvale, she decided her new home should be "very welcoming, because that's how I approach things in life. I welcome new challenges, new people; I want them to find a safe space where I am, where I stay, or where I work as well", said the tech professional.
And the flat's main and unusual characteristic proved to be the right space for this.
While most home-buyers tend to look for places with a squarish layout, Medha was charmed by her new home's curved wall, which ran the entire length along the window-facing side of the living/dining area, and the bedroom right next to it.
"People might think there is quite a lot of dead space, but what the interior designer and I did was to really make use of the dead space and have conversations with it," said Medha, who envisioned her home as "a space for creativity" and "a fluid way of using space".
First, the bedroom next to the original living/dining area was sacrificed to create a larger combined living/dining space.
A curved wraparound "bench" in grey laminate was custom-built – it begins as a narrow "trickle" from the ceiling in one corner and flows down the wall, then spreads along the entire perimeter of the living/dining area, transforming it into a round, pond-like space.
The "bench" is used as extra seating, and as a space to display artwork. Below it is a mix of open and concealed storage for Medha's extensive collection of books, ceramics, art supplies and other bric-a-brac. A concealed lighting strip that runs along the entire base creates a soft, ethereal glow.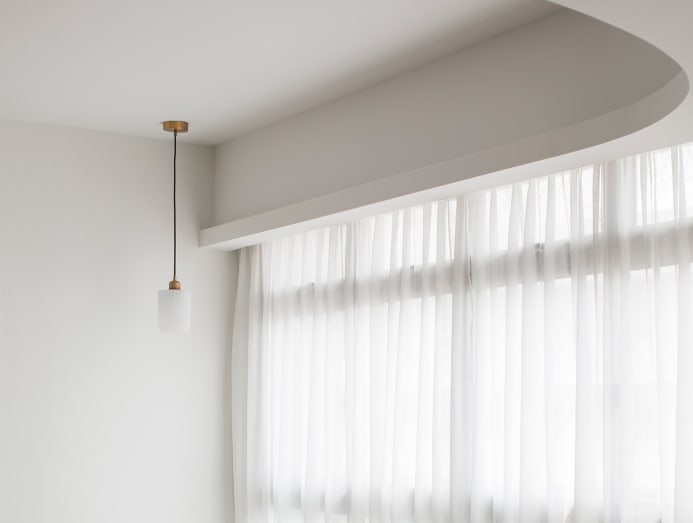 Overhead, the false ceiling is also shaped in a sweeping curve. Cove lighting, and the sunlight streaming in through sheer day curtains, bathe the space in a gentle luminosity, making for a cosy setting.
A hanging mobile featuring oversized fabric raindrops in muted pastel colours, which was handmade by a local artist, takes centrestage in this space, adding a touch of whimsy and playfulness.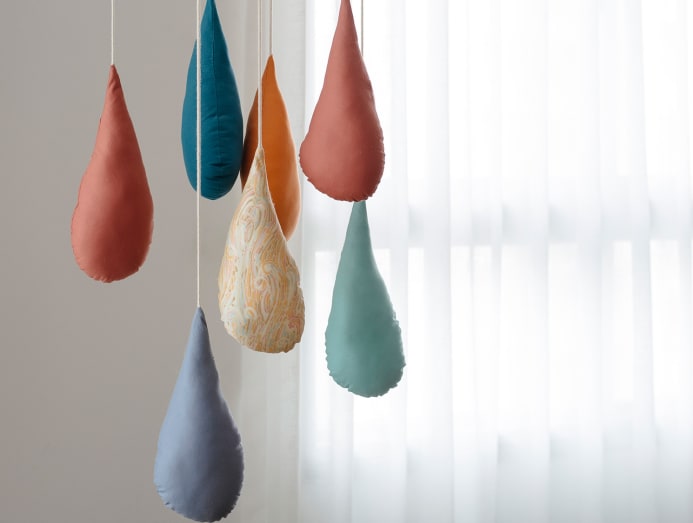 "These raindrops inspired me to have a bit more colour in my home, and made me realise I like to infuse my life with local things," Medha shared.
For example, she owns those classic "kopitiam" cup and saucer sets featuring the familiar green floral motifs, and a variety of works by local artists (ranging from sketches of shophouses to portraiture to cross-stitch) decorate her walls.
She even commissioned local artist and Nanyang Academy of Fine Arts adjunct lecturer Mary Bernadette Lee, to create a uniquely Singaporean focal point in her apartment – a handpainted mural in beige, green and brown tones featuring motifs of orchids and tropical foliage.
A selection of potted plants placed around the apartment extends that "home in the tropics" feel.
The eclectic choice of furniture also belies Medha's quirky, artistic nature. The round, four-seater dining table comes with a colourful speckled terrazzo top that's charmingly retro, while the two accompanying dining chairs in matching wood shades are of different styles.
Instead of a sofa, she opted for armchair-shaped beanbags as these are light and easy to move around, whether it's for watching TV or having face-to-face chats.
The other remaining pieces of furniture – a retro rattan armchair, a stool and a bench – show that not everything has to match perfectly to go well together.
"It's very warm and encompassing ... it wraps around you, it gives a soft feeling of comfort," said Medha of the space, which serves multiple purposes as living room, study, dining area, home office, or even sleeping area – the thickest portion of the "bench", in a corner right beside the window, is big enough to serve as a daybed for reading and lounging around in, and even as a guest bed.
Even though her master bedroom is simply furnished, she made sure to purchase everything from local shops, from the minimalist bed frame and the nightstand to the vintage dresser.
An avid cook, Medha's kitchen features a retro-modern hipster vibe, with white countertops over clean-lined base cabinets in a striking shade of mustard yellow. A terrazzo backsplash runs along the entire length of the kitchen counter. Above that, a single long wooden shelf offers a generous space to store or display kitchenware.
"This terrazzo slab used in the kitchen (as a backsplash) is exactly the same as the one used in the dining table, so they actually speak to each other. I think it's quite poetic," said Medha.
She added: "Growing up, I went to a lot of HDB homes, which had old terrazzo on the floor, and I thought to myself, when I get my own space, I really want a terrazzo floor."
But this particular material, which comprises small marble chips, glass pieces or colorful stones embedded in a concrete base and polished to a high shine, is very expensive, labour-intensive to create, and time-consuming to install.
"Practicality set in, and I felt there is no need to blanket cover the floor with terrazzo. In fact, having accents of terrazzo would actually spark up the space even more," she said.
Most importantly, Medha feels that the renovations have helped her home become a "friendship canteen". "It's a funny term, but it really encapsulates what happens (at my place) ... friends coming over to a sense of warmth, a sense of comfort and welcoming."