A cool couple's trapezoidal HDB flat named after a Green Day song
In this instalment of CNA Lifestyle's Making Room series, the homeowners gamely embraced the weird layout of their five-room resale flat and called it Haushinka.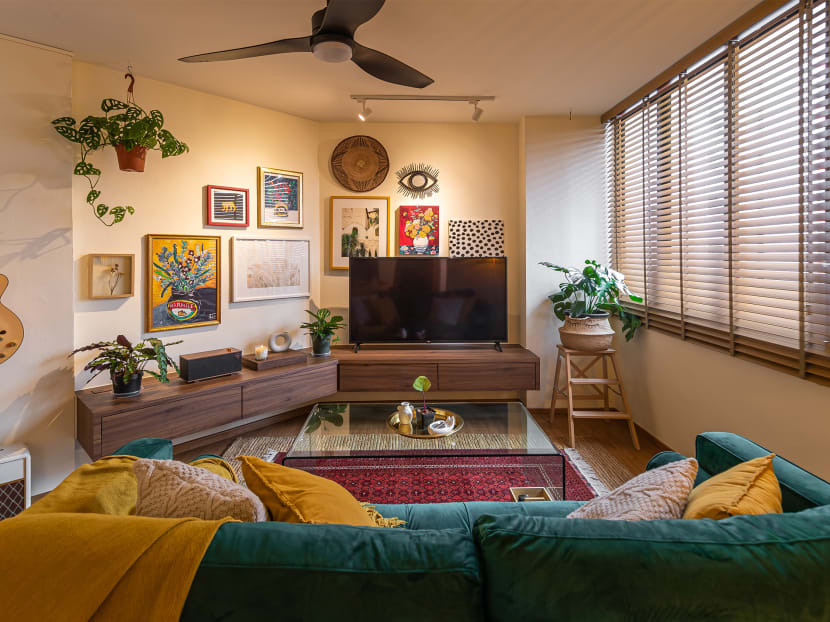 To make your house truly your own, sometimes it's as simple as giving it a nickname. Which is what homeowners Kamal and Eriana did.
Their 1,033 sq ft five-room resale HDB is called Haushinka, which is the title of their favourite Green Day song.
But it's not as playfully random as you think – the punk group's song is about a "girl with a peculiar name", which they thought was fitting since their Choa Chu Kang also had a really peculiar layout.
In this instalment of CNA Lifestyle's Making Room series, the homeowners gamely embraced the weird layout of their five-room resale flat and called it Haushinka.
It begins with a trapezoidal entryway, which leads to a trapezoidal living and dining area. Two out of its three bedrooms were L-shaped, and the kitchen zig-zags its way to the funnel-shaped service yard beyond it.
Rather than bemoan its unusual shape and its numerous awkward corners, they decided to celebrate its quirks, by getting local interior design firm Swiss Interior to create a bohemian-looking home which reflected their warm and carefree personalities.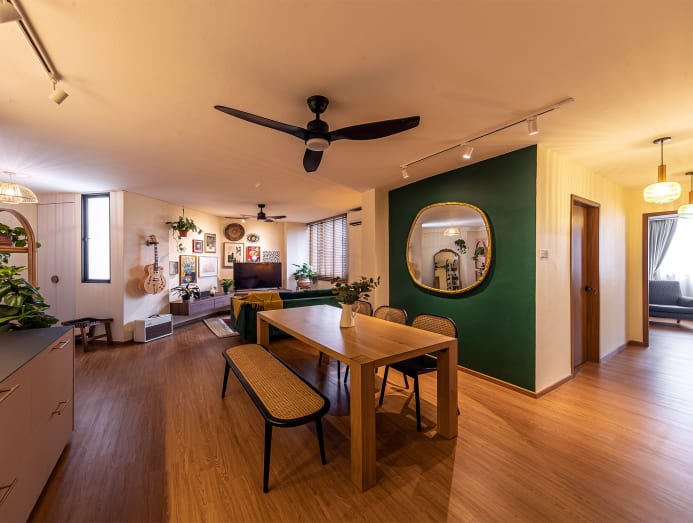 "I kind of like it because it's a bit weird, it's not the same as the neighbouring flats," said Kamal.
"We wanted to bring in a cosy environment. Bright in the daytime and warm and cosy at night," said Eriana.
She added that "prior to the renovation, the windows were covered in frosted film, the kitchen was cramped, rooms were under-utilised, the bedrooms were small. There wasn't enough wardrobe space. Nothing was aesthetically pleasing."
For starters, the wall between two bedrooms were hacked to create a spacious master suite.
The flooring in the living and dining areas, kitchen and bedrooms was redone in vinyl resembling long wooden floorboards, in a warm teak hue. Walls were kept mostly white. Overhead, black ceiling fans and white track lights with orange-hued bulbs were installed throughout. Wooden blinds in the same colour as the flooring, were used as window treatments.
Once this consistent, neutral, "warm and welcoming" base was in place, it was time to get creative and colourful.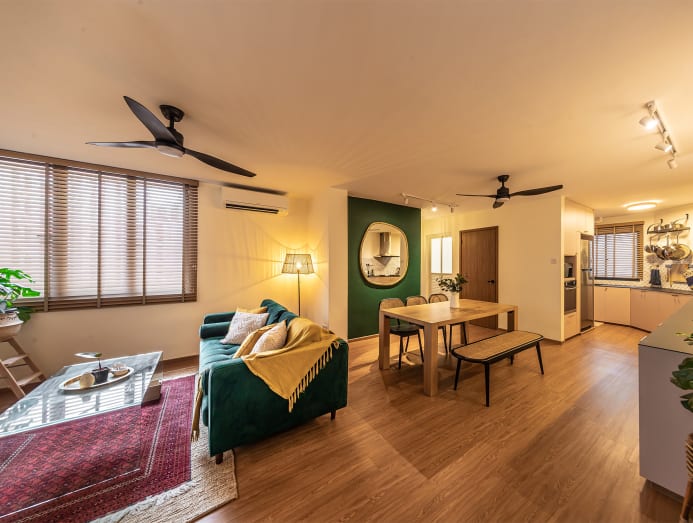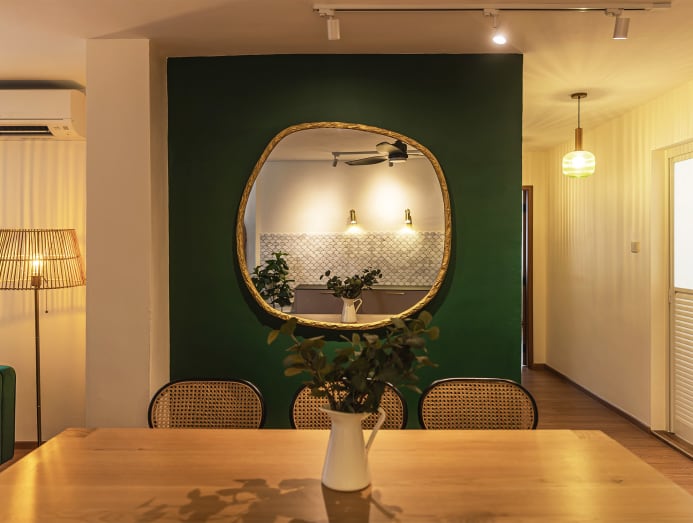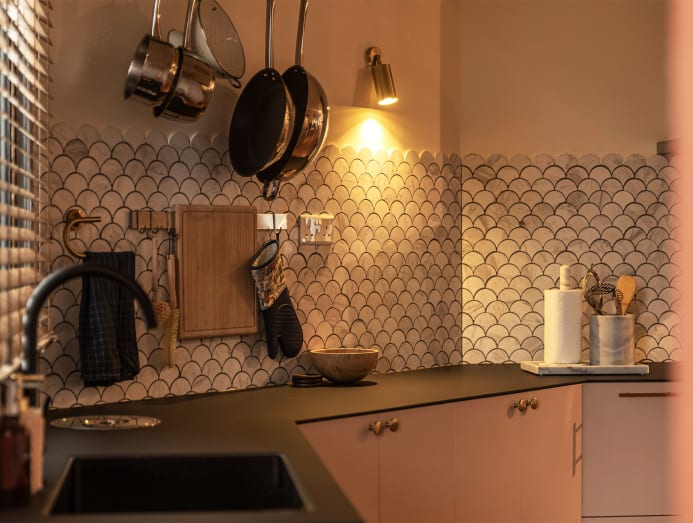 "We were looking around the Internet for inspiration. I came across this picture of a green sofa in a living room, and I was so into it, I needed to have it. That's how everything started. Everything had to revolve around the green sofa," said Eriana, of the clean-lined yet plush emerald-hued velvet settee that anchors the living room.
Pops of pink and gold were incorporated to complement their beloved green sofa. For example, the front door is painted in an eye-catching shade of salmon pink. It opens onto the entryway, with a tall rattan shelf laden with leafy potted plants creating a mini indoor tropical "jungle". A large, wood-framed floor mirror leaning against the opposite wall makes the space appear larger and brighter.
On the left of the entryway is the living area, which starts off wide and gets narrower at the end. To maximise the amount of useable space, the sofa was placed at the widest point.  Two TV consoles were placed following the angles of the walls, with the flatscreen TV at the narrowest part of the room.
A gallery wall – comprising an assortment of artwork ranging from a painting of a flower-filled vase, a white canvas sporting graphic black dots, black-and-white photography and woven basketry – transforms the awkward corner into an eye-catching masterpiece. A selection of potted and hanging plants, a wall-mounted guitar and an amp complete the eclectic assemblage.
"We realised that it looked plain so we went with a gallery wall that could maybe uplift our mood and probably inspire us," Eriana explained.
The transparent glass waterfall coffee table perched invisibly atop a red-toned rug layered atop a larger natural jute one serves its function as a spot for parking drinks and snacks, without adding visual noise to the area.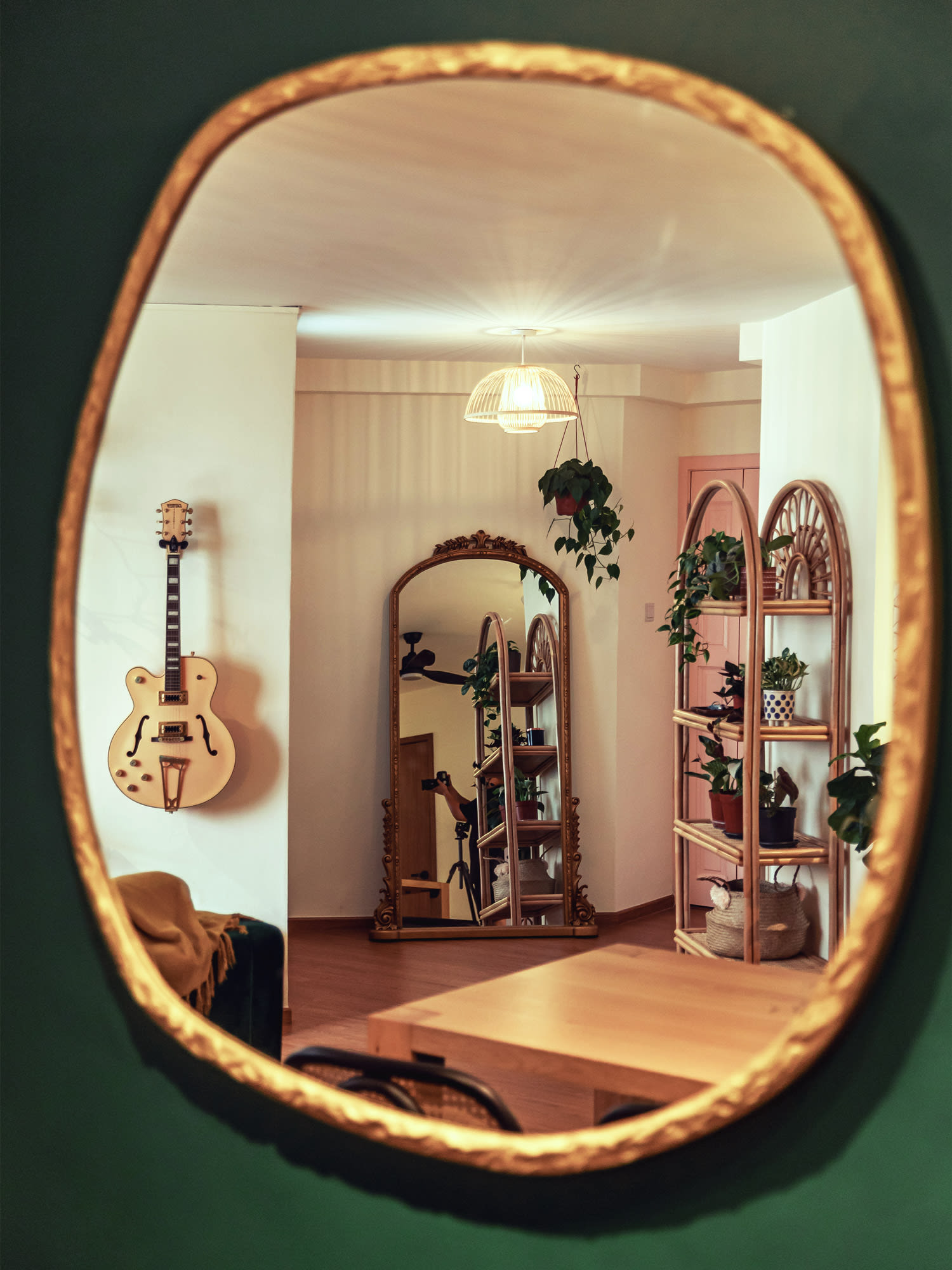 Speaking of eye-catching, the couple seems to have a thing for eye-themed decor items: A mirrored piece in the shape of an eye stares out of a wall; a woven planter with a leafy "crown" looks like it's peacefully asleep, thanks to the closed-eye motifs sewn onto it.
The adjacent dining area is anchored by a feature wall painted in the exact same shade as the sofa and punctuated with a large, organically-shaped gilt-framed mirror. A plain rectangular wooden table, which seats six, is paired with a black wood and rattan bench on one side, and a trio of matching chairs on the other. A minimalist sideboard in a black-and-wood finish completes the ensemble.
The irregularly-shaped kitchen appears to be playfully inspired by a fish, and yet somehow manages to look elegant and somewhat girlish.
A long, curved row of pink base cabinets are topped by black countertops, and a backsplash made out of marble-look scalloped fish-scale tiles, built to a half-height.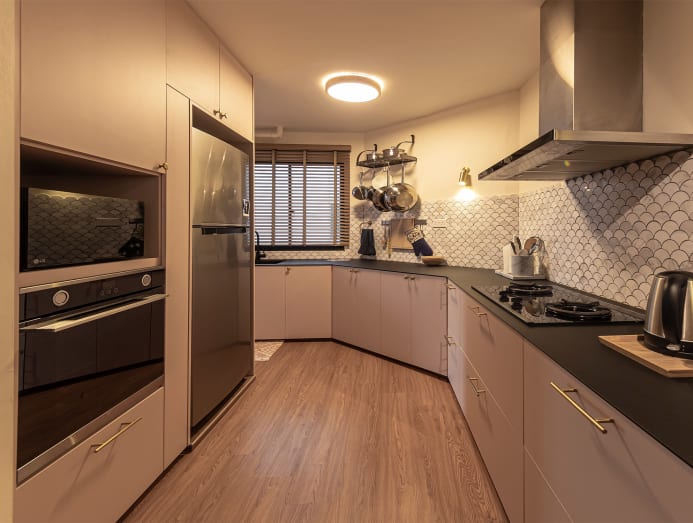 Opposite, a row of full-height cabinetry in the same pink tone offers plenty of hidden storage, while also housing the oven and the fridge. Keeping the kitchen accessories to a strict colour palette of stainless steel and black helps keep the space looking sleek and luxe.
"I really like the kitchen because of the long counter space. I can do a lot of meal prepping," said Eriana. Within the base cabinets, inner drawers allow them to make efficient use of the storage volume, keeping everything perfectly organised and within easy reach.
The funnel-shaped service yard, which features half-painted walls in ochre and white, is where the washer and dryer reside, side by side. Floating shelves above them provide ample display space for their collection of plants and ceramics, including one sporting – you guessed it – eyes.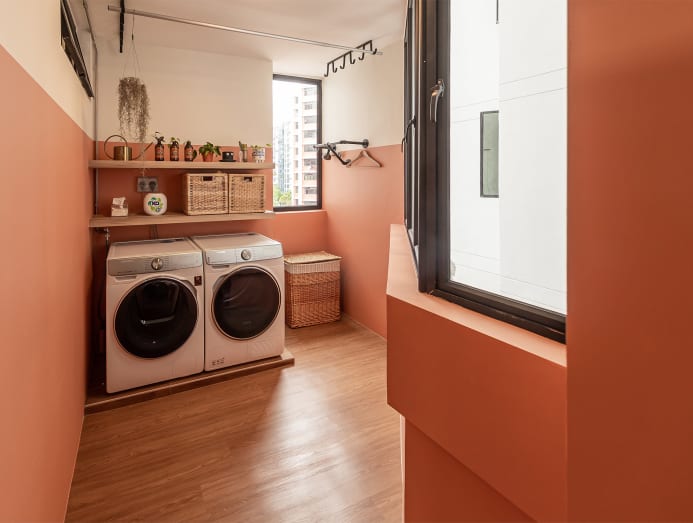 The design of the spacious master suite is influenced by the famous green sofa – the built-in wardrobe at its far end is done up in the same shade.
"Initially, this was two separate bedrooms, I hacked the rooms, so that I can create more space to create this amazing wardrobe," said Eriana.
Opposite is a wood-framed bed with a rattan headboard, with tropical-themed bedlinens in rich tones of navy and forest green. This is flanked by mid-century-style peg-legged wooden bedside cabinets, which are elegantly accessorised with gold-toned anglepoise lamps, foliage in vases, and scented candles.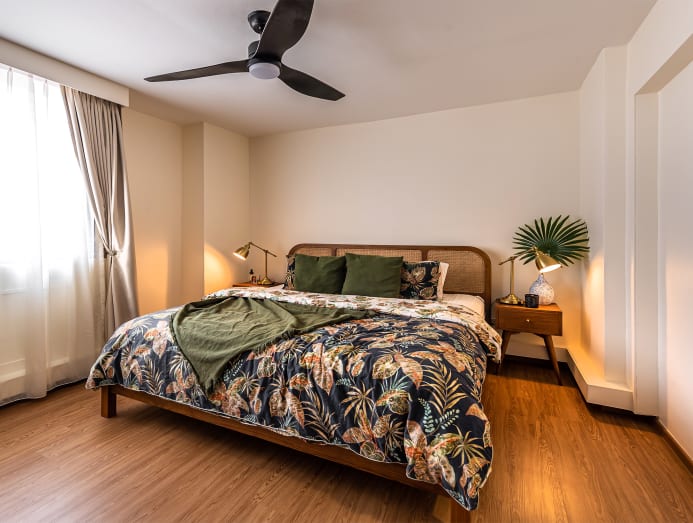 A wooden vanity table and a comfy armchair upholstered in deep blue fabric complete the ensemble.
With the added space created, the couple also managed to create a serene chillout space, furnished simply with a long, low teak console, a dark grey feature wall with one wooden shelf that holds pictures and ceramic vases, and a beige L-shaped sofa strewn with cushions and throws.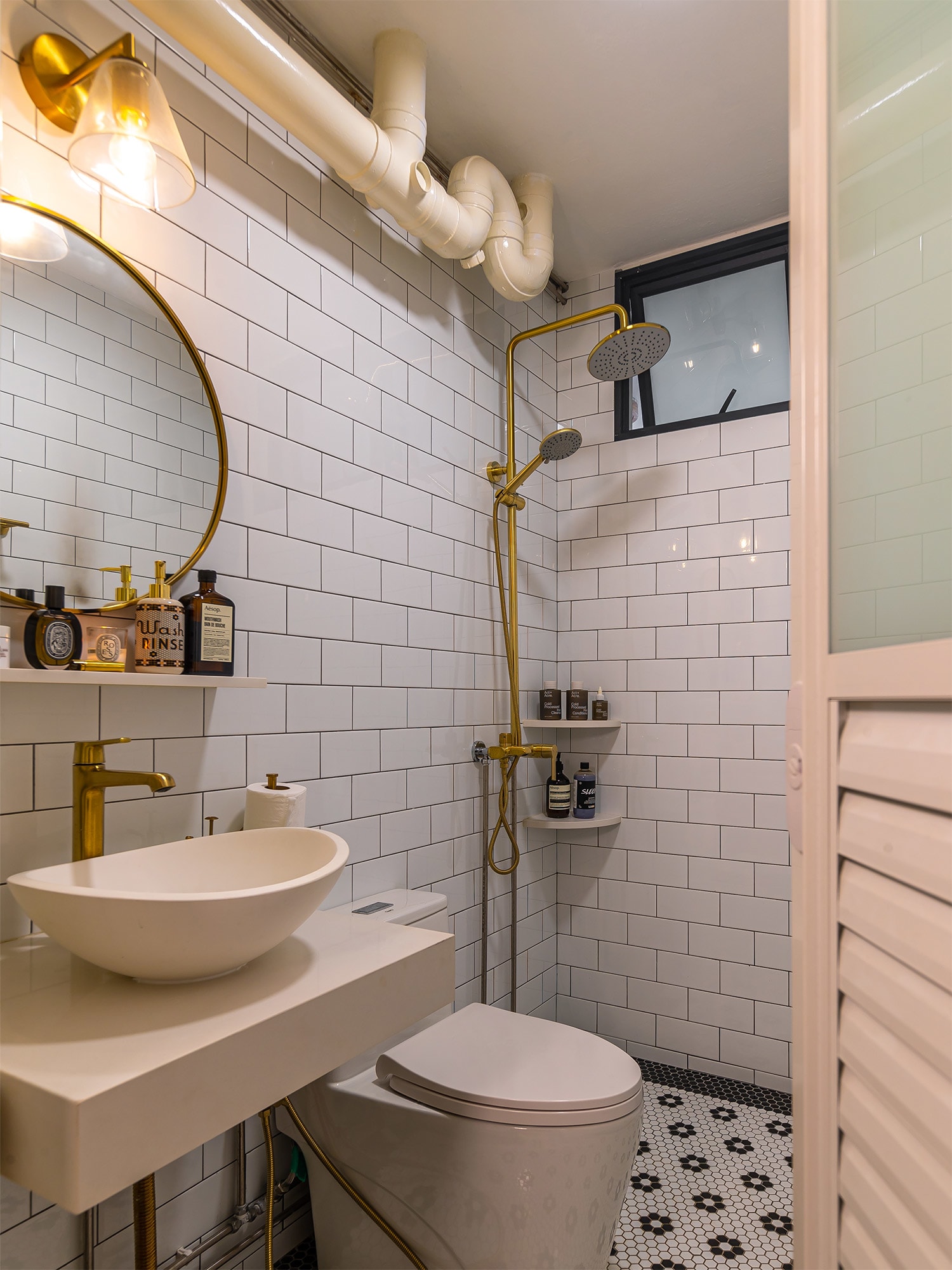 Eriana wanted to keep the bathroom pretty simple. Brass-toned hardware, shower fittings and mirror echo the design language of the entire apartment, while white subway tiles cover all the walls. This deliberate simplicity allows the bathroom floor, which is done up in black and white penny tiles in a graphic mosaic flower pattern, to really stand out.