A 3-room BTO flat where Art Deco meets a touch of nostalgia
CNA Lifestyle's Making Room series looks at small homes with big transformations. This week, old meets new in an apartment where the owner's vintage furniture, art collection and early 20th century vibes coexist.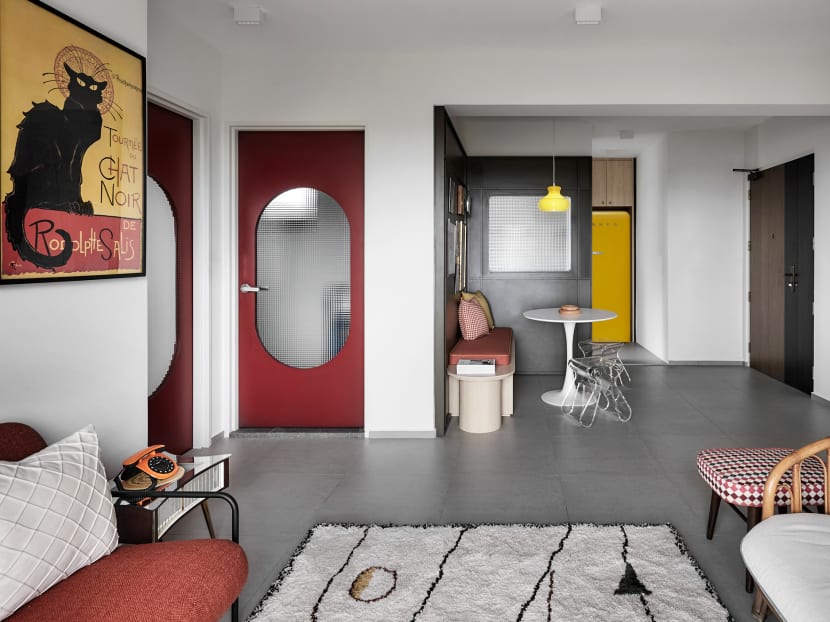 If you're moving to a new place after living in your previous one for 50 years, what do you do? For homeowner Hui, it was bringing that same familiar feel of her parents' home into the 710 sq ft three-room BTO flat she had bought.
She had inherited a few pieces of furniture from her parents, such as a rattan settee and a kitchen sideboard, as well as amassed a large collection of artworks and vintage memorabilia over the years – all of which moved with her.
But of course, it wasn't simply a matter of transporting and arranging stuff in the new home – Hui was also into Art Deco, that design movement from the early 20th century that featured "streamlined" shapes and geometric ornamentations.
CNA Lifestyle's Making Room series looks at small homes with big transformations. This week, old meets new in an apartment where the owner's vintage furniture, art collection and early 20th century vibes coexist.
These were the two considerations for interior designer Ong Choo Yih of Happe Design Atelier in doing up Hui's old-but-new-but-old flat.
He started with a neutral base: Pristine white walls feature throughout the entire apartment; the same large format floor tiles in medium grey are used in the living and dining areas, as well as the kitchen. The bedroom and reading room floors are done in parquet strips for a sense of warmth and cosiness. Window treatments consist of sheer white curtains, or white wooden blinds.
And then came the Art Deco elements, such as "bold colours, a lot of curved edges, and clean lines".
To bring more light into the apartment, curve-edged windows were created in the shared wall between the living area and reading room, as well as the dividing wall between the kitchen and dining area.
The wood-framed room doors feature spherocylindrical-shaped cut-outs as well. The use of cross-reeded glass panels in all these windows help preserve privacy, while unifying the different areas within the flat with a common design language.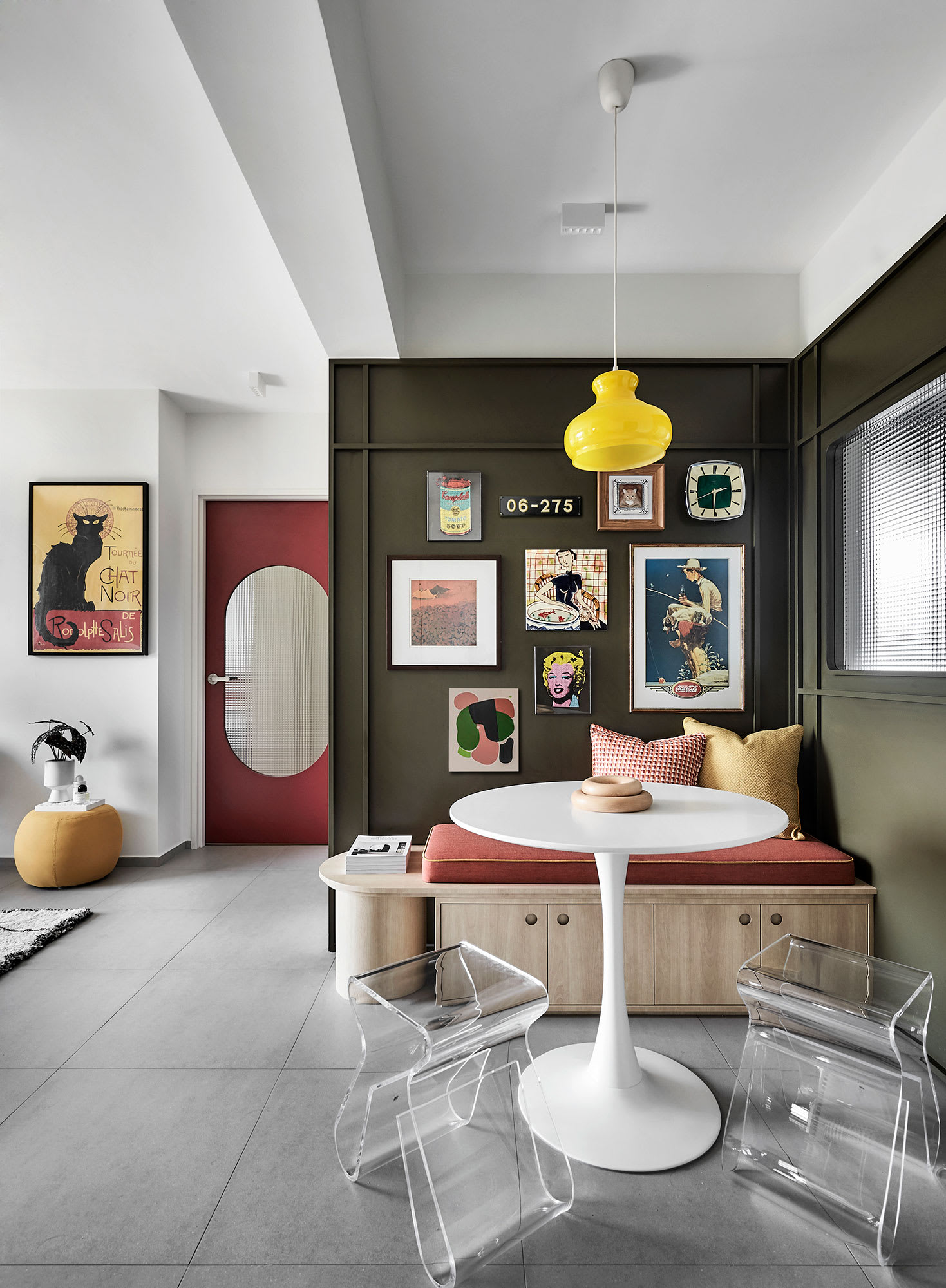 To showcase the homeowner's collection of artworks and memorabilia, Ong decided to make the dining corner the focal point of the apartment.
A feature wall, painted a deep forest green, forms the backdrop to an eye-catching, eclectic collection of Hui's most treasured pieces, such as Warhol-inspired Pop Art, a vintage Coca Cola poster, a Walasse Ting-inspired work depicting a Chinese woman, a vintage clock, and even the old-style metal apartment unit number plate from Hui's former home.
"It's the first thing you see once you come in," Ong said of the feature wall.
A round, white pedestal dining table, and a blond wood built-in cushion-topped dining banquette infuse the moody yet cosy space with old world charm. Two clear plexiglass Ghost stools provide additional seating without creating visual clutter, while being compact enough not to impede foot traffic to the adjacent kitchen.
Even though the living area is located right next to the dining area, there's a markedly different feel to it – it feels light-filled and airy, thanks to the sheer white curtains and the full-height sliding glass doors that open out to the small adjoining balcony.
A large framed poster of Art Nouveau French artist Theophile Steinlen's Tournee Du Chat Noir, with its black, mustard yellow and rust red tones, takes pride of place on the living room wall.
The area is decorated in a spare and considered manner with an assemblage of loose pieces that marry the old with the new. A modernist armchair in rust red with black metal arms and legs, topped by a cream-and-mustard polka dot cushion, picks up the colours of the Art Nouveau poster.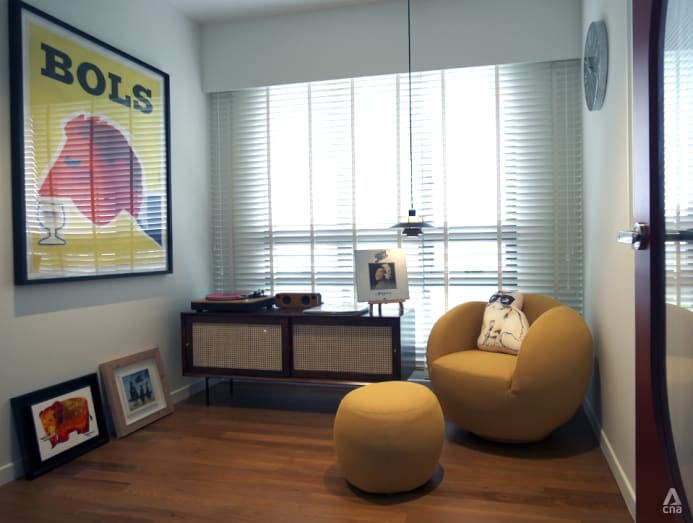 The rattan settee, which the homeowner had grown up with, and which was a common fixture in many Singaporean homes in the 60s and 70s, was given a new lease of life with reupholstered cushions in a minimalist cream instead of traditional florals.
A vintage brass General Electric table fan sits atop a matching round rattan side table. A small, pencil-legged padded stool serves as a footrest, or as extra seating, while the vintage orange telephone on the small coffee table invites conversation. A cream rug with abstract designs anchors all the disparate pieces.
For the balcony, beige tiles imprinted with different graphic linear and curvilinear motifs in white, add a subtle touch of fun and whimsy, while still channeling Art Deco vibes.
The galley-style kitchen's design took its cue from a family heirloom: A freestanding dark wood kitchen cabinet topped with square white ceramic tiles, that was popular in the 80s and 90s.
As such, the backsplash and countertop feature similar white tiles. The cabinetry, however, takes its cue from Nordic minimalism – it is kept plain and simple in unadorned blond wood, with round holes serving as 'handles'. A narrow ledge at the backsplash displays decorative items such as vintage clocks, and a collection of old Coca-Cola bottles and memorabilia.
The second bedroom was turned into a reading room. As with the living room, rust red and mustard yellow shades set the tone, starting with the vintage poster advertising Dutch alcohol distiller Bols. But instead of a red armchair, a yellow armchair and matching ottoman take pride of place. A rattan-fronted wooden sideboard, a vintage clock, a record turntable, and a pendant lamp by Danish lighting manufacturer Louis Poulsen complete the ensemble.
"For the master bedroom, we tried to create a different feel. We didn't want to let the retro or Art Deco elements overpower the entire home. So what we used are lighter coloured materials," Ong explained.
As such, all the built-in cabinetry is done up in minimalist, Nordic-style, in blond wood, and with clean lines.
A matching long, narrow floating countertop with a mix of drawers and open shelving was built along an entire wall, to serve as a workstation-cum-vanity; a cutout within the countertop allows for a freestanding rust-red framed vintage mirror to be securely anchored in place, while a hanging pendant lamp casts a soft glow.
Once again, mustard yellow and rust-red is used, but subtly: The former in a framed art work above the bed, and the latter as an elongated wall-mounted headboard above the grey fabric upholstered bedframe.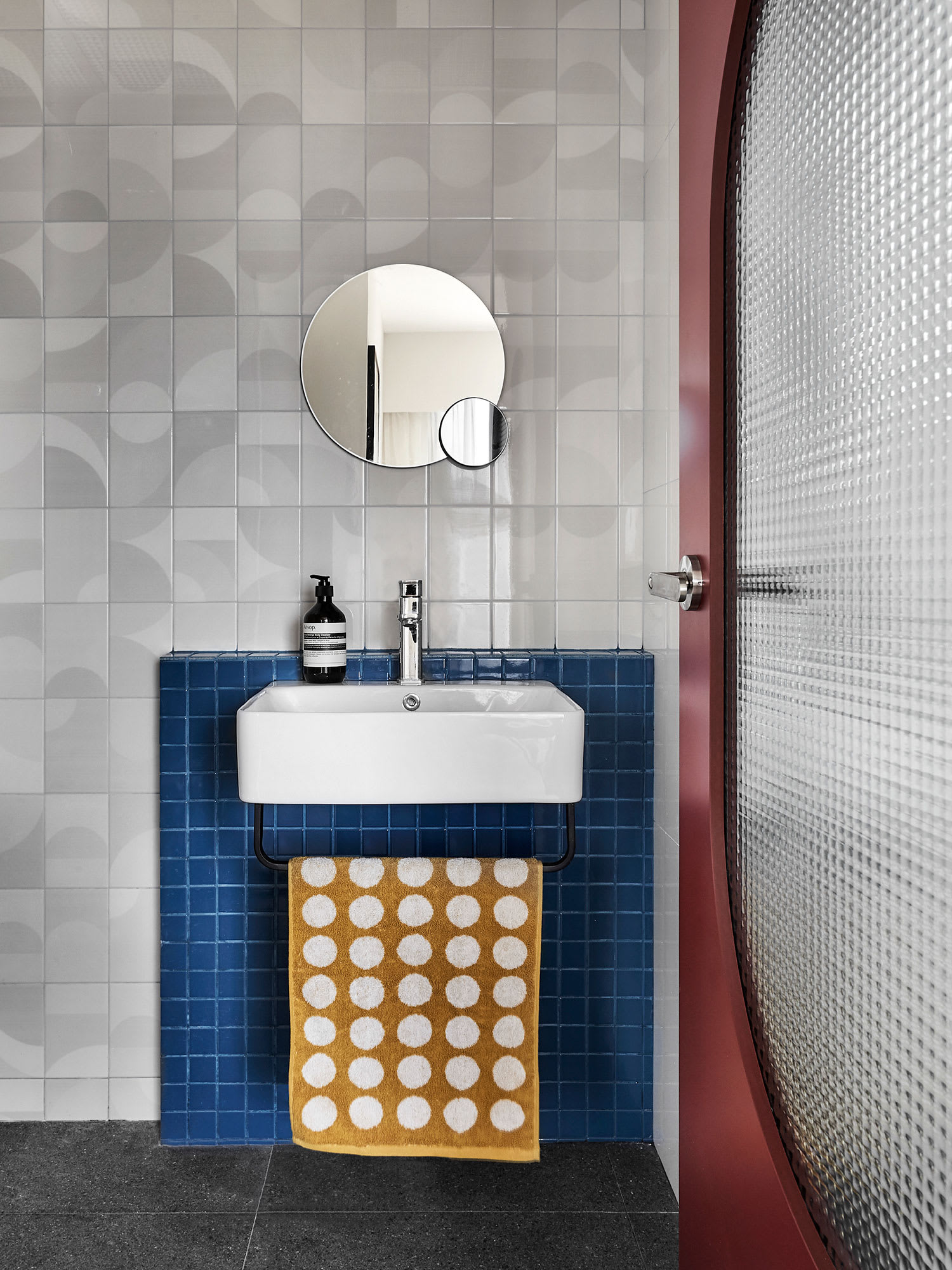 The all-grey master bathroom is a picture of calm and elegance, with the use of narrow variegated glazed ceramic tiles arranged vertically, a black-speckled grey tiled floor, blond wood cabinetry, and a round mirror featuring graphic, linear etched designs.
The common bathroom, on the other hand, has a more bold and playful aesthetic, with white wall tiles featuring lots of rounded geometric shapes in grey, and a white laundry-style sink that pops against its background of bright blue tiles, which in turn, contrast beautifully with the rich maroon shade of the bathroom door.
"As you can see, we still play a lot with the Art Deco elements – the round edges, pop colours, and the contrast of the colours," Ong noted, concluding: "This house has taken on a new outfit, but the core remains the same."