A 4-room BTO flat inspired by a couple's Mediterranean holiday memories
CNA Lifestyle's Making Room series looks at small homes with big transformations. This week, a 1,022 sq ft home get a dash of relaxed, rustic European flair.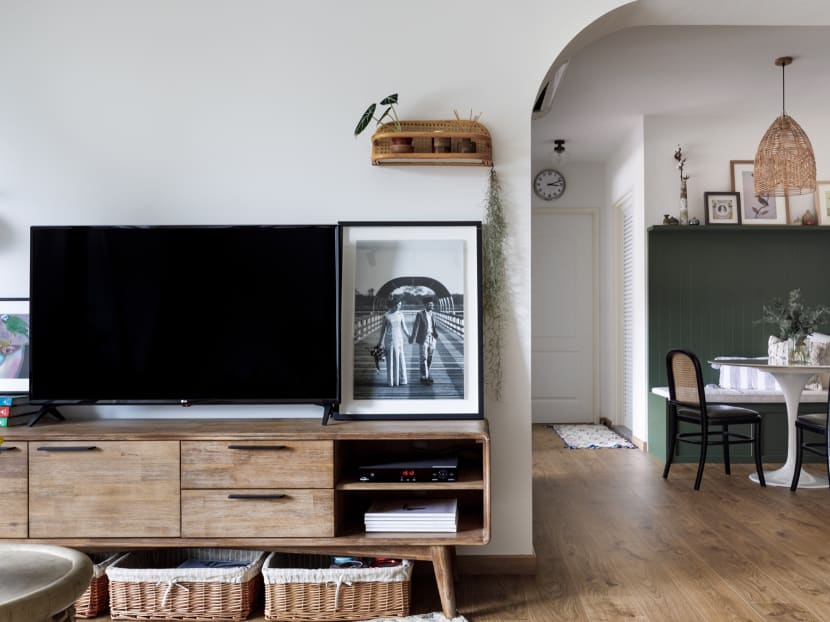 Homeowners Fazlie and Corinne consider themselves old souls who love holidaying in Europe – remember the good ol' pre-pandemic days?
One popular destination they've had very fond memories of visiting was Italy back in 2015. "We went to the usual hotspots, Rome and Florence, but also made it a point to visit other charming places like Tuscany and Lucca. In Florence, we stayed in an Airbnb a stone's throw away from the Duomo, and our stay at a historic farm in Tuscany was particularly memorable – we lived in a suite with a terracotta terrace overlooking its centenary olive groves," recalled Corinne, who's a teacher.
CNA Lifestyle's Making Room series looks at small homes with big transformations. This week, a 1,022 sq ft home get a dash of relaxed, rustic European flair inspired by the couple's holiday memories.
"We also rented a Vespa and did day trips to hilly medieval villages like Roccatederighi. The ancient surroundings and relaxed, lived-in atmosphere at these properties were awe-inspiring."
So when they bought their 1,022 sq ft, 4-room BTO HDB flat in Canberra, they decided their home should reflect that memorable Mediterranean lifestyle.
It was up to interior designer Teck Hou of The Local Inn.Terior to evoke that rustic, relaxed and timeless vibe.
Hallmarks of Mediterranean-style interiors include the use of weathered stone and wood, ceramics in the form of organically-shaped pottery, stunning patterned tilework and terracotta flooring, textiles in colours inspired by the earth and the sea, rustic furnishings, arched doorways, and the blending of indoor and outdoor spaces.
All of these were incorporated into the couple's home. For starters, most of the flat's walls are whitewashed, while the flooring of the entire apartment is done up in vinyl planks that mimic the look of wood.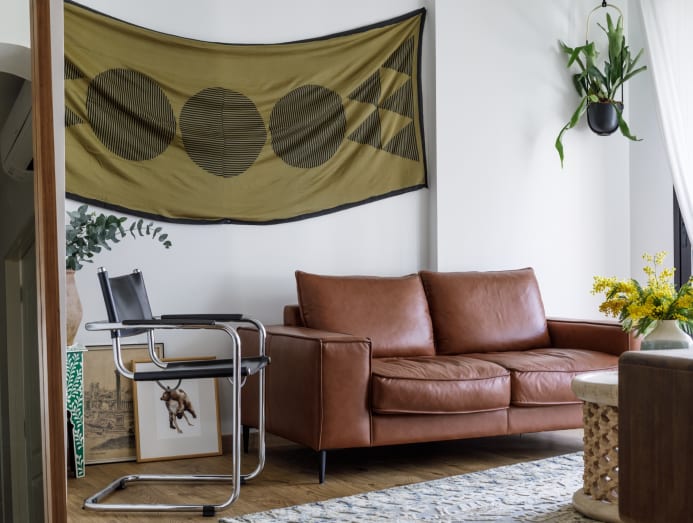 Rounded ceiling arches help to subtly demarcate different zones within the apartment, such as between the living and the dining areas, and between the living area and the corridor that leads to the bedrooms.
The living area is anchored by a feature wall that's clad in wallpaper with a deep terracotta hue (which the couple installed themselves) – which the brown leather sofa seems to blend right into.
"One of the things we really looked out for while furniture shopping was for our purchases to be meaningful ones, something that really spoke to us," said Corinne.
Cushions in muted shades of yellow, blue, and grey-and-white stripes, as well as a selection of hanging and potted plants, add pops of colour.
A large, freestanding glass-fronted cabinet in grey stores the couple's book collection, and displays a selection of artwork and ceramics.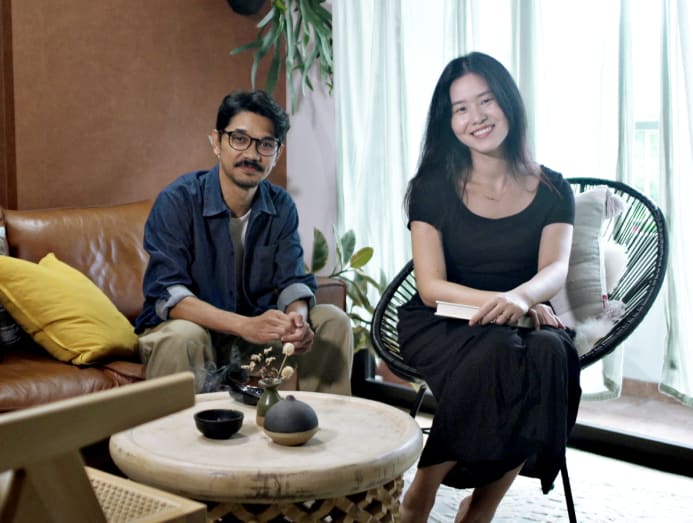 A round Berber coffee table in whitewashed latticed wood, which they found at Originals Furniture, anchors a beautifully textured grey, beige and white rug that was placed deliberately askew to evoke a quirky yet relaxed atmosphere.
A black string armchair topped with a white sheepskin rug, a mid-century rattan-backed wooden armchair, a plain wooden TV console and sheer, plain white cotton curtains complete the living room ensemble.
"We try to have everything modular so that even if we get tired of it, we can just move it around and then spice it up and add a little bit more furniture or fixtures, and it's just as good as new again," said Fazlie, who's an art director.
Right next to the living room is a small balcony with terracotta floor tiles and a collection of potted plants that continue the Mediterranean design theme.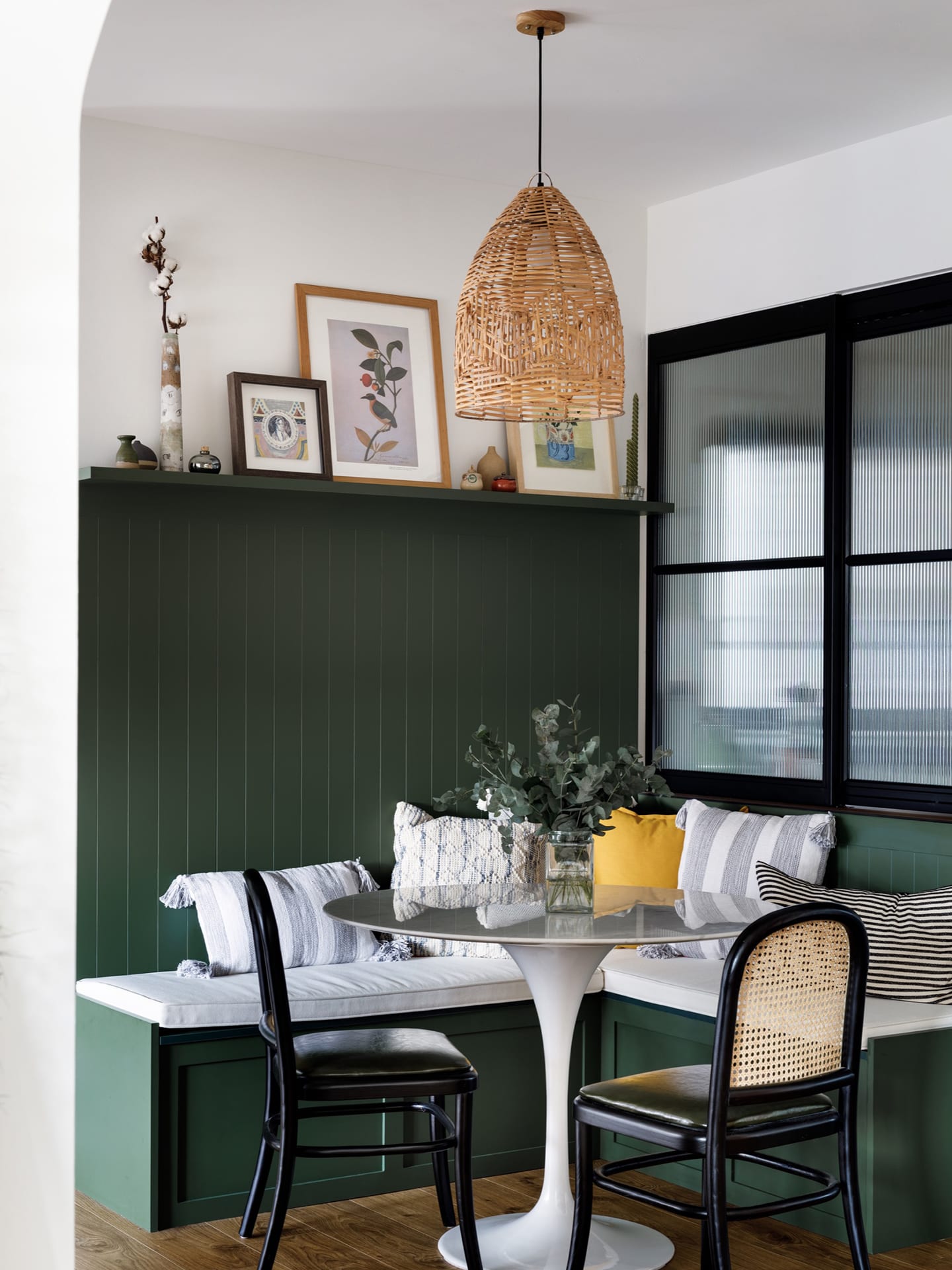 "The apartment is somewhat north-facing. We do get the afternoon sun, which some people might hate. But it's been really good for our plants ... they've been pretty happy," Corinne quipped.
Their cosy dining area is built right into a corner that backs onto the kitchen.
Clad in olive-green shiplap, the space features a built-in, cushion-topped L-shaped banquette with storage underneath, a round white marble table with a space-saving pedestal leg from Comfort Design Furniture, and two black chairs with natural rattan backs and padded leather seats – the couple purchased these from secondhand furniture store Hock Siong.
Overhead, an oversized pendant lamp, made of small pieces of wood assembled together in an intricate pattern, casts interesting shadows. A shelf ledge above the shiplap wall panel displays home decor items.
"It was conceptualised as a space not just for dining – we can use it for studying, work and even board games. Other than that, this space is great for displaying my collection of ceramics and artwork," explained Corinne, adding that the decor items were amassed over the years. Some were gifts from friends and family, others were purchased on overseas trips, while the remainder were sourced online.
The original wall separating the kitchen from the dining area was demolished, in order to create a galley kitchen, with one of the counters adjacent to the dining nook. That makes it easy for food and drinks to be passed between the kitchen and dining areas.
"This is where I play masak-masak – I play chef or baker here," said Fazlie, who wanted wet and dry areas in the kitchen to provide convenience and accessibility for their daily kitchen routine.
A dab hand in the kitchen, he cooks Western fare such as pasta, oven-baked fish or steak with roasted vegetables, Asian dishes such as sayur lodeh, ABC soup and stir-fried vegetables, and bakes cookies, brownies and cakes.
As such, the kitchen's black steel-framed ribbed glass accordion windows and doors can be opened or closed, depending on whether there's heavy cooking taking place.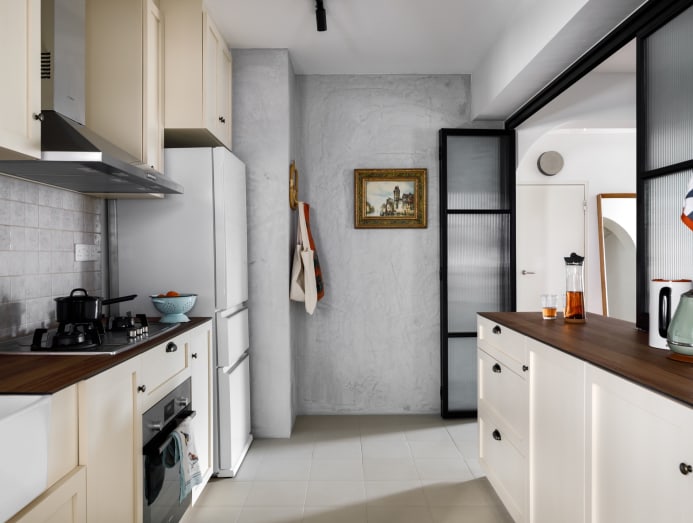 Inside, the modern country-themed kitchen features wood-look countertops, beige modern Shaker-style cabinets with rustic-looking hardware, and glazed variegated taupe-coloured ceramic tiles as backsplash.
Fazlie is especially proud of the strip of recessed task lighting that runs the entire length of the wall-side kitchen counter. "At night, when I'm thirsty, I can just come over without having to switch the main lights on, and I can just grab a drink without hurting my eyes. And it functions really well because I can see clearly what I'm cooking and while I'm cutting."
The couple's curated selection of kitchen accessories – rounded ceramic pots hold plants and kitchen utensils, while other design details, such as a gilt-framed oil painting of a European countryside landscape, a rattan hanger for their grocery bags, and tea towels featuring muted prints – add rustic charm and a sense of homeliness.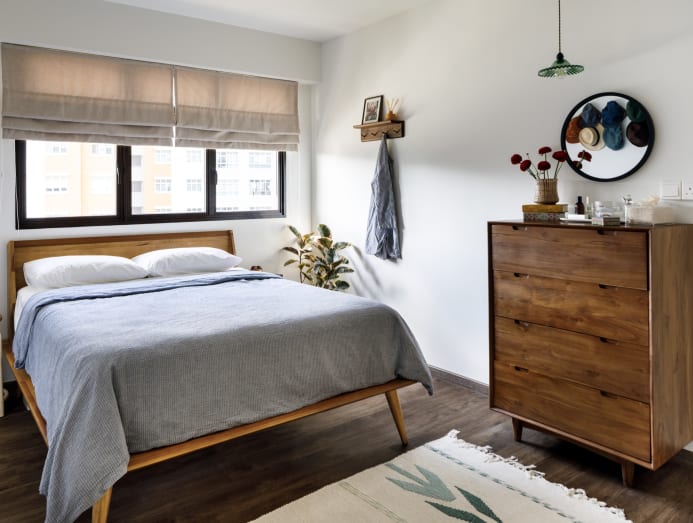 The bedroom is austerely furnished, with a queen-sized bed covered in plain white bedlinens, dark beige cotton roman blinds, a wooden chest of drawers, a small wooden ledge shelf that holds a small painting and features hooks below for hanging accessories such as handbags, and an old wash basin on a stand.
Another wall is festooned with hooks for hanging up Fazlie's hats – a smart way to make the most of vertical storage space, while displaying a collection. A string of ornamental seashells adds a holiday vibe, evoking the feeling of staying in a rural pensione (or small boarding house) by the sea.
While decorative tilework is a key feature in achieving that Mediterranean aesthetic, the couple had to stick within their budget.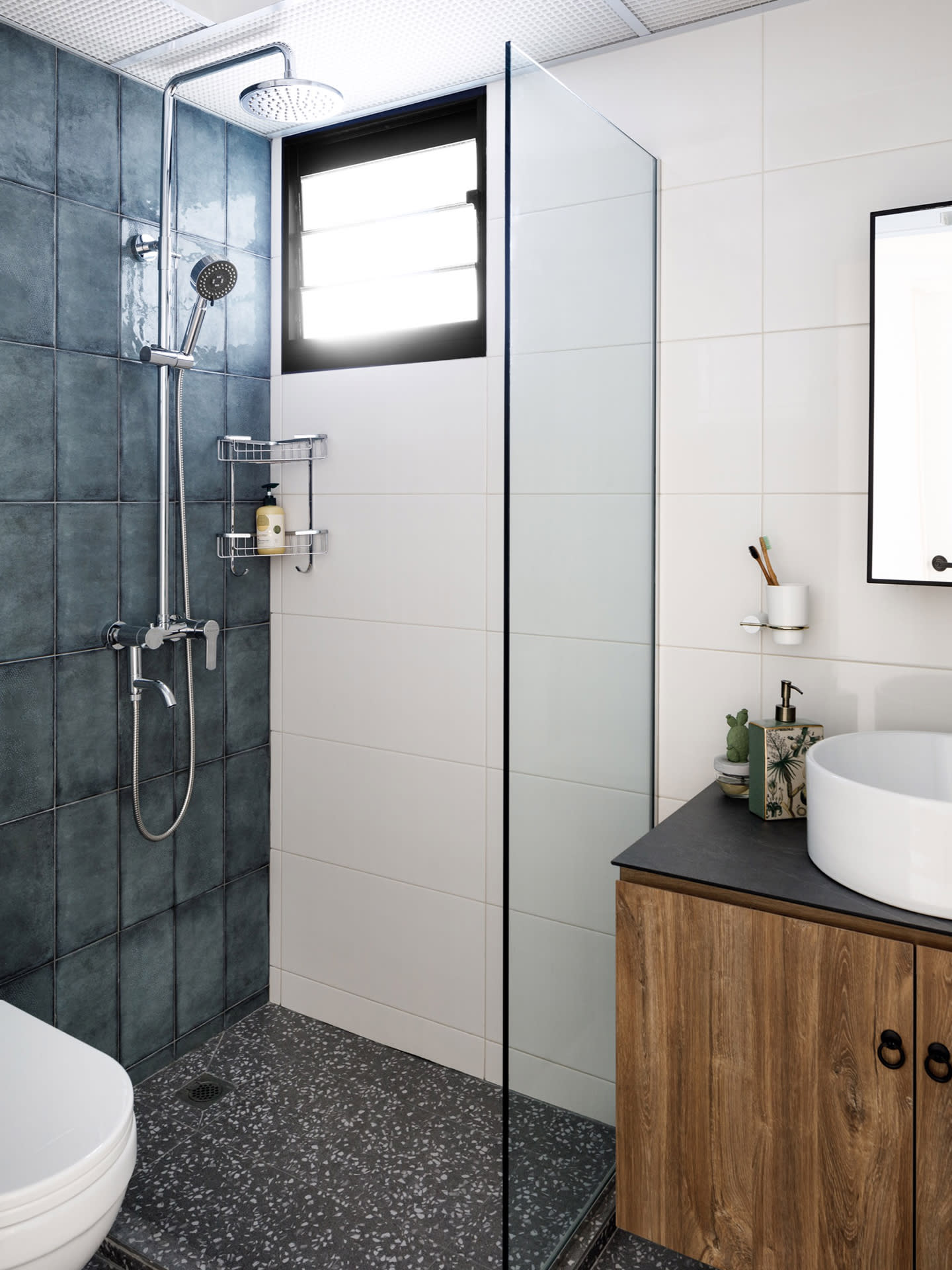 Even though Corinne had initially wanted all four walls of the common bathroom to be covered in glazed blue-grey tile, and all four walls of the ensuite bathroom to be covered in Spanish tiles featuring a graphic arced design, they decided to just cover one wall of each bathroom with the tiles they wanted, leaving the original white tiles that came with the flat, intact on the other walls. The decision helped keep costs down. Both bathrooms feature round sinks atop a wood-look cabinet, and dark grey terrazzo floors.
"Our friends and family tell us they look forward to visiting us every time because there's always something new or different, because we can't help ourselves from moving things around, or embarking on a DIY project, like the wallpaper we installed in the living room," Corinne said.