This designer started an 'anti-fashion' brand after witnessing the industry's waste
Supei Ho has worked at major fashion labels in four countries across Asia and Europe. She moved home at the start of the pandemic and juggles a job at Love Bonito while also running her own sustainable womenswear brand, Su by Hand.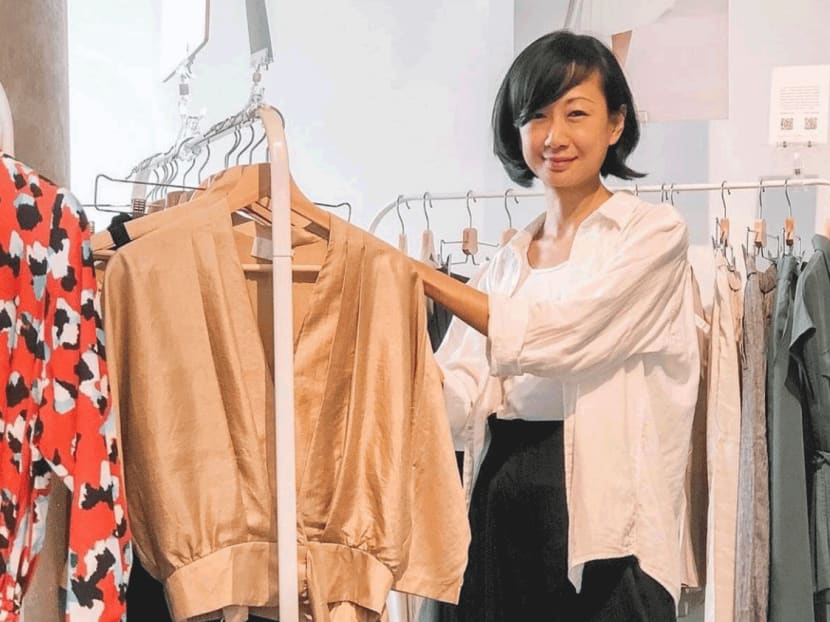 Supei Ho has quite the CV. The 41-year-old Singaporean left home at 25 to move to London, and has since worked around the world for a bevy of exciting fashion brands. The experience, though, of working in a sector known for generating massive amounts of waste led her in 2019 to creating her own label, Su by Hand.
Su by Hand was first started as a passion project, a way for her to reconcile her skills and experience with a growing awareness of sustainability. And while she sold out of her first collection, it really wasn't a viable or profitable business back then.
Fast forward to today and she's hoping to make Su by Hand a success, not just here but internationally. Having moved back to Singapore in 2020, Ms Ho juggles a day job at Love Bonito while running her own label on her own. She's hoping to find a partner though – someone who can help her run marketing and sales – so if you're out there and reading this, get in touch with her.
YOU'VE HAD A REALLY RICH CAREER IN FASHION. CAN YOU WALK US THROUGH YOUR DIFFERENT ROLES?
I started my career as a fashion designer. Most of my experience prior to relocating back home to Singapore two and a half years ago was as a womenswear designer for various premium-luxury brands in China (Exception de Mixmind), Hong Kong (Anteprima, High Fashion Group, The R Collective) and Spain (Adolfo Dominguez). Interesting roles in the (extremely competitive) fashion industry don't come easy so as a young designer I was really ambitious and actively sought roles in brands that interested me. Geography was never a concern. I landed my role as a collections designer for Adolfo Dominguez, an iconic Spanish brand, purely via portfolio and a few rounds of Skype interviews. Apart from Singapore, I've lived in six other cities and four countries across Asia and Europe to date.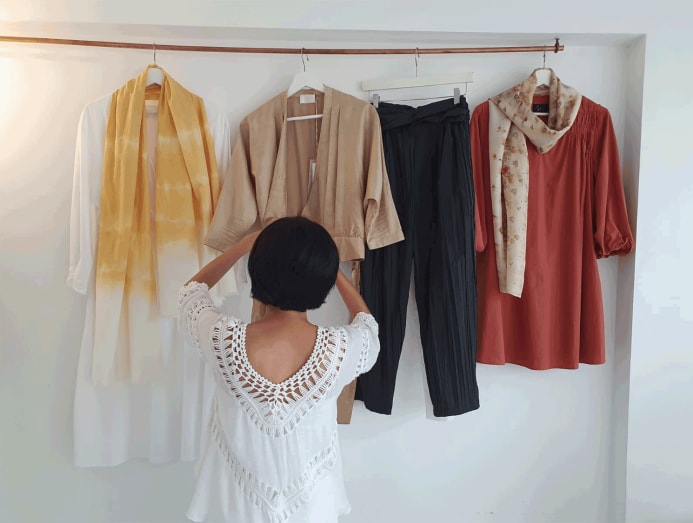 OF THE VARIOUS POSITIONS YOU'VE HELD AND THE BOSSES YOU HAVE WORKED FOR, WHICH DO YOU THINK HAS SHAPED YOU THE MOST?
The most inspiring role to date is, without a doubt, my first job as collections designer for luxury label Exception de Mixmind (EdM) in Guangzhou, China. Funnily, I first discovered EdM as an intern trends analyst at WGSN London, the leading fashion trends agency. They're a cult brand well known and revered by fashion insiders who are into the arty side of things, unknown to commercial fashion. I remember seeing pictures and videos of founder Ma Ke's show at the V&A museum with all its organic textures and handmade elements. They were so beautiful and emotive, and so aligned with my personal style – organic, earthy, nature-inspired. I wrote in and sent my portfolio, flew to Shanghai then Guangzhou, and landed myself a role there as their first foreign designer. EdM was a dream – more art school than commercial fashion company, with its own in-house atelier for all sorts of development from hand-knitting, macrame and crochet to printing and dyeing. In China, you get to work on a scale like no other. The founders are designers by training so it was conceptually a very strong brand that also had a lot of commercial success. As a young designer, I got to experiment a lot.
I NOTICED ONE OF YOUR EARLIEST JOBS WAS AT THE MINISTRY OF DEFENCE. THAT'S A LITTLE SURPRISING GIVEN YOUR CAREER IN FASHION. HOW DID THAT HAPPEN?
I believe that most of us have multiple sides to our personalities and interests. It's just a matter of whether we venture out to try other paths. I was always quite academic from a young age, so Mindef was just a natural progression, the 'safe choice' after my first degree in English Literature & European Studies at NUS. At the same time, I've also always loved art and drawing, and was always doodling designs for as long as I can remember. I left home for London at the age of 25 to pursue my studies in fashion.
I NOTICED YOU HAVE SEVERAL DEGREES, MOST RECENTLY ONE FROM CAMBRIDGE. ARE YOU ONE OF THOSE PEOPLE WHO IS JUST ALWAYS HUNGRY FOR KNOWLEDGE?
Yes! It's almost as if I need to try a new career path every 10 years. The online course from Cambridge was in Business Sustainability Management – I went in with the mindset that as a designer, I have a good understanding of product/technical sustainability (supply chain, product life cycle etc.) but not enough business overview/framework to truly make an impact. That was an amazing course; I learnt a lot from my course mates who were all global corporate execs in some of the most influential firms. I felt like a novice as a designer in a world of corporate jargon, but realised that sustainability is at heart a creative concept – something I can identify with.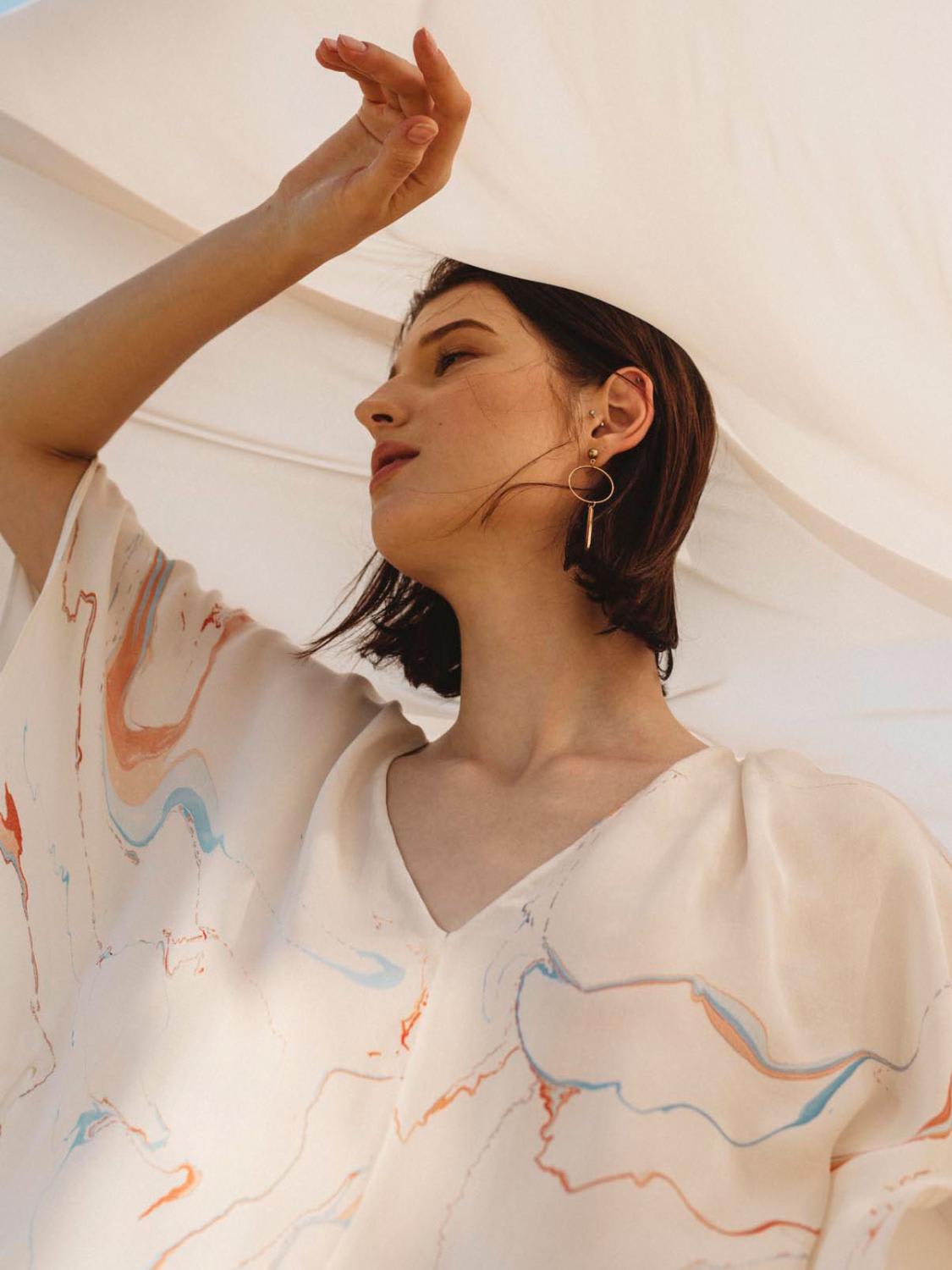 TELL ME ABOUT THE INSPIRATION BEHIND SU BY HAND.
Su by Hand started out as a passion project that was ironically 'anti-fashion' in the sense of subverting fast fashion. It took me almost two years after the first collection to really embrace it as a 'brand' and business. It all started when I became increasingly sensitive to the amount of 'waste' generated by fashion, having seen it first hand in factories and design studios over the course of my career for brands across Europe and Asia. I wanted to create items of innate value and quality that could not be replicated in 'fast fashion', the sort of clothes that remain in your wardrobe for years simply because of their beauty and your emotional attachment to them. The experience at Exception de Mixmind also shaped much of my own vision for Su by Hand. Our first collection consisted of one-off marbled art prints and styles using plant-dyed silks from Living Blue Bangladesh, a social enterprise that works with local artisans and indigo farmers.
WAS IT SCARY TO TRY TO LAUNCH YOUR OWN COLLECTION? OR EXCITING?
It was more inspiring than scary or exciting. As I had not intended for it to be a commercial brand at the outset, I often joked that I started Su by Hand to inspire myself. Happy that it seems to have inspired others!
HOW LONG DID IT TAKE TO GO FROM THE INITIAL DESIRE TO LAUNCH YOUR OWN BRAND TO ACTUALLY SELLING THE PRODUCTS?
It really depends on how we define 'selling'. The first collection sold. I received orders for make-to-order hand marbled styles upwards of US$300. But those orders were sporadic and in no way sustainable, business-wise. We started selling more consistently when we partnered up with fashion retailers – as a concession brand, in pop-ups, etc. ZERRIN, which specialises in sustainable designer labels, is one of my long-term retail partners. We've also done pop-ups with Society A, Trixilini, and more. Our biggest exposure was the recent Boutique Fairs. The response was overwhelming and we sold out of some styles.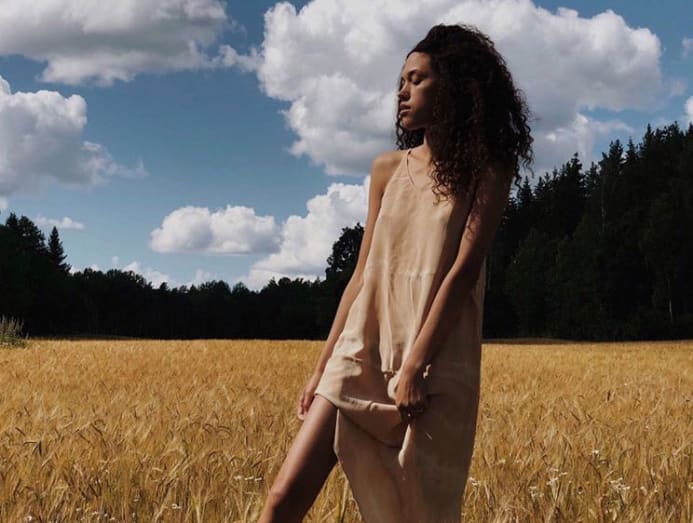 IS THERE A SU BY HAND TEAM OR ARE YOU DOING EVERYTHING YOURSELF?
Apart from my retail partners, I do everything myself. I would love to have a business partner, someone who would enjoy running the marketing and retail side of things. I'm still hoping to meet this person. If you are out there, contact me!
WHAT'S BEEN THE HARDEST PART OF RUNNING AND SUSTAINING YOUR OWN BUSINESS?
Keeping up a momentum and balancing the desire to create new designs with the need to sell. Accounting for my finances, balance sheet, doing all the tedious administrative stuff right down to stock-taking and inventory control. And, keeping up with social media.
AND WHAT HAS BEEN THE BEST THING TO HAPPEN BECAUSE OF SU BY HAND?
Getting connected to a community of like-minded people from creatives to the customers who value quality over quantity. The sustainable fashion community is a very close-knit and supportive community. People who gravitate towards that are somehow always very nice and really kind. It gives me hope that fashion can be something good.
IS THERE A HERO PRODUCT?
SAMMY pants, our high-waisted paperbag trousers that we craft from deadstock fabrics. Every restock is a unique batch of fabrics because we restock only from non-virgin fabric sources. The idea is to close the loop in the industry and use what's already there unless it's a certified, sustainable fibre. This is our approach to material sustainability – deadstock sources for manmade fibres (SAMMY is made from a Japanese triacetate-poly fabric), natural fibres (plant-dyed silks and cottons) and regenerated sustainable fabrics like Tencel.
LET'S TALK ABOUT SUSTAINABILITY AND GREENWASHING IN THE FASHION INDUSTRY FOR A BIT. ARE THERE REALLY SUSTAINABLE FASHION BRANDS OR IS IT MOSTLY MARKETING?
I think both are true – there are brands that start out as sustainable fashion labels, and also brands that jump onto the bandwagon mainly for marketing reasons. One just needs to dig a bit deeper to understand the core of the brand. Who is the founder? What has been their business model and brand philosophy from the outset? Do their sustainability claims contradict other business decisions – for example, do they have massive Black Friday markdowns? Sustainability is a complex concept and any brand that tries to simplify it too much is likely not painting the most truthful picture.
HOW CAN CONSUMERS TELL THE DIFFERENCE?
Consumers may not be able to tell the difference just by looking at the goods. But I think they can discern greenwashing if they really want to, by making the effort to educate themselves about fashion sustainability and digging a little deeper. As I've explained, dig deeper into the brand values and business model. Is this brand just trying to sell you more 'stuff' or is their focus on making better products? The brands that invest most into marketing are usually not the ones who spend as much time (and budget) developing their goods.
WHAT DO YOU DO TO ENSURE SU BY HAND IS AS SUSTAINABLE A BRAND AS POSSIBLE?
It's really at the heart of everything that we do. We only do small batch production – we work with independent production studios, sometimes home studios – make-to-order and one-offs to reduce waste.
From a design and craftmanship angle, we focus on timeless styles that last a long time, chic but not overly statement pieces. Items that will work well with the rest of your wardrobe. We also develop all our original designs in-house from sketch, with some hand-dyed pieces, so there is a lot of design and development.
We also use only premium materials, mainly natural fibres (silk and cotton) that feel good against your skin, and also sustainable fabrics like certified Tencel.
WHAT'S SOMETHING UNIQUE ABOUT SU BY HAND YOU WISH MORE PEOPLE COULD KNOW?
That our quality is really good, especially in the fabrics that we use! We invest a lot into our raw materials. It's something that customers often comment on during pop-ups when they have the opportunity to feel the styles and fabrics. I'm a true believer that there is no luxury without comfort.
WHERE DO YOU DRAW INSPIRATION FROM?
Nature is the underlying inspiration behind all of my designs, from organic drapes and asymmetric details to designs that are 'alive', i.e. not dead or flat. But really, inspiration is everywhere if we look.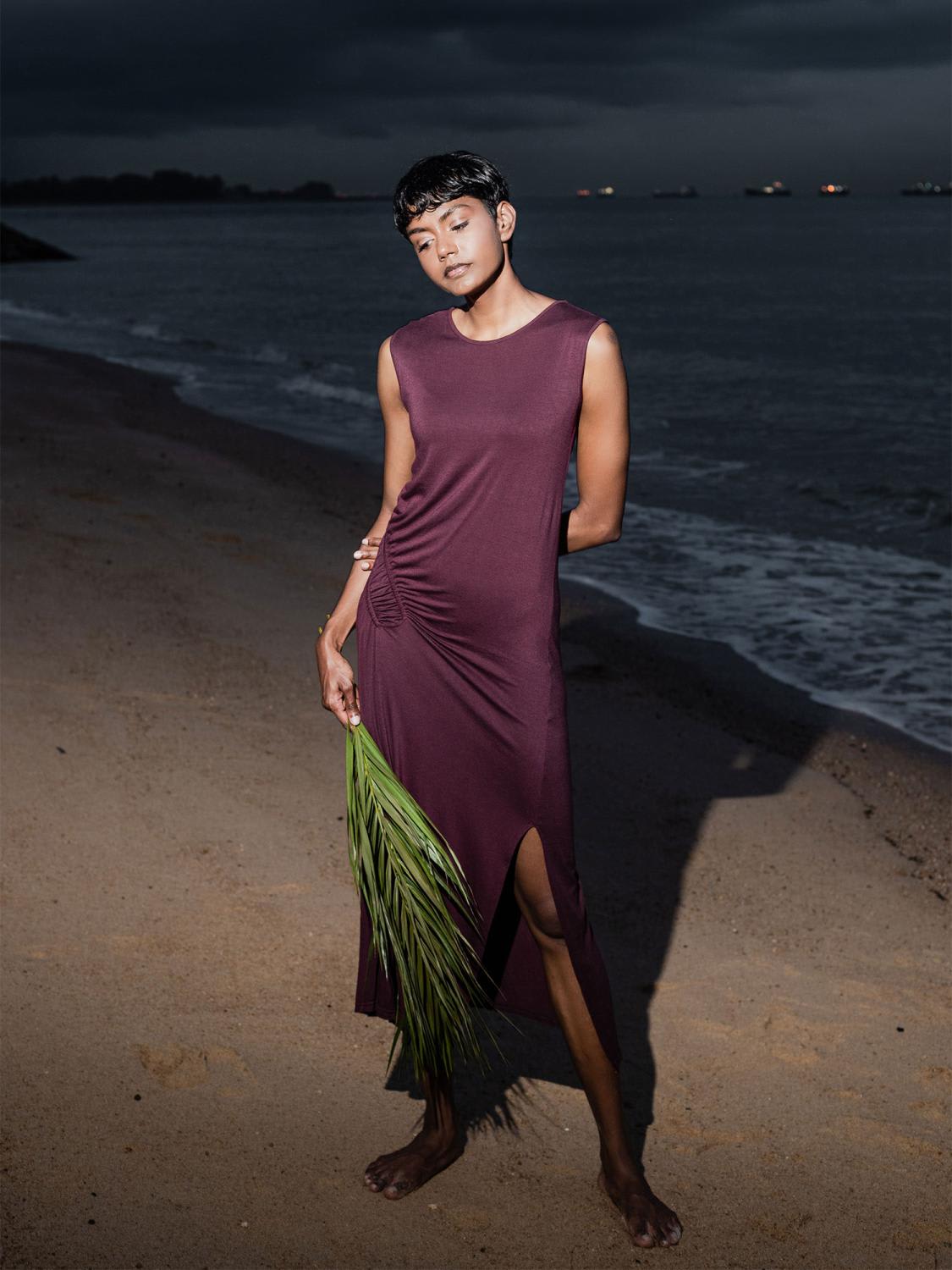 YOU'RE CONCURRENTLY JUGGLING A ROLE AT LOVE, BONITO. IS IT DIFFICULT TO WORK FOR ONE BRAND WHILE ALSO SUPPORTING YOUR OWN?
It's difficult only insofar as I have less time to focus 100 per cent on growing Su by Hand. It does not take away my creativity as I do product development, not design, for LB, which is a role that enables me to harness my production and manufacturing experience while working in a very objective manner. It's pretty much like technical troubleshooting. The team at LB is great, all really young and driven people with fantastic energy and a progressive mindset, so working there keeps me very much on my toes and exposes me to the really commercial side of fashion – what women really want and what the mass audience is willing to pay for.
WHERE DO YOU HOPE TO TAKE SU BY HAND OVER THE NEXT FEW YEARS?
I hope that we expand our international audience as the international sphere is where I really see our brand flourishing. It's been very exciting for us to find and meet supportive clients locally, but the market here for sustainable, affordable-luxury brands is still very small.
ANY EXCITING PLANS TO SHARE WITH US THAT WE CAN LOOK FORWARD TO THIS YEAR?
We'll be having our first pop-up at Isetan, our own booth, from end-July to mid-August. We are also hoping to launch some exclusive styles with a new ethical production studio and natural plant-dyehouse that we connected with during a recent trip to Bali. I would love to hold a dyeing workshop later this year, too. Our workshops when I used to be based in Hong Kong were very well received, but these take some planning.