Transforming a 759 sq ft HDB flat into a colourful retro-modern wonderland
CNA Lifestyle's Making Room series looks at small homes with big transformations. This week, we visit a three-room resale flat in Ang Mo Kio with playful vibes using colour, patterns and accents.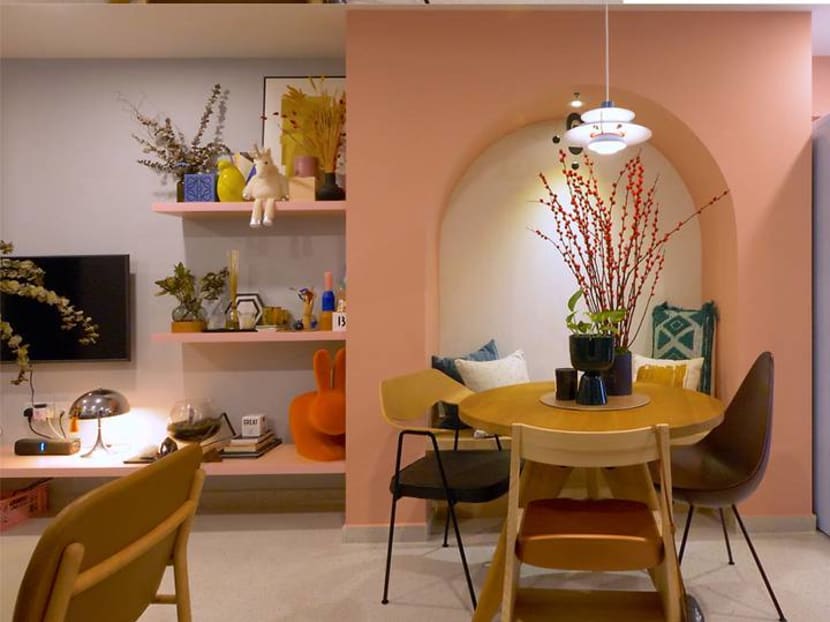 When homeowner Edward purchased a resale three-room HDB flat in Ang Mo Kio, he wanted his home to be a technicolour showcase of the mid-century modern style.
Aside from appreciating the sensibilities of the modernist era – where form follows function, and which favours sleek, uncluttered lines with both organic and geometric forms – he also noted that "most mid-century furniture pieces are very small, so it's much easier to fit them into a small space".
CNA Lifestyle's Making Room series looks at small homes with big transformations in Singapore. This week, we checked out a three-room resale flat in Ang Mo Kio with playful vibes using colour, patterns and accents.
"I've always loved colour," said the bachelor. "I like to experiment with different colour combinations; the mood that I wanted was something that makes me feel relaxed and happy when I come home."
Other items on his wish list? Clean lines, a retro feel, a spacious master suite, lots of shoe storage as "I have a lot of shoes", an interesting dining area, lots of built-in furniture, and a kitchen that "ties in with how I dress – I like to mix graphic prints with textures".
So he engaged interior design firm Karpentree Studio to help him create "a modernist-inspired retreat tailored for a dandy who celebrates life in simplicity with a bold statement".
To make the 759 sq ft flat feel more light and open, the wall between the living/dining area and the kitchen was removed, creating a long rectangular space from the front of the apartment all the way to the back.
The floor of the expanded space was redone in pale grey terrazzo for a light, airy feel imbued with elegant modernist vibes.
In the living area, a salmon pink floating shoe cabinet and a trio of matching floating shelves stand out against pale grey walls, providing storage without eating into the footprint of the apartment. Opposite, a streamlined deep blue sofa, a circular rug in medium brown, and mismatched cushions add further pops of colour.
A selection of carefully curated home decor accessories which are 1950s iconic designs – such as a Louis Poulsen Panthella table lamp in shiny chrome, a green Vitra Eames elephant figure and a bright yellow Eero Saarinen puppy sculpture – as well as dried floral arrangements, add a personal touch to the space.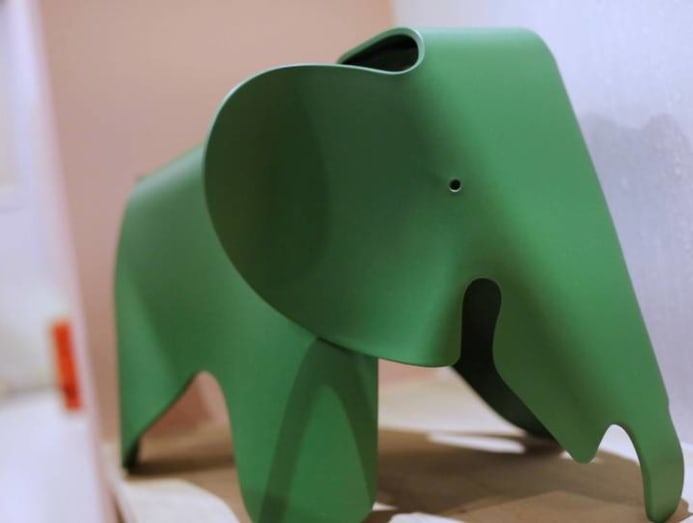 A round gold-toned side table and a wall-mounted sconce featuring circles of different sizes complete the living room setup.
This segues into the dining area, which is demarcated by a built-in concrete arch painted in the same shade of pink featured in the living room's floating cabinetry.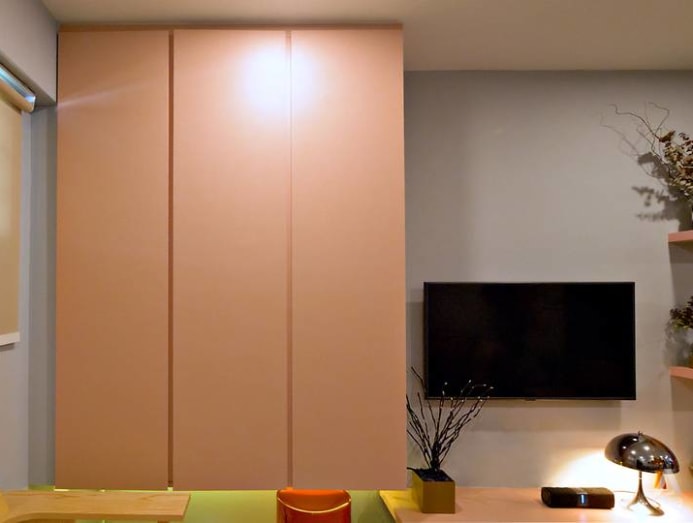 Aside from serving as the main focal point of the dining area, the cosy recessed nook houses a cushion-strewn bench that's not only totally Instagram-worthy but also a clever space-saving hack for providing extra seating space for when he has friends over for meals. 
The size and colour of the round wooden dining table echo that of the living room rug, offering a sense of design continuity.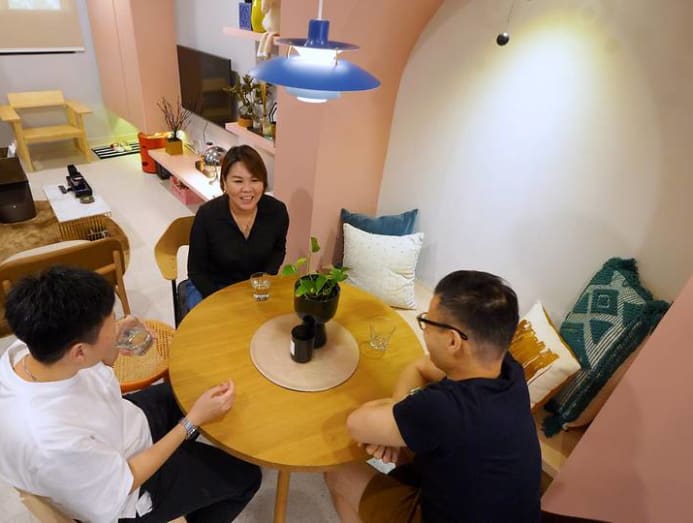 The pale blue hues of the two dining chairs and the Verpan Hive suspension lamp overhead form a visual link to the matching Smeg fridge, which marks where the dining area ends and the kitchen begins.
"I wanted to create some kind of interest in the kitchen, which also ties in to how I dress, where I like to mix graphic prints with textures," Edward said.
As such, a single row of kitchen cabinets in electric blue laminate pops against the salmon pink and grey subway-tiled walls. Black-and-white patterned tiles on the backsplash provide even more of a playful contrast.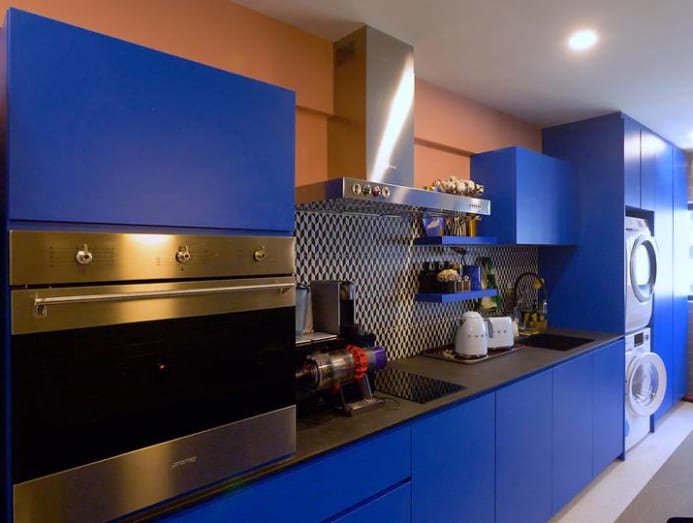 Matte black countertops, a black glass induction cooktop, stainless steel appliances and a monolithic, dark grey kitchen island add a touch of sophistication.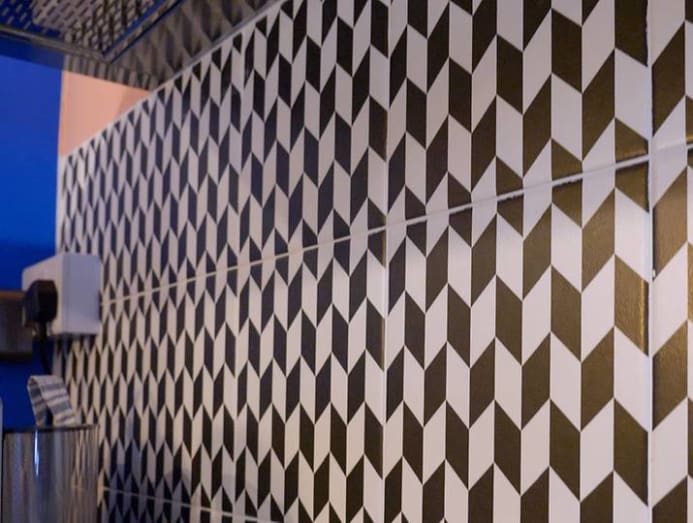 By sacrificing the storeroom, Edward was able to create a spacious master suite with ample room for rest and work.
As a counterpoint to the bright, expansive feel of the living/dining/kitchen area outside, the master suite is a calm, intimate, cocooning space with deep blue walls and ceilings, and dark drown wood laminate flooring.
"Blue is my favourite colour," Edward said. "The moment I step in, I feel so calm and serene that I just fall asleep naturally.
The master bed is flanked by a built-in side table on the right, and an extra-long built-in work desk on the left, both in grey wood-grained laminate.
Edward opted for a washing-up station at the corner of the bedroom, right outside the bathroom. Black-and-white hexagon-patterned tiles demarcate the area where the sink, mirror and floating bath cabinet are located, and extend into the bathroom as well.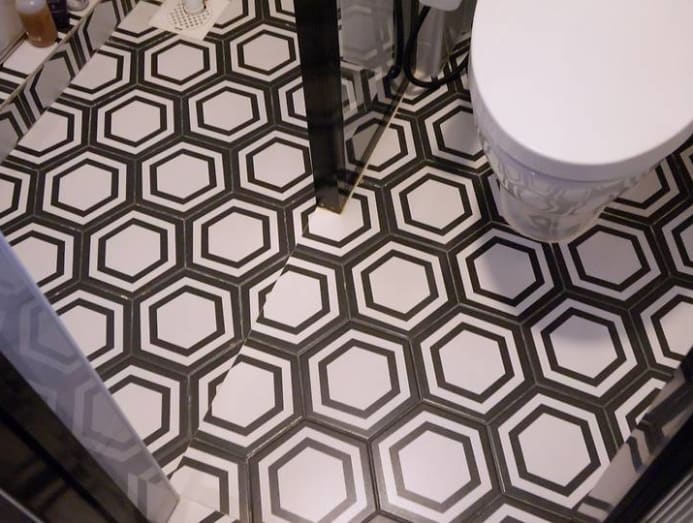 Custom-made wood-framed bifold doors with pleated glass panels channel a kind of "colonial or old school coffee shop" feel, while letting in more light.
The second, smaller bedroom is simply furnished, with a small guest bed, and a built-in wardrobe in the same electric blue colour as the kitchen cabinets.
"When you only have 700 sq ft to play with, you have to be very specific. With built-in furniture you get the luxury of customising it for your flat and then not having to worry about whether it fits or not," Edward noted, concluding: "You can live in a very small space, but still be very complete."