Kahoot quizzes, song requests, S$10 lucky draw: 9 wedding ideas your guests will love
Restrictions may have lifted, but taking a leaf from the playbooks of newlyweds in the pandemic can help you to personalise a cookie-cutter wedding reception.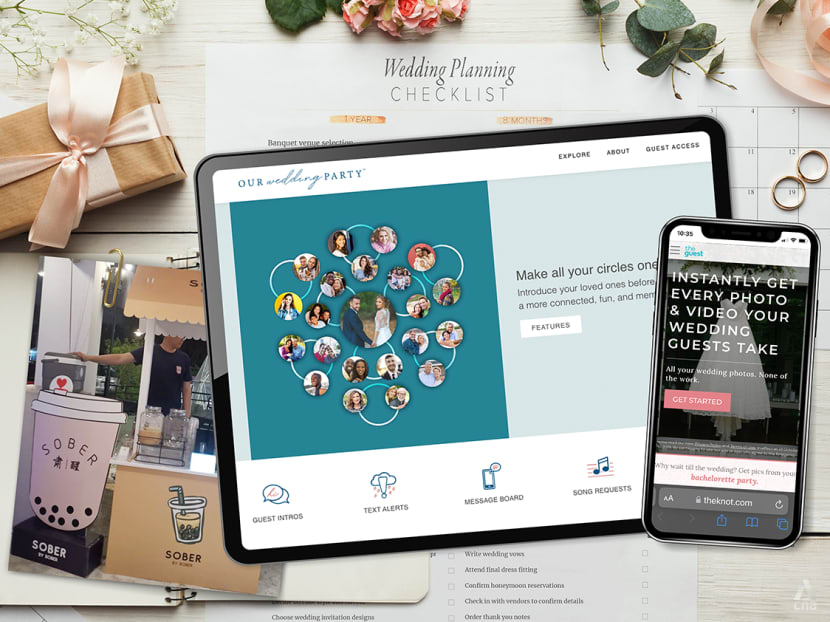 In Singapore, even weddings have a "ten years series" answer. A slideshow chronicling the couple's journey to adulthood. A succession of three toasts where elders look up from bowls of orh nee (sweet taro paste) to holler orders for grandchildren. The whole nine yards.
When COVID-19 restrictions kicked in, young couples who lamented the predictability of this entire shebang had to get creative. Since intermingling was not allowed, they kept things interactive with Kahoot quizzes. Aunties and uncles could no longer "yam seng", but lucky draw contests riled them up all the same.
Come to think of it, the "improvised" weddings I attended during the pandemic were actually more memorable than most. Couples have also turned to TikTok to share ideas and inspire one another using the hashtag #weddingtok. We've rounded up the best ones to help you shake things up.
LET GUESTS "E-MEET" AND MAKE SONG REQUESTS
Attending a wedding alone is every introvert's nightmare. Rather than configuring the seating plan many times over to please everyone, you can take the edge off it by breaking the ice for them.
Our Wedding Party is a web application that lets you introduce guests to one another ahead of time. You can also manage the guest list, send mass announcements, and collect heartfelt messages that may be too long-winded for the guestbook. If they wish to hear something other than Can't Help Falling In Love that night, they can make that known using the song request function or forever hold their peace.
CREATE A "WHO KNOWS US BEST?" KAHOOT QUIZ
Beyond going from table to table for group shots, newlyweds don't get to interact much with their guests. That's where Kahoot – a quiz-making tool that corporate folks need no introduction to – could plug the gap. Besides, elders in the family can participate too since everyone has a QR code scanner on their phones by now.
Do relatives, friends, or colleagues know the newlyweds best? Here're some multiple-choice questions that will put their knowledge to the test.
How did we meet?

Where did we go for our first date?

What are our pet names for each other?

Who has a better PSLE score?

What is the bride's biggest pet peeve about the groom?
These are excellent conversation starters that help guests get to know the couple better. From experience, participants get really competitive when you bait them with Grab vouchers and show them the leaderboard every now and then. 
PLAN A PHOTOGRAPH SCAVENGER HUNT
The rules are simple: The first table to complete a checklist of specific photos of the newlyweds wins a bottle of champagne. To level the playing field, we recommend a mix of photographs that relatives, friends, and colleagues are likely to have. Here are some examples:
A childhood photo of the bride/groom

A photo of the bride/groom sleeping

A photo of the bride/groom in a costume
Guests at the same table will pool their phone galleries together to fulfil the checklist before submitting them to a Whatsapp phone number or a Google Drive. The only catch is that you've got to be game for these photos to be shown. After all, nothing brings people together like unglamorous pictures and the promise of bubbly.
LET GUESTS SHARE THEIR PHOTOS IN REAL-TIME
"Nix the hashtags. Forget the uploads."
The Guest's slogan pretty much sums up what the free event and wedding photo-sharing application does. Think of it as a more social version of Google Drive that allows guests to upload photos they've taken at your wedding in real-time so everyone has access to the full album. You could even let them post candid shots to the big screen live.
If you think punny wedding hashtags are cringe, The Guest is one way of preserving their memories off Instagram altogether. You would be able to remember the night by unfiltered shots from multiple perspectives including folks who don't actively post on their social media pages.
HOLD A S$10 NOTE LUCKY DRAW
Lucky draw contests are crowd-pleasers, and a S$10 lucky draw is one of the most ingenious things I've encountered in pandemic weddings. You won't need any bandwidth to coordinate one because it requires close to no logistics.
Any guest with a S$10 note can take part in it. All they have to do is take a photograph of its serial number before dropping it into a fishbowl. At the end of the night, the guest whose note gets picked walks away with the prize pool. It's that simple. I've even seen tables agree on splitting the money should one of their serial numbers come up. It's safe to say the winners were delighted to recoup a fraction of their red packet expense.
REINVENT THE GOOD OL' GUEST BOOK
Guestbooks may sound good on paper, but not everyone writes in them and they often get chucked aside after the wedding. It's time to make leaving messages great again.
An alternative "guestbook" that has made its rounds on TikTok is a Jenga tower, which has a far higher chance of making an appearance down the line on game nights. If you're a fan of quirky home decor, you could even let guests scribble on a piece of your new crib with Sharpie pens. It could be a wooden bench, an old guitar, or a skateboard to be mounted on the wall. For smaller guest lists, ornamental bulbs are a great way to be reminded of everyone's well wishes during Christmas.
CROWDSOURCE A COUPLE'S BUCKET LIST
Crafting a heartfelt message on the spot may not be for everyone, but a "crowdsourced" couple's bucket list is easy fun to partake in.
It is exactly what it sounds like: A collective brainstorm of adventures for the newlyweds to check off. From camping under the northern lights to skinny dipping in the Maldives, let your guests splash their wacky ideas across a chalkboard for all to see. If you're expecting NSFW contributions from your friends, you can protect grandma from explicit content by using an acrylic lottery box instead.
HAND OUT DISPOSABLE CAMERAS 
You might remember Monica and Chandler doing this in Friends, but disposable cameras have a place even outside of a sitcom aired in 2001.
To encourage guests to "unplug" for the night, you could place one on every table along with Sharpie pens. If guests wish to be sent photos after they have been developed, they leave their names on its casing. This lets you relive the night through both your professional photographer's and guests' lenses, and have an analogue memory of your once-in-a-lifetime occasion to hold onto.
HIRE A BOBA OR ACAI LIVE STATION
Dessert counters are classic but catering boba at your wedding takes a reception from "good" to "event of the year".
Sober By Bober, the events arm of a homegrown brand, is one such vendor that brings live stations to weddings. They even do customised stickers on Bober cups to add a personal touch. Meanwhile, if you're hosting a health-conscious crowd, you can count on folks like Project Acai and Absolute Acai to come through.
From Churros Factory to Saybons' crepes, the possibilities of live stations are endless. You can even plonk a traditional ice cream cart at the reception if you'd like. 
It's often said that weddings are held to please in-laws and extended families, but this list could help you own your big day in small ways. Remember these experimental ideas are not about curating your wedding "for the gram", but about making it one that feels like yours.