Meet the young environmentalist who is upcycling glass in order to reduce waste
In this week's instalment of Creative Capital, we talk to Sean Teoh, who together with his business partner and best friend Teo Rui Xiang, are attempting to tackle our waste problems through their company Soda Lemon.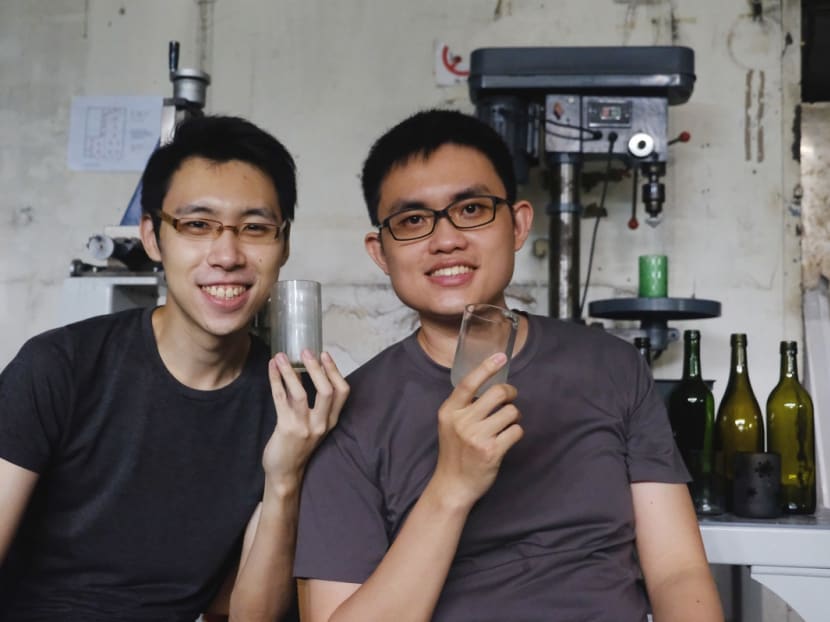 The next time you finish off a great bottle of wine, whisky or, well, anything that comes in a glass bottle, consider this: Instead of chucking the bottle into the trash, contact Soda Lemon and turn the bottle into a handcrafted custom water glass. Soda Lemon is a creative upcycling business founded by 30-year-old best friends Sean Teoh and Teo Rui Xiang.
The two met in NUS ( National University of Singapore) – both were enrolled in the Environmental Studies programme. The environmentally-conscious duo started Soda Lemon back in 2019 as a way to, as Sean puts it, "physically integrate glass waste into the circular economy and to mentally transform the way our society views glass both as a resource and as a material."
For laypeople like myself, they are taking objects we'd normally cast off, then not think about, and turning them into functional products that you'd be happy to use regularly. 
We talk to Sean about Soda Lemon to learn more about him and his company.
TELL ME A BIT ABOUT YOUR LIFE AND BACKGROUND BEFORE SODA LEMON?           
I had a pretty ordinary life going through the Singapore education system from primary school to junior college; National Service; then finally my undergraduate education in NUS.
When I was younger, I loved learning more about the natural world through biology and geography, and to a lesser extent chemistry and physics. Thus, I grew up with the aim to be a doctor. That's like one of the default professions that Singaporeans would aim for if they like biology, right? Of course, this was partly influenced by what my mum wanted. However, things started to change when I asked myself what I really wanted to do with my life, and whether being a doctor was truly what I wanted as my career.
Thinking about it, I started to ask, if we had to collapse biology and geography into a single area of study, what would it be? It suddenly occurred to me that it was the area of study dealing with ecology and the environment. It made sense to me because the topics in biology that truly excited me were the ones relating to ecology and evolution.
And so began my fateful journey when I submitted my application to university not with the Bachelor of Medicine and Bachelor of Surgery but with the Bachelor of Environmental Studies as the first choice.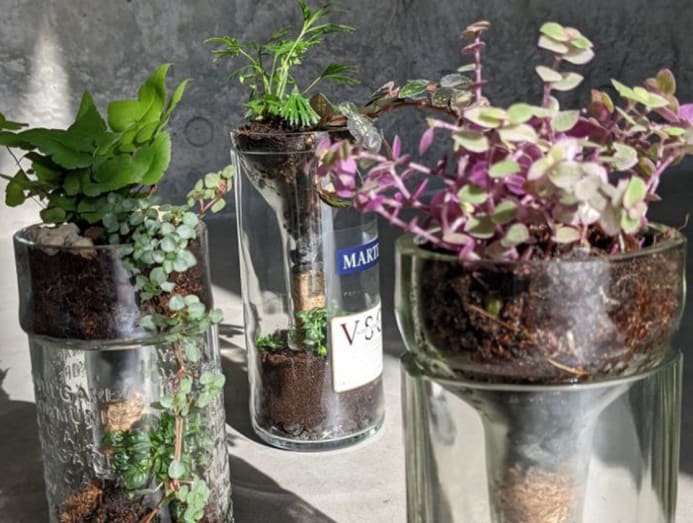 HOW DID SODA LEMON COME ABOUT?
Soda Lemon was not the beginning but the outcome of our first failed business idea actually. Rui Xiang and I had initially worked together in year two of our undergraduate education to see how we could bring reverse vending machines to HDB blocks to impart a higher degree of sorting in collected recyclables from the public. The reverse vending machines would also provide us data that we could analyse for policy-making.
By chance, we met Minister Desmond Lee at an event celebrating Pulau Ubin's heritage. When we spoke to him, he listened to us intently and was keen to explore further. For this, we were and still are to this day very appreciative of his willingness to work with us. However, the project eventually did not work out because, as we ran the numbers, we did not think we could make the project financially sustainable. We shelved the idea and continued with our NUS studies.
In year three of my undergraduate education, I went to Canada for an exchange programme. It was in Canada that I stumbled upon a glass upcycling facility, Old Town Glassworks, that was created from scratch by a local engineer that wanted to do something about the glass waste in the town of Yellowknife. I participated in their workshop and learnt the basic techniques of cold glass working. I suggested to Rui Xiang that we could bring this idea and concept back to Singapore, and he was interested to see where this could lead us to. That's how Soda Lemon started.
HOW DID YOU AND RUI XIANG MEET?           
I've known Rui Xiang since my undergraduate days because he was my batchmate from the NUS Bachelor of Environmental Studies programme. The programme's annual intake is very small (about 50 to 60) and so we are a closely-knitted bunch.
Although Rui Xiang is not really "featured" in this article -- he's shy -- he is both a very close friend of mine and also my steadfast business partner. Many people in business say that you should try not to start a business with friends whom you cherish, because things can get ugly easily and the friendship might be lost. However, we took a bet and things have worked out well so far. I think it is because of the level of trust that we have in each other from being close friends that enable us to work together without doubting each other's intentions. Although he likes to joke that I can handle Soda Lemon without him around, that is far from the truth. He is a very important part of Soda Lemon and I would probably just close the business eventually if he's not present. I think he would do the same in my shoes.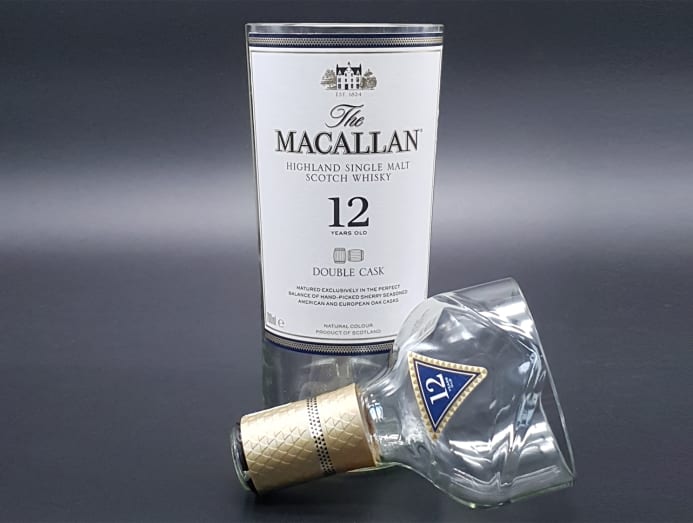 IS SODA LEMON A FULL-TIME GIG FOR EITHER OF YOU?
Soda Lemon is not a full-time project or gig for either of us. We don't come from wealthy families so we still have to have our own jobs outside to be able to run Soda Lemon and sustain our personal lives.
Making a financially sustainable business out of manufacturing is difficult in a high-cost business environment. But we are still intent on trying to set up a proper waste material recycling and upcycling facility with R&D capabilities in Singapore because we see this as the future of materials and product sustainability, not only Singapore but also across ASEAN.
CAN YOU ELABORATE ON THE MISSION OF SODA LEMON? HOW ARE YOU MEASURING IMPACT?
Soda Lemon's mission is to physically integrate glass waste into the circular economy and to mentally transform the way our society views glass both as a resource and as a material. At least in the context of Singapore, our broader business objectives are heavily tied with the fate of waste in our waste management system.
Almost all waste that is not sent to recycling facilities are incinerated and landfilled at the Semakau Landfill, which was created to replace the Lorong Halus Landfill, in between Punggol and Pasir Ris. Singapore's present day waste management system is so effective that many people don't think much about the waste problem.
As Semakau Landfill is an offshore landfill, it has an "out of sight, out of mind" effect on the local populace. However, Semakau Landfill is only expected to last till 2030 to 2035. Thus, we seek to extend our only landfill's lifespan by diverting glass waste away from it. We are mainly measuring our impact based on the volume of glass material that gets processed and used by us in our sales and projects. The more glass we handle and process, the more hopefully positive impact we have on society and the environment.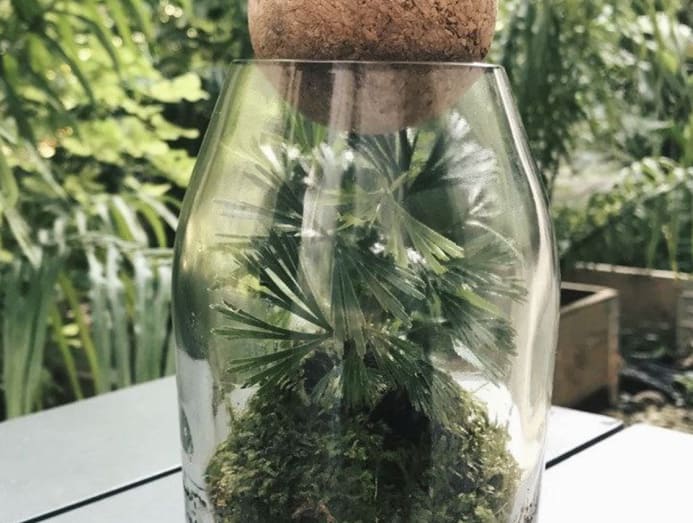 WHAT IS THE LONG-TERM GOAL THEN?
Our long-term goal is to set up one or multiple waste material upcycling and recycling facilities in Singapore and abroad that can handle not only glass but also other waste materials. From an environmental sustainability perspective, it makes the most sense to decentralize waste collection and processing facilities because the logistics and cross-border transportation of waste materials unnecessarily incurs greenhouse gas emissions. However, this conflicts with financial sustainability because in manufacturing, we want to work with large volumes and mass production scales to cut down on the cost of production.
Nevertheless, we set up Soda Lemon with the intention to balance environmental, social and financial considerations and we would want to decentralize our waste recycling and upcycling facilities across ASEAN as long as it is financially viable to do so, even if it does not make us the most profit.
What sets us apart from other businesses is that we are trying to focus on neglected material types. For example, glass is not as commonly recycled as other materials like paper, metal and plastic. If you go to recycling collection points in Singapore, you will find that some of them do not accept glass material.
Another neglected material that we hope to work with in future is TetraPak which is commonly used to make containers that store our milk and other perishable liquids. TetraPak is considered to be recyclable by its manufacturers but that does not necessarily mean that it is economically feasible to recycle them or that they are being recycled.
HOW DID YOU GUYS LEARN HOW TO UPCYCLE AND WORK WITH GLASS THE WAY YOU DO?      
Apart from the glass upcycling facility at Canada, we learnt everything else from online resources and experimentation. It's quite difficult to find expert glass artisans in Singapore simply because it's a really niche area of craftsmanship and mass-manufactured glass products from abroad are so cheap, making it tough for glass artisans to make a living here.
We are not engineers or technicians but scientists by training, so we had a hard time getting to where we are today. Most of the knowledge we obtained so far lies in the area of mechanical engineering and material science, but both of us are trained in ecology, biology, geography, and climate science-related areas.
At some point in our journey, I felt that one of us needed to gain some formal training in mechanical engineering and material science. And so I have been taking night classes at the ITE and polytechnic level since 2019, to gain better domain knowledge and technical expertise in what we are working with.
Some people have criticized me by saying that it is not necessary to go back to school to learn what I need to learn to run my business, and that I am simply wasting my time by going back to school. But I am steadfast in my opinion that people in the 21st century need to possess a solid understanding of what they are working with from a combination of good theoretical knowledge and practical experience and skills.
We failed a lot in our early days of experimentation, and we still fail quite frequently even now. But we use our failures as data points in our learning process and we gradually get better over time. I can also get a little too excited when buying new tools and equipment to try. I get chided by Rui Xiang occasionally for buying equipment that we don't use, but I take it as part of the learning process of knowing what NOT to buy in future. And indeed, we now know a lot better in terms of what to look out for when considering new equipment purchases!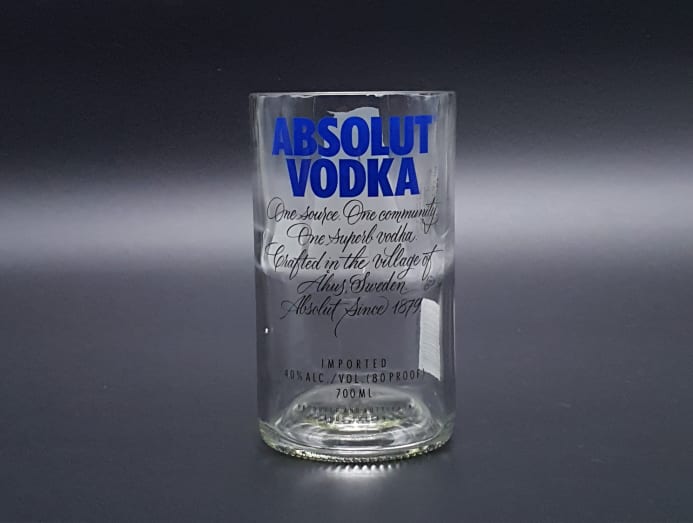 WHAT IS THE MOST DIFFICULT PART OF THE PROCESS?
The most difficult part of working with glass is that you need a lot of patience when handling and processing it. Glass is a very hard material and you need even harder tools to be able to cut, sand and polish it. Glass coldworking processes take a lot of time. Glass is also a very brittle material so you have to be careful when handling it or it can crack or shatter easily.
ARE YOU DOING MORE CUSTOM WORK OR SELLING MORE READY-MADE PRODUCTS?
We take on mainly customized orders at the moment because of our limited manpower but we intend to stock more ready-made products in future.
HOW HAVE PEOPLE BEEN DISCOVERING YOU UP UNTIL NOW?
We believe most people discovered us through our Instagram, our website and from word-of-mouth.
WHAT DOES SUSTAINABLE CONSUMERISM MEAN TO YOU?
To us, sustainable consumerism means consuming only what you need rather than what you want. In other words, sustainable consumerism means reducing excessive consumption.
Some examples of what we mean include not going for buffets because nobody really needs to eat that much in a single meal; not over-ordering food if you know that it may result in unconsumed food and thus food wastage; taking public transport instead of private hire vehicles or taxis when it is not necessary to travel by cars and buying longer lasting electrical appliances and fixing them instead of simply replacing them.
In the case of food, sustainable consumption can lead to a lot of health benefits and cost savings. Excessive consumption of food contributes to many of the chronic illnesses that pervade societies of developed countries, such as heart disease, diabetes and gout. Moderating our intake of food and eating less in general can help our pockets and bodies in both the short-term and long-term.
In the case of things that we use in our daily lives, we often get caught up in the trend of buying the next new shiny thing. However, it would be good for us to stop and think about whether we actually need that next new shiny thing. For example, it is common for people to upgrade to the immediate next phone model whenever it is released.
However, for many of us, I believe that what we have on hand is already sufficiently good enough and thus it may not warrant the upgrade. When things break down, we could also try to fix or repair them rather than simply buying a new one to replace them. As mentioned earlier, the "out of sight, out of mind" aspect of Singapore's waste management system makes it easy for us to forget the environmental impact of waste until we are reminded of it when we see photos of landfills in other countries.
DO YOU THINK, AS A SOCIETY, WE ARE MAKING THE RIGHT DECISIONS TO PROTECT OUR NATURAL RESOURCES AND OUR ENVIRONMENT?
If you were to ask me this question five years ago, I would say no. However, I have begun to feel a wave of change since then and the change is certainly a positive one. Many people, including those of the older generation, are now aware of very important environmental problems such as climate change and rising sea levels. Why are they now aware of these problems?
Unfortunately, it is because they have also begun to observe marked deviations in weather patterns from what they have experienced in their youth. And we can see this marked shift in the Singapore government's posturing as well. The Singapore government launched the Singapore Green Plan 2030 in January this year "to advance Singapore's national agenda on sustainable development".
Whether or not this change in posturing was because of official recognition of the threat of climate change and related environmental problems to Singapore or the need to stay competitive compared to other international cities does not matter. Because the important thing is to take action. If there is no action, there will not be any change.
Many people are now asking what they can do to help or contribute to the cause, and both of us are seeing this because many people have approached us to see whether we could take their glass. That we are in a position to enable change in Singapore society at least for glass upcycling and recycling, this is what keeps us awake at night and what drives us to push Soda Lemon to greater heights.
To summarize, there will always be more to be done and better decisions can always be made. However, I do think that we as a society are moving in the right direction.